You're relaxing with your toes dipped in the edge of the water as a gentle breeze blows your wavy beach hair and your children play happily in the sand.
While that's a wonderful thought, we all know it's rarely the reality of taking kids to the beach.
Instead you're back on your feet as soon as you sit down because your toddler is a little daredevil and insists on walking neck-deep into the water. Your other kids prefer to throw sand at each other, while the baby simply tries to eat it. And just when you get everyone settled, someone has to go to the bathroom.
The thought of taking kids to the beach can make us moms to cringe. There's so many things to bring and there's uh…water, which can be just a little stressful with young children.
But you muster up the strength (and courage) to get everyone packed in the car. You finally head out only to realize your dog has snuck into the back seat of the car (he's supposed to be locked in the house) and your 3 year old announces he has to go "potty" even though you just took him to the bathroom with no results. Then the baby wakes up and starts screaming.
By the time you finally get to the beach, you're hauling so much stuff, your shoulders are killing you, and you're wondering how you got roped into this again. Sometimes it can be easier to just stay home!
I've dragged my four kids to the beach plenty of times. More accurately, they dragged me because they're usually the ones chomping at the bit to go and I'm the one tired just from thinking about it all.
But taking kids to the beach doesn't have to be an exhausting task that hardly feels worth it. It can be fun and enjoyable for us moms too!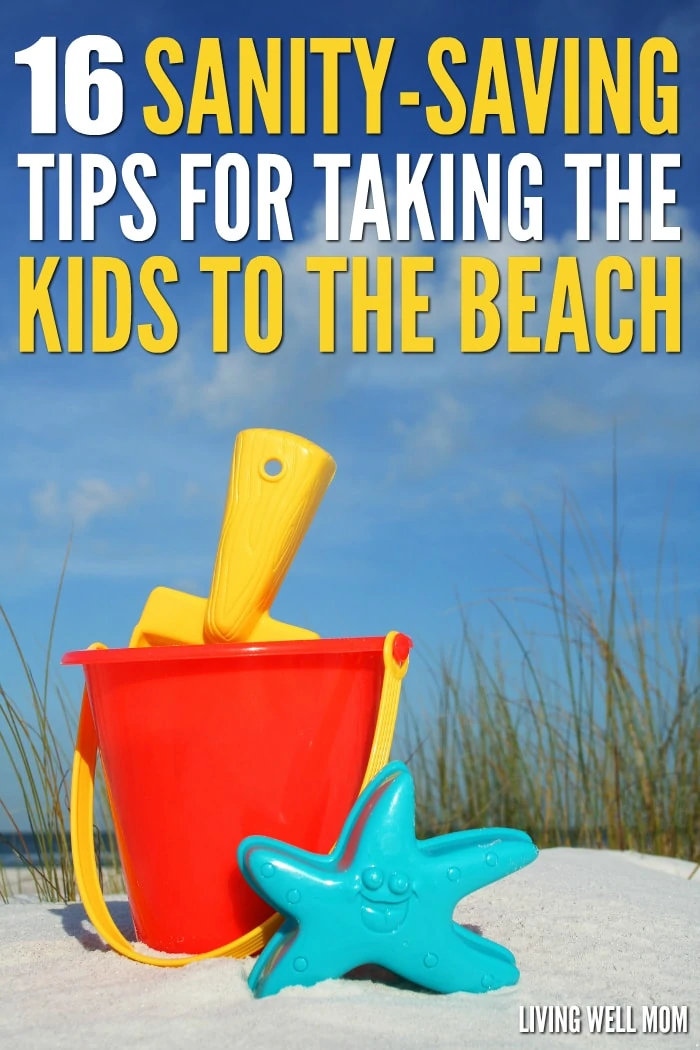 I've learned a few sanity-saving things over the years that have really made a difference. I now look forward to trips to the beach and here's how:
16 Sanity-Saving Tips for Taking Kids to the Beach:
1. Keep a beach list throughout the summer
A simple list on your smart phone or even a paper list can save you a lot of time and hassle. Instead of trying to remember everything every single time, write it down once and refer to it again and again. Of course you might adjust it later, making future trips to the beach even simpler!
2. Less is best.
Take only the essentials and a few things that will make your day at the beach more enjoyable. The fewer things you bring, the less you'll have to keep track of and tote home again.
You don't have to bring a ton of toys. A simple shovel and pail
for each child is plenty. The kids don't need a dozen shaping toys and 5 different shovels to enjoy hours of play time in the sand.
The same goes for water toys. Let each child bring their favorite floatie or blow-up toy and leave it that. If your kids have several favorite beach or water toys, they can take turns.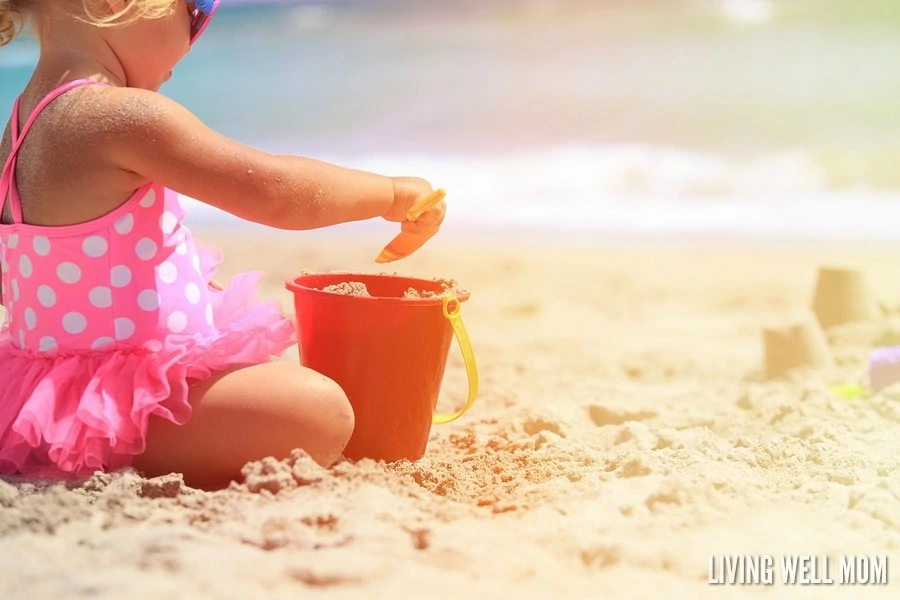 I used to let my children bring tons of stuff to the beach. But after repeatedly leaving stuff behind (other children are magnets to beach toys and often unintentionally wander off with your stuff) and being frustrated with rounding everything up and carrying it back and forth to our vehicle, I realized it wasn't worth it. Now we take far less and have far more fun!
3. Puddle Jumpers are amazing.
I've only seen these brilliant inventions the last couple of years (where were they when my oldest was a baby!?) but whoever invented them is genius. While children always need constant supervision near water, puddle jumpers
can make your life a little easier knowing your child is safer than when using a blow-up tube.
4. Don't forget the stick sunscreen.
Of course you know not to forget the sunscreen, but do you have stick sunscreen on your list? It makes applying sunscreen to faces so much easier and almost completely eliminates the odds of your kiddo rubbing sunscreen into his or her eyes and screaming for the entire beach to hear. This is our favorite all-natural stick sunscreen.
5. Get a beach umbrella or beach tent.
A beach umbrella is easier to assemble/disassemble, while a beach tent is the recipe for success with babies and toddlers who might need a nap. (We picked up our beach tent at a yard sale for $2!) Both will give you and the kids a place to get out of the sun and rest during your beach day.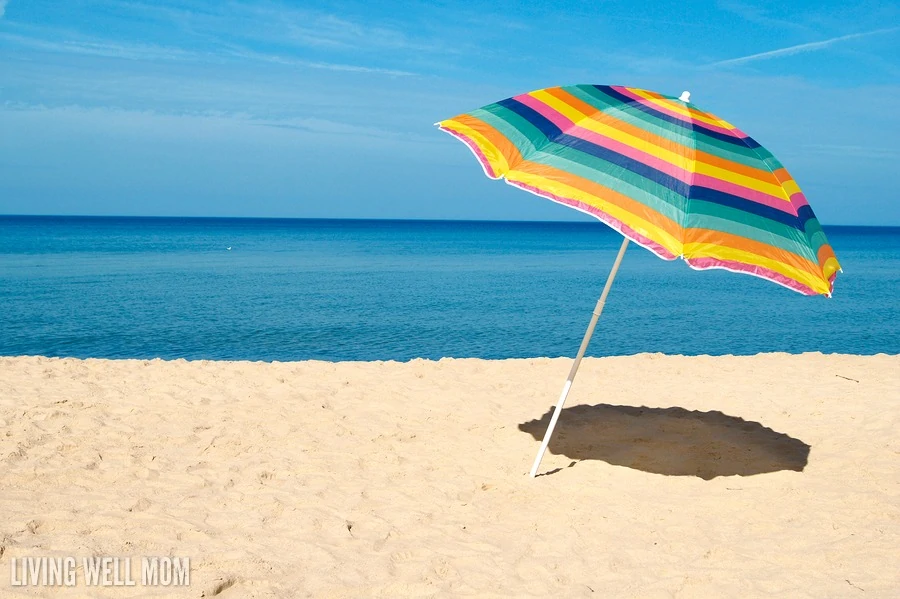 6. A simple beach chair is worth hauling.
You'll enjoy yourself more if you have a chair to lean back in and relax instead of sitting on a blanket in the sand all day. Your beach chair doesn't have to be fancy with cup holders, etc.; even basic beach chairs usually have a strap for easier carrying. This is one thing worth hauling to and from the car.
7. Get to the beach early.
If you're going to a beach that tends to get crowded, try to get their early so you can claim a good spot. It's easier than arriving to an already-crowded beach and trying to cram into an open space on the sand.
8. Use a tote bag with pockets.
A beach tote bag is great for carrying miscellaneous things like sunscreen, water bottles, a book, etc. while inner pockets are ideal for storing your wallet, phone, keys, etc. Get in the habit of always putting your keys, etc. in the same place and you'll avoid panicked end-of-the-day searches.
9. Use a large bag just for towels.
A medium-large tote bag (I have a large Thirty-One tote that carries 6 big towels easily) is great for carrying your family's beach towels. Store the towels in your bag in an easy-to-remember location, like this DIY swim gear organizer, and it will always be ready to go.
10. Don't forget a plastic bag for trash.
Most beaches don't have convenient trash cans sitting around and you'll make life easier when you unpack later if you have a single bag for any trash.
11. Baby powder = less mess!
Dust a little baby powder on legs and feet at the end of the day to easily remove sand. This well-known trick will keep your vehicle cleaner!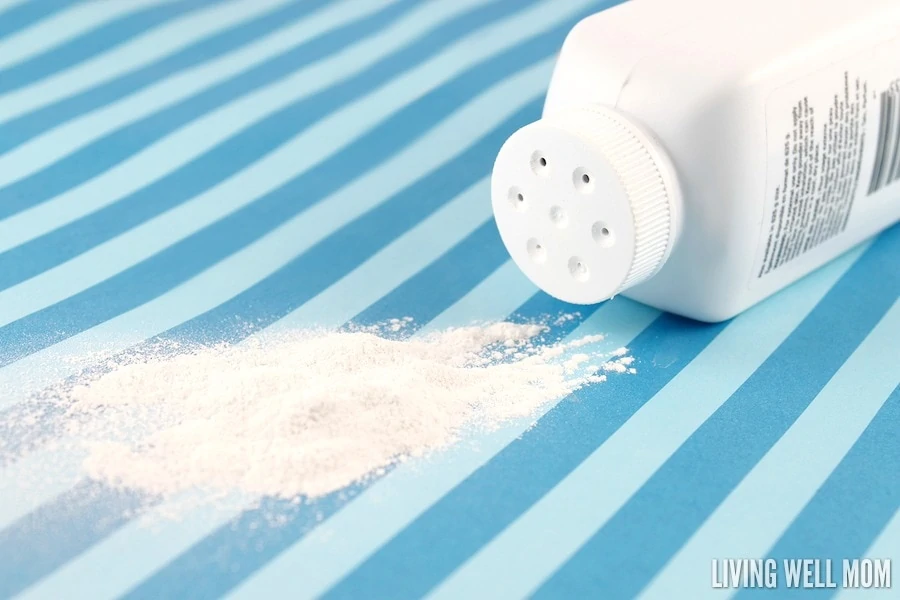 12. Bring plenty of water to drink.
Pack bottled water or everyone's own water bottles and a small jug of water so everyone will stay hydrated during your trip to the beach. If you want something a little more fun, bring a can or two of flavored seltzer water with no sugar or calories.
13. Don't forget Huggies® Little Swimmers® Disposable Swimpants for little ones!
There's a reason Huggies Little Swimmers disposable swim pants are the #1 choice of moms.
Here's why Huggies Little Swimmers Disposable Swimpants are fantastic:
easy-open sides (aka less mess when changing your little one at the beach)
unique absorbent materials that don't swell in the water, meaning no giant bubble butt that threatens to drag your toddler down
stretchy sides = a great fit
extra protective leak-guards to help lock in messes (yes please!)
featuring adorable Finding Dory characters!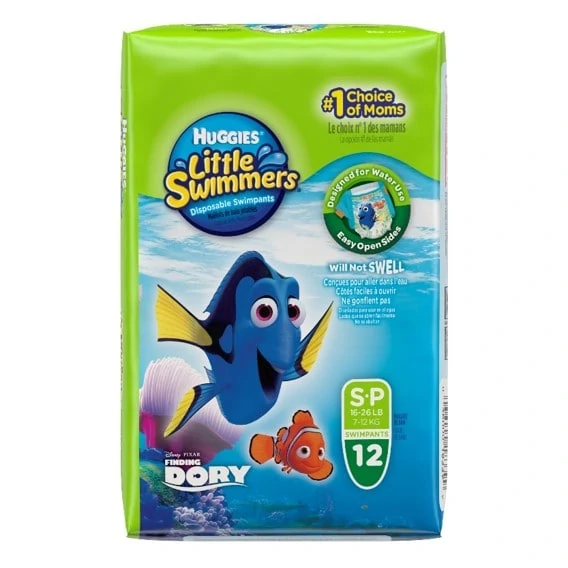 Even though my youngest is now 5 and no longer wearing diapers (it WILL happen for you someday too, I promise!), Huggies was always my favorite diaper for my babies, even my oldest who is now 13! Their "swim diapers" really do work!
Find Huggies Little Swimmers Disposable Swimpants
at stores nationwide in three sizes (small 16-26 pound, medium 27-32 pounds, and large over 33 pounds.)
While you're at it, grab Huggies® Clutch 'n' Clean Refillable Wipes
; they're easy to refill, have a convenient strap, and have cute designs!
14. Bring food.
Packs lots of snacks, especially healthy options like fruit. Don't forget lunch too; it will save you time and money. Even if there is a restaurant at or near the beach, do you really want to pack everything and everyone up to head over there?
For food that needs to stay cold, consider a cooler bag
; they're far more convenient and easier to carry than hard coolers.
15. Change of clothes.
Planning to change into clothes before you head home? Pack everyone's clothes (don't forget underwear) in a plastic grocery bag or two.
To make it even simpler, pack two bags – one for the boys and one for the girls. The grocery bags will double as a perfect bag for wet swimsuits too!
16. Remember to relax and have fun!
Your beach day might not go exactly as you planned, but that's okay. You can still have a fantastic day taking your kids to the beach and enjoy yourself!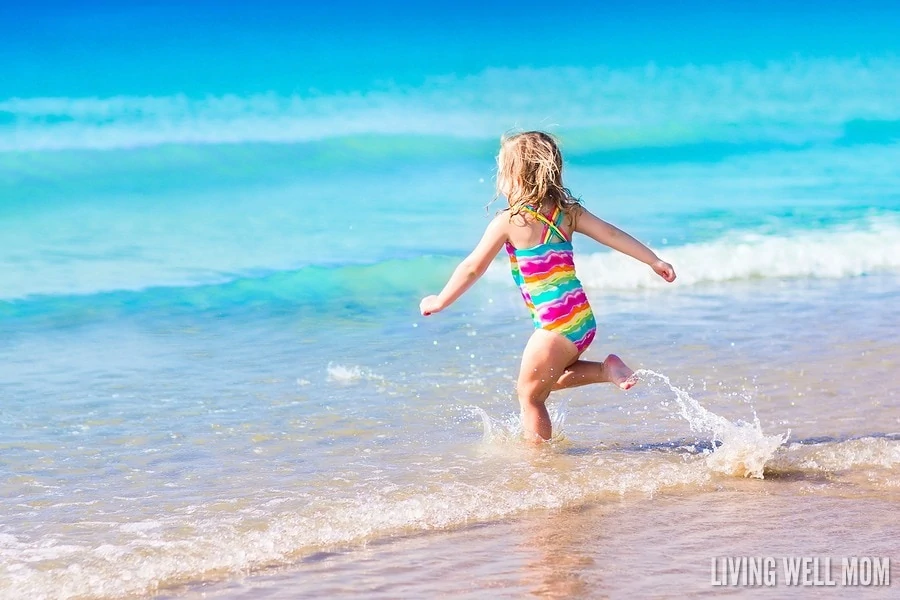 Try just a few of these simple sanity-saving tips the next time you take your kids to the beach; they really do help!
Disclosure: This post is sponsored by Huggies Little Swimmers. All opinions are 100% my own.