Do your kids love playing with water balloons? Never clean up water balloon messes again with addictively fun DIY sponge water bombs! They are super easy to make and will provide unlimited hours of play.
Even though we don't have a pool, my children will play for hours in the backyard with small buckets and tubs of water. Nothing keeps them occupied longer, or tires them faster than running around the backyard playing with water.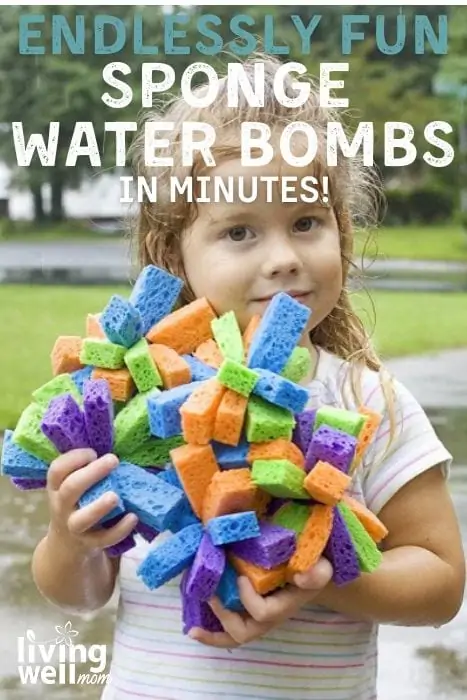 I'm not ashamed to admit that I often choose my summer activities with that goal in mind. I want those kiddos to fall into bed EARLY, happy, and exhausted!
When my sister-in-law mentioned her children spent an entire afternoon playing with DIY sponge bombs, I couldn't wait to make some for our house. I found a tutorial for making sponge bombs on Martha Stewart's website and grabbed the supplies on my next shopping trip.
If you want a quick, cheap, and easy-to-make toy that is sure to wear your kids out, you have to try this sponge water bombs activity!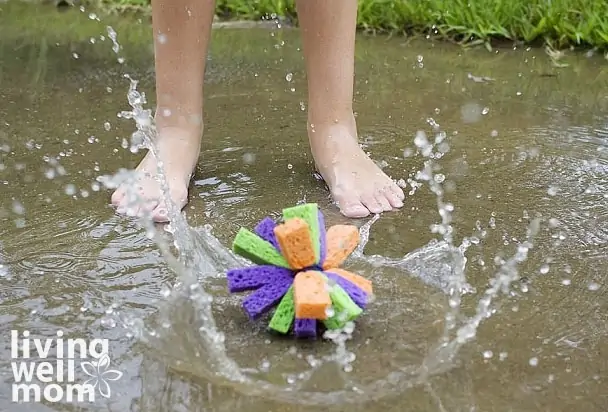 Supplies needed to make sponge water bombs
Here's what you'll need for this project. You probably already have some of this at home and would just need to pick up some extras to make more balls. Just grab everything you need from the dollar store.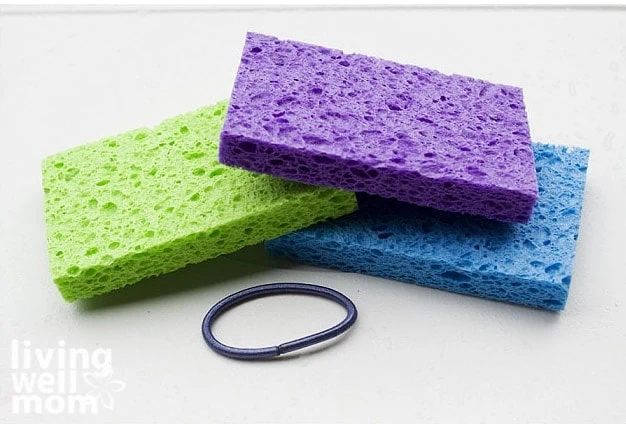 How to make sponge water bombs
You're going to love how simple this project is! In just a few minutes, you will have several reusable sponge bombs. The kids will have just as much fun with these as they do with water balloons (without the mess or the hassle).
Step 1
Cut each sponge (the long way) into 3 roughly equal strips.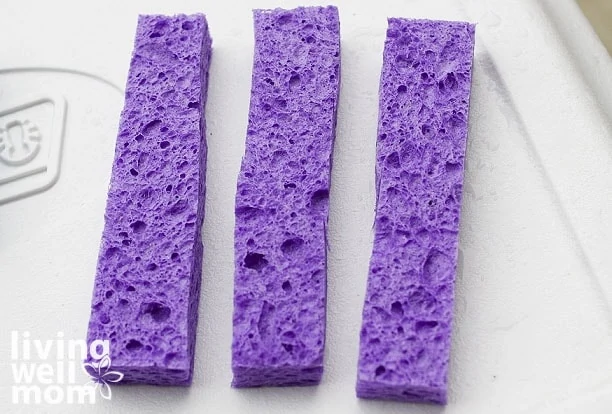 Step 2
Mix up the colors and stack the sponge strips 3 by 3.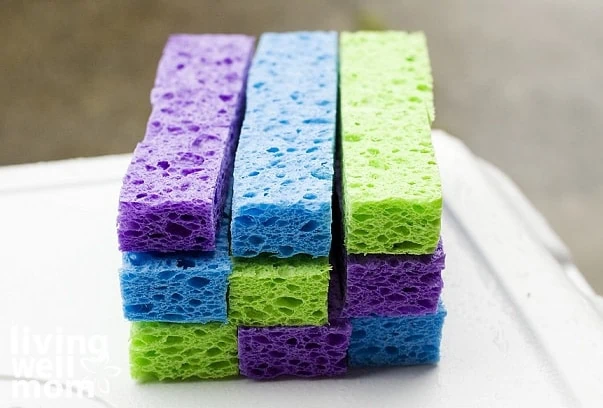 Step 3
Tightly wrap the hair elastic around the center of the sponge strips.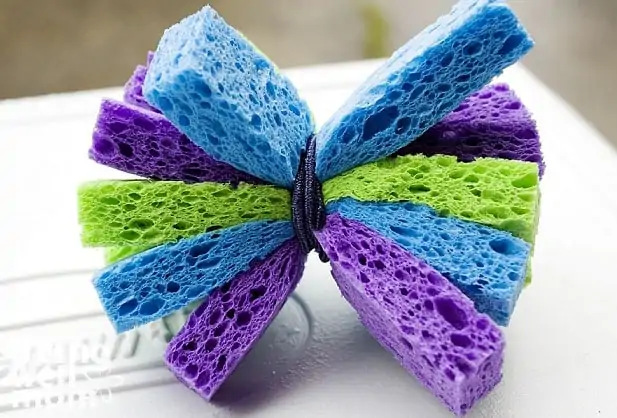 Step 4
Fluff up the sponge bomb by pulling each strip gently away from the others.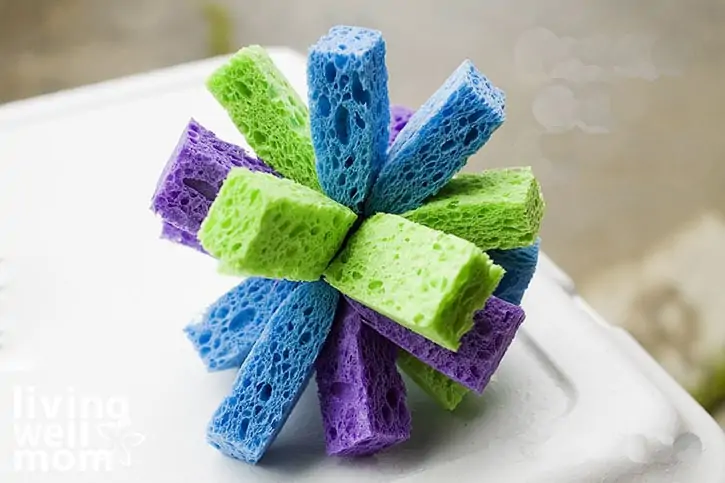 And that's it! Super easy, right?
And they come together quickly, so in just 10 minutes or so, you can have several ready to take outside and use.
We live in the southeast, so our summer has been rain, rain, rain, and more rain. We've been waiting impatiently on pretty weather to play with these super fun toys.
But, after catching my children leaping off furniture one too many times today, I decided it was time to go outside in spite of the pouring rain.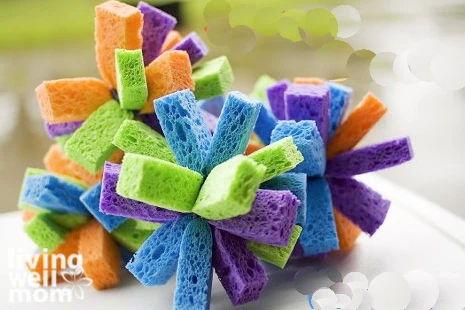 They desperately needed to get some wiggles out, before something broke or I lost my temper with their pent-up energy.
It turns out that sponge bombs are perfect rainy-day toys!!! I can't believe I waited so long to send the sponge bombs and the kids out into the rain.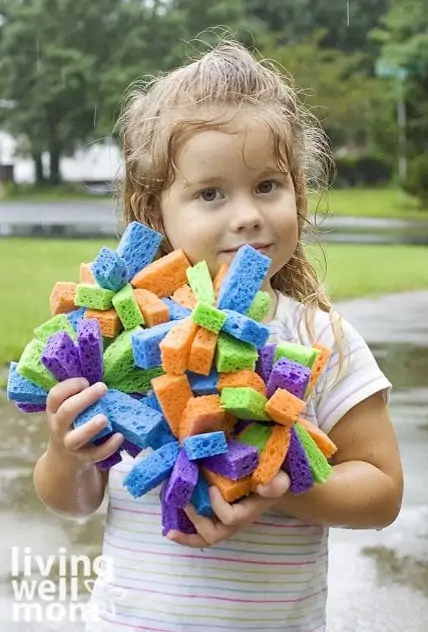 What to do with sponge water bombs
This summer, if you are looking for ways to keep your kids happy and entertained, sponge bombs may be the answer you are looking for. Buy yourself some valuable work time, or just eliminate boredom on a hot summer day!
These DIY water balls are also a great way to keep little ones active at a field day or other summer event.
As you can see from my pics, they also make for some great rainy-day fun. Sponge bomb puddle splashing was a hit – bonus points for splashing a sibling standing too close to a puddle!
And sponge water bomb tag is one of our new favorite fun summer activities!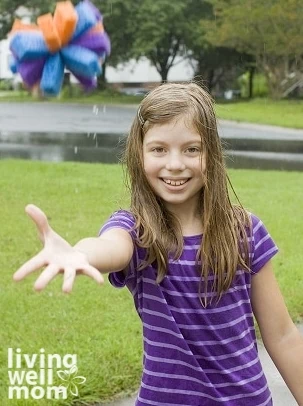 Sponge water bombs FAQs
I've been making these reusable sponge balls for years, and tend to get the same questions over and over about them, so answering them below in case you had the same question too!
How do you play with sponge bombs?
Once you finish making the sponge bombs, just fill a container with water. Then drop the sponge bombs into the bucket. They'll soak up the water quickly! Once they're filled with water, let the fun begin with some sponge bomb games!
What are ideas for sponge bomb games?
My kids had a blast playing tag. Of course, since it was so wet outside, we had to try sponge bomb puddle splashing. Other fun games could include sponge water bomb monkey in the middle, sponge bomb dodge ball, sponge toss, sponge bomb tennis, sponge bomb hot potato, and much more!
Let your kids get creative for endless hours of fun.
Can you reuse sponge water bombs?
Yes! Since they're made from sponges, you can let your sponge bombs sit out and dry. Then store them somewhere out of the way until you want to pull them out and use them again. You can reuse them all summer long!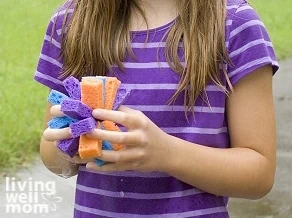 Think of this as an easier, better way to play with water balloons!
Rain or shine, fill buckets of water with sponge bombs for your kids. You'll win super mom points, and get the best summer gift – happy and exhausted kids!
More summer fun
If you love this game idea, check out some of our other popular ideas.