I just potty trained my almost 3-year-old, Joshua, 2 weeks ago. He's my 3rd child, so you'd think it would have been easy. Not quite.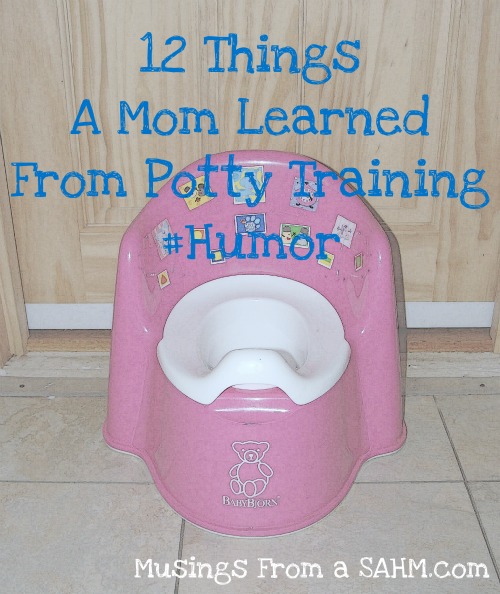 Here's a few things I learned:
No matter what you think you know or how prepared you are, they will always surprise you. Be prepared for the unexpected. My son pooped in the backyard. Twice!
Nothing is sacred when it comes to your child's ability to sneak around and pee/poop wherever/whenever/however. Nothing.
Be prepared to do nothing else the week you potty train. Nothing. Because if you try to make dinner or do laundry or read a story to another child – basically anything other than watching your potty training child like a hawk, they will take that split second and pee on your floor or poop in the yard. And then you'll be cleaning up yet another mess.
Boys are not easier to potty train than girls. Then again I foggily remember that my daughter was no picnic either.
If you have a boy, you are likely still cleaning a mess even when they do go on the potty. You may want to cry because there is pee sprayed all around the potty seat for a 3 foot radius, but some did get in the toilet so you must put on a happy face, congratulation your child, hug & kiss them, and hand over promised rewards for their accomplishment. And then pull out your cleaning rag again.
Keeping my 1 year old from putting snacks in the potty seat is not something I ever thought I'd need to do. Come to think of it, my now almost- 3 year old did that a year ago when he was 1 too. What is it with my boys wanting to put snacks in their potty? Does it really look like that much of a snack bowl to them?
Once your child accomplishes peeing in the potty, the real work has just begun. Getting them to poop in the potty is a whole 'nother story. Why is pooping in the potty such an obstacle for them?
You may have promised to never bribe your child, but you will before you finish potty training. And the reward list will grow by the time they finally poop in the potty. I think Joshua was promised M&Ms, skittles, a small gumball, and marshmallows by the time he finally did it. We don't do a lot of candy in our house, but desperation can make you do many things.
In your exhausted state of living in/around/near sewage, you may resort to posting words like poop on Facebook for all to see. And you really won't care.
When your child finally does poop in the potty, you will find yourself estatic with joy and jumping around like a lunatic over that brown grossness sitting there waiting for you to flush it or clean it up. You may momentarily wonder what your neighbor would think if she saw you, but who cares? Your child just pooped in the potty!
When the week is over and then a couple more days into the new week pass by and your child has peed and pooped in the potty every day without one accident, you realize that you actually did it. You accomplished what seemed impossible the week before. Your child is potty trained!
You realize that the full details of potty training is one more of those things (you know the type) that they (meaning your own mother and any other female on the planet who is a mom) neglected to tell you about before you had kids.