It's been over 5 years since I had a hysterectomy at age 29.
I've received countless emails from women, probably a lot like you, asking me if I've had any side effects, if I regret it, have I gained any weight, etc.
The short story? Unlike many of the horror stories you'll read online, I'm doing very well and I don't regret choosing a hysterectomy.
Want more details? Keep reading.
If you're new to my hysterectomy story, you can read more about it here.
Common Questions Asked About My Hysterectomy
Here are some of the most common questions I'm asked about how I'm feeling 5 years post hysterectomy.
Have you noticed any side effects from the hysterectomy?
Other than more urinary tract infections, I have not noticed any side effects from my hysterectomy.
Urinary Tract Infections:
After my surgery, I had about one UTI a month for several months, much higher than normal for me (I'd previously only had a handful in my whole life), so I'd definitely consider that a side effect.
I was told this was due to having had a catheter for about 24 hours after the surgery, but I don't believe that. I've had four c-sections as well and each time, I also had a catheter and didn't have a higher occurrence of UTIs. Based on that, I'm more inclined to think this was related to the hysterectomy itself vs the catheter.
Since the initial few months, I have continued to have an increased number of bladder infections – around 2-3 a year. Luckily, I found a simple way to treat urinary tract infections naturally (I wrote about that here) so I have not needed antibiotics (other than one time last year) and have recovered quickly each year.
More recently, I've significantly cut out the amount of sugar I've been eaten and I have not had a urinary tract infection in almost 9 months, so that's been great.
Fatigue:
The other thing I want to mention is fatigue. I'm not calling this a 'side effect' because it occurred before my hysterectomy too. But it was definitely a huge factor in my life for a number of years, both before and after my hysterectomy.
Before my surgery, I was frequently very tired and I assumed that was due to the heavy bleeding I experienced every single month.
After my surgery, I continued to be very tired, particularly for the first 3-4 months. At the time, I assumed that was due to my body recovering from the surgery. It was, after all, removing an organ from my body, not to mention general anesthesia which caused me to sleep almost around the clock for the first several days, and would require an adjustment.
But when six months had passed, then a year and I was still not experiencing the energy I longed for, I knew something more was going on.
About 15 months after my hysterectomy, I took my health into my own hands and began researching and demanding answers. It was only then that I discovered the root cause – hypothyroidism. You can read about THAT story here: My Hypothyroid Story.
Hypothyroidism was the biggest contributing factor to the fatigue, both before and after the hysterectomy.
Interestingly, I learned later that one of the symptoms of hypothyroidism is excessively heavy monthly bleeding. Hmmm…
To be honest, I have wondered if things would have turned out differently if I had been accurately diagnosed and treated for thyroid issues BEFORE the surgery. But given that I have only experienced positive effects and none of the scary side effects you read about, I do not regret having a hysterectomy at age 29.
Have you experienced hot flashes, acne, mood swings, or other menopausal symptoms?
No, I have not.
I had a supracervical laparoscopic hysterectomy, meaning only my uterus was removed and I kept both of my ovaries and my cervix. (More on that later.)
I was a little concerned at first that I might experience some "shock" to my ovaries (as I too had read horror stories), but I didn't have any such symptoms or side effects, both immediately after surgery or any time since.
While I have no monthly period to confirm, I still have a monthly "cycle" in the sense that I do get a little hormonal at certain times of the month and have other times, I feel pretty darn good and sexy (likely ovulation time.) Just like before the surgery, except minus the awful bleeding.
I'm now 35 and hopefully still have some time before menopause approaches. So far, my ovaries seem to be functioning normally.
Have you experienced any weight gain?
This is a BIG question everyone asks because of course no one wants added weight gain.
To answer that quite honestly?
Yes, I've gained about 5-10 pounds since my surgery, HOWEVER, I believe that is because I had hypothyroidism, not because I had a hysterectomy.
Why? The thyroid helps regulate the metabolism and if the thyroid is under-functioning, the metabolism will be slower too. As a result, weight gain is a common symptom of hypothyroidism.
And actually, I have lost some weight over the past couple months as I've continued to heal my thyroid and improve my health.
How is your sex life since the hysterectomy?
This is an odd question to answer on the internet.
I won't go into detail, but I will say that I have not had any problems in this department.
Why did you keep your cervix?
I chose to keep my cervix because I couldn't find a valid reason for NOT keeping it.
Before my surgery, I read that recovery time was slightly faster with keeping it vs not. Regardless of whether that was true or not, to me, it seemed like keeping my cervix was one less trauma to my body. I was also concerned that I might have more vaginal issues if I were to have it removed.
The only 'con' my doctor gave me to leaving my cervix was that there was a very slim chance I might develop mild spotting at some point if any uterine cells recovered. Thankfully I have not had any spotting once in the 5+ years after the hysterectomy.
Is there anything you would have done differently if you could do it again?
I would have taken more time to find the root cause of my fatigue and hopefully found and treated my body for hypothyroidism with the chance that that may have signficiantly contributed to the bleeding factor.
For me, because I didn't have endometriosis, extreme monthly pain, etc. as many women who opt for hysterectometis do, the main cause was the massive bleeding I experienced every month.
I would have told my younger self to follow that gut instinct and search out the WHY before going through with it.
That being said, it probably would not have changed the outcome as I already had tried quite a few natural ways to ease the bleeding (including herbs, supplements, etc.), I was DONE and ready to get on with my life.
Overall, I've had a relatively smooth recovery and journey after my hysterectomy at age 29. Five years later, I have my life back and I am very thankful!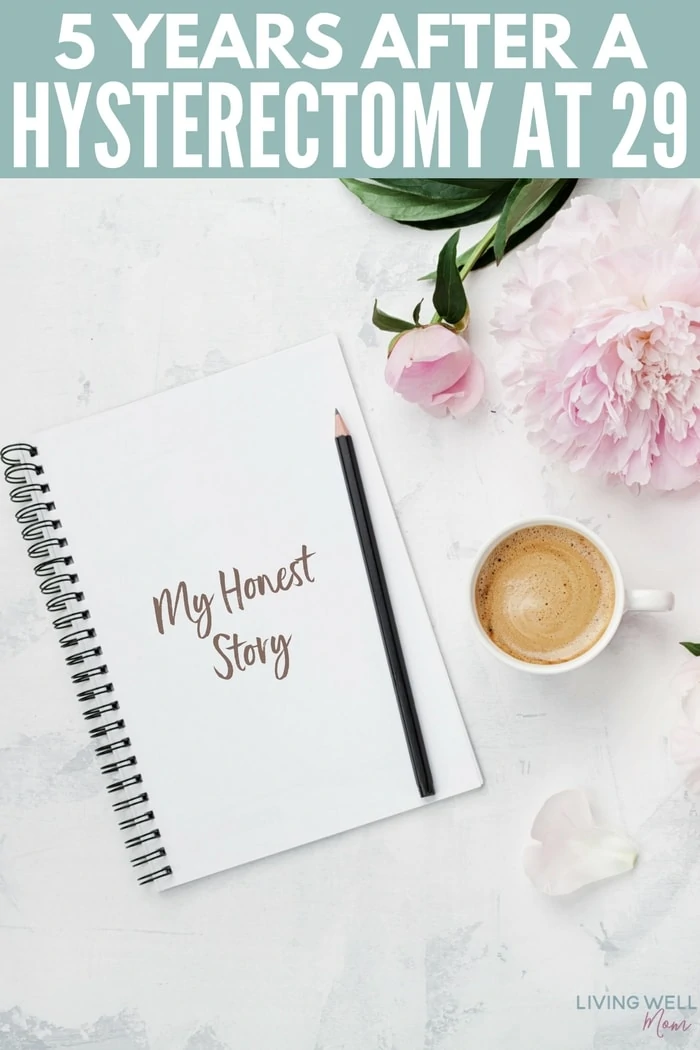 Resources:
If you're considering a hysterectomy, know that you're not alone.
I found the website hystersisters both informational and encouraging before my surgery.
Read My Complete Hysterectomy Story here: