Elf on the Shelf is a polarizing character. Some parents love it, while others hate it.
Coming up with fun ideas for your elf every night in December can be challenging, but with these simple and fun Elf on the Shelf ideas, you'll be the "fun" parent without having to spend hours each night making something elaborate.
Pick your favorites for this year and try the rest of the ideas next year!
50 Simple Mom-Approved Elf on the Shelf Ideas
While there are a lot of complicated Elf on the Shelf ideas, most parents don't have time for elaborate pranks.
Luckily, these Mom-approved and easy Elf on the shelf ideas are all simple enough to implement before your kids go to bed at night, but they are also tons of fun and super adorable.
Guarding Christmas cookies
Drawing a picture of Santa or a present, star, etc.
Building a marshmallow or cotton ball snowman
Playing a family game
Put your elf inside a small paper bag and have a paper sack race
Reading a Christmas story
Snoozing on the sofa, wrapped in blanket
Hanging out with the family pet (by the cat's favorite place to sleep or by the hamster cage)
Making coffee for Mom and Dad
Building a marshmallow tower
Making Christmas cookies
Having a snowball fight with cotton balls
Painting a picture
Stringing popcorn garland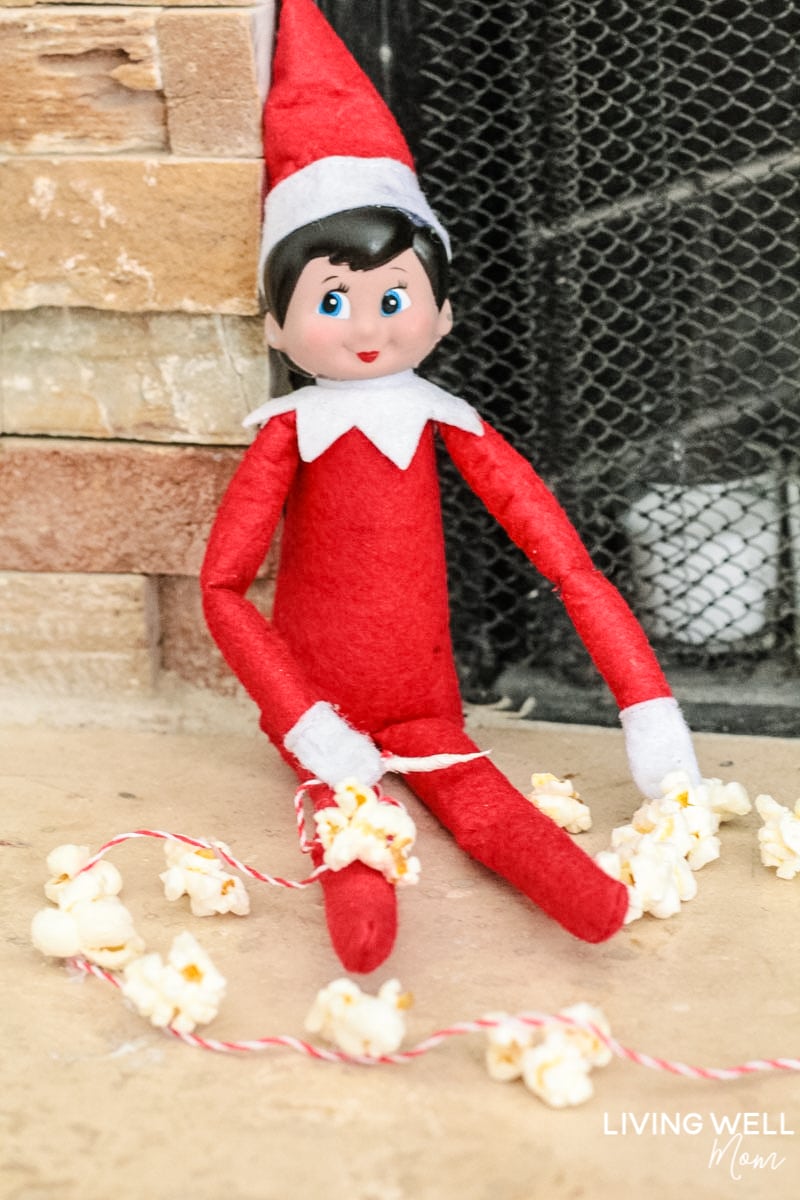 Eating candy
Playing a computer game
Guarding Christmas presents (under the tree or even guarding the room where Mom stores presents)
Dusting by the TV or coffee table
Listening to Christmas music with earbuds
Elf yoga
Riding in a toy car
Feeding a baby
Decorating a dollhouse
Reading a kids' magazine
Hanging out by a bottle of essential oil, like Peppermint
Making breakfast – pouring a bowl of cereal or cracking an egg into a bowl
Napping in a tissue box
Making snow angels out of flour or sugar on the counter
Feeding the family pet – pouring dog or cat food or even feeding the fish
Christmas countdown – changing a sign or simply writing on a paper "X days until Christmas!"
Lipstick message on the bathroom mirror
Tangled in Christmas lights
Wrap the elf in a towel in the bathroom- the elf has had a relaxing bath!
Sorting socks
Hiding inside a vase
Combing the elf's hair in front of the mirror
Building a block tower
Writing an email to Santa
Making a Christmas wish list
Swinging off the ceiling fan
Making elf copies on the printer
Making paper snowflakes and hanging them in the window
Teaching doll school
Doctoring stuffed animals
Decorating houseplants
Hiding in the pantry
Switching out regular light bulbs for red and green lights
Hosting a toy tea party
Making a simple ornament
Helping fold laundry
Free Printable Simple Elf-on-the-Shelf Ideas List:
I'm made this list of simple elf-on-the-shelf ideas into a free printable for your added convenience.
Download it here: Elf-on-the-Shelf Printable