My preschooler, Peyton, and I are going to share our fabulous Banana Pudding Recipe with you today. I threw this recipe together one day when my oldest was a toddler and we had unexpected company coming for dinner. My pantry was looking bare, but I knew her nap was more important than a grocery store trip if I wanted to enjoy spending time with friends that evening.
That quickly invented recipe, made from a few pantry staples and the toddler friendly foods I had on hand, has turned out to be a favorite dessert in our house. In fact, if my husband's friends come over for dinner I know this dessert better be the one waiting for them, or they will be disappointed. A 9×13 dish often disappears before the evening is over between just 3 or 4 guys!
Speaking of dishes, this Banana Pudding fits perfectly in a 9×13 dish. If you want to dress it up, just serve it in a trifle bowl or fancy individual dishes instead. And if you need to serve a large group of children, clear plastic punch cups are the perfect answer for quick serving, no mess and little clean up.
My favorite thing about this recipe is that a preschooler can actually "cook" this Banana Pudding independently. So often, when my preschooler wants to cook with me she ends up doing more watching than helping. This recipe has few simple ingredients, and if I can let go of a perfectly layered dish, she can mix it up start to finish without help from me. Peyton can even peel and slice the bananas with her own butter knife, which really makes her feel like a big girl.
Ingredients:
2 boxes (3.4 oz each) vanilla instant pudding
3 cups milk
1 (8 oz) tub whipped topping
8 oz sour cream
1 box vanilla wafers
bananas (4 to 6)
Directions:
Mix pudding and milk, until thick.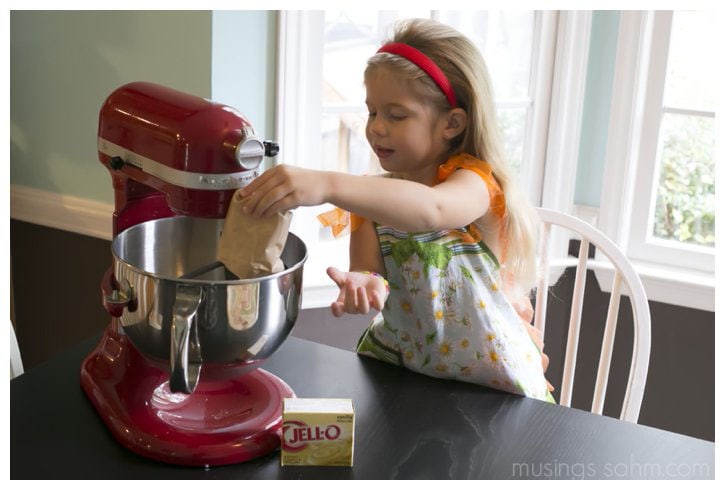 Add sour cream and whipped topping to the pudding mixture.

Let your preschooler lick the rest of the whipped topping tub while you get the ingredients ready to assemble in a serving dish. (optional– but I guarantee you will be Mother of the Year if you don't skip this step)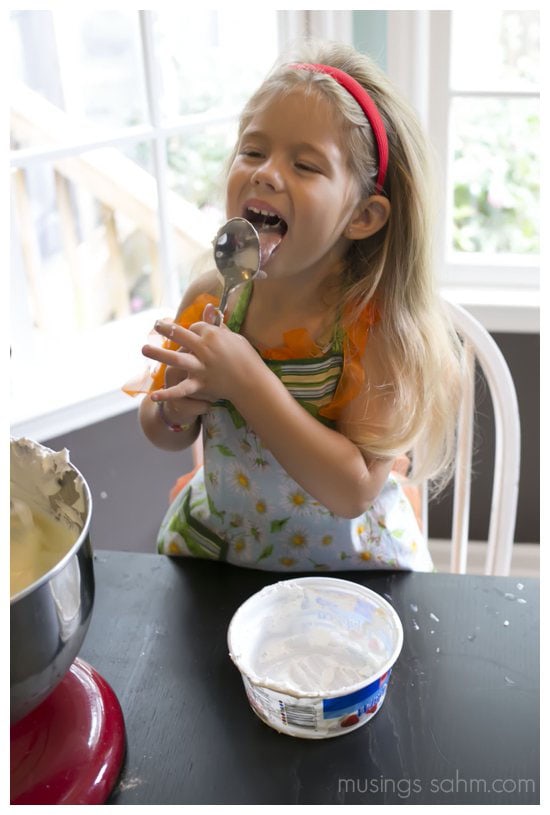 Get ready to layer vanilla wafers, the pudding mixture, and bananas in your serving dish of choice.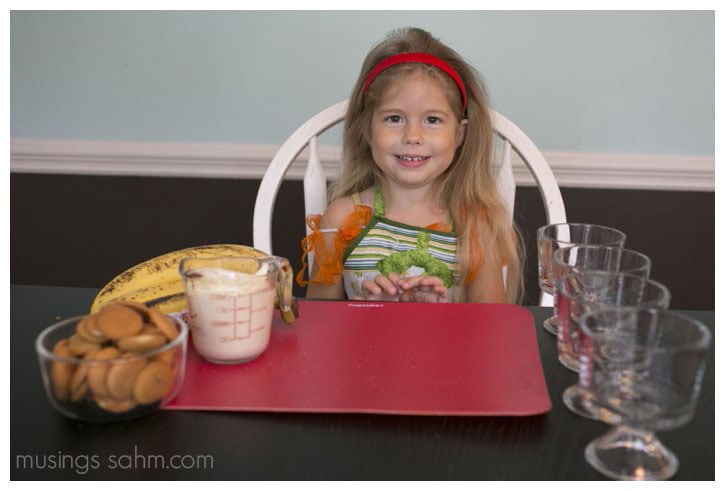 Place a layer of vanilla wafers in the serving dish.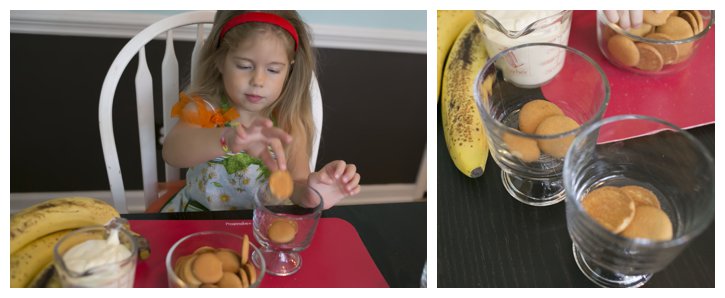 Add a layer of the pudding mixture to the serving dish.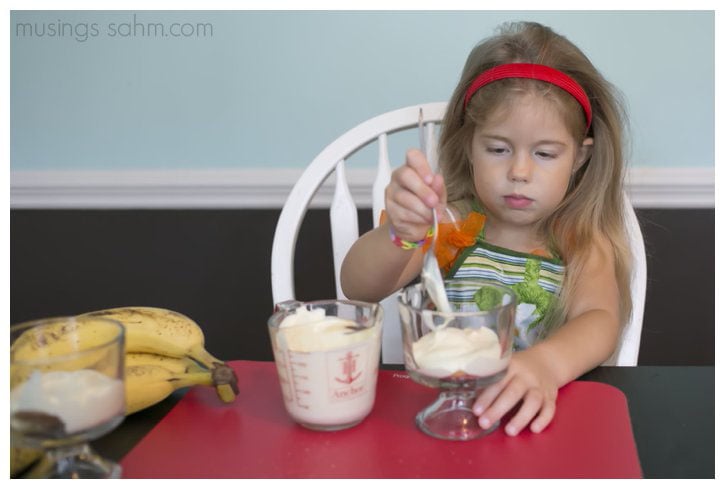 Slice bananas thinly, and add a layer on top of the pudding mixture.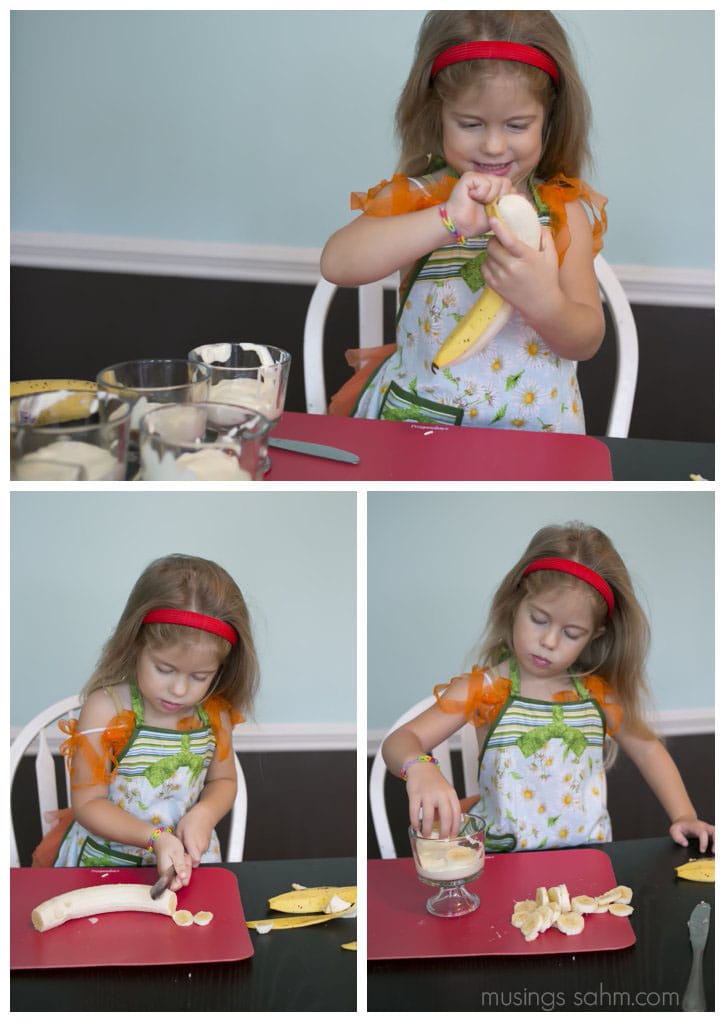 Repeat layers, as needed, until the serving dish is full.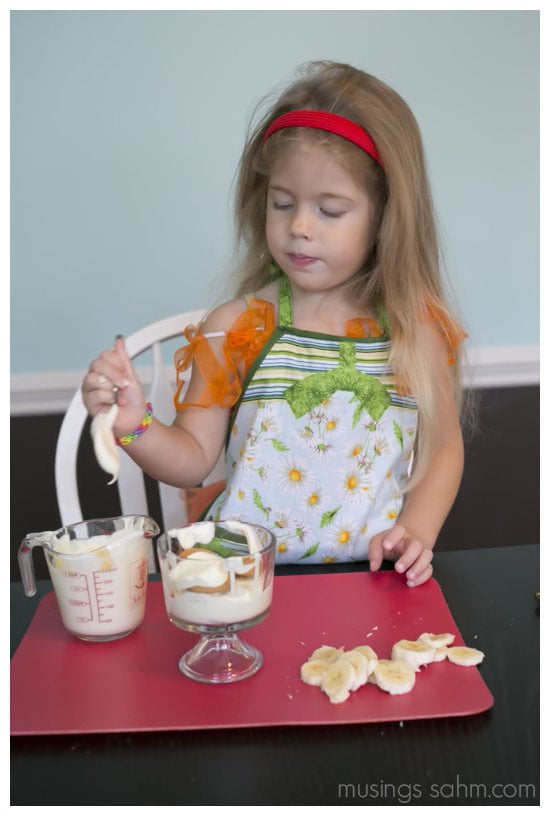 Embellish the top with any leftover vanilla wafers. You can really dress it up with a dusting of crushed wafers. Do not decorate the top with sliced bananas unless you add them right before serving!
Let the Banana Pudding set for at least several hours before serving. It tastes best if you can make it the day before. The vanilla wafers will soften and soak up the yummy pudding over time.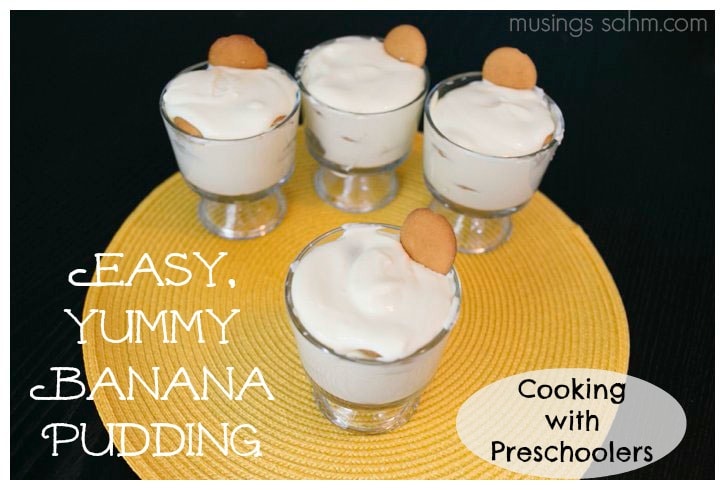 Print
Banana Pudding
An easy, delicious banana pudding recipe perfect for cooking with preschoolers
2

boxes (3.4 oz each) vanilla instant pudding

3 cups

milk

1

(8 oz) tub whipped topping

8oz

sour cream

1

box vanilla wafers
bananas (4 to 6)
Instructions
Mix pudding and milk, until thick.
Add sour cream and whipped topping to the pudding mixture and mix well.
Place layers of vanilla wafers, pudding mixture and sliced bananas in serving dish, repeating the layers as needed to fill the dish.
Refrigerate the Banana Pudding and wait at least several hours (or overnight) before serving.