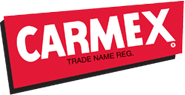 Carmex lip balms have been around for almost 75 years and now that healing, soothing, and moisturizing solution has been brought to skincare with their new Carmex Healing Lotion and Healing Cream.
My skin tends to be dry and our long, cold winters here in New Hampshire don't help. I often find myself with painful cracked hands from all the hand washing I do. It's important for me to have a good lotion to help my poor skin.
Carmex sent me their skin care kit which included their Carmex Healing Lotion and Healing Cream. Both products are made with quality ingredients during a patent pending process that allows for healing and moisturizing of rough skin without a greasy feeling.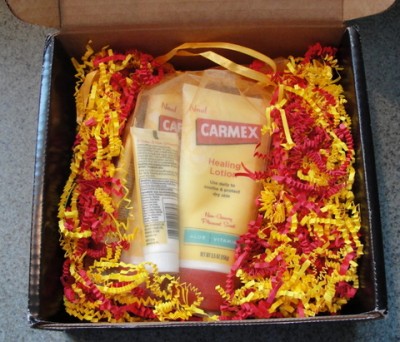 The Carmex Healing Lotion can be used anywhere you have dry skin and with daily use can protect skin and prevent dryness. Its rich healing ingredients include aloe & vitamin E and it comes in both tube and pump form for easy use.
Carmex Healing Cream targets really dry skin, such as elbows, hands, knees, and feet. With 9 healing ingredients, it works to penetrate and repair dry, rough, and cracked skin.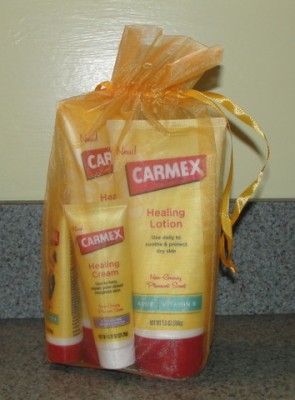 I have used both lotions regularly since I received them. To be honest, I had almost expected them to have that classic Carmex smell, but they don't. They have a pleasant gentle scent and both lotion and cream are smooth and easy to apply. I did notice that they both initially felt a little greasy to me, but it wasn't nearly as greasy as other "dry skin formula" lotions. And yet after a couple minutes, it was gone as the lotion or cream quickly absorbed. And my skin felt smoother, much smoother and improved.
I really like these new Carmex products and will keep them close in my cupboard or nightstand this winter.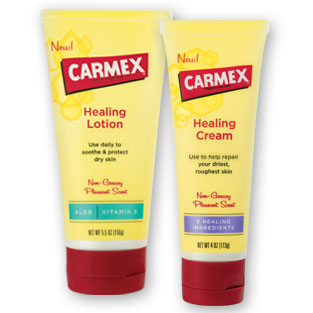 Buy It:
You can buy Carmex skin care products at Walmart, Walgreens, & CVS for a SRP of $5.99 for the full size tube and $0.99 for a small size.
Disclaimer: I received sample products to review as a member of the Carmex Blog Squad. I received no monetary compensation and my opinions are my own and were not influenced by the sponsor.