If you are in need of a side dish that's practically guaranteed to be loved by everyone at your dining table, look no further! This scalloped potatoes and ham recipe is greeted with actual cheers from my family every time I pull it out of the oven. It's that good!
I'll show you exactly how to put this simple dish together – bookmark this recipe because you will absolutely reach for this one over and over!
Creamy scalloped potatoes with ham
I'll be honest with you straight out of the gate – this is not a healthy dish. Sure, we could find nutritional high points in it (the ham adds protein, after all!), but at the end of the day, this is a comfort food recipe.
That means this old-fashioned scalloped potatoes with ham recipe is the perfect thing to make when you need an equivalent of a food hug. And who doesn't need that these days?
The ingredient list for this one is fairly short and consists of "real" food ingredients like butter, flour, milk, and spices, along with potatoes and ham. Just like grandma used to make!
Great way to use holiday leftovers
Yes, you can absolutely make this recipe any time of the year – we sure do! But I've also found myself making scalloped potatoes and ham after the holidays when I have a lot of ham left over from Christmas dinner or even Easter.
In fact, one of the nice things about the holidays is that even though there's lots of cooking and baking, afterward, there are usually plenty of leftovers. This means mom gets a much-deserved break from cooking.
Eventually, though, you may get tired of ham sandwiches and decide you want to cook something. Why not put that leftover ham to good use?
My favorite post-Christmas dish, hands down, is this one. I searched for a long time before finding this recipe, and after modifying it just a tad, it's quickly become our favorite.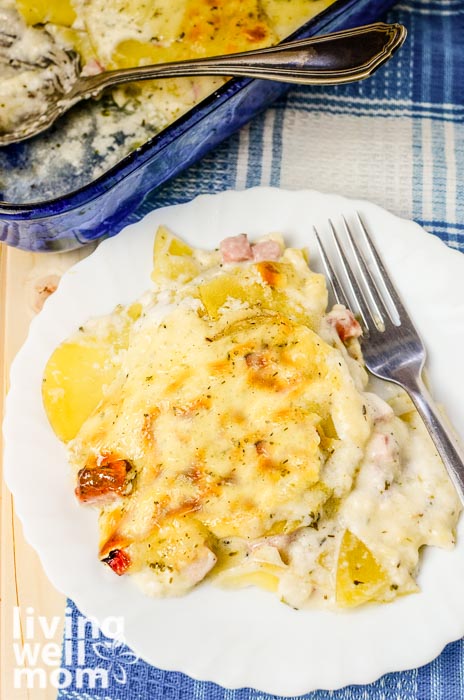 Ingredients
The ingredient list for this one is fairly simple, which is another win in my book! Here's what you'll need to whip up this decadent dish:
Dried parsley flakes
Dried thyme
Milk
Thinly sliced potatoes (about 5 medium-large potatoes)
Chopped cooked ham
Instructions
This recipe has a flavorful, creamy sauce, chunks of ham, and sliced potatoes. It's not low-cal by any means, but who's counting this time of year? It's comforting, warming, and oh-so-yummy!
One batch makes one large casserole dish or approx 6-8 servings. In my family of 6, we never have leftovers!
To make the casserole, start by melting the butter in a saucepan. I recommend doing this on medium-low, as anything higher can lead to scorched butter. For this dish, we want to keep that smooth buttery flavor!
Then add the flour, parsley, salt, thyme, pepper, and minced onion.
Stir until smooth. I find this is best done when I use a whisk rather than a spoon. Next, gradually add the milk.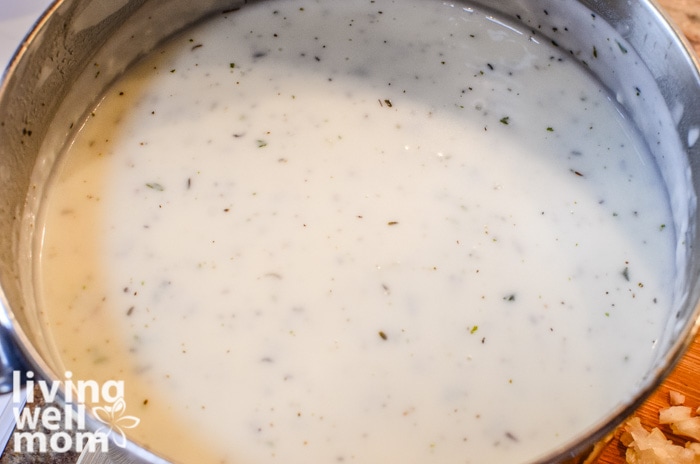 Turn the heat up to medium and bring to a boil. You don't have to stir constantly, but keep a close watch on it and stir regularly. Milk sauces burn quickly if they aren't watched.
Once it's boiling, cook and stir for 2 minutes. Then, remove from the heat.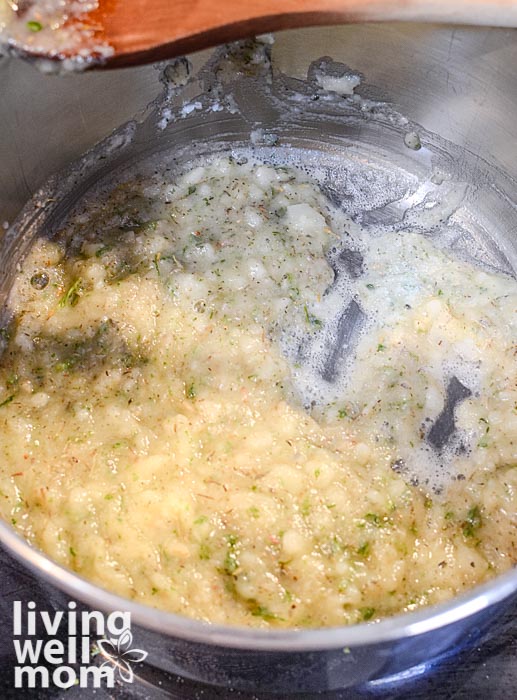 Next, grease a 2.5-quart casserole dish with a little (more!) butter. You could also use a 9×13″ pan – you want to make sure the potatoes are nice and thick (as pictured). Otherwise, they can get overcooked.
Now, layer potatoes on the bottom, then top with a layer of ham. You'll do several layers (about 3-4), so try to keep it as even as possible so every bite has some of that yummy flavor combo!
Lastly, pour some of that sauce on top.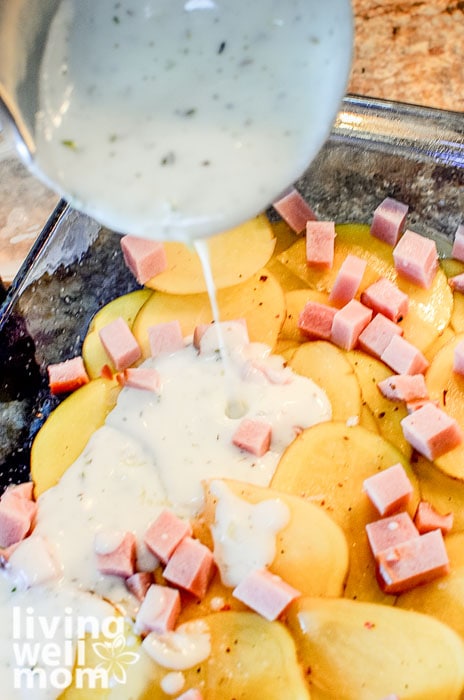 Continue layering with ham, potatoes, and sauce until you reach the top. I've found that about 3-4 layers are right for this dish. Then, top with the remaining sauce.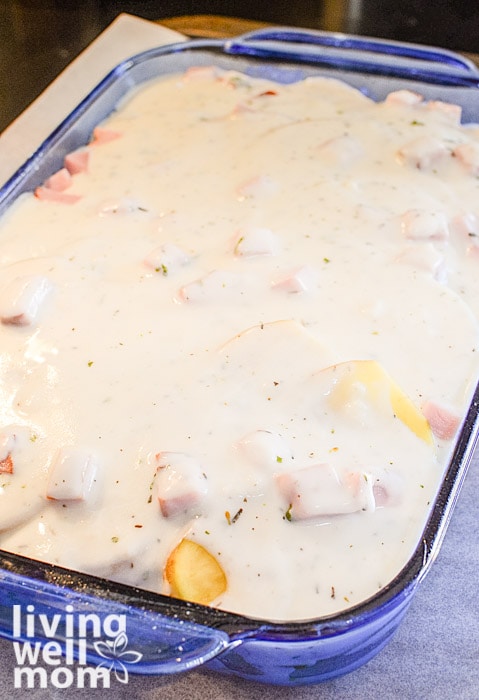 Cover and bake at 375º for 45-60 minutes or more until the potatoes are almost tender. You should be able to tell by poking with a fork. If the fork has a bit of resistance but can still go through – you are ready for the next step!
Top with the remaining butter and bake uncovered for 15-20 minutes longer or until the potatoes are fully tender.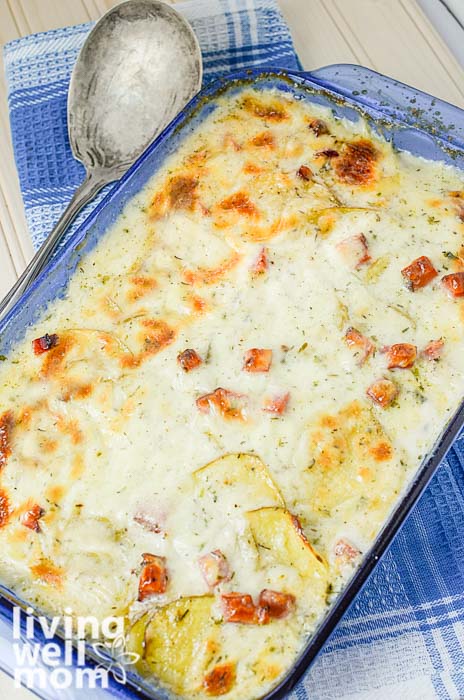 My family was fighting me to dig into the dish before I could get a better picture. Now, that's some evidence that this is a favorite!
It's that good.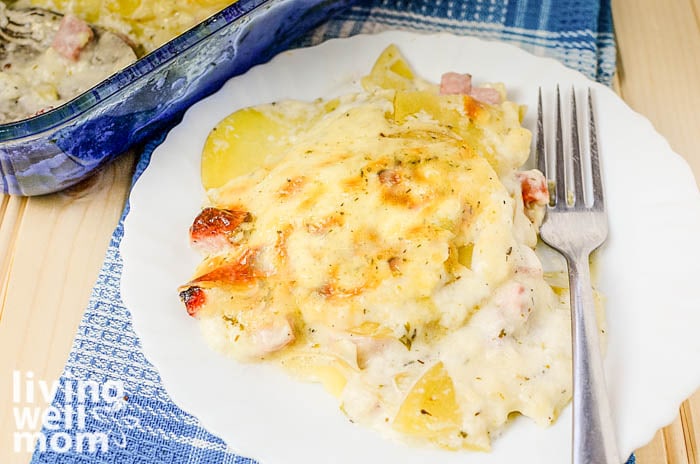 How to store leftovers
If by some miracle you have leftovers with this dish, you can store them in an airtight container in the fridge. They'll last about 2-3 days this way.
You can also freeze leftovers in airtight containers. Then, thaw to room temperature and reheat. Enjoy!
More side dishes to try:
Just pin it below to find the recipe later!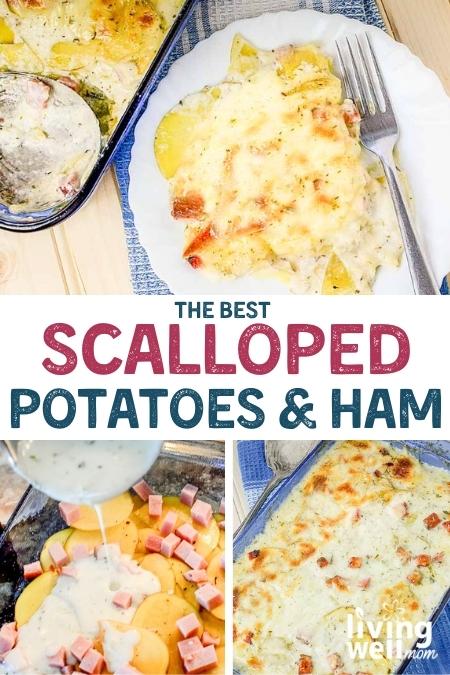 Print
Scalloped Potatoes & Ham
With a creamy flavorful sauce, chunks of ham, and sliced potatoes, this main dish has become a tried and true family favorite recipe.
Author:
Prep Time:

30 mins

Cook Time:

1 hour 20 mins

Total Time:

1 hour 50 mins
Instructions
Preheat your oven to 375 degrees.
In a saucepan, melt 4 tablespoons of butter. Stir in flour, parsley, salt, thyme, pepper, and minced onion until smooth. Gradually add milk and bring to a boil over medium heat. Whisk to keep smooth. Cook and stir for 2 minutes.
In a greased 2.5 quart casserole dish, layer potatoes and ham with sauce spooned over. Repeat layers (usually 3-4). Top with the remaining sauce.
Cover and bake for 65-75 minutes or until potatoes are almost tender. Dot with remaining butter and bake, uncovered, for 15-20 minutes longer or until potatoes are fully tender.