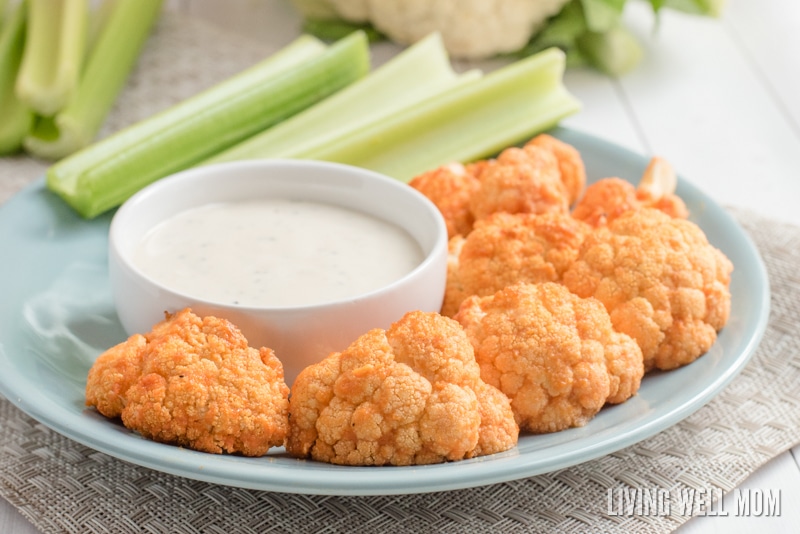 What happens when you get the afternoon or late night munchies? Do you open a bag of chips or pull out the chocolate? You could or you could whip up a plate of delicious satisfying Paleo Buffalo Cauliflower!
Buffalo Cauliflower is one of those rare guilt-free snacks that tastes like you're indulging, but you're not. Because this recipe is pretty good for you.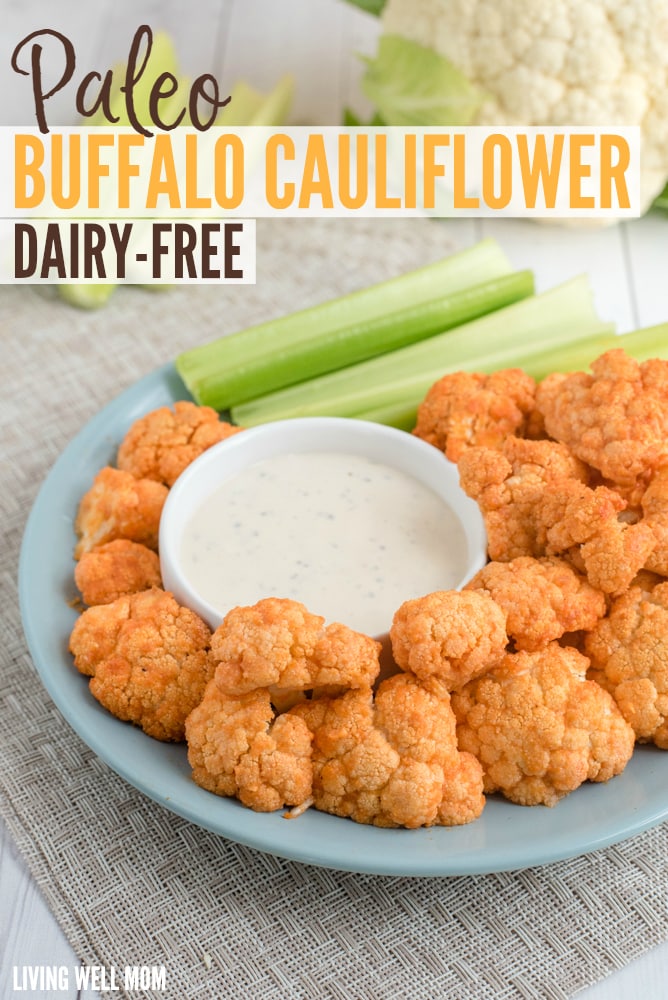 The main ingredient is a vegetable after all, while the other ingredients are simple without junk or a bunch of calories.
One approximate serving (about 1/4 a head of cauliflower) of Paleo Buffalo Cauliflower has around 85 calories!
This buffalo cauliflower recipe is dairy-free too, making it a perfect choice if you have food sensitivities, like me and my kids.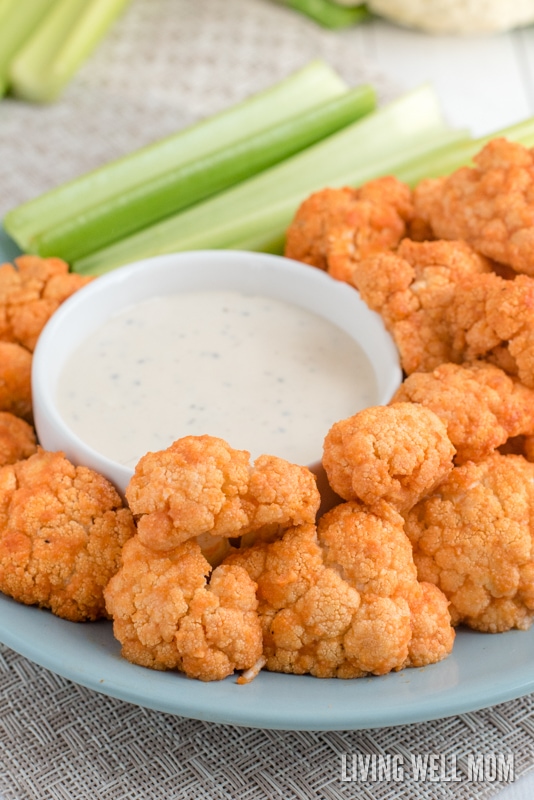 Cauliflower is one of those poor vegetables that rarely gets love. Most people will pick carrots or celery out of a veggie tray before cauliflower. Unless you're dipping in ranch sauce or coating it with cheese, cauliflower is just not that appealing.
Personally, I've grown to appreciate plain ol' cauliflower but I still prefer the buffalo version.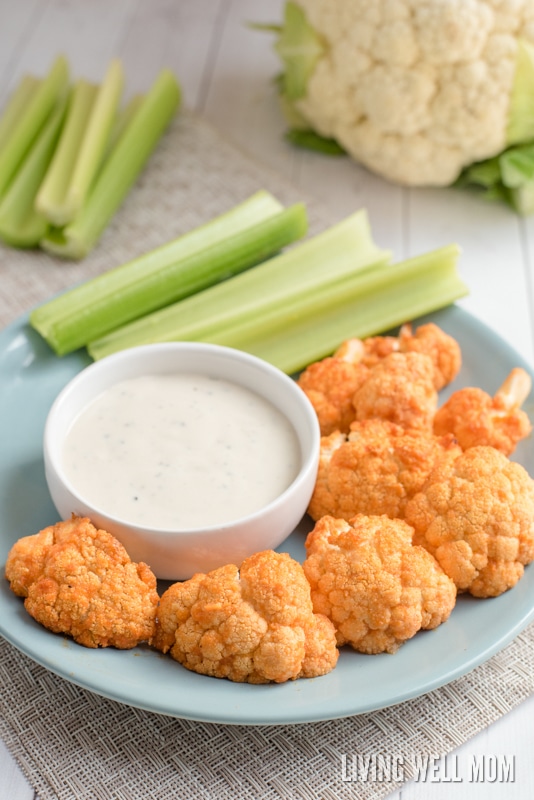 This Paleo Buffalo Cauliflower recipe is easy to make; the hardest part is cutting up the cauliflower and the longest part is baking in the oven for 25-40 minutes.
My whole family (except for my younger kids who don't like 'spicy') love Buffalo Cauliflower. I usually make at least 2 heads of cauliflower at once because we gobble it up so quickly!
Now when I get the munchies, I whip up a batch of Buffalo Cauliflower and my cravings are satisfied.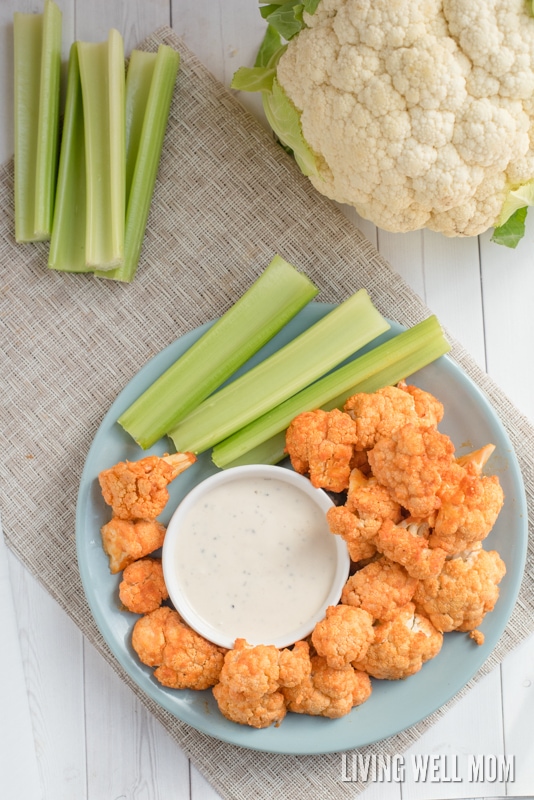 Paleo Buffalo Cauliflower is also a great healthier appetizer. Think Super Bowl parties!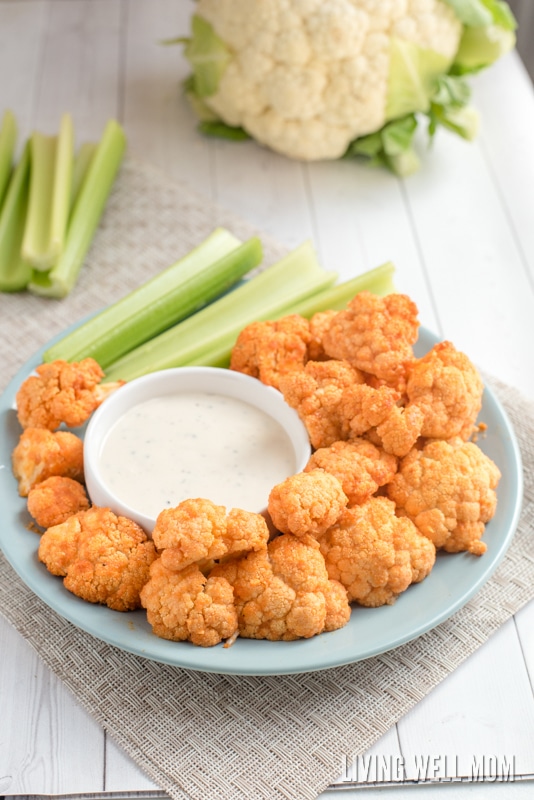 Print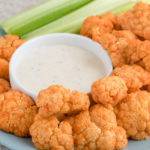 Paleo Buffalo Cauliflower
Author:

Prep Time:

10 mins

Cook Time:

30 mins

Total Time:

40 mins

Yield:

serves 4
---
Description
This Paleo Buffalo Cauliflower recipe is a delicious guilt-free snack or appetizer and it's also dairy-free!
---
---
Instructions
Preheat your oven to 400 degrees.
Melt the coconut oil and mix with the hot sauce. Add the garlic powder, onion powder, salt, and pepper and stir well.
Cut or break the cauliflower into pieces and put into a plastic gallon ziploc bag.
Pour most of the hot sauce mixture over the cauliflower; seal and shake to coat the cauliflower.
Check to see if the cauliflower is well coated and add the rest of the sauce if needed. This will depend on how large a head of cauliflower you have. If you add too much sauce, your buffalo cauliflower might end up a bit soggy.
Place on a parchment paper lined baking sheet and spread out so the cauliflower bakes evenly. Bake at 400 degrees for 25-35 minutes. Bake for longer if you prefer a crispier cauliflower.
Serve right away.
---
Notes
*Do not use frozen cauliflower. Fresh cauliflower works best as there is less water in it. Older cauliflower may result in soggier cauliflower that you will need to bake longer.
If your cauliflower releases some water during baking and is a bit soggy, cook for longer – up to 45 or even 50 minutes. (Be sure to check frequently so it doesn't burn.)