Rainy days are bound to happy even in the summer. A great way to keep the kiddos entertained inside is by getting those creative little minds thinking and STEM projects can do just that! This Catapult for Kids craft is both easy and inexpensive to make. Plus it will keep the kids busy for hours which is a bonus in any parent's book.
Although this craft is really easy to make, it can be a bit of a challenge for your children if they are given the supplies and told to make a catapult without any instructions. That is the fun and excitement of STEM projects! The kids get to be engineers and truly have to think in order to complete the given task.
I was able to find all the necessary supplies (exception of the craft glue) at my local Dollar Tree store. For under $5 you can create several catapults and have a launching party in no time! How fun would these be to make at a birthday party?
If you want to jump right to the having fun and catapulting part then you are in luck because I created a fun little tutorial for you below. Hope your children love this catapult for kids as much as mine do!
DIY Catapult for Kids STEM Project
Supplies needed:
(affiliate links):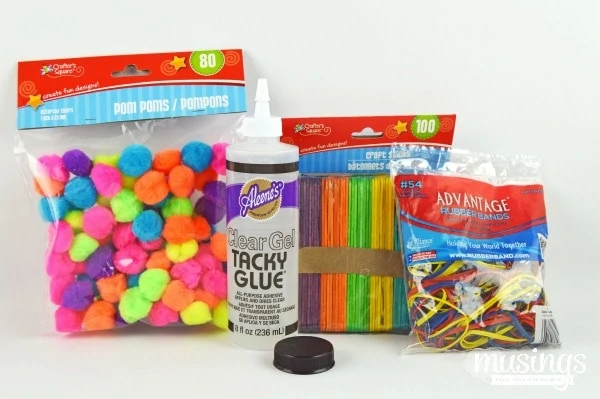 Directions:
Stack 5 craft sticks on top of each other and fasten them together tightly with a rubber band on the end like shown below.
Fasten the opposite side with another rubber band, tightly securing the craft sticks together.
Grab 2 more craft sticks and fasten those together with a rubber band creating a V like shape. We used a different color of craft sticks to make the catapult fun and colorful.
Place the craft sticks from step 1 in between the craft sticks from step 3. In this case, the orange craft sticks will be placed between the blue craft sticks (like shown below) and will provide support for the catapult.
Secure the two parts together with rubber bands in the middle where the sticks meet. Again make sure the rubber bands are tightly secured.
Using your craft glue, secure the lid onto the very tip of the blue stick. Allow to dry. This serves as your bucket for holding and launching various items.
Place poms poms into the lid. Use one hand to hold the bottom of the catapult down while using 1 finger from your other hand to gently pull back on the lid and release to launch the pom poms into the air!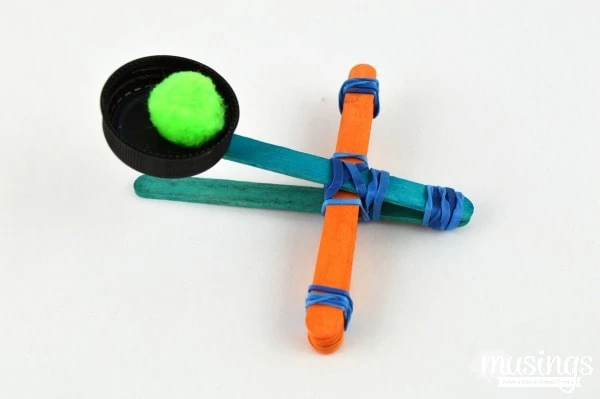 My son had a blast playing with this catapult for kids. It was a perfect activity since we have had lots of rain the last week. It kept him busy for quite awhile and he had fun making it.
Looking for another fun STEM activity? Why not try these exploding bubble bags? They are practically guaranteed to be a hit.