My kids are into anything that foams, fizzes, or explodes. There are only a few things we can do that can explode safely enough to use around kids, but one of our favorite activities that we return to over and over are exploding bubble bombs.
Before the name scares you off…don't worry. These "bombs" are totally harmless…and a lot of fun. Even better? These exploding bags help reinforce important STEM lessons in your children—but they'll be too busy having a blast to even notice they're learning. 😉
What are bubble bombs?
Bubble bombs are self imploding bags that leave a colorful explosion behind. Thanks to a combination of baking soda and vinegar, the mixture fizzes and bubbles leading up to the big bang.
Despite the name, bubble bombs are not dangerous, and they are super easy for kids to put together with spectacular results!
Supplies
This STEM project is super-simple, and you likely have everything you need to make these bubble bombs right now in your kitchen.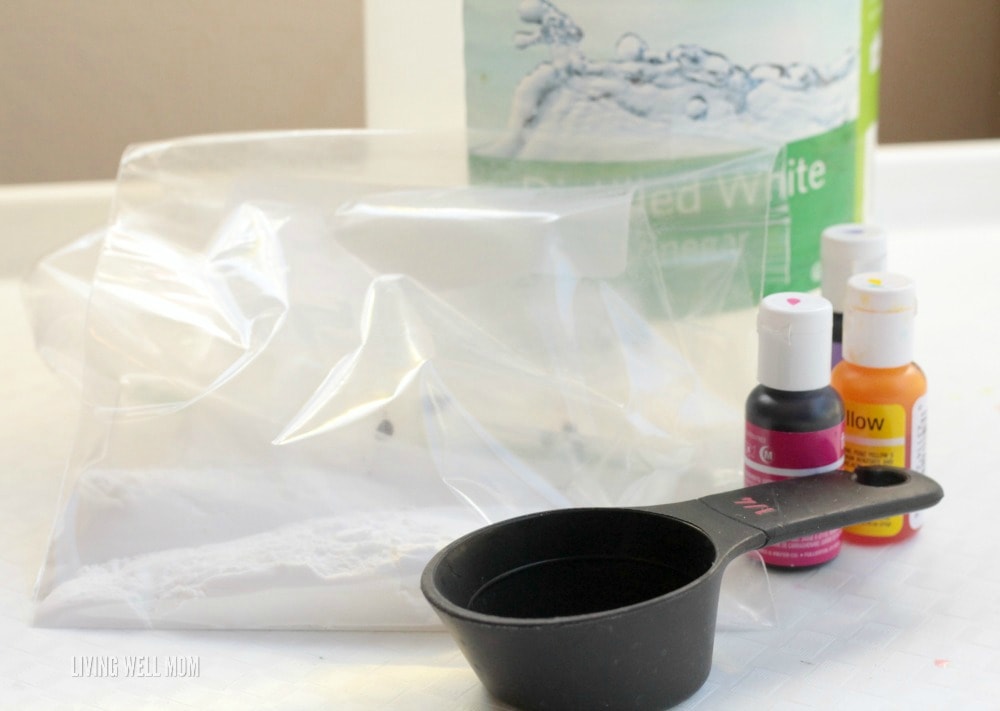 How to Make Bubble Bombs
The first thing you'll want to do is make sure your bags can actually explode. If you're using bags with a double-lock zipper closure, they may never burst. We like to use the store-brand bags because they usually have only one row of zipper, which makes them more likely to explode.
Once you have verified the bags strength (or lack of), it's time to get going with this fun STEM experiment.
Add 1/4 cup of vinegar to each bag and 5 drops of food coloring in the color of your choice. Seal the bags and take them outside.
Yes, this is definitely an outdoor-only activity. You really don't want bubble bombs exploding in your kitchen! By the way, once you are out there getting messy, why not throw these fun sponge bombs into the mix? They are like reusable water balloons—kids LOVE them!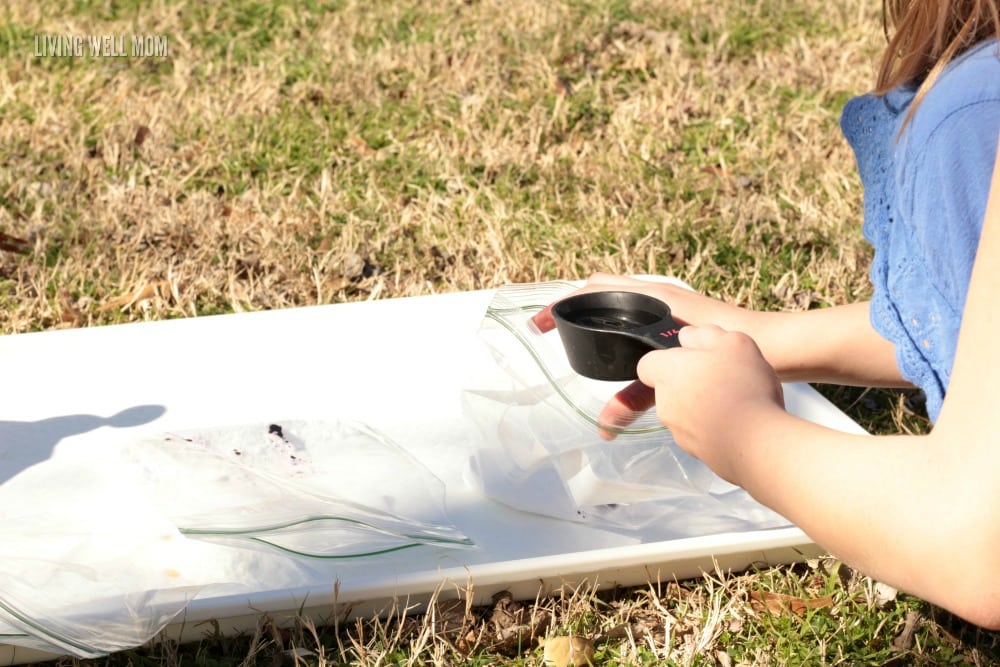 Once outside, open the bags just a bit.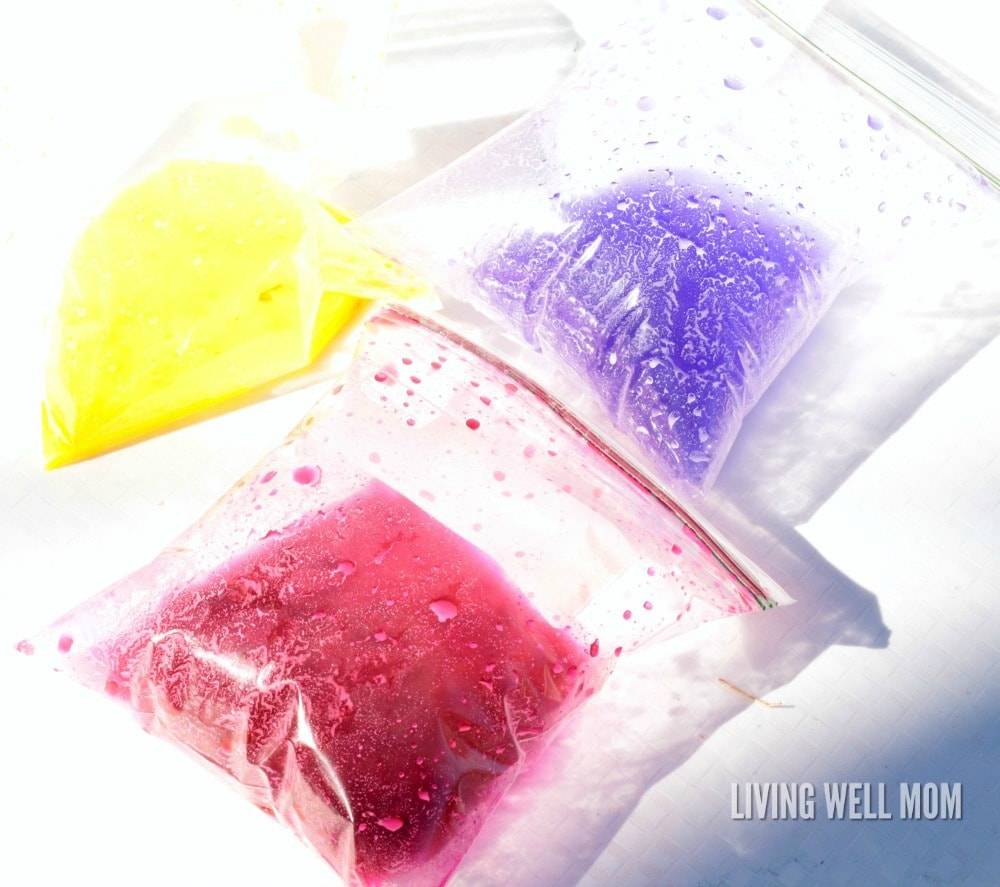 Drop in 2 tablespoons of baking soda, quickly seal the bags, and stand back. Here's where the fun begins!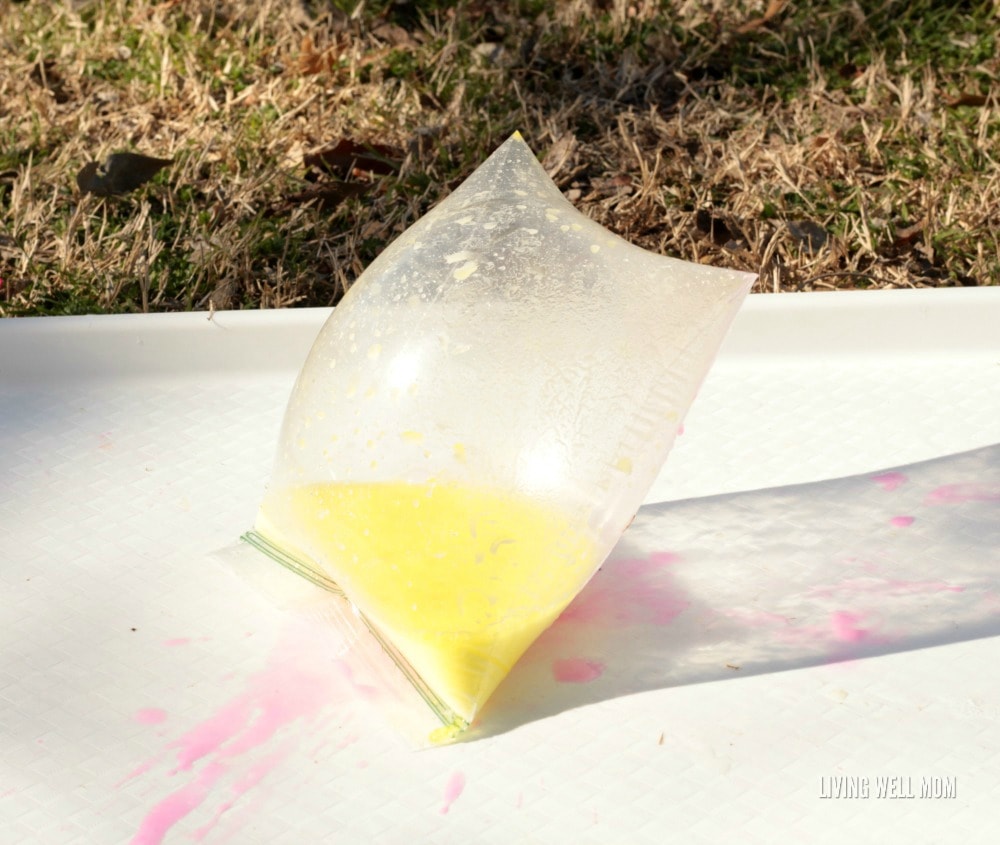 As a chemical reaction between baking soda and vinegar occurs, the plastic baggies will expand, bubble out, and finally, pop open with a loud "bang!"
The kids will love watching their bubble bombs explode! They'll probably request to do this experiment over and over, just like my kids did.
My kids loved mixing up this simple bubble bomb recipe. They could not believe that two simple ingredients could make such an impressive pop!
This simple science demonstration is the perfect way to introduce chemical reactions to kids in a simple, low-risk way. It's such a fun activity for a sunny spring or summer day!
FAQs About This Project
Can you use these inside?
While some people will tell you these are safe to use in a contained inside area like a bathtub, I strongly suggest you keep these bombs for outside only! Trust me on this one. I learned the hard way with a tub mistake so you don't have to!
Can I use any kind of vinegar?
While you technically could use other vinegars, I recommend sticking with a basic white vinegar. First of all, it's far more economical – now is not the time to pull out your best balsamic!
Secondly, the clear color allows the food coloring to really shine and makes those colorful explosions kids love to see.
What makes the bags explode?
Magic, of course! Kidding. This one is all about the science and chemical reactions. You know those old-school science experiments with baking soda and vinegar being combined to create a ton of lava? This is the same idea, just in a bag.
When the vinegar and baking soda mix together, carbon dioxide gas is created. In a sealed bag, there's nowhere for it to go so it just makes the bag explode. Pretty neat, right? There is a lot of opportunity for learning science with this fun experiment.
More STEM Projects for Kids