It doesn't get much better than these chocolate mint cookies. Two perfectly baked chocolate cookies are sandwiched together with a festive green mint icing for the ultimate flavor combo. You'll reach for this delicious chocolate chip cookie sandwich recipe again and again.
A Festive Holiday Cookie
You definitely don't need an excuse to make these cookies. However, if you are looking for one, I've got you covered. Actually, I've got you covered twice. Here are two times of the year where you will definitely want this recipe handy.
Christmas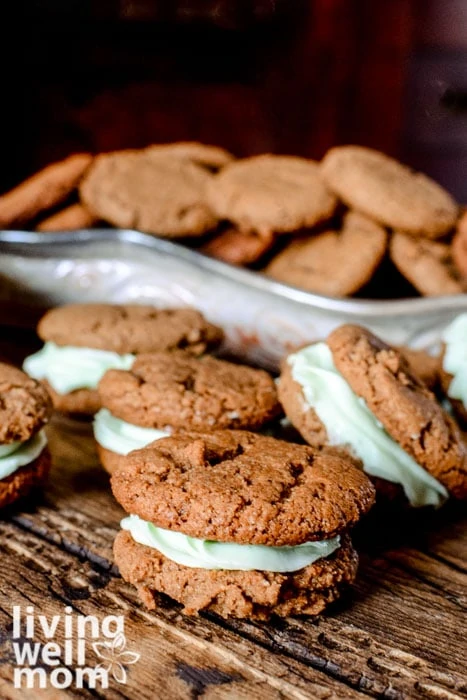 Christmas cookie baking is a tradition in my house and every year, we make these delicious Chocolate mint cookies.
There are certain must-have holiday flavors this time of year and peppermint is at the top of the list. These cookie sandwiches are so perfectly minty, I couldn't believe just how good they were the first time I made them quite a few years ago.
Plus, let's talk about the visual appeal of these. That green icing is gorgeous. These mint cookies look pretty and they taste even better! I've made this recipe dozens of times for PTA bake sales and holiday parties – they always are amongst the prettiest options on the table.
St. Patrick's Day
The other time of year I find myself making this recipe quite a bit is in March. St Patrick's Day is all about green, of course, and these mint cookies fit the bill perfectly. While a lot of people will make standard chocolate chip cookies dyed bright green, this is a more appealing option.
Chocolate Chip Cookie Sandwich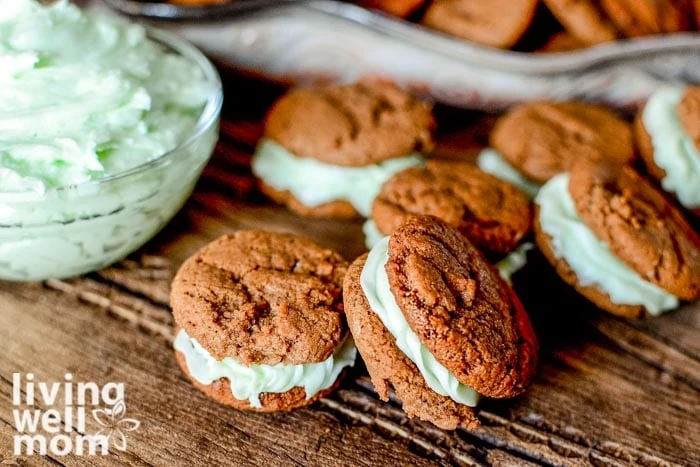 The chocolate cookie part of these sandwich cookies is so chewy and delicious that you could whip up a batch of just the cookie and they would do fine on their own. But, I highly recommend you make the mint filling along with it.
In my opinion, the mint filling is what makes this cookie absolutely incredible. One bite and you will be hooked! Sorry, fair warning!
These cookies have always been either the first must-make cookie on my list because I can't wait to get to them or the last because they are so delicious, I want them to be fresh and amazing on Christmas Eve. Actually, many years, I make two batches because everyone loves them so much.
Either way, holiday baking isn't complete without at least one batch of these Chocolate Mint Sandwich Cookies. These are my husband's absolute favorite Christmas cookies because he loves almost anything with mint it.
If you're in the mood to bake more, I highly suggest these magic 7-layer bars. They are so delicious and so easy to put together!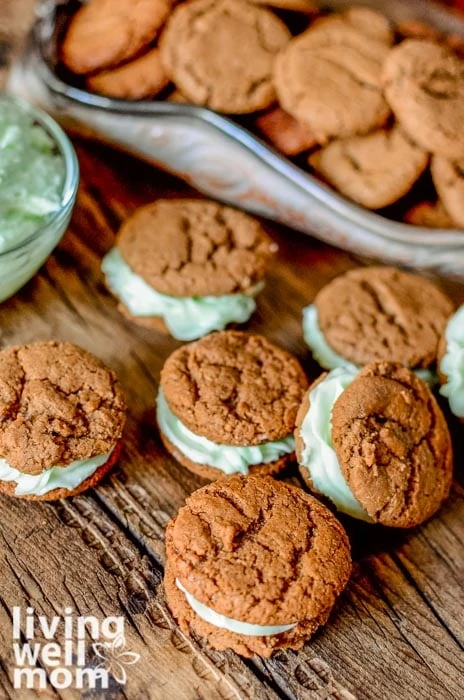 How to Make These Chocolate Mint Cookies
I wish I could take credit for this Chocolate Mint Cookies recipe, but I can't. I found it in one of my Taste of Home magazines a long time ago. You can see the original version (almost identical) here.
I love that this recipe makes quite a few cookies without even doubling it. You'll get about 30 good-sized sandwich cookies, which is already two cookies in one. Not too bad for a fairly simple cookie recipe.
Anyways, you must make these chocolate mint cookies this year. Seriously, it will be a smashing success with absolutely everyone!
Ingredients
For the cookie, you'll need:
For the filling:

butter – you'll want this softened, so make sure to leave it out on the counter for a bit
milk
green food coloring – yes, this is technically optional but I highly recommend adding it! It only takes 2-3 drops to achieve that pretty mint color
How to Make Chocolate Peppermint Cookies Step-by-Step
Now, the fun part – let's start baking!
Make the Cookies
First, preheat your oven to 350 degrees.
Next, heat the softened butter over medium-low heat. I use a small saucepan to do this. Add in the brown sugar, water, and chocolate chips. I typically use semi-sweet chocolate chips, but I had a reader tell me she used dark chocolate and it turned out fantastic.
Turn the heat to low, and stir continually until the chocolate chips are melted. Set the pan aside and let it cool down, for about 15 minutes or so. Next, whisk in the eggs and vanilla extract.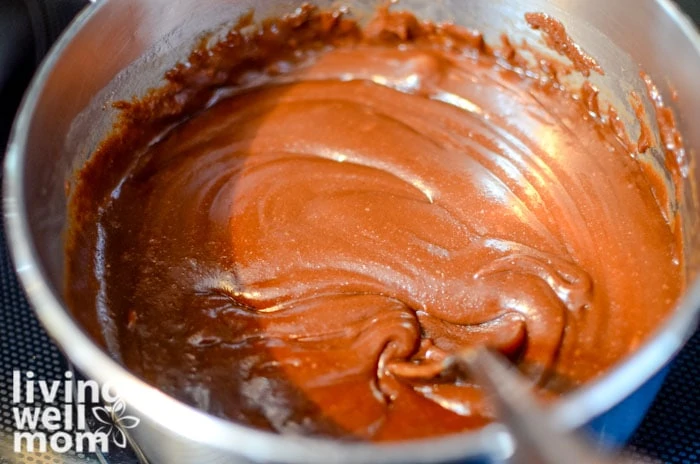 In a separate bowl, combine the flour, baking soda, and salt. Once it is mixed well, slowly add the flour mix and the chocolate mix together.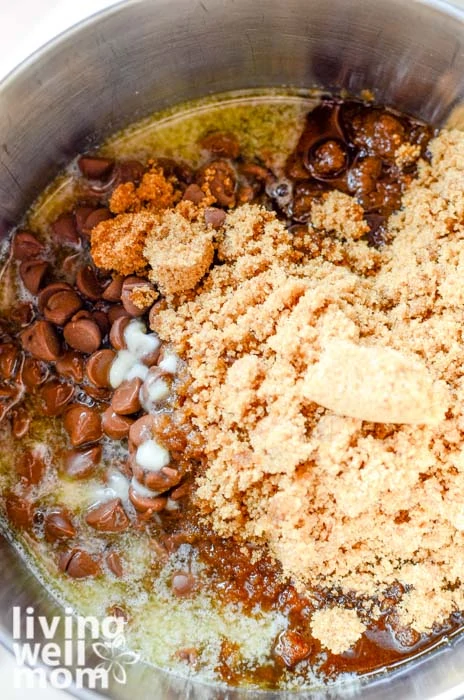 Grab an ungreased cookie sheet, and use a spoon or cookie scoop to drop small tablespoons of dough on. Bake for 10-12 minutes, or until firm. Then place on a wire rack to cool completely.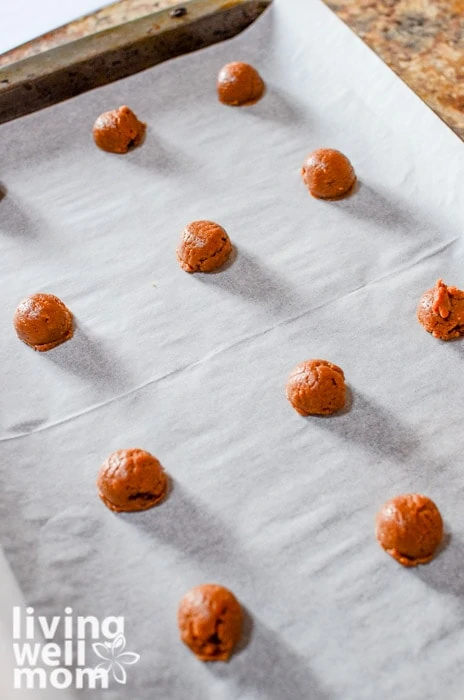 Make the Filling
As your cookies are baking, you can work on the filling.
Mix together the confectioner's sugar, softened butter, milk, peppermint extract, salt, and the food coloring (remember, just a few drops will do it!). Keep mixing until it's smooth and the color is even.
Once the cookies are cooled, spread the mint filling on a cookie, then top with another to create a sandwich of chocolate mint cookies. Yum!
If you have extra ingredients and want to add even more peppermint to your baking list (and why wouldn't you?), you've got to try this peppermint bundt cake. It's oh-so-easy to make and tastes incredible!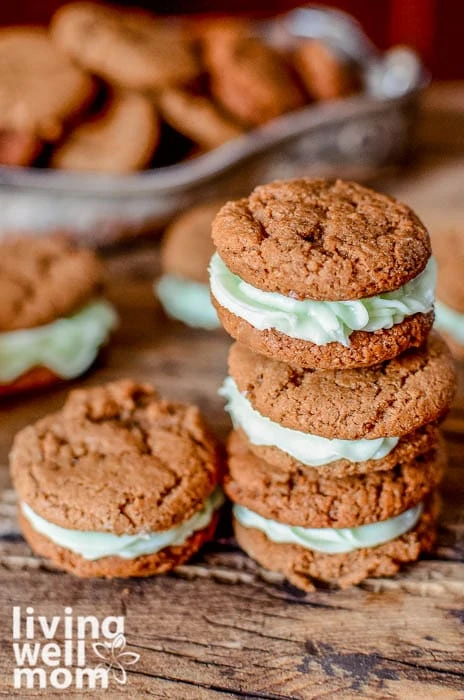 Everyone will thank you for it. Make it. Unless, of course, you have gluten and dairy restrictions like me, in which case, check out some of my Paleo recipes while you're here!
More Cookie Recipes:
Just pin it below to find the recipe for later!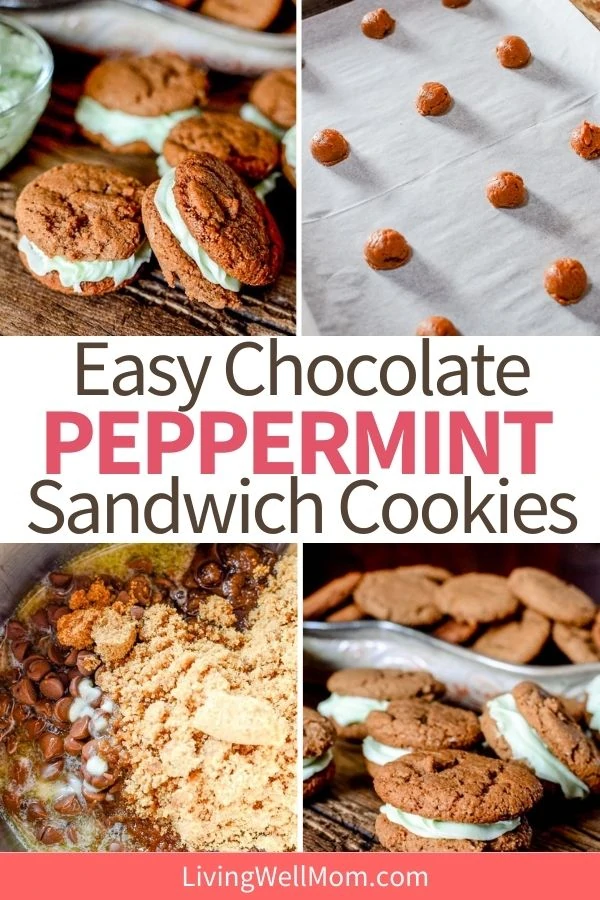 Print
Chocolate Mint Sandwich Cookies
Author:
Prep Time:

30 mins

Cook Time:

12 mins

Total Time:

42 mins

Yield:

30

cookies

1

x
6 Tbsp

butter

1 1/2 cups

brown sugar, packed

2 Tbsp

water

2 cups

(

12 ounces

) semisweet chocolate chips

2

eggs

1 tsp

vanilla extract

2 1/2 cups

all-purpose flour or 2 1/4 cup gluten-free flour blend with xanthum gum (I use King Arthur flour)

1 1/2 tsp

baking soda

1 tsp

salt
Filling:

2 1/2 cups

confectioners' sugar

1/4 cup

butter, softened

3 Tbsp

milk +

1

–

2

extra tsps

1 tsp

peppermint extract
dash salt

3

drops green food coloring, optional
Instructions
Preheat the oven to 350°
Melt the butter over medium-low heat in a small saucepan. Add the brown sugar, water, and chocolate chips. Decrease the heat to low and stir often until the chocolate chips are melted. Set aside to cool for about 15 minutes or so. Whisk in the eggs and vanilla extract.
In a separate bowl, combine the flour, baking soda, and salt. Gradually add to the chocolate.
Use a spoon or cookie scoop to drop small tablespoons of cookie dough onto ungreased baking sheets. Bake for 10-12 minutes or until firm. Place on a wire rack to cool.
Cool completely before adding the filling.
For the filling:
Mix the confectioners' sugar, softened butter, milk, peppermint extract, salt, and food coloring until smooth. Spread over the bottom of half of the cookies, then top with the rest of the cookies.