I have fond memories of making coffee ice cream at a friend's birthday party years ago. One day, I decided it was time to try this fun activity with my own kids.
Sure, you can buy ice cream from the store, but where's the fun in that? It's the same thing with an ice cream maker that takes up extra space in your cupboard anyway.
Or you can get the kids to help you make coffee can ice cream! Yes, it's entirely possible and is it ever delicious!
You'll need two coffee cans for this activity; one smaller than the other. I found a three pound and one pound coffee cans worked well. The Chock Full O' Nuts brand at my wholesale club store was the perfect three pound size, while one pounders are easy to find at all the grocery stores. Isn't coffee like stocking up on toilet paper; it's a necessity you may as well have on hand.
One more note: the old fashioned coffee cans seem to be going out of style which is so very sad because they are terrific for crafting. I must caution you to look out for imposters! Feel for the ridges, otherwise your can may be a shiny cardboard fake and that won't work for this project.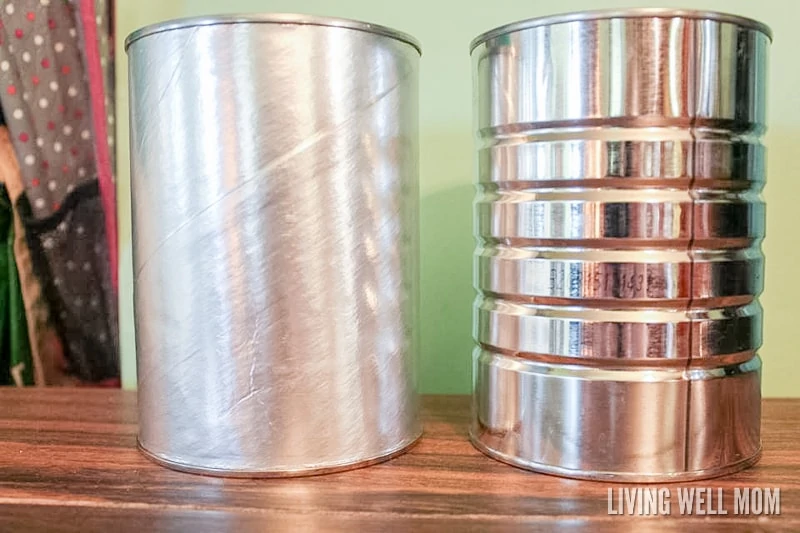 Next, you'll need to decide what to stir into your coffee can ice cream. You can use extracts, fruits, candy, frozen bits of cheesecake, crushed cookies, etc. ; whatever floats your topping boat. We had some leftover strawberries so I chopped those up and added a dash of vanilla extract. I wish I had a real vanilla bean to crush up, but alas.
Whatever you chose to stir in, make sure you freeze it for at least a couple hours first. Warm toppings will make it difficult to achieve ice cream consistency with your coffee cans.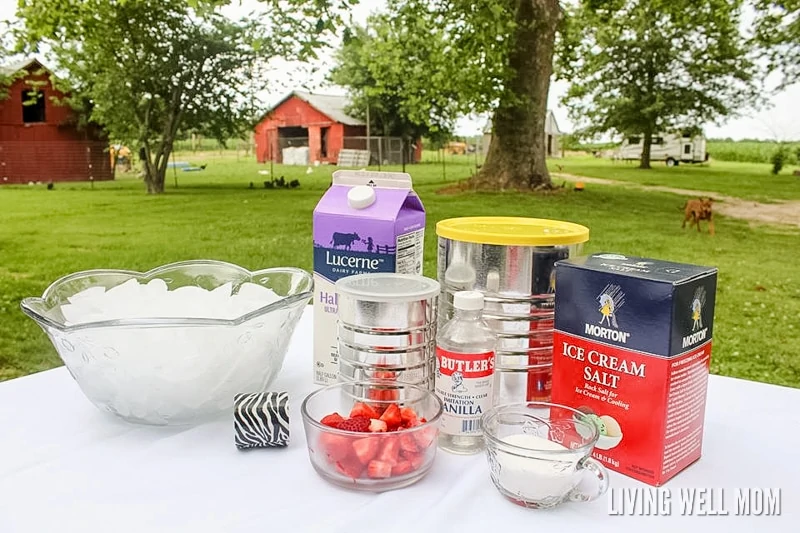 You'll Need to make Coffee Can Ice Cream:
1 pint half and half
1/3 cup of granulated sugar
toppings, your choice!
duct tape
ice
Start with your small coffee can and mix together the half and half with the sugar. Then add your toppings.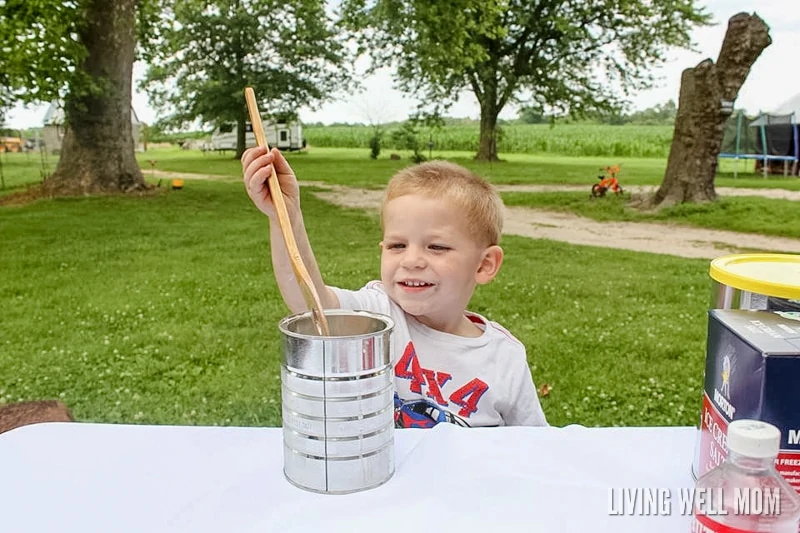 Put the lid back on and tape it tightly with the duct tape. This is important because you don't want your half-way made ice cream to fly out!
Stick the smaller can in your bigger can, then nestle ice and salt layers around it. Follow with more tape. (Personally, I thought about my son and dog, shuddered, and taped it even more.)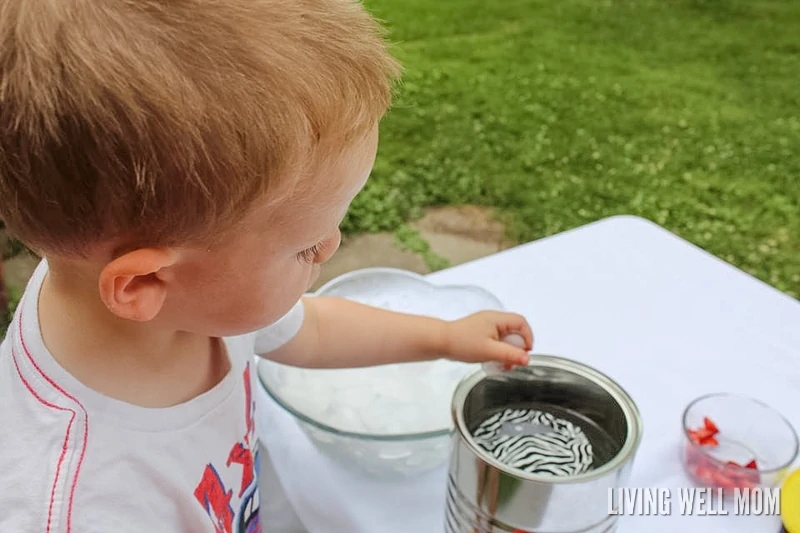 Now for about 10 minutes, have you kids go to town. Roll it, toss it, shake it, play a gentle game of soccer, whatever they want.
It helps to set a timer, because ten minutes can seem like an eternity when you want ice cream.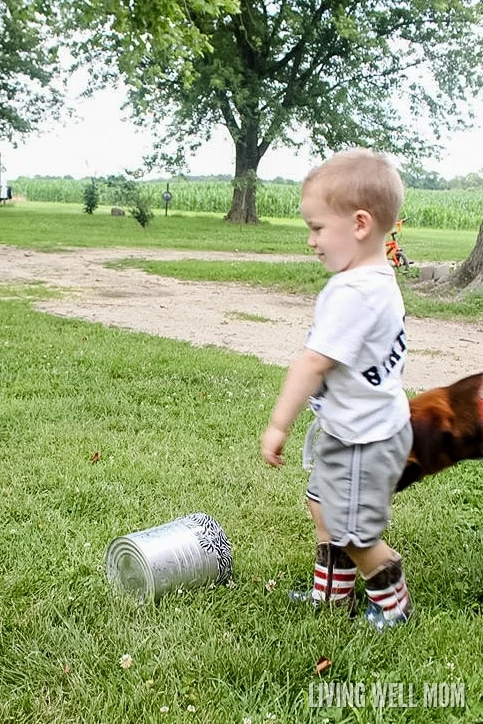 At this point, take a peek to monitor progress. You may be done! But you might need to keep rolling and kicking.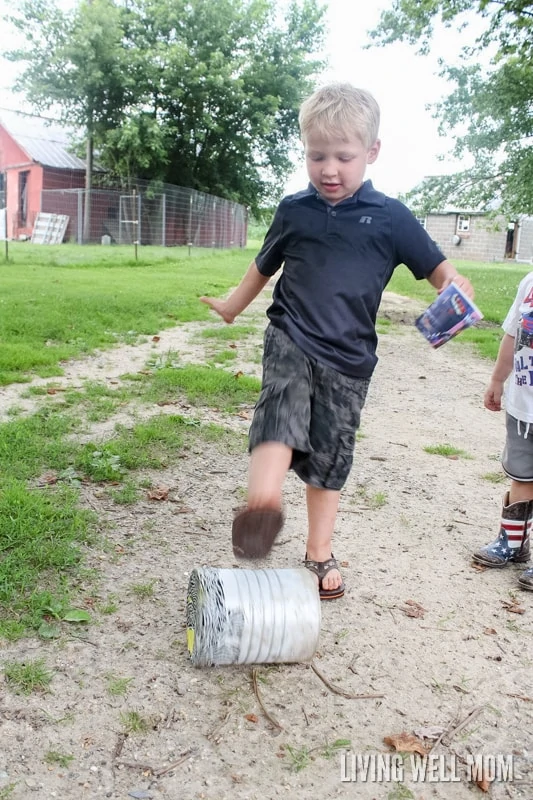 You can see how our ice is melting here, so we added more: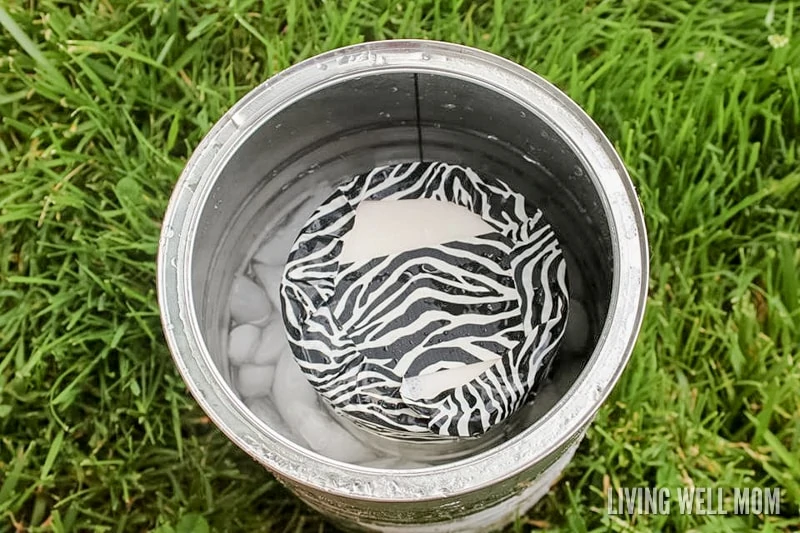 If needed, add fresh ice and salt and roll some more. We actually jumped on the trampoline for a bit, and I shook it for the baby's enjoyment for a while. Anything to keep it in action.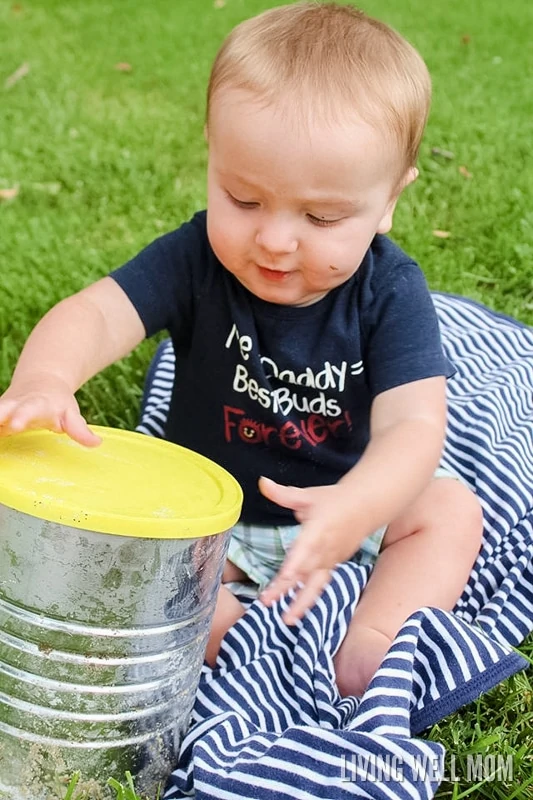 If you have older kids rather than ice cream hungry toddlers, have them look into the science of the melting and the rock salt. See if they can figure out why it works for melting sidewalks in the winter and making coffee can ice cream in the summer.
Once your coffee can ice cream is the right consistency, dig in!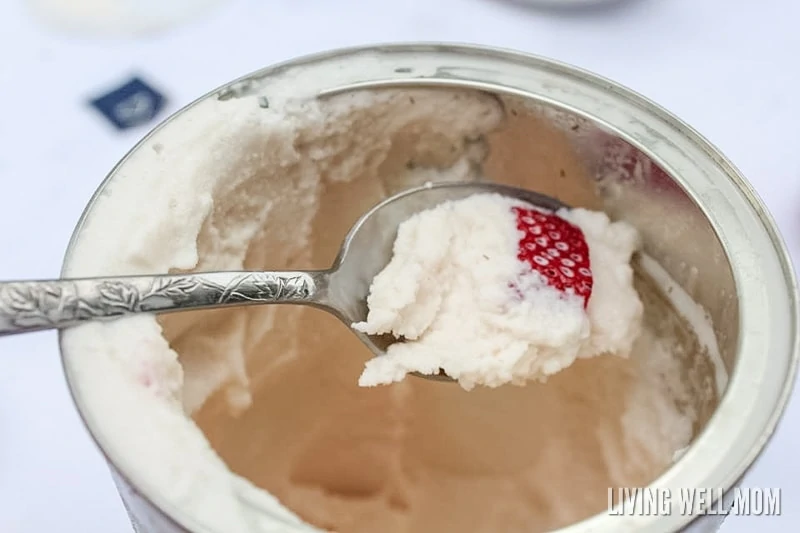 You'll want to eat it right away because it doesn't store like regular store bought ice cream.
What do you think? With a taste test of the kiddos, my preggo self, my picky husband, and the dog, we loved this sweet coffee can ice cream treat! Now to work on my next flavor combo!
Print
Coffee Can Ice Cream
Author:
Prep Time:

20 mins

Total Time:

20 mins

Yield:

4

1

x
Category:

Dessert
1 pint

Half and Half

1/3 cup

of sugar
Rock Salt/Ice Cream Salt
Toppings (chilled or frozen)

2

coffee cans – one large, one small enough to fit in the other
duct tape
ice
Instructions
In the smaller coffee can, mix your half and half with the sugar, followed by your desired toppings. Tape the lid on nice and tight.
Stick the smaller can in your bigger can, and then nestle ice and salt layers around it. Follow with more tape.
Set a timer for 10 minutes, then roll, toss, shake, or play a gentle game of soccer.
Check for progress. If it's done, dig in, but you might need to add more ice and rock salt and shake around for a little longer. Once your ice cream is the right consistency, enjoy it right away!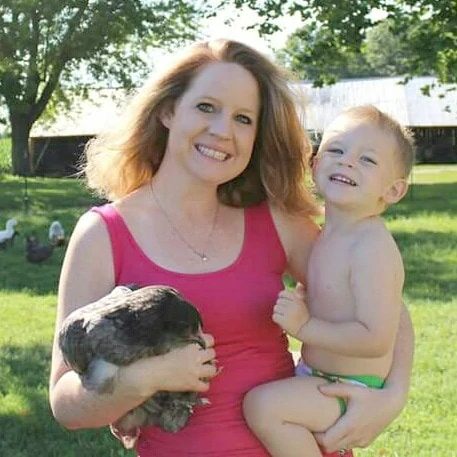 Thanks to Leslie for providing this guest post!
Leslie works in accounting by day, but in the evening it's all about having fun outside with her family.
She lives on the eastern shore of Maryland on her husband's family farm which they have
renamed The Puddle Jump Farm for their son, who has yet to see a puddle he doesn't like!