Hi everyone! My name is Jennifer Taylor and I write the pregnancy and baby blog: MomTricks.
In today's modern world more than ever, it's important to encourage kids to engage in outdoor activities that promote healthful living, fun activity, and good work ethics.
What better way is than to get them involved in gardening? Gardening has many perks; it is well worth the time and effort to teach kids while they are young to appreciate all that it has to offer.
But the question remains: how can we entice kids to want to share in this cherished pastime and what will best make it an enjoyable experience for them?
8 Creative Ways to Get Kids Involved with Gardening
#1: Get kids their very own supplies
Kids love having their own set of gardening tools, especially if they are designed to fit smaller hands. The more personal their supplies are, the better. Either let them pick them out themselves or present them as a gift…whatever will help them feel the excitement!
Consider not only the practical side of the tools/supplies, but also the design/colors that will appeal to them. Include a trowel, a hand rake, a shovel, and a hoe. They will also need a watering can or sprinkler. Don't forget to break out the bug spray if the mosquitoes are out, and a good sun block to keep them well-protected.
For comfort and style, you can also choose knee pads, an apron with pockets, and gardening gloves. If necessary, you may also need to supply them with potting soil and small pots for germinating seeds. Of course, you don't really need all the fancy stuff.
#2: Give them their own garden plot
Nothing makes gardening come alive for kids quite like having their very own, personal space that they are in charge of. Make sure that it is not too large or they might become overwhelmed.
Define the space by putting a nice border around it so that there is no question what area belongs to them. Help them prepare the soil initially, as that tends to be one of the more difficult tasks that they may not have the strength to do. Let them dig and get dirty…that's half the fun!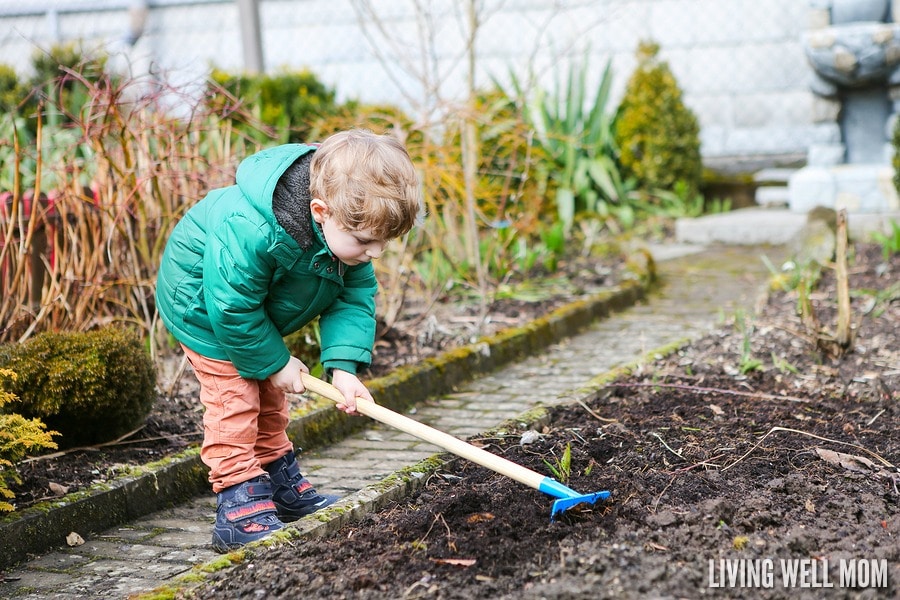 #3: Let them choose their own seeds and seedlings
Now that they have what they need to get the job done, allow them to choose what veggies they want to grow. Offer them several choices, but explain to them which ones are easiest to grow and take care of and which ones will provide a quicker harvest.
Radishes grow quickly and can be planted in early spring, but are not necessarily everyone's favorite vegetable to eat. Squash, melon, and bean seeds are easy to plant, but need adequate room and possibly will need a place to vine.
Tomatoes and peppers have high yields and are easy to harvest, but need to be germinated quite early in the season, so consider buying seedlings that already have a head start.
No matter what plants the kids are interested in growing, help them research what might be involved so that they know what to expect and how to properly care for them.
#4: Get creative with planting
When it comes time to actually put the seeds/seedlings in the ground, think outside of long rows. A simple idea is to create square sections and then stake out X shapes inside of them…then the kids can plant a different variety in each of the resulting triangles.
Try stacking planting boxes or containers in fun ways, perhaps with different tiers to give the garden space height and diversity. Use old tires filled with potting soil for fun circle gardens. Make sure to research how close together to plant certain veggies and how deep the seeds need to go.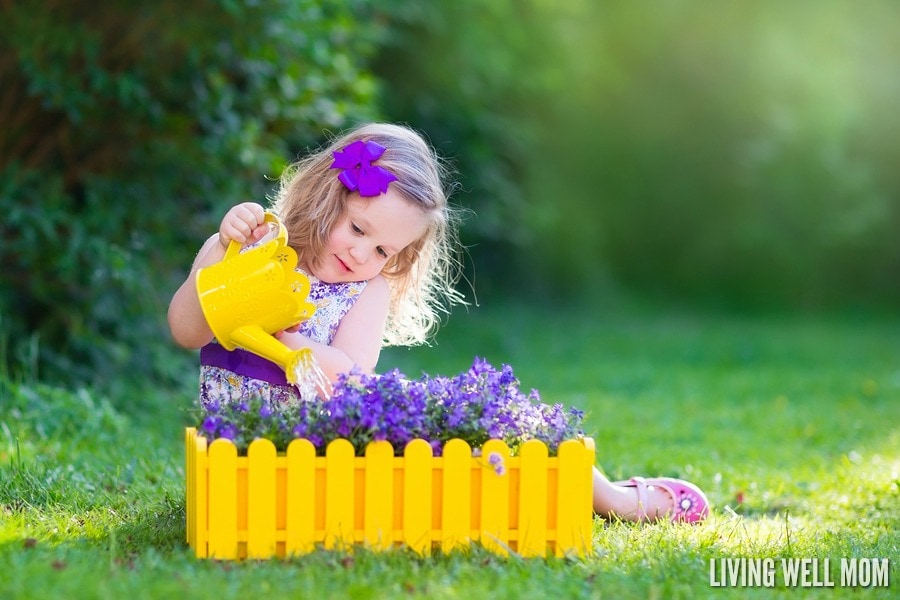 #5: Don't settle for a boring garden space
Experiment with using fun garden decor, stepping stones for a pathway, cute fences, or whimsical garden stakes. Let the kids be creative and decorate their own gardening plot to reflect their personality.
#6: Build a trellis fort
If you have enough space, this is a great way to make a garden super special for kids. Make a fun shape, such as a teepee or lean-to, out of lumber or branches. Let the kids plant vining plants near the base of the structure.
As the plants grow, show the kids how to guide them upward so that they intertwine and create an enclosed space for shade and privacy. A fort of this kind is always a great hit with kids. Consider using "vining" pole green beans, squash, or melon plants for this purpose. (Only choose melons/squash varieties that create smaller fruits.)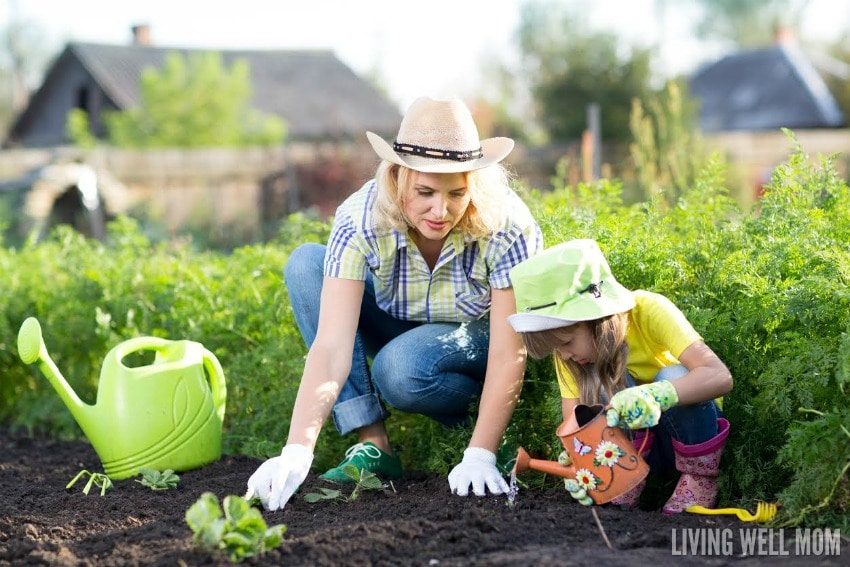 #7: Make garden maintenance a social activity
Once the seeds are planted and begin to sprout and grow taller, don't let the work of maintaining the garden space become drudgery. Offer to work side-by-side or invite other kids to join in when it is time water or weed.
Sing, talk, or play together while in the garden or include a fun water fight if it gets a little too warm. Never present it as a "chore" or expect the kids to work alone or in the heat of the day.
Offer a special treat after working in the garden, such as a trip to the swimming hole or out for an ice cream cone to cool off. Incentives such as these help kids associate their gardening time with positive and happy memories.
#8: Let them enjoy the fruits of their labor
When it comes time to harvest their produce, encourage the kids to create their own meals out of their vegetables. Sometimes kids who are reluctant to eat certain veggies are excited to try them after watching them grow in their very own garden.
If they have a bumper crop, offer to help them set up a stand at the local farmer's market and sell their excess.
Making recipes using their very own harvest is an unforgettable experience. Grow some rhubarb & make a pineapple rhubarb upside-down cake together – you won't regret it!
On the other hand, don't worry if your gardening experience isn't perfect in every way. Chances are there will be too many weeds, too many bugs, and plants that die or don't produce, but those things can be a great lesson at looking at the big picture!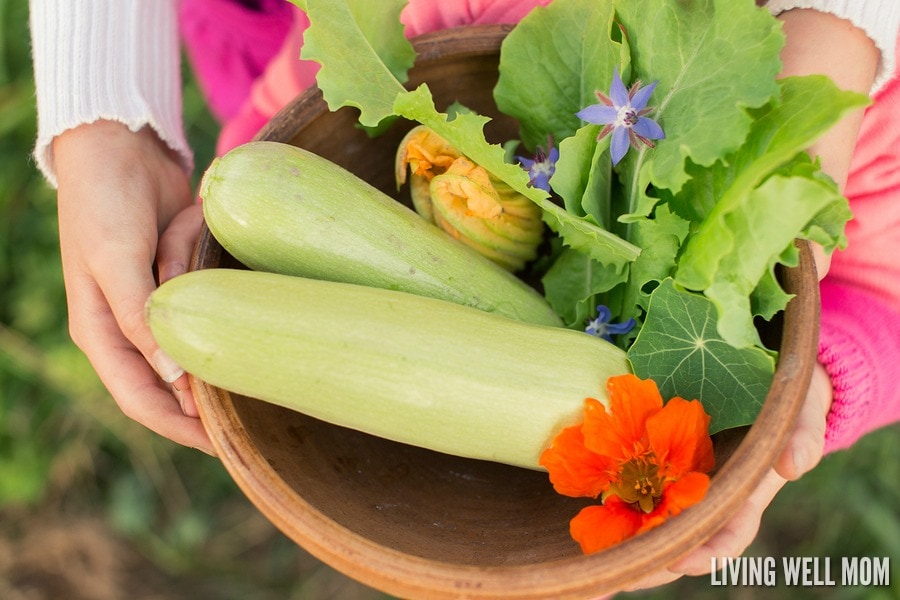 Keep it positive and you will find that there are many advantages to gardening with kids, such as: learning a new skill, getting fresh air and sunshine, staying active, making happy memories, trying new foods, and having fun!