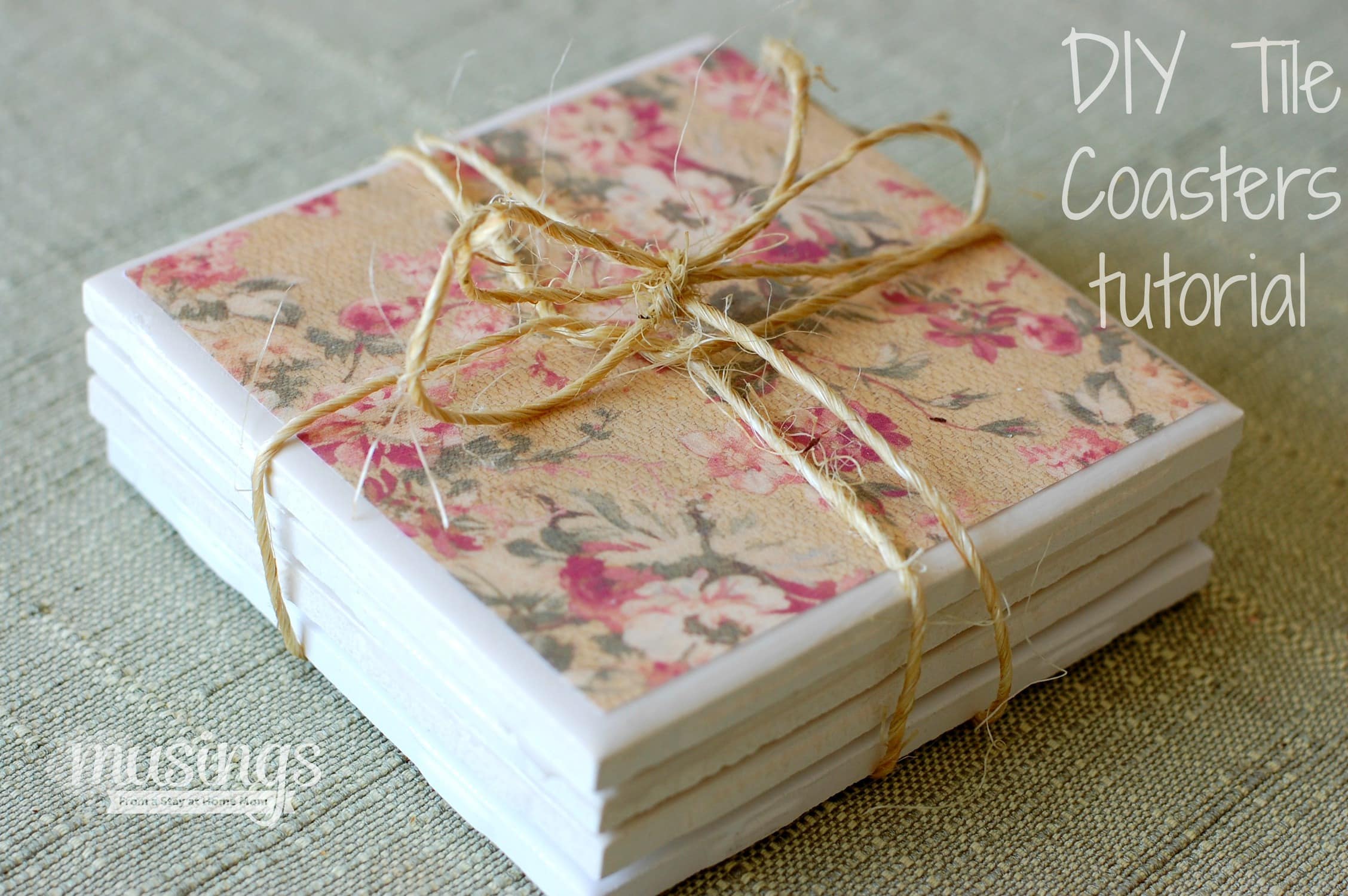 It's easy to make DIY Tile Coasters and you'll love how they add a pop of color or decor to your living room or any room you need coasters. They're also practical (good-bye water marks!) and a great way to add stability to something like a cushy ottoman.
DIY Tile Coasters also make excellent inexpensive homemade gifts!! I made these four tiles for about $4!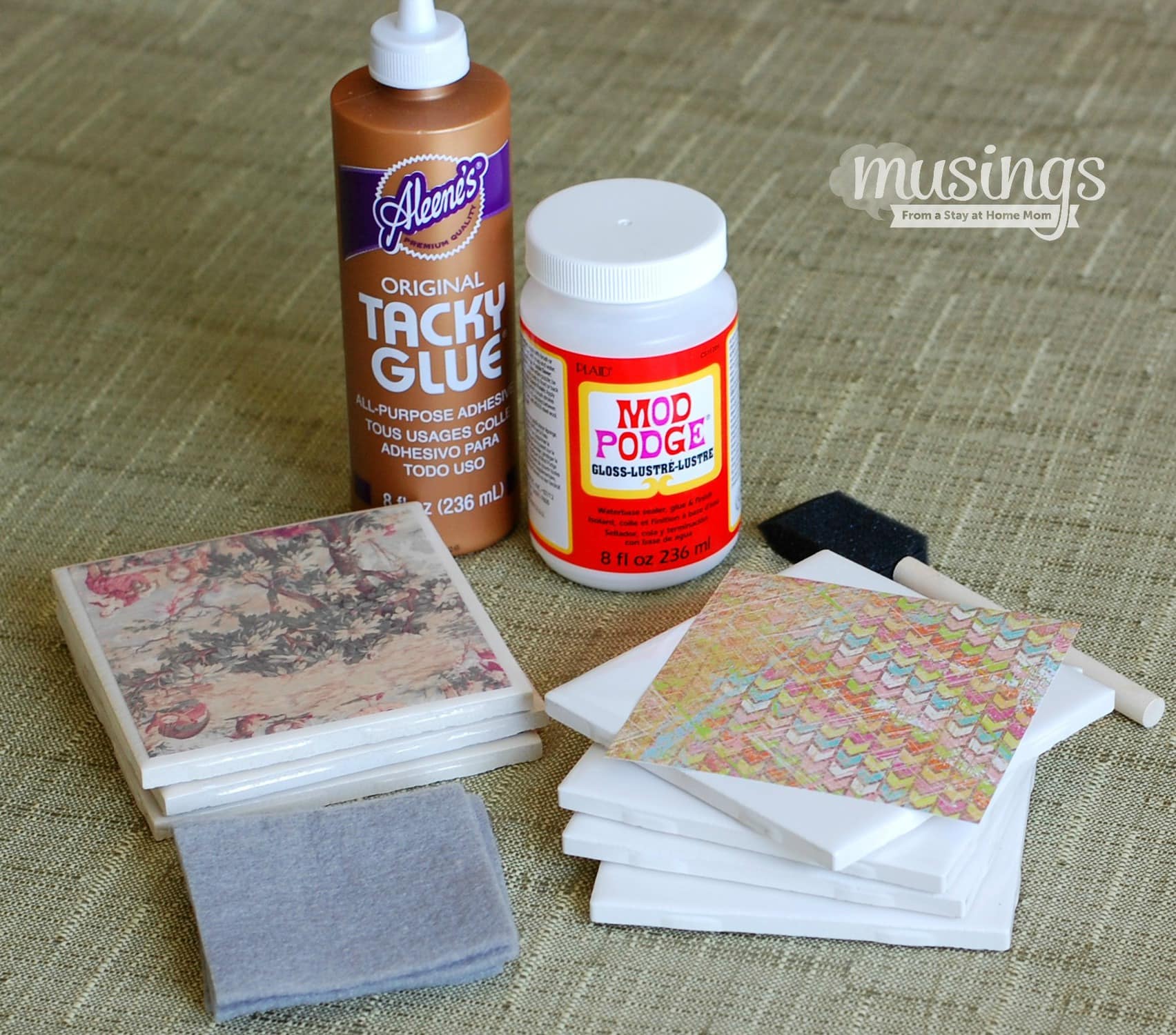 Materials Needed:
(affiliate links):
4″ by 4″ white tiles – I got my at Lowe's for $0.16 each
4 Different Scrapbook Paper Designs – cut into 4″ by 4″ squares
Hair Dryer
Felt cut into 3″ by 3″ squares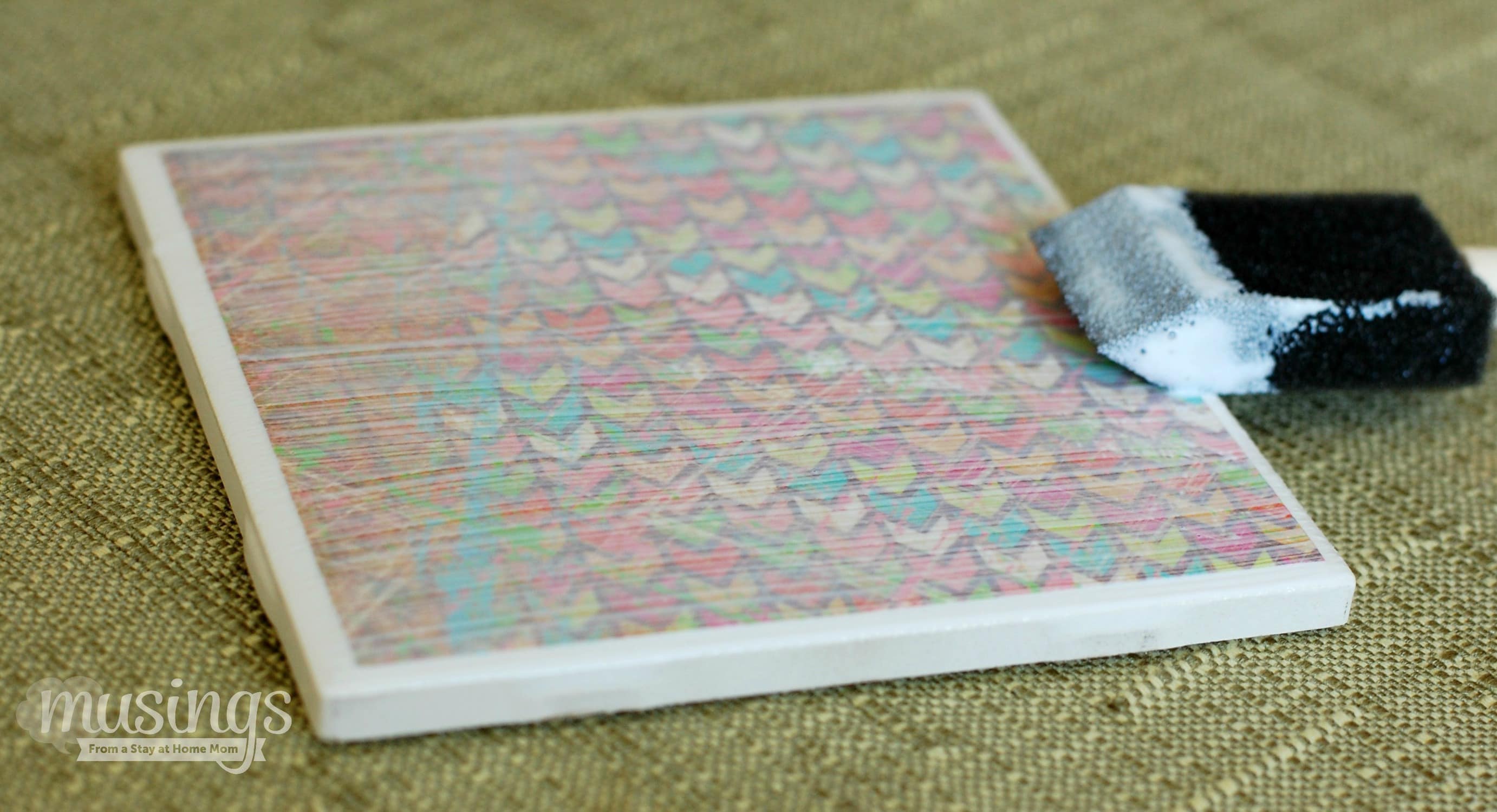 First, make sure your tile is nice and clean and dry before you get started. There could be some streaks or dust on them from shipping and sitting on the store shelves.
Pick out four different scrapbook paper designs that will go together, but not necessarily perfectly "matchy matchy." You could mix up some floral with some chevron patterns as I have done. I recommend using a paper cutter for perfect edges, and cutting your paper into 4″ by 4″ squares.
Use your foam brush and put on a nice but smooth amount of mod podge onto your tile. Then place your scrapbook paper down and evenly press the paper until it is smooth, with no air bubbles. This may take a couple of minutes to smooth out air bubbles and wait for the glue to start to dry.
You will then place another coat of Mod Podge on top of the scrapbook paper – apply a thin layer, and be sure it is spread evenly! Even though Mod Podge dries clear, you can still see the texture of it if you have it globbed on your tile unevenly.
Now you can either let it sit over night and let it dry, or pull out your hair dryer to speed up the drying time. You will need three full coats of Mod Podge on your tile to be sure it is waterproof. If you want to complete this project in the same day, then use your cool setting on your blow dryer and dry it for about 10 minutes in between coats. If you use the hot setting on your hair dryer, the paper is likely to bubble and leave you with a bumpy finish.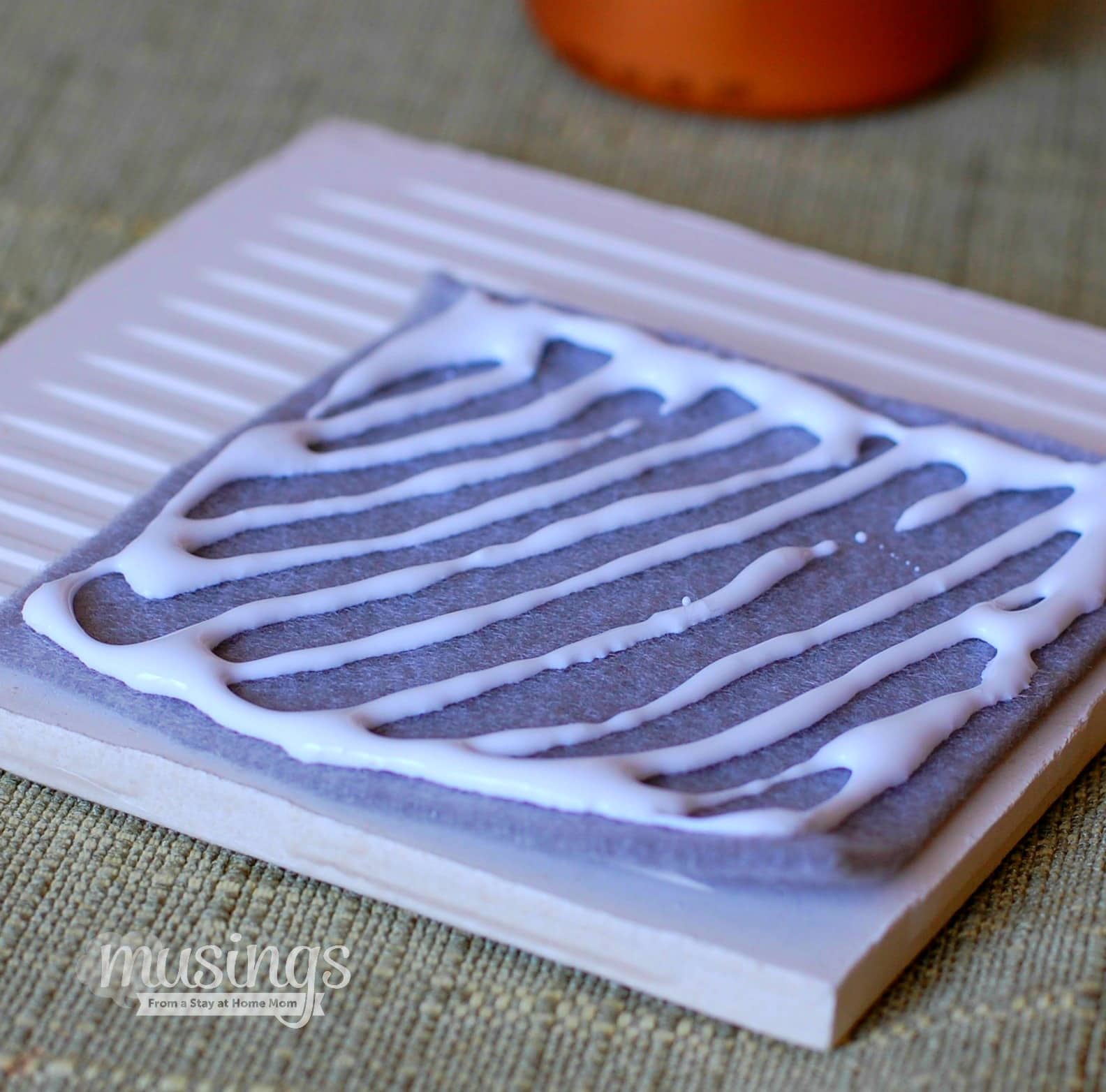 When you've let your 3 coats of Mod Podge fully dry, you can then flip over your tile and use tacky glue to glue on felt. You'll want to be sure the felt is on your tiles so that it won't scratch any surfaces on your furniture that you places these on.
I would not advise using just Elmer's glue for this – it won't stick well enough. You really need a craft tacky glue for the felt.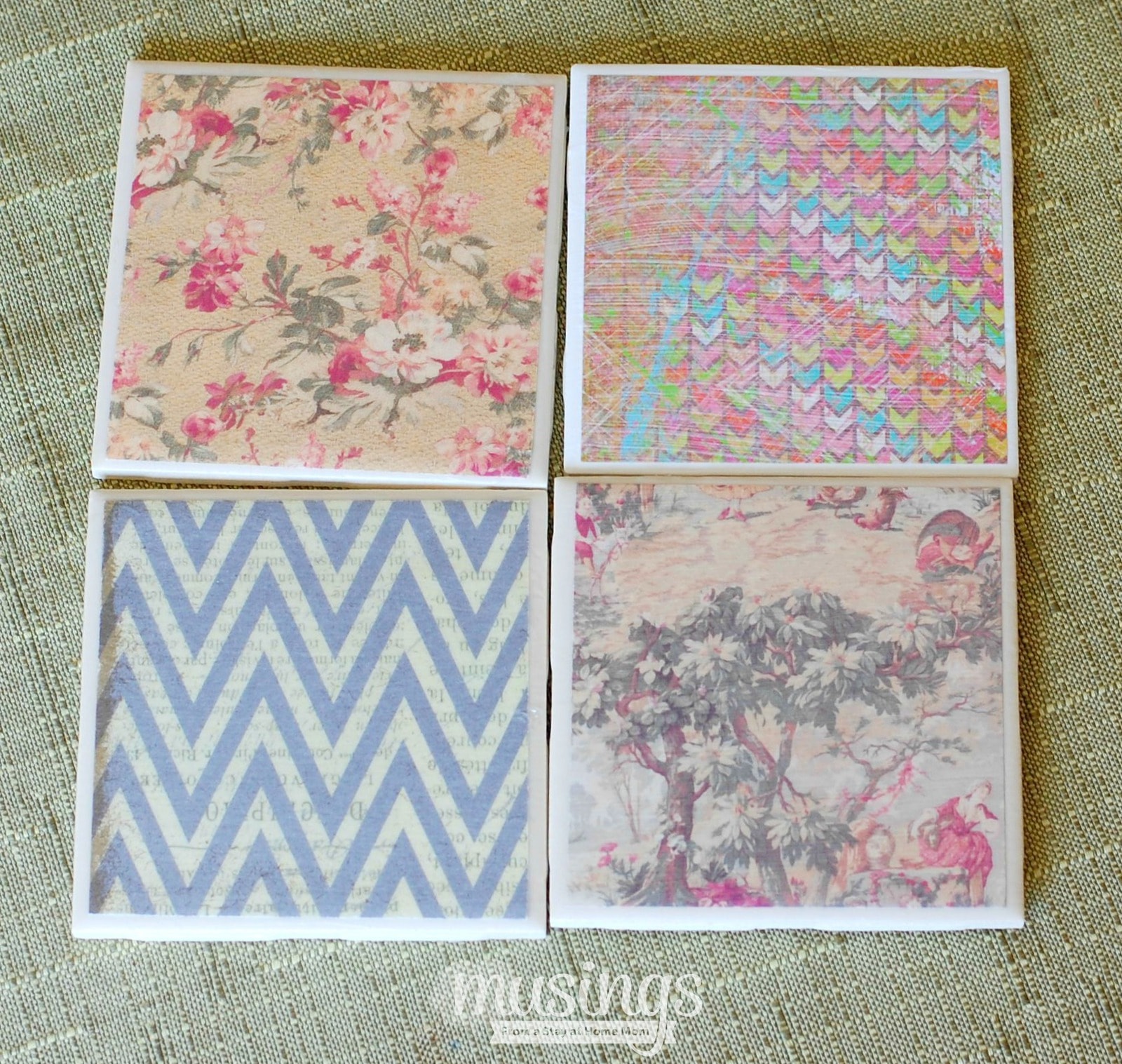 These are my DIY Tile Coasters that are currently in my family room. I like to place them on my ottoman – they make a hard surface for drinks or snack bowls on the uneven, cushioned ottoman top.
Want to use DIY Tile Coasters as a homemade gift? Tie them in some simple twine and add a gift tag. They'll make great end-of-year teacher gifts. But you could also gather the supplies now, and get crafting for Christmas as well. This is a unique, fun-to-make homemade gift that won't break the bank either!