Do you remember using slime as child? Squishing it into small cups and relishing in the "delightful" sounds that it made? My kids love it! I'm not about to buy it from the store though. A tiny piece of slime that costs way too much…no way. We make it at home instead.
I've made three batches in the last two days. Not because it went bad, but because all the kids wanted to play with it! And since you can make this easy homemade summer slime in less than 5 minutes with just a few ingredients, it's easy to make as much as you want!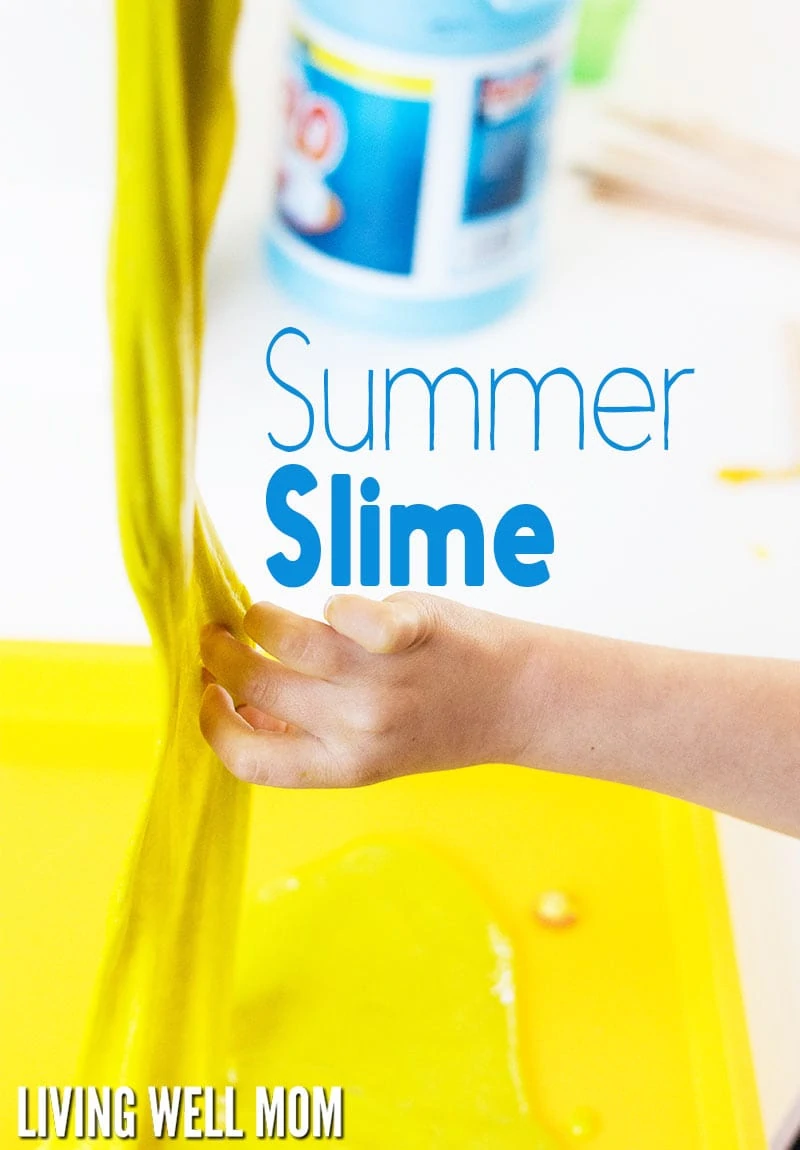 This super stretchy homemade slime is also super easy to make! In a nutshell, you need equal parts water, school glue and liquid starch. (No Borax!) You can have fun, like we did, with food coloring and glitter, but those are optional.
If you can't locate liquid starch, this homemade gak recipe will work instead.
What You'll Need for Homemade Summer Slime
I buy school glue by the gallon on Amazon, just so that we can make slime. And it makes a lot of slime.
We like slime in this house. We like it a lot.
How to Make Homemade Summer Slime:
Start by combining the water and the food coloring. I prefer gel food coloring
, but you can use liquid food coloring

as well. You could also experiment with liquid watercolors.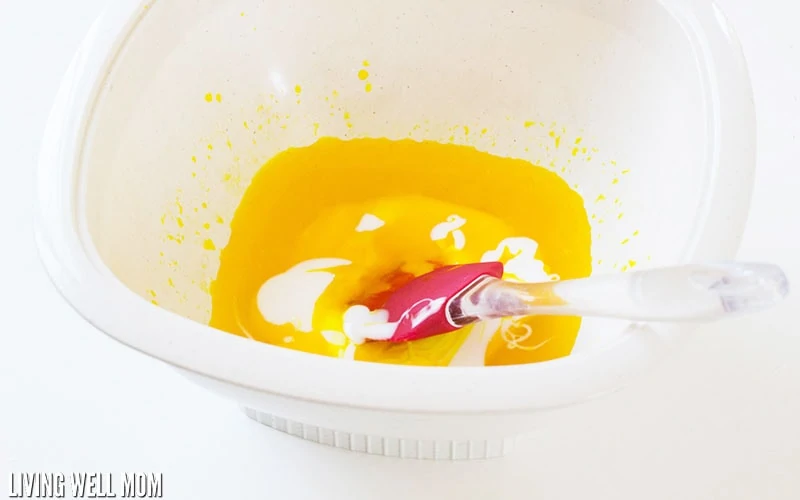 After you have combined the water & food coloring, add in the school glue and glitter.
Stir until it is well combined.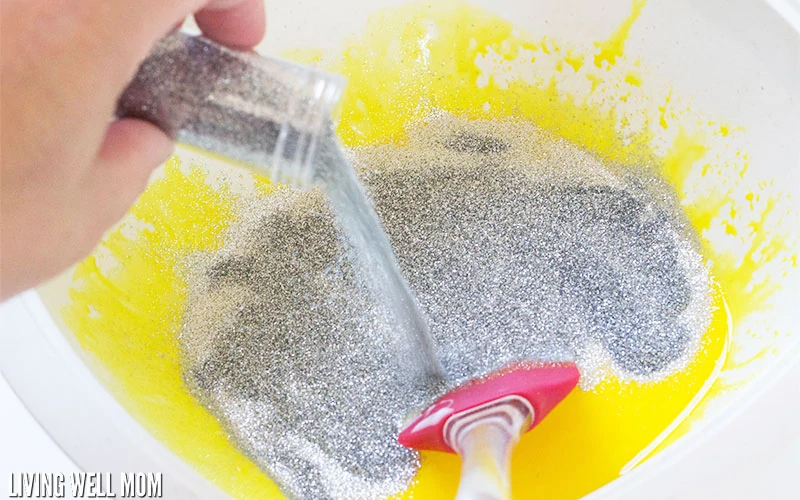 This is important because if you don't combine the glue and water well, the water will not mix in the next step and you will be left with a very stiff mixture instead.
Next, mix in 1/2 cup liquid starch.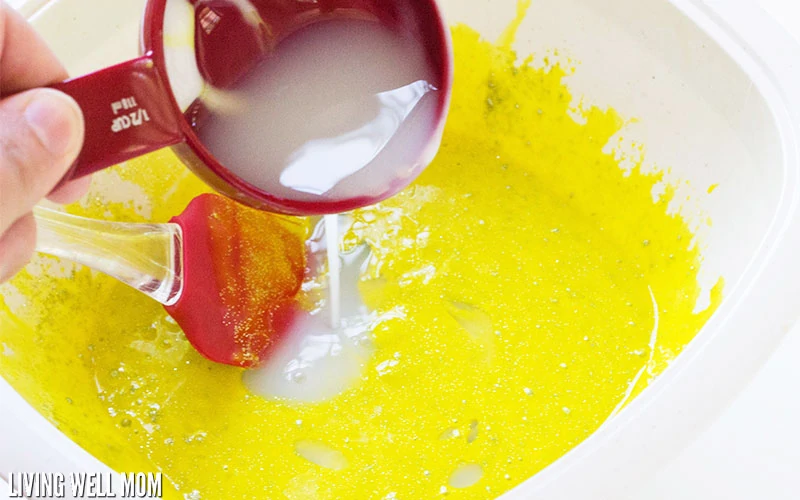 You will immediately notice a change in texture. Continue mixing until the slime forms a loose ball.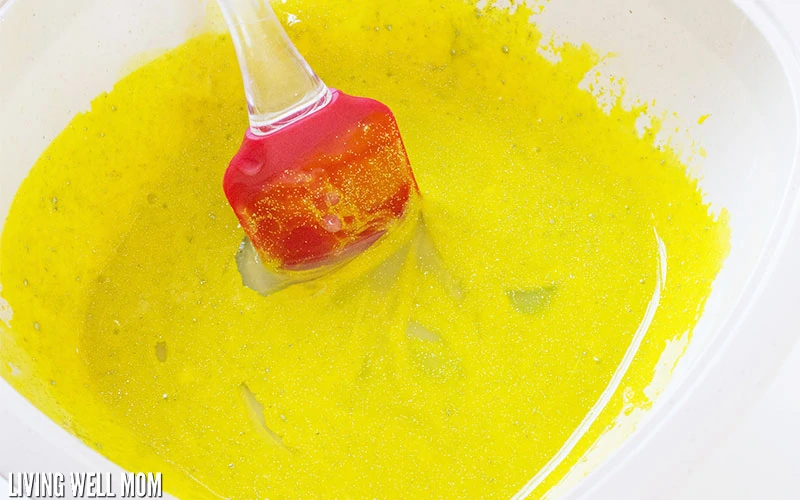 At this point you (or the kids) can start playing with your homemade summer slime. It will continue to become more smooth as you play with it and stretch it.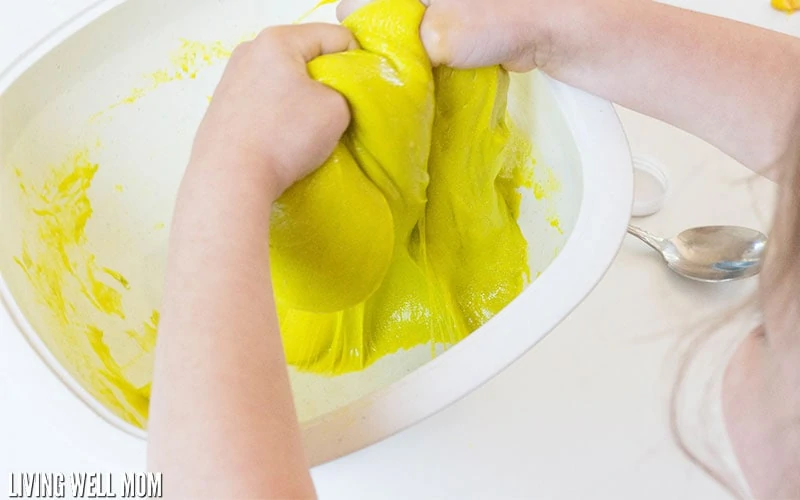 You may notice a small amount of food coloring on your hands while the slime still feels wet. As the slime changes in texture this will stop though you should still be careful on furniture or things that cannot be easily washed.
For extra summer fun, we mixed in some wooden sunshine stickers
we had in our craft supplies.
Poking them into our homemade summer slime, hiding them and then digging them out is great for building fine-motor skills.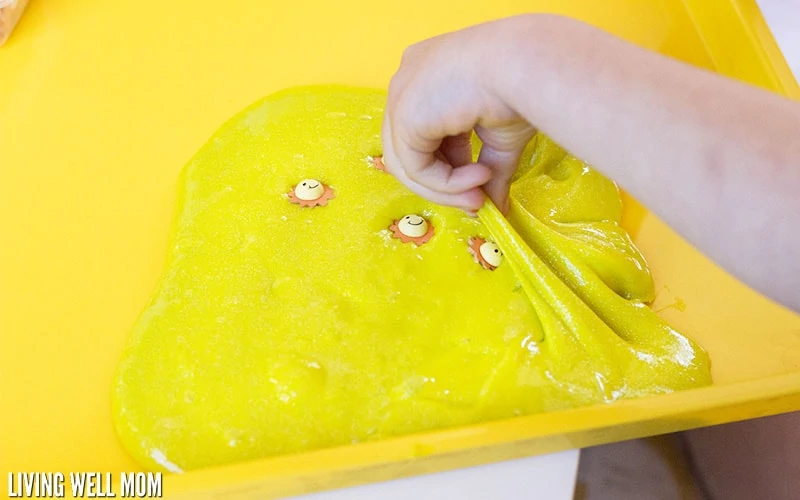 My preschooler also discovered today that slime is great for making imprints. She tested out some animal toys to see their footprints and then tried with her hands as well.
You can make any color slime you want, but we thought yellow was the perfect color for homemade summer slime.
Have you ever tried slime? Did your kids enjoy it?