Learning to ride a bicycle is like a rite of passage for kids. They move from doing "little kid" stuff like tricycles and wagons to riding a bike like a "big kid." Even if it's with training wheels, it's always a special moment when they start peddling off. Then the training wheels can be removed, a bigger bike purchased, and so on.
My son, Nathan, was seven when he learned to ride a bike without any help. Once he did, he was off and never looked back. He loved it, like every child does. And he still does.
We started him off with a cheap kids' bike we bought on sale from a major retailer. Unfortunately, that bike had issues with the chain falling off. At the beginning of this summer, the problem starting occurring more frequently and it limited how much Nathan could ride his bike. This really frustrated him (and me.) Especially since, his dad and I had decided he was old enough to ride around the neighborhood without us. (Within reason, of course.) That is a really cool privilege so to not be able to use that was a disappointment.
Imagine how thrilled Nathan was when he came home from summer camp at the end of July and there was a Performance Bicycle waiting for him! He literally jumped up and down and hugged me over and over (which he doesn't often do.)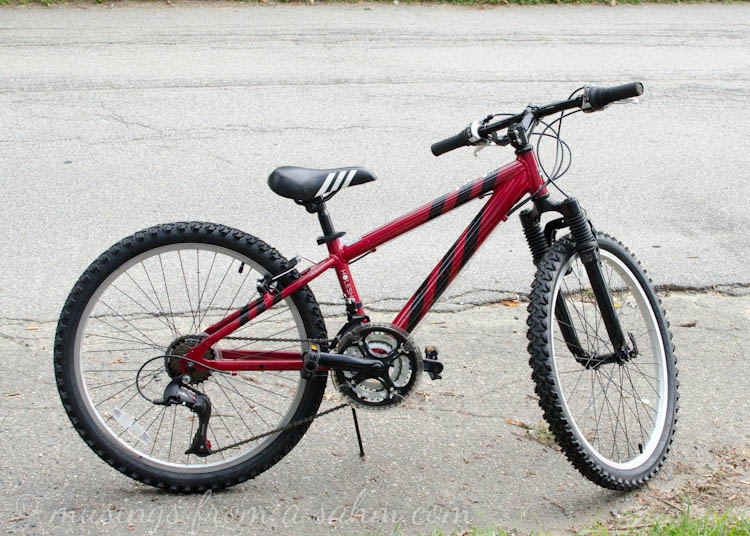 My husband, Nate, put the bike together with Nathan. It was fun to watch them work together.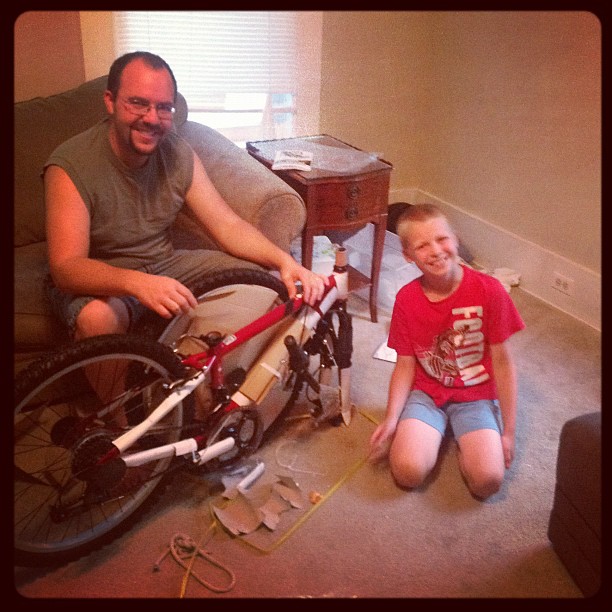 Unfortunately, they ran into a couple of issues that required a call into Performance Bicycle. Nate said the directions were not written very well. That being said, I was very impressed with their customer service; someone returned our call very quickly and helped us figure out and correct the issue. They even gave us their direct line number so we could call again if we had more questions. Luckily, we didn't.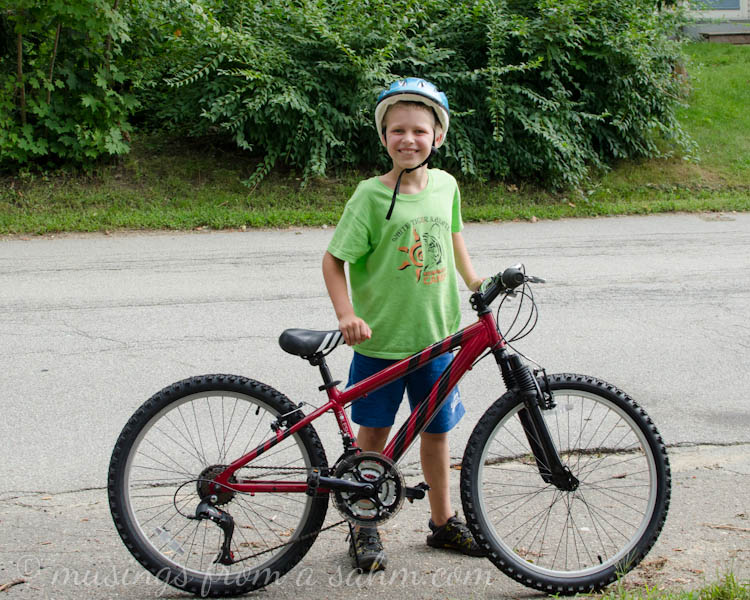 Performance Bicycles are made with quality and have been in business for 30 years. I was thrilled because I knew Nathan was getting a great bicycle.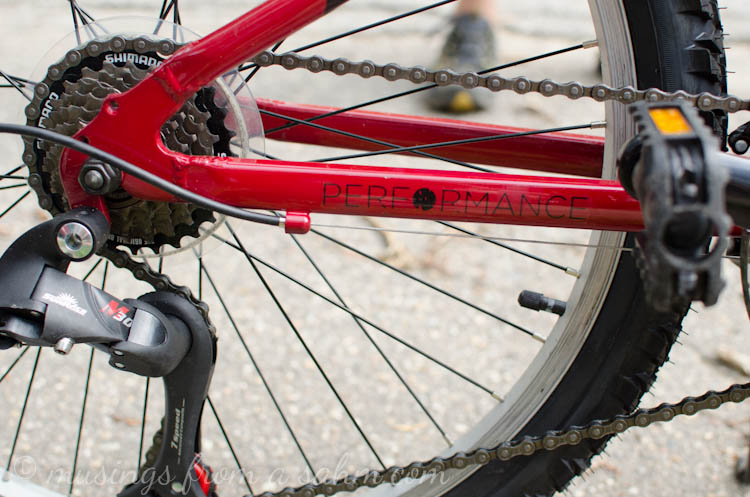 We received the Performance Boys Holeshot 24″ Bike. This bike retails for $299.99 but is often found on sale (currently $239.99.) This is a great bike for beginning mountain biking as it has good treads on the wheels and a durable frame with front suspension. The bike can shift into an impressive 21 different speeds. I don't think even my old bike can do that many speeds! The bike is fast too, which means it's a good thing the brakes work really well.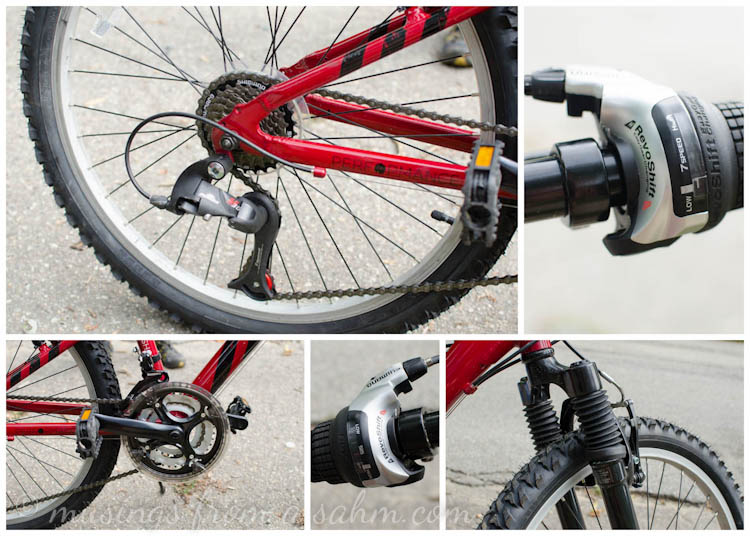 Nathan is nine so he was ready to move up to this larger 24″ bike from his old 20″ size. And he was pretty excited about the new gears/speeds.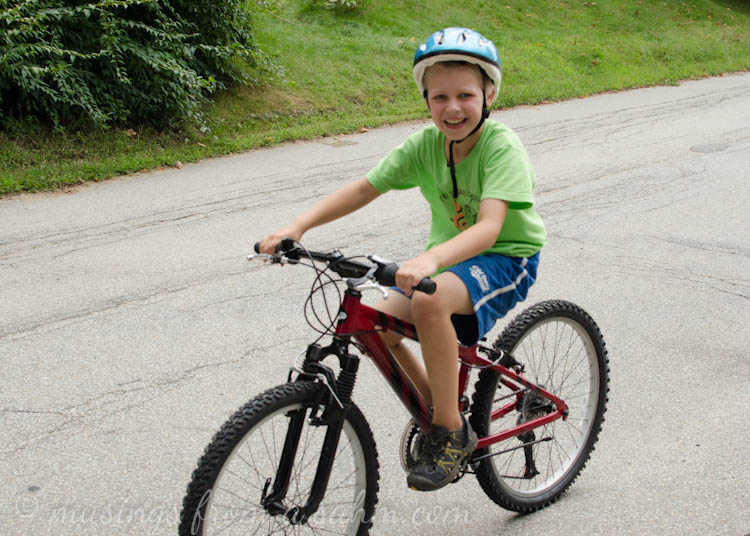 It took him about a day to get the hang of it, but before long, he was out riding around like a pro.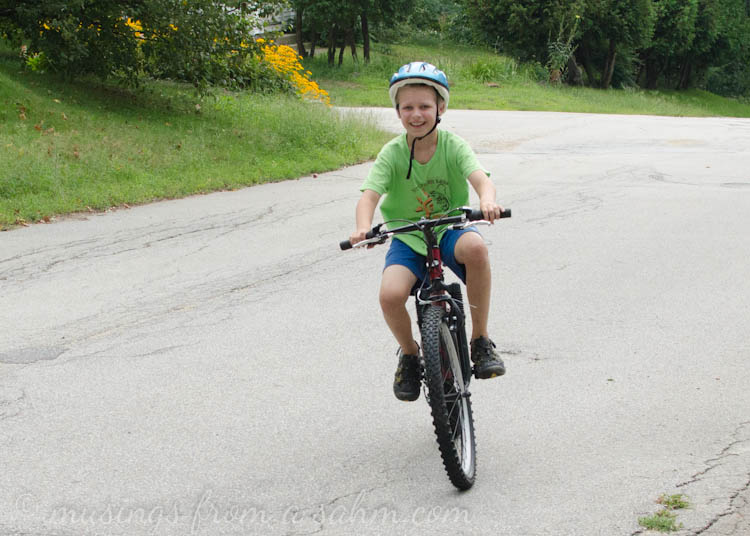 Performance Bicycle offers a great program for children, called "Grow Up With Performance." This provides savings on accessories and future bicycle purchases, such as 10% off any kids' helmet with a first bicycle purchase, 15% off a second bicycle purchase and so on. Which is great, because we all know how quickly kids grow. Plus there's many fantastic bikes to choose from – for boys and girls – at Performance.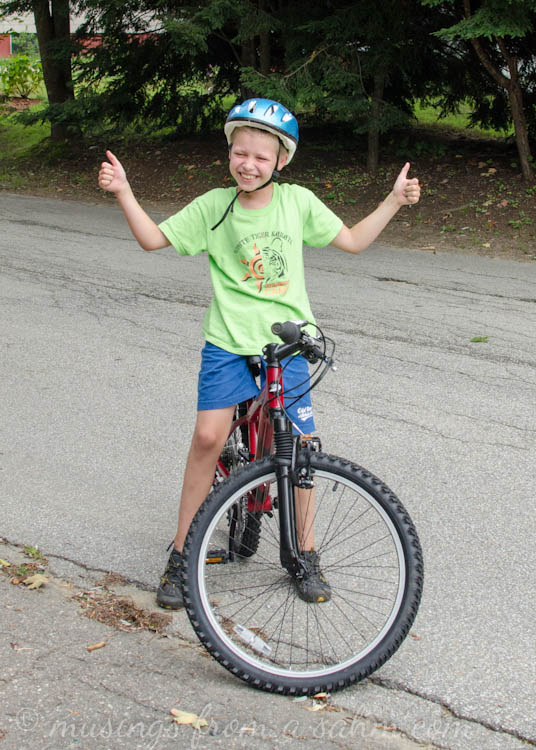 Honesty, I still can't quite believe that Nathan is big enough to have such a cool bike. He absolutely loves his Performance Bicycle. In fact, his exact words to me were, "This is the coolest bike EVER, Mom!"