Today, I'm going to show you how to make a quick relaxing holiday essential oil room spray. Not only is this essential oil blend easy to make, but it can also work as an all-natural air freshener!
Plus it has a lovely Christmas scent and is great for moms (and the whole family) to use to help with self-care and relaxation during the busy holidays.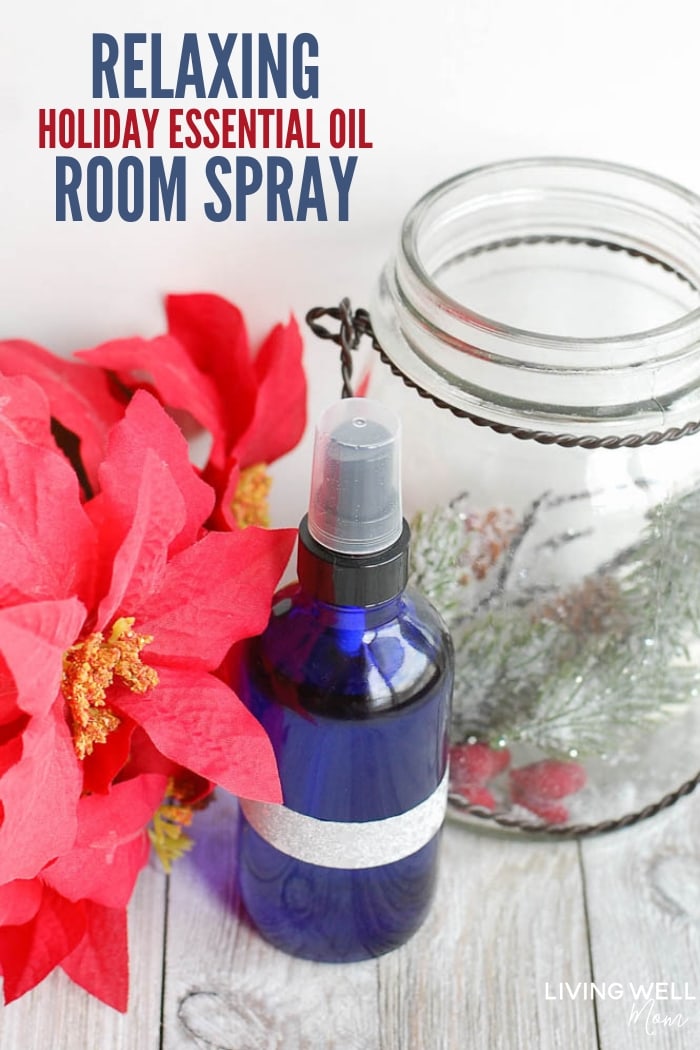 Essential oil room sprays are a great way to use essential oils in an easy, safe manner that the whole family can enjoy and benefit from. We already have a favorite Christmas essential oil spray (you can find that here) and this one is a twist on that, but created specifically with relaxation in mind.
Moms are always running around trying to make Christmas perfect for everyone else. We easily forget to take a breather and take some time for ourselves!  A ten-minute session of deep breathing after you spray this in the room is just what we all need to keep ourselves calm and relaxed while we orchestrate the most wonderful time of the year!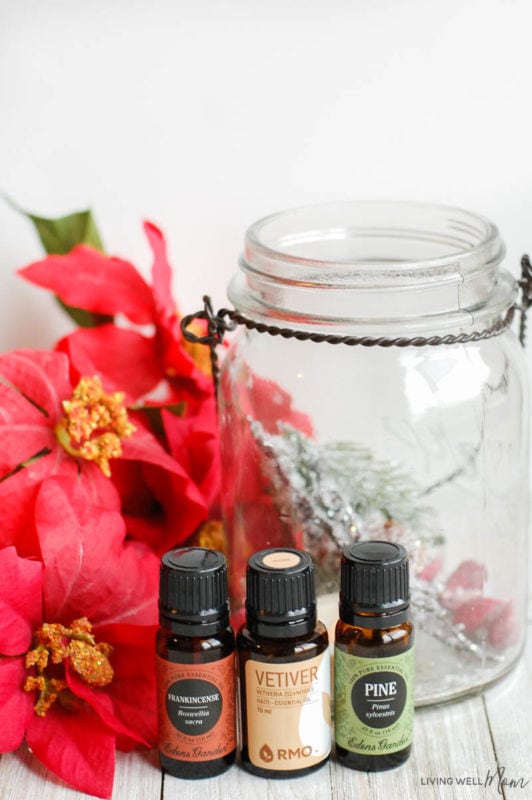 Plus this easy spray can work as an all-natural air freshener spray too! (Find our other holiday air freshener spray recipe ideas here.)
Relaxing Holiday Essential Oil Room Spray Recipe
What You'll Need: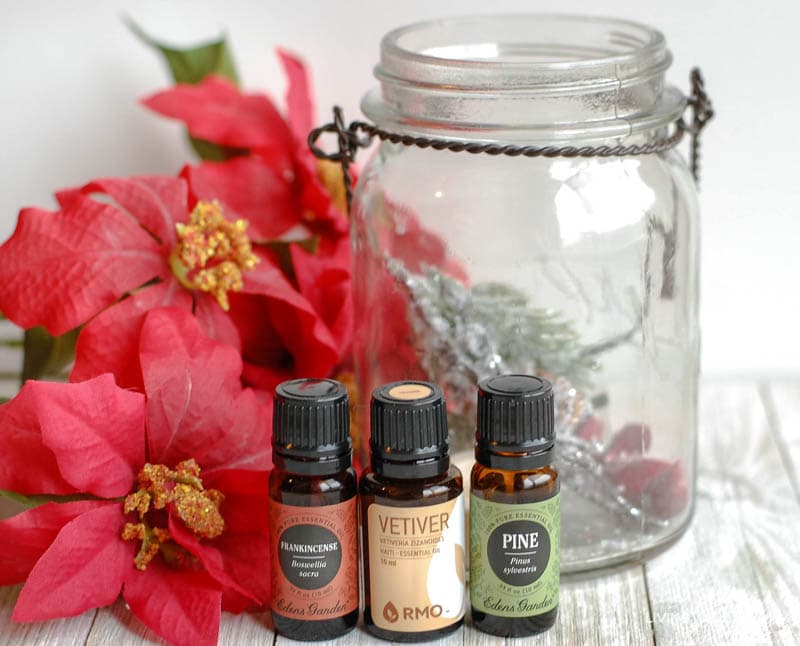 How to Make a Relaxing Essential Oil Room Spray
To make your relaxing holiday essential oil room spray, grab your empty glass bottle and add 2 tsp. of witch hazel. The witch hazel helps the essential oil molecules spread out in the water for an evenly scented spray.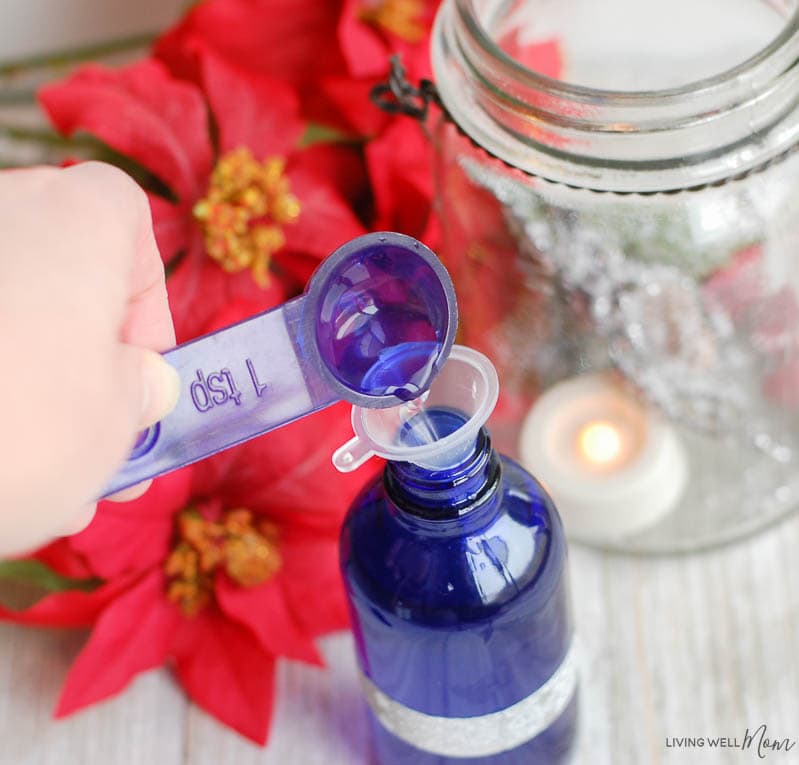 Add 10 drops each of Frankincense, Pine, and Vetiver essential oils.
What is the most calming essential oil?
Well, this is up for debate and honestly personal preference, but Frankincense essential oil and Vetiver are two of my favorites as calming essential oils. I also love Ylang Ylang, but it's not very holiday-like so I didn't use it in this Christmas essential oil blend.
Frankincense may help ease tension and is, of course, one of the gifts given to Christ after His birth.
Pine not only helps bring out the scent of our evergreen Christmas trees, but it also may help alleviate fatigue or nervous exhaustion.
Vetiver is known for its relaxing properties – so don't be surprised if you are ready for a nap after spraying this around your room!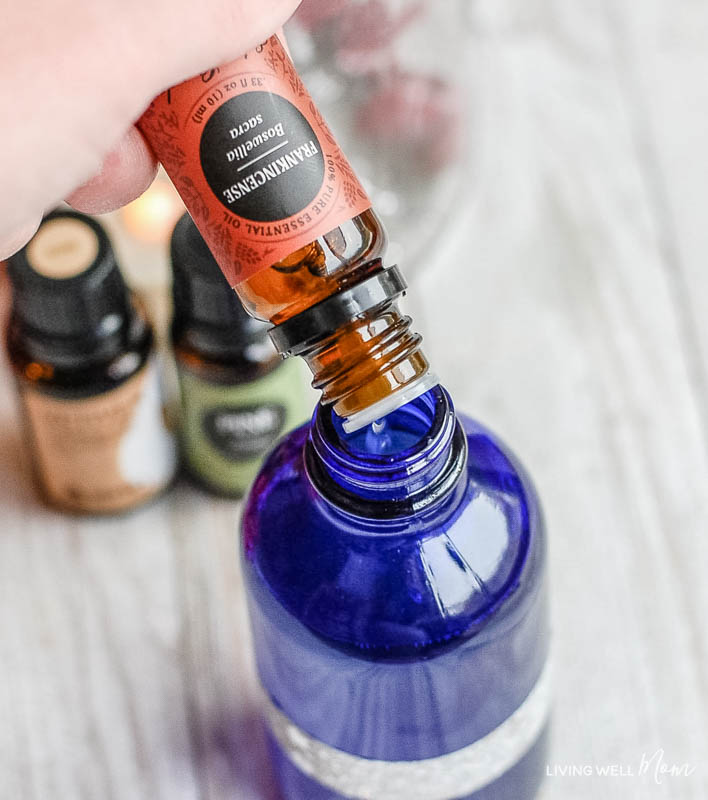 Two other essential oils you could either use instead or in addition to Frankincense, Vetiver, and Pine are Myrrh and Fir Balsam.
Myrrh – another one of Christ's gifts, was used as incense in religious rituals.  It was also used for its anti-infectious and anti-inflammatory properties. In other words, Myrrh may help boost the immune system and kill germs too!
Fir Balsam has the classic scent of real Christmas Trees!  It is relaxing and its scent will remind you that this is supposed to be a joyful time of year!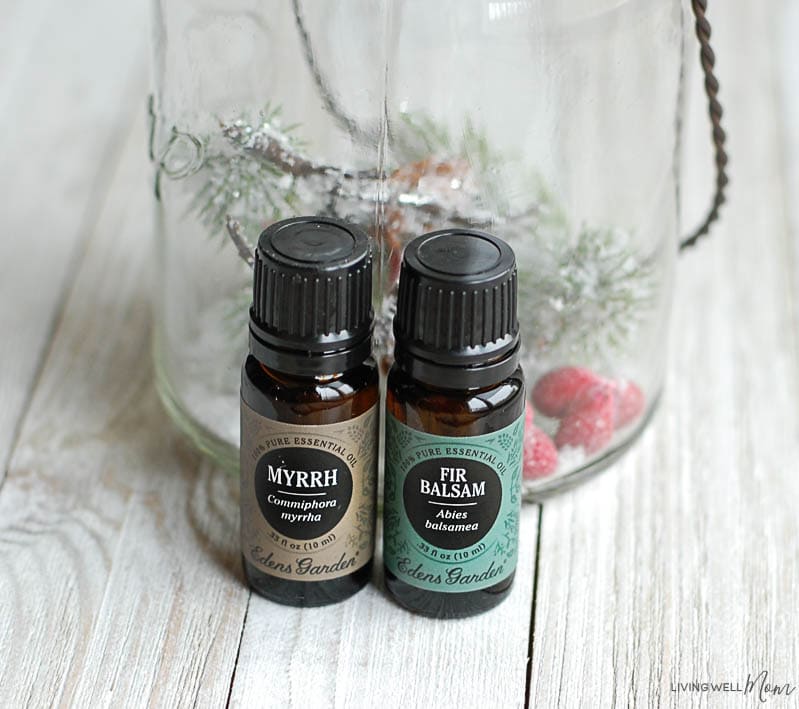 If you use either of both of these, I recommend using 10 drops of each.
When you've added the essential oils you want for this holiday blend, then be sure to shake your homemade essential oil room spray bottle well before spraying.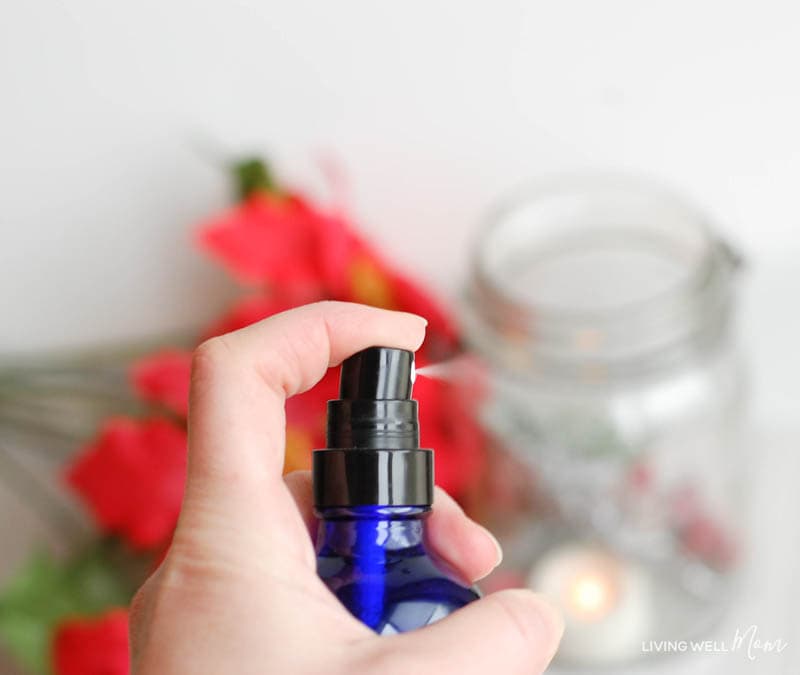 We all know that moms have the hardest job when it comes to making Christmas special, and most of us are so good and making it perfect for everyone else that we forget to take a moment for ourselves.  Let's remember to take the time to relax and be thankful during this busy holiday season.
On a high stress-filled day, I recommend setting your cell phone timer for just 10 minutes.  Spritz this relaxing holiday essential oil spray a few times around your room, and practice some deep breathing while your eyes are closed.  During that time, dwell on all the things you are thankful for rather than your to-do list that you think will never get done!  After this 10 minute break, you'll feel so refreshed and be ready to tackle the to-do list with more energy and in a better mood!
I also suggest making a few bottles of this relaxing holiday essential oil room spray to give to your mom friends who need a reminder to take a breather as well!  🙂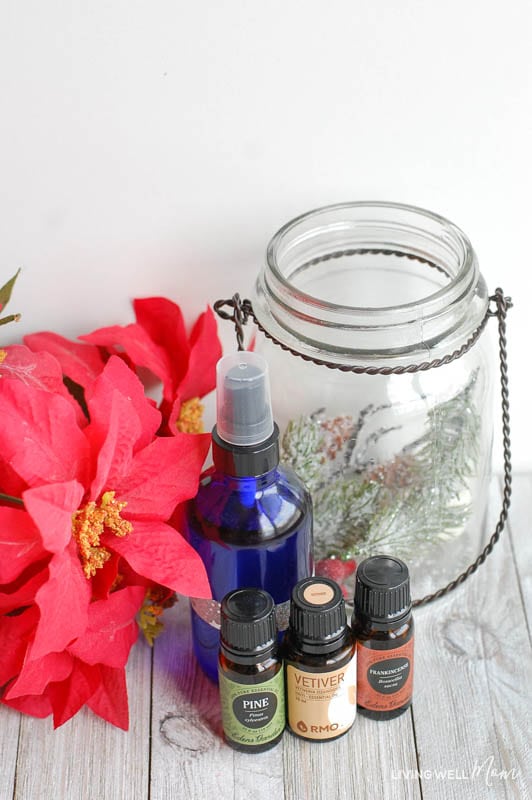 Looking for more ways to use essential oils around the house this Christmas season?  Check out these ideas: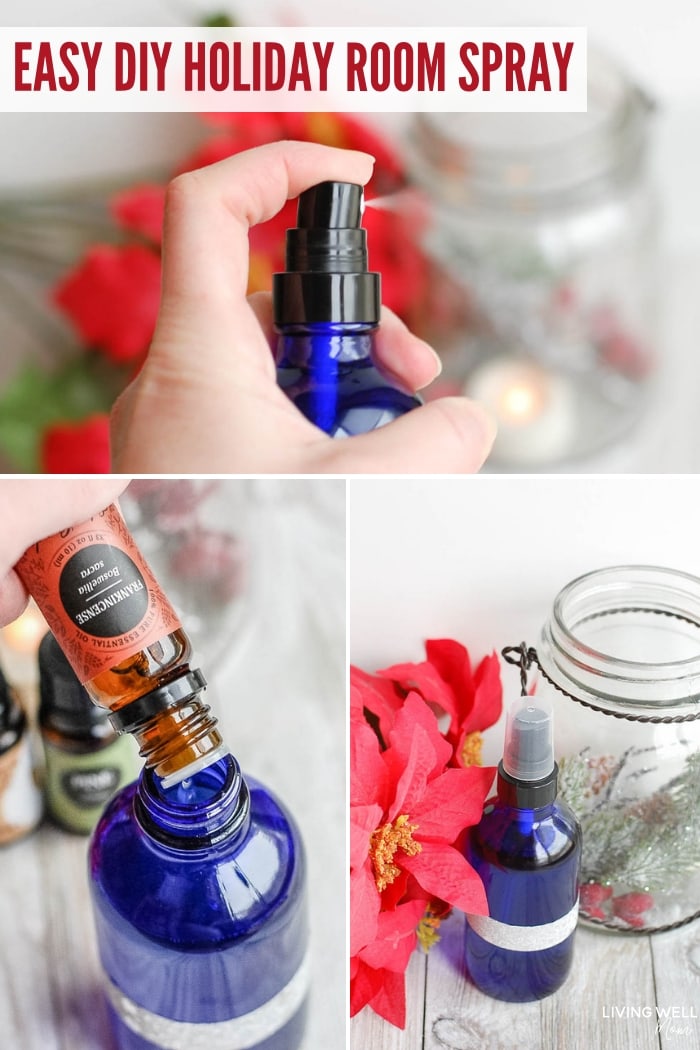 Which Essential Oil Brand is Best?
For the best results, you will want to choose a high-quality essential oil brand that is 100% pure and offers third-party testing for quality control. Read this post for more info on how to choose essential oils that work for you and your family (beyond the brand.)
My favorite essential oil company is Rocky Mountain Oils, followed by Eden's Garden, and Ancient Apothecary by Dr. Axe
.