Do you have sensitive pierced ears? Do you have to be careful about what type of earring you use or even then, you sometimes end up with red irritated ears? That's no fun!
I've got a handy little trick to share with you today – it's an all natural support that may help avoid and improve earring irritation.
My ears tend to be sensitive and I've often ended up with red, irritated ears – even with good quality earrings. I eventually got to the point where I rarely wore any. I still don't wear earrings every day but now I don't worry about sore ears later when I do.
A year ago, when my 8-year-old daughter got her ears pierced, I came up with this simple idea as an all-natural way to help improve and avoid irritation
Natural Support for Earring Irritation:
The "secret" is very simple and beneficial. It's calendula.
Calendula has been used medicinally for centuries and may be useful for many skin ailments, including eczema, minor burns and sunburns, acne, dry patches, wounds, and more.
Calendula ointment is my favorite "boo boo" cream and I always keep a tube in my medicine cabinet. It's gentle, doesn't sting like some antiseptics, and in my experience, it really does help to heal scrapes, scratches, and even lacerations quickly. My kids are always scraping their elbows or knees or toes or any other body parts and they've never developed an infection when we've used calendula ointment.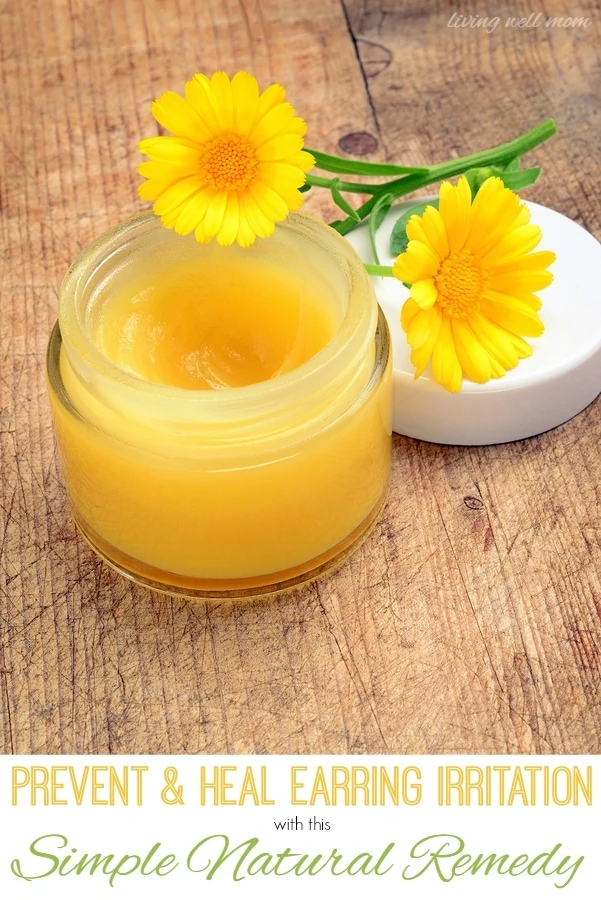 So it only made sense to try calendula ointment for irritated pierced ears. We use this ointment. (<< affiliate link)
Simply dab a little calendula onto each ear before wearing earrings. The calendula will help soothe ears and can act as a barrier between your skin and the metal earring to avoid further irritation. If your ears tend to be super sensitive, you can even rub a bit of calendula onto the part of the earring that goes through your ear for even better protection.
Emily has sensitive pierced ears just like me, and she loves using Calendula ointment. (And she's my picky child who doesn't like to put anything on her skin!)
Recently, she hadn't used the calendula ointment for awhile and one of her ears was bothering her. We applied calendula ointment three times a day for two days and it completely healed. Now, she uses it whenever she wears her earrings and hasn't had an issue since.
If you have sensitive pierced ears too, calendula may be a simple way to avoid and improve earring irritation.