Sometimes you want something a little out-of-the-ordinary, but not so "out there," it takes more effort. That's how I came up with a new recipe for special Valentine's Day cookies for my kids.
This isn't your average frosted cookie recipe – these Valentine's Day Frosted Butter Cookies are so good, you'll want to make them year round! They're light, soft, and delicious and the buttercream frosting recipe is simply divine!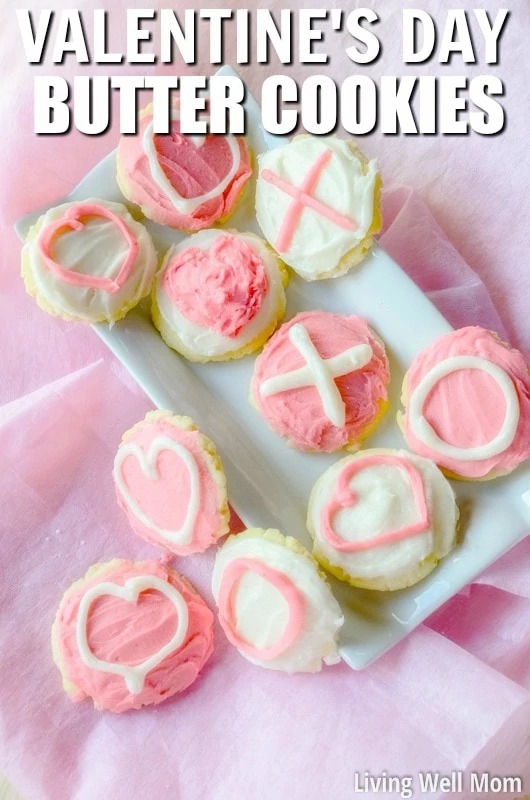 Frosted Valentine Butter Cookies
What you'll need:
Frosting:
1/2 cup butter, softened
4 cups powdered sugar
1 tsp vanilla extract
3-4 Tbsp milk
red food coloring (this is the brand I use that results in vivid colors, without any taste variations)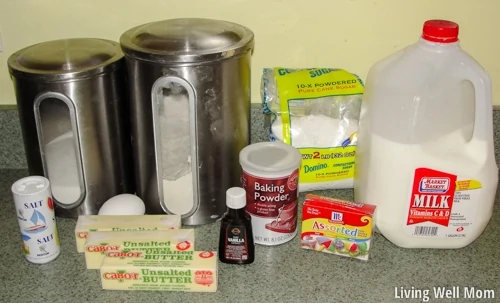 Start by creaming 1 cup (2 sticks) of softened butter in your mixer. (Yes there are 3 sticks of butter in the picture above but save one for the frosting.)
Mix until it's nice and light and fluffy. Then add 3/4 cup of sugar.
I was quite proud of myself for somehow taking a picture with one hand and pouring the sugar in with the other. Until I went to snap the photo and turned the camera off by hitting the wrong button instead. So this is take #3. (I did not do that twice!)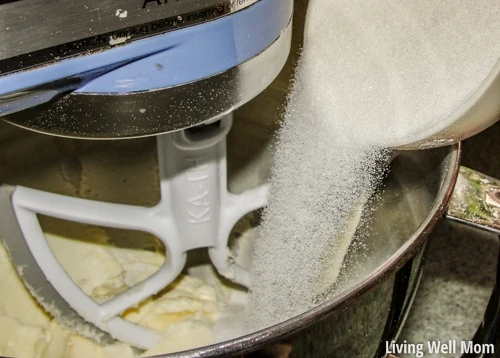 Mix that sugar in.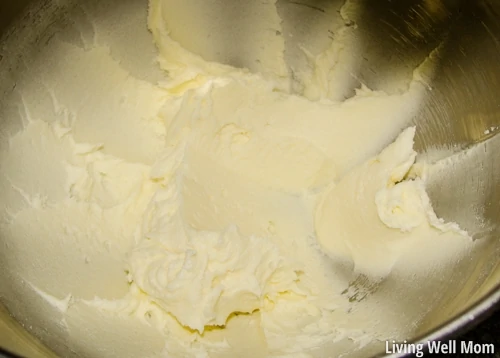 Beat in 1 egg and 1 teaspoon of vanilla extract and mix well.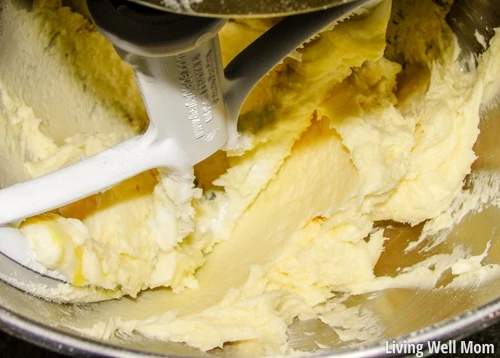 Now, in a separate bowl, combine 2 1/2 cups of flour, 1 teaspoon of baking powder, and 1/4 teaspoon salt. Add this to the creamed butter mixture slowly. You could add it all at once but you'd probably find yourself in a cloud of flour.
You'll have a nice thick cookie dough: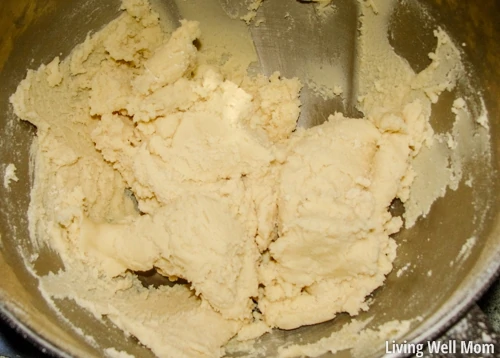 Roll the dough into small 1/2-3/4″ balls and place on cookie sheets.
Next, flatten them with the bottom of a glass, like this:
I dipped the glass into flour so the dough wouldn't stick.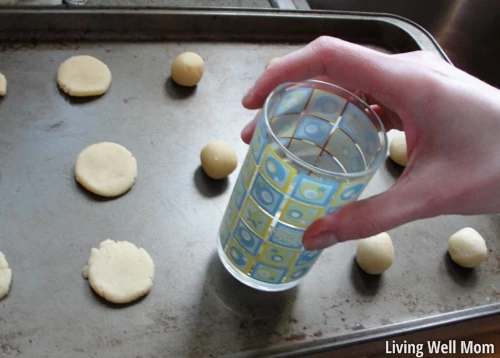 Bake at 375° for 6-8 minutes. 7 minutes was perfect for me, but I'd start at 6 minutes and go from there. You don't want these overdone. They should be set but not brown.
Cool completely.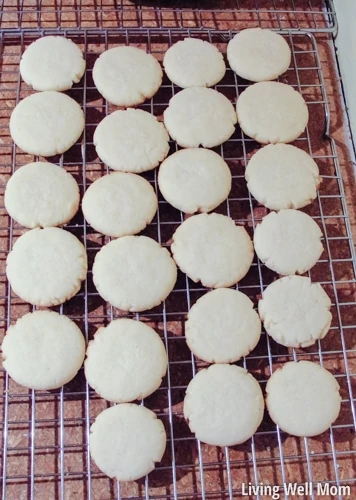 Next, we'll make the buttercream frosting.
Cream 1 stick of butter until nice and smooth.
Now gradually add in 4 cups of powdered sugar and 1 teaspoon of vanilla extract (I used clear imitation vanilla
so I could get a whiter color). Just like the flour before, do this slowly or you'll have a huge mess of sugar around you. You might have sugar around you anyways because it's a lot of sugar but we'll try to keep the mess minimal, right?
If it's too thick, you can add 1 Tablespoon of milk. Or just plow through with your mixer and you'll have this: Doesn't look much like buttercream icing yet, does it? Just wait…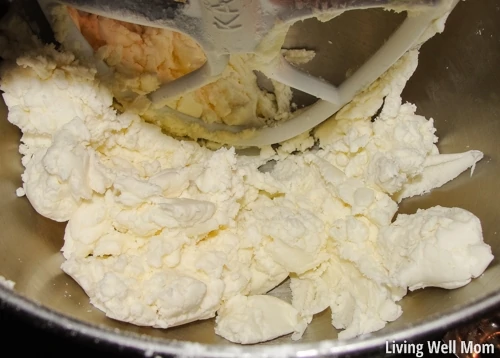 Now add 1 Tablespoon of milk. Ahhh… see.. that's looking better: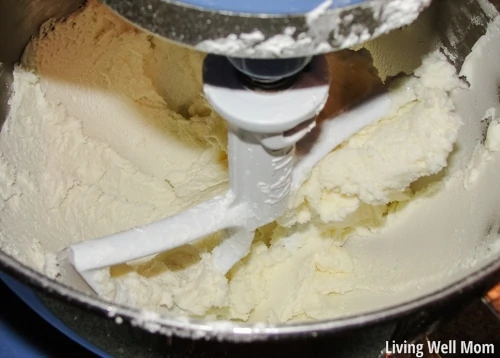 Add another tablespoon of milk… isn't that starting to look smooth?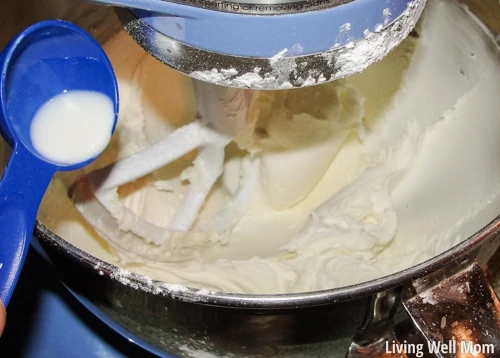 And 1 more tablespoon. I added 3 TB of milk total, but you can add up to 4 if you need to get it to a better consistency.
Now tell me that doesn't look amazing? Don't you want to taste it?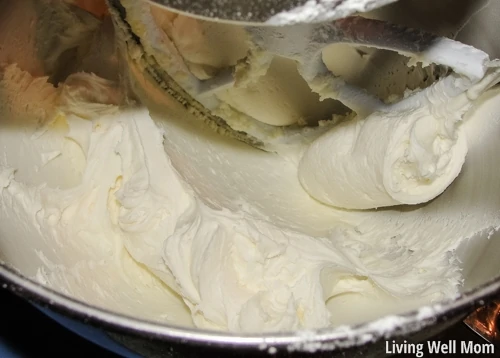 Set half the buttercream aside. For the remaining half, add a few drops of pink food color.
I use AmeriColor Soft Gel Paste Food Color
and wow is it amazing! I used to use Wilton, but AmeriColor is so much better! A little goes a long way and it makes beautiful colors.
Have fun frosting and decorating your Valentine's Day frosted butter cookies. Make it a project with the kids or engage your inner decorator!
By the way, if you are looking for another fun treat to whip up with your children, try this no-bake Valentine's Day Chex mix! It's easy to put together and your kids will love it.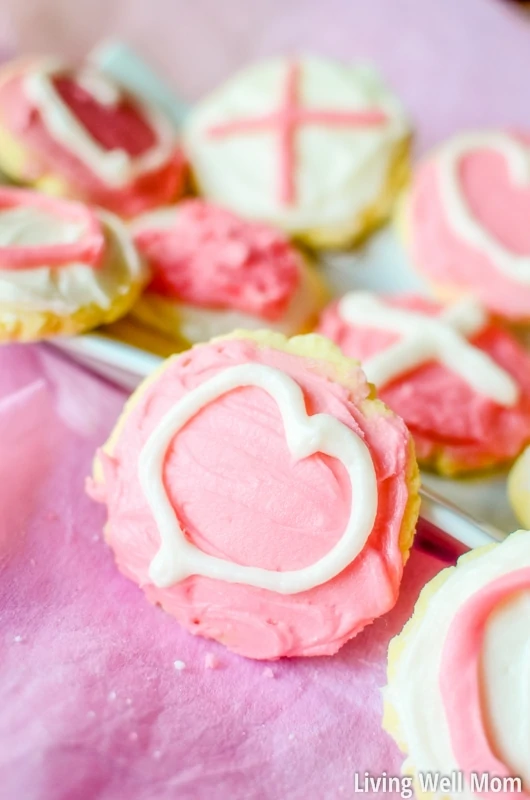 Print
Frosted Valentine Butter Cookies
1 cup

butter, softened

3/4 cup

sugar

1

egg

1/2 tsp

vanilla extract

2 1/2 cup

flour

1 tsp

baking powder

1/4 tsp

salt
FROSTING:

1/2 cup

butter, softened

4 cups

powdered sugar

3

–

4

TB milk
red food coloring (optional)
Instructions
In a large bowl, cream butter until light and fluffy. Add sugar. Beat in egg and vanilla. Combine the flour, baking powder, and salt; add to creamed mixture and mix well.
Form dough into 1/2-1″ balls and placed on cookie sheets. Flatten with the bottom of a glass dipped in flour. Bake at 375 degrees for 6-8 minutes or until set but not brown. Cool on wire racks.
For frosting, cream butter. Add powdered sugar and vanilla; it will be very stiff. Add 3-4 tablespoons of milk, 1 tablespoon at a time until spreading consistency is reached. Add food coloring to a portion or all of frosting if desired. Frost cookies.
Yield: about 3 dozen cookies