We live in New Hampshire and it's pretty cold for 5-6 months out of the year. We had about an inch of snow last night and it's only October! Winter is just around the corner. What does that mean? Bring out the winter gear! Hats, mittens, scarves, and most of all winter coats!
Rothschild Kids is a leading kids coat company with over 125 years of experience. The founder, Samuel Rothschild, began selling coats out of his horse drawn cart to workers in Pennsylvania. Over a century later, Rothschild Kids is a successful company who have made a name for themselves in quality and fashion. They are best known for their famous wool-blend coats, but they have much more with their large selection of styles, colors, and sizes from infants to preteens.
Here's a sampling of Rothschild Kids' beautiful coats:
I was sent a lovely Rothschild winter coat
for Emily. It was perfect timing because she needed a new coat this year. I try to buy bigger sizes in hopes of a coat lasting more than one season, but it seems I blink and my kids have outgrown their coats once again!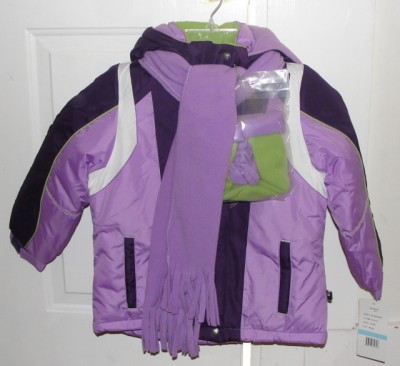 The coat is a beautiful blend of colors. While I am often picky about color combinations, this coat passed my inspection with flying colors. The seams are put together well and the zipper is sturdy (that's one of the first things I check because we have had nothing but bad luck with zippers it seems!) Now time will tell how well it all holds up throughout our rough winters, but I am pretty confident in Emily's new Rothschild coat.
This coat fit Emily very well; in fact it was just perfect with enough room for layering during the bitterly cold winter months but not so bulky that it gets in the way. I'm not sure who loved the matching hat and scarf more – Emily or me! Check out how cute this Rothschild Kids Coat set is on her!
I have to add that I just realized we've had a Rothschild coat in our family for a few years now. This toddler coat has gone through Nathan and Joshua and will do the rounds with Luke too. It's held up really well and this is one coat we have NOT had any zipper problems with. To say that for a boys' toddler coat is to say a lot because this coat has been put through the works!
I am very happy to have "discovered" Rothschild coats again and am pleased to be able to recommend their fashionable quality winter coats for kids! As you consider winter coat shopping for your children, I hope you will visit Rothschild kids and see what they have to offer.
Buy It:
You can find Rothschild Kids coats online (and at select department stores
Disclaimer: Thank you to Rothschild Kids Coats for the free product I was sent to review. I received no monetary compensation and my opinions are my own and were not influenced by the sponsor.