It's not easy to fit exercise into our busy lives. For some of us, it's downright impossible.
Your schedule might be so full you hardly have a chance to look at your schedule, much less squeeze in a trip to the gym or go running. And that's if you have the money for a gym membership or a babysitter to watch the kids while you work out!
On the other hand, you might have time but you don't have the energy for working out.
Believe me, I understand. I haven't regularly exercised over the past year because of health issues. My energy plummeted so severely last winter that I could hardly do anything for 3 days if I even tried to walk a mile. It wasn't a matter of wanting to exercise; I physically couldn't.
If you regularly work out, good for you! I truly admire that and hope to do more soon. But if you don't have the time or energy to exercise, you're not alone.
Don't get me wrong – I'm not saying we don't need to exercise. We all should. But maybe it's not realistic right now.
Taking care of ourselves isn't just about physical exercise. If you are wearing yourself out from working out or you're feeling guilty because you can't, you need to stop.
Stop feeling guilty. If you're stressing out over exercise, the whole point is being missed.
Instead of beating yourself up for not exercising, here's a few suggestions for how to stay active when you don't have time to exercise.
I almost guarantee you regularly do at least one or two of these things every day anyways, so start giving yourself credit for how active you are!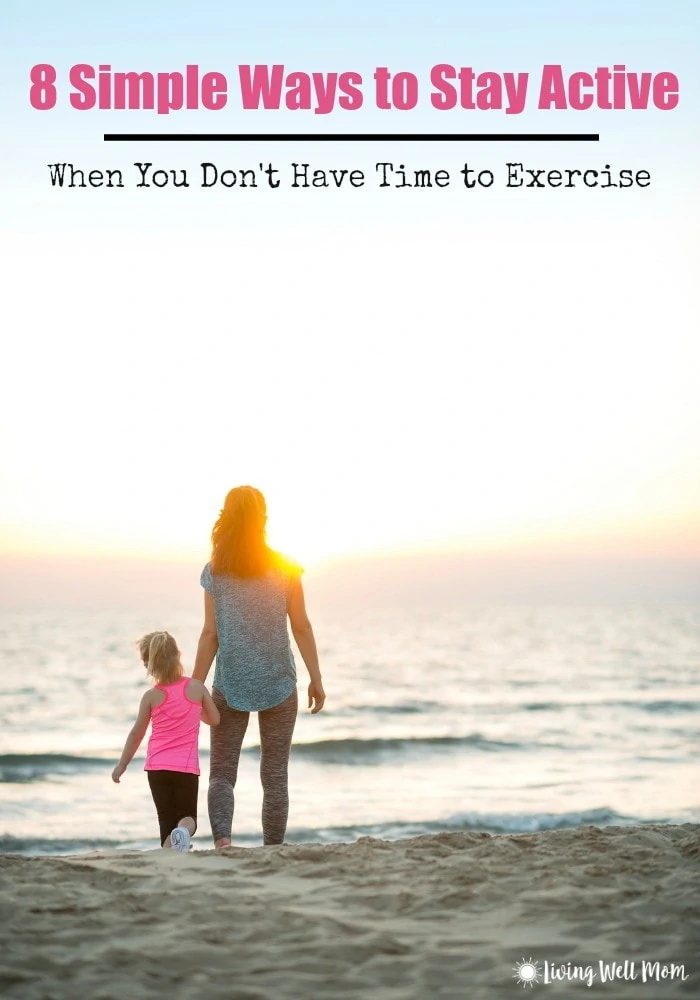 8 Simple Ways to Stay Active:
1. Walk whenever you can.
Look for little opportunities to walk more. Walk your child to school if it's right down the street instead of driving. Park farther away from the store. Make an extra loop inside the grocery store. (I was going to say mall, but does anyone actually go to the mall anymore? Maybe it's just my small-town area.)
2. Do something with the kids.
You probably already do this, but put your heart into it! Go outside with the kids and play catch or hide and seek. You don't have to overly exert yourself by playing a crazy game of tag, but you'll still stay active along and you might just surprise yourself with how much fun you'll have. And they do say that laughter is good medicine!
Plus you'll be spending time with your kids and you can never go wrong there!
Another idea: put on Pandora or your favorite music and have a dance party with your children. We love to listen to oldies, like the Beach boys, and it's just good ol' family fun to dance together.
3. Take a walk outside.
I love to walk outside and visit my chickens each day. I frequently walk through the woods in search of the occasional rogue egg that our newly laying chickens leave all over. It's not strenuous, but I love the fresh air and always feel renewed afterwards.
If you have a dog, take him for a short walk around the neighborhood. Even just a couple passes in front of your house will make his day and help you stay active!
4. Stand instead of sitting down.
A good sit-down break is a great idea sometimes, but how many times do we sit down each day when we don't really need to? Just being more aware of this and standing when you can will help you stay more active.
5. Clean your house.
A good hour of house cleaning can burn a lot of calories, often more than a 30 minute walk! Here's a great link with more examples of calories you can burn while cleaning house.

Cleaning your house is a great way to stay active. (See you knew all that toilet cleaning had to be good for something!) And since it needs to be done anyways, you can check two things off your to-do list. Now that's what us busy moms are talking about!
Need inspiration for cleaning quickly? Here's 11 Simple Tips for Cleaning Your House Fast
6. Cook dinner from scratch.
Standing, walking around your kitchen, and chopping and peeling food are another great way to stay active and burn calories. It may not burn as many compared to running, but we'll take it! Plus your family thank you for your delicious homemade meal. Well we can hope, right? (We all know how grateful kids are for anything other than hotdogs and chicken nuggets and mac and cheese!)
7. Be aware of what you're doing and have a positive mindset.
No, I'm not getting all new-agey on you here. It's true. Simply being more aware of what you do (or don't) can help you to make changes. And even more, it will help you to give yourself credit for all you do, instead of bemoaning what you didn't get done.
8. Drink lots of water.
It's so easy to go through the day with drinking minimal amounts of water and relying on cup after cup of coffee or whatever you prefer to drink. But staying hydrated is very important for staying healthy and fit.
If you're trying to lose weight, you might easily be holding onto 2-4 pounds of water weight. By simply drinking water regularly, you can help to shed this water weight. While it's not fat burning, it's still nice to see the scale go down and can be good motivation toward making other healthy choices.
While I know many of us would love to bring our water bottles with us everywhere we go, if you're like me, you're so busy, you almost always forget. And then your water bottle begins to smell weird and mildewy even though you've only ever put water in it.
That's where the convenience factor and being realistic comes in. Hello bottled water!
Now I don't feel quite as bad for buying bottled water; Dasani bottled water has new eco-friendly packaging! Just look for the green-capped water bottles – they're manufactured with new PlantBottle packaging, which is made from up to 30% plants.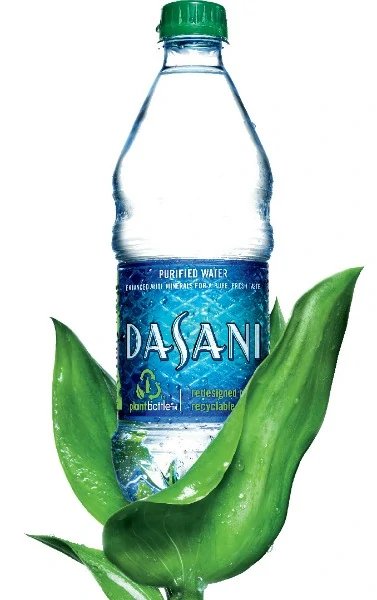 These water bottles are still 100% recyclable and with less plastic, they're lighter too. In fact, there's 45% less plastic than the original Dasani bottles in 2001!
6 BILLION bottles are a year are now produced using PlantBottle technology; that's 30% of Coca-Cola's packaging volume in North American and 7% worldwide!
Coca-Cola is just getting started; they're continuing to look for new and better ways to increasingly use renewable plant resources and even sharing their technology with other companies.
Now when I buy bottled water to help me and my family stay hydrated, I'll be looking for the green caps from Dasani.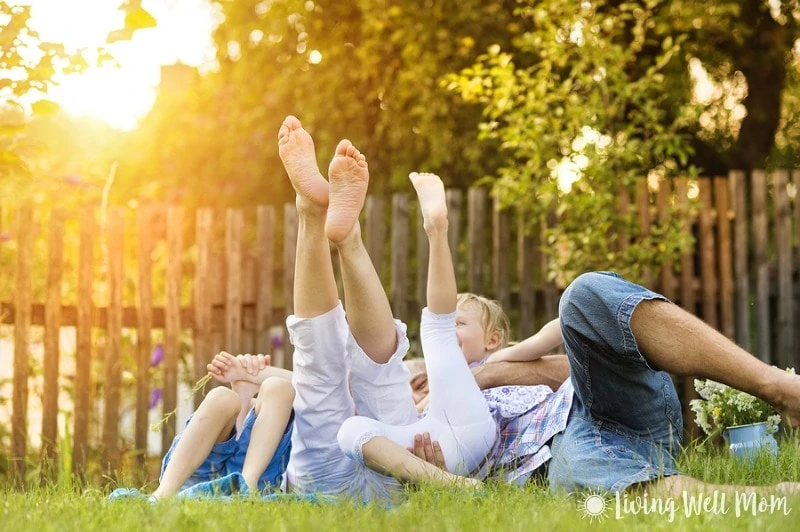 Enjoy your families and the holiday season, friends. Give yourself a break. It's okay.