If any meal can become too routine, it's breakfast. Whether you enjoy eggs, cereal, a muffin, or maybe nothing at all each morning, this is the one meal that often lacks variety. I'm no different there. So I've been experimenting with some different recipes and came up with an amazing new breakfast recipe that I like to call Spaghetti Squash Sausage Quiche.
This tasty recipe is easier to make than many quiches that have tricky crusts and because it's grain-free, dairy-free, and Paleo-friendly, this Spaghetti Squash Sausage Quiche is a breakfast you can feel good about eating.
This quiche skips the typical crust and uses healthy spaghetti squash instead, and the amazing combination of eggs, sausage, vegetables, and seasoning result in an incredible dish that doesn't taste "healthy" at all!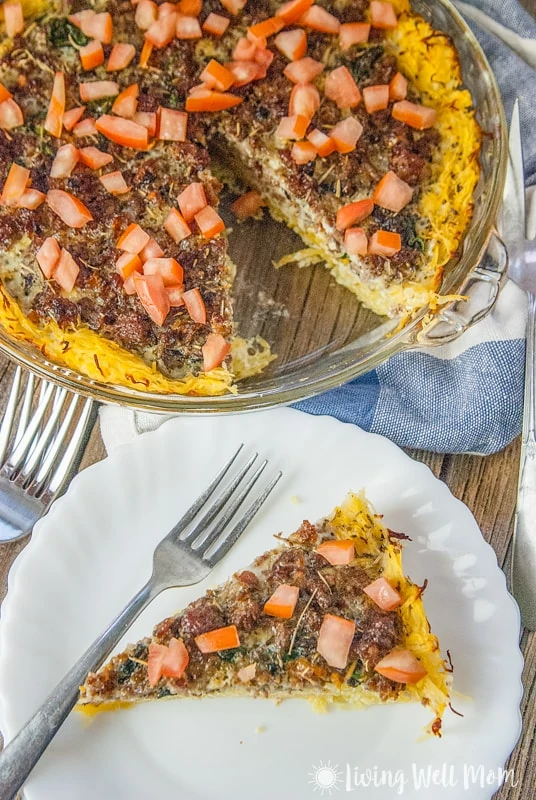 I like to make this quiche the night before, store it in the refrigerator, and simply pop it in the oven to bake while I get ready for the day.
The result is a nutritious hearty breakfast that's so good, your kids won't even realize they're eating veggies!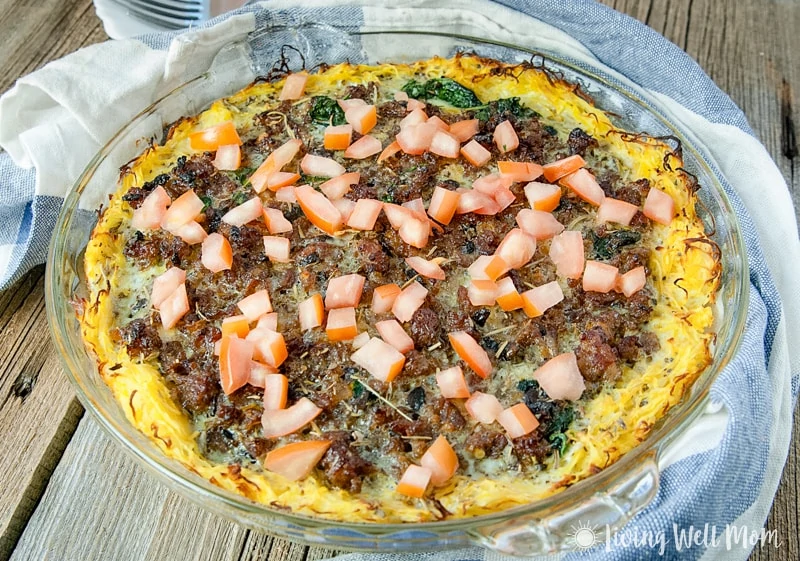 It was the sausage that did it for my children. They can't resist anything with sausage. I made sure to find a breakfast sausage that doesn't have nitrates in it and they all go to town. My husband, Nate, can't resist seconds or thirds of this delicious quiche!
Though I must admit, my 4 year old is suspicious and has refused to eat it lately. But this is my child who also refuses to eat chili without beans (it must have beans or it's clearly no good!) And refuses to eat other delicious food, while insisting on some quite questionable combinations, so I don't exactly trust his judgment. Gotta love picky kids!
We love this Spaghetti Squash Sausage Quiche so much, my husband requested it for Christmas morning. So I made a double batch two days before (it stores quite nicely in the fridge) and baked it Christmas morning while the kids opened their stockings. Mmmm! It was much healthier and more satisfying then our old Christmas breakfast of cinnamon rolls from a can!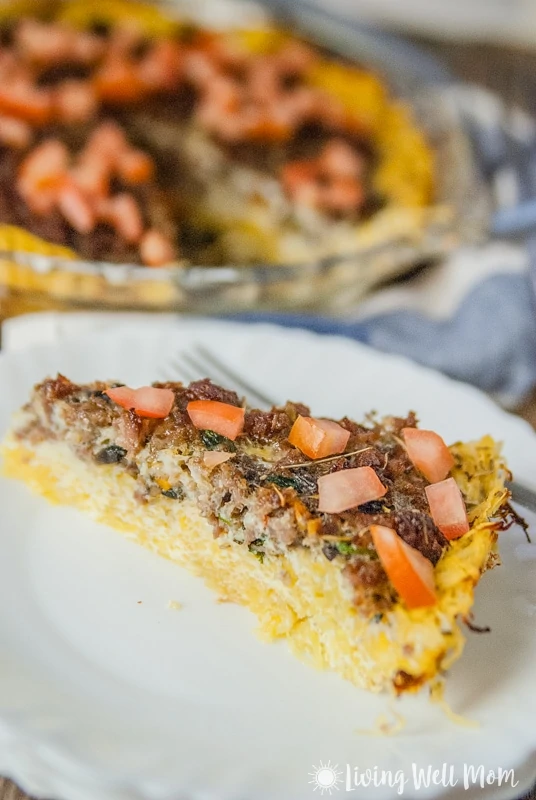 The other great thing about this Spaghetti Squash Sausage Quiche is that it doesn't fall apart like regular quiche tends to do. Which means you can eat it on the go on a busy morning! Just cut a slice, grab a napkin, and chow down. You could even send a slice or two with your kids as they walk to the bus stop.
This quiche is hearty enough to serve as lunch or even dinner too!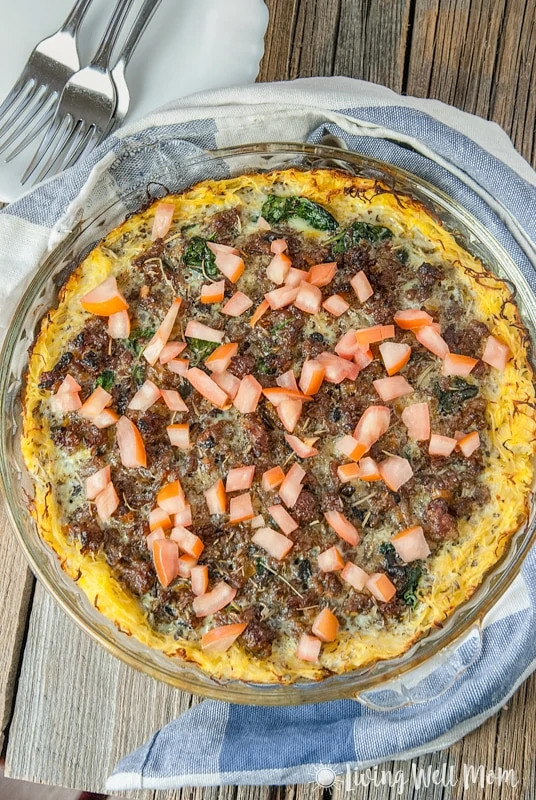 You'll see in the instructions that it takes an hour to prepare – don't let that stop you from trying this recipe. It really is easy to make. The hardest/longest part is cutting up and baking the spaghetti squash. And even that's not difficult. (PS: I'll share my secret for how to cut and cook spaghetti squash more efficiently very soon!)
Your whole family will love this tasty breakfast as a fun variation on your normal breakfast routines!
Print
Spaghetti Squash Sausage Quiche
This delicious Spaghetti Squash Sausage Quiche is so delicious, you'll forget you ever craved "regular" quiche!
Author:
Prep Time:

30 mins

Cook Time:

30 mins

Total Time:

1 hour

Yield:

6

-

8

servings

1

x
spaghetti squash, about 2 pounds

¾

lb pork breakfast sausage

2 cups

spinach

8

–

10

baby bella or shittake mushrooms, chopped

1/2 cup

yellow bell pepper, chopped

6

eggs, whisked

1 Tbsp

Italian seasoning

1

tomato, sliced, optional
Instructions
Slice the spaghetti squash in half and cook in a 400 degree oven for 30-60 minutes or until it's just tender. Remove from the oven and scoop out the seeds. Set aside.
Cook the sausage in a frying pan until it's no longer pink. Break it up as you cook it, like you would with ground beef. Add the spinach at the end and cook and stir until the greens are shriveled. Set aside.
Saute the mushrooms and pepper with a little olive or coconut oil.
In a separate bowl, whisk the eggs with the Italian seasoning.
Shred the spaghetti squash with a fork so you have long (or not so long strands), then press into a lightly greased (with coconut oil) pie plate or 8×8″ square pan and up the sides so it becomes the "crust."
Pour the eggs over the spaghetti squash. Spoon the sausage mixture on, then top with the mushrooms/peppers.
Turn the oven down to 350 degrees and cook for about 30 minutes or until the eggs are cooked through. Let it cool for about 15 minutes before serving, if you can resist!
Notes
Tip: Make this quiche the night before, store in the refrigerator, and simply pop in the oven the next morning for a warm, hearty breakfast!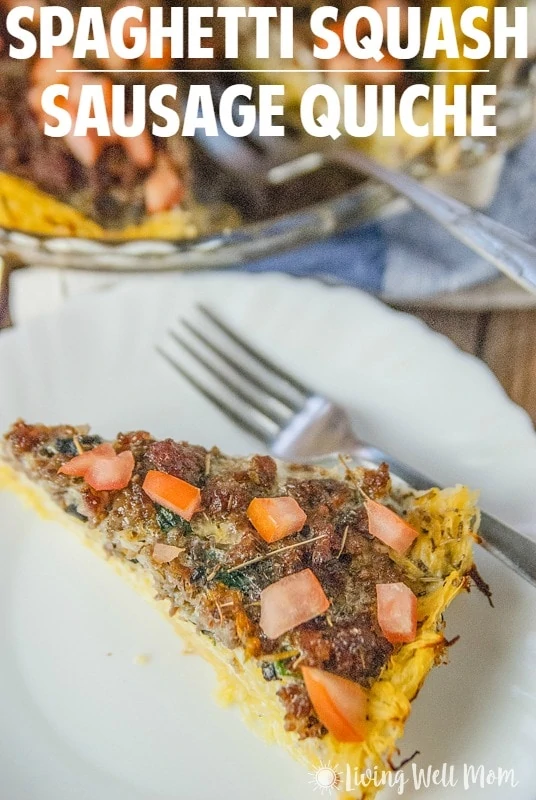 I based this recipe off the original version of Spaghetti Squash Crusted Quiche found at Paleo OMG.