It's never ideal to be stuck indoors especially when there are snowballs to throw and snowmen to build. However, sometimes we don't have an option. If Mother Nature decides to have a little fun herself, then you have to create your own ways to stay active with your kids this Winter.
From family fun to independent play, there are a number of fun activities that can keep everyone physically active.
Dance Party!
Start your playlist, pop in a cd (I still own a few) or stream your favorite music on Pandora. It's one of those moments where you have to let your "grown-up self" take a nap and release your inner child. Your kids will have a blast just kicking their feet and bouncing to the beat.
I've always been a little embarrassed about dancing because I have no rhythm. But, there's something about letting it all go with your kiddos. They could care less about what you look like dancing. I can tell you what they do care about…spending time with you.
So turn the volume up and start having FUN!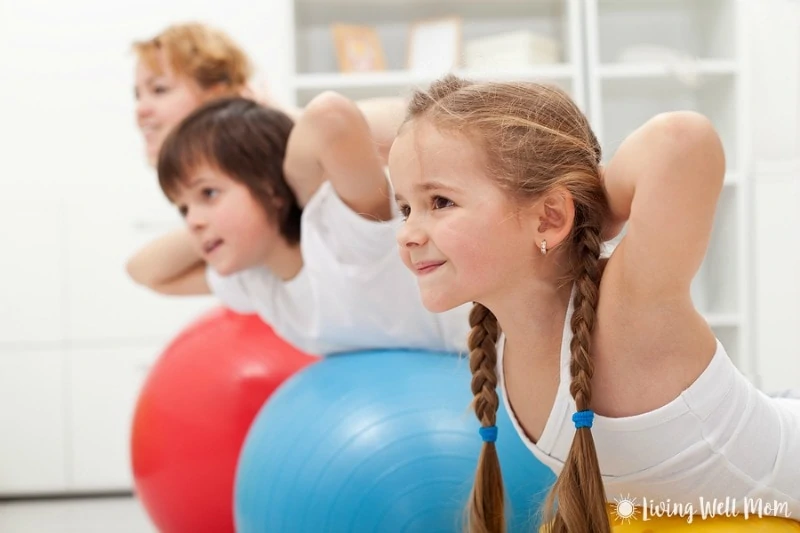 I know this may sound too obvious, but sometimes keeping things simple is the best way to go. Get the kids involved with age-appropriate exercises that you can do along with them. If they are already in school and have P.E. ask them to share some of the stretches and exercises they've learned throughout the school year. This can be such an amazing conversation starter too.
To make this a little more interesting and maybe add a little family competition into the mix, I made a 4-page Get Fit Challenge Mini Workbook that you can download for FREE! Each page has a couple of writing or discussion prompts, plus a water intake tracker for the kids AND you to color. So print a set for each of you participating. Make it interesting and plan a family fun day when you all complete the Get Fit Challenge workbook.
Painter's Tape Craziness
If you have a big enough area to lay down some painter's tape you can definitely bring some outdoor fun indoors. Use the tape to mark off areas for these fun activities:
Four Square

Hopscotch

Create a Floor Maze
I'm sure you don't want a large playground sized rubber ball bouncing everywhere, so use a regular balloon. It'll bounce just as well, but won't have the same damaging effect, hopefully.
Indoor Obstacle Course
If your kids love to build forts, this is going to be even better. Break out some couch cushions, streamers if you happen to have them, or twine string, and some construction paper. I can see you're puzzled about the construction paper. I'll explain it shortly, I promise.
The Set Up:
Use the couch cushions to set up "tunnels" to crawl through.

Take the streamers or string to create the web obstacle, that challenges them to go over, under and sideways.

This last section is where the construction paper comes in. Usually, in a normal obstacle course, you'd see tires to run through. In this case, it's the "color run." They'll pick a color prior to starting the course, once they reach this section they need to pick up all the colors that belong to them. So make them work and have fun when you scatter those construction paper sheets. [Note: I initially tried to have them run over them, but they would slip & slide because there was no way to make them stick properly.]
Grab your camera, because it's going to be funny!
Classics that Gets Them Moving
There are so many classic games and activities that will get the whole family moving. What's funny is that the kids may not even realize that they are actually exercising. Here are a few of our favorites.
I have yet to win a game of Twister against my 8-year-old. They are so flexible as kids that they have a slight advantage, I think. The laughs, though, they're priceless!
Charades is a classic family game, which you can add a Get Fit Challenge twist to. Add a couple of categories related to physical fitness like sports and outdoor activities.
Blowing bubbles will get all kids on their feet, even some adults. It sounds silly, but it's true. There's something about catching them and popping them that entertains any age group.
With all these fun ways to stay active with your kids this Winter, being stuck indoors may end up being something everyone looks forward to. Does your family have any indoor activities they love too?