Santa's Village in Jefferson, New Hampshire is one of our favorite family places to visit. From live-action shows to roller coasters and flume log rides, petting reindeer and of course visiting Santa himself, there are plenty of things for a fun-filled day of family memories.
This year, my children are 6, 8, 10, and 14 and every single one had a wonderful time, including my teenager! We've taken him to some other kid-themed parks and he quickly gets bored, but that did not happen at Santa's Village.
My kids each chose their favorite attraction or ride at the park to share with you all.
You Tubing at Santa's Village
Nathan is 14 and his favorite ride at Santa's Village is You Tubing!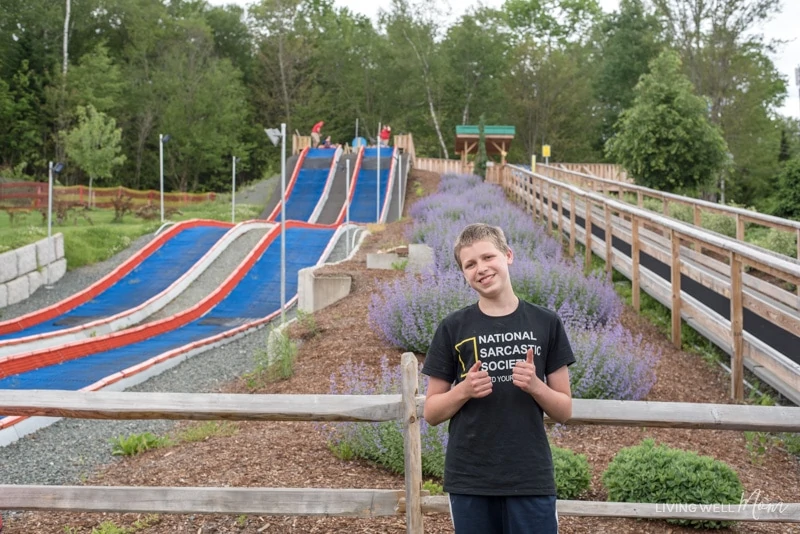 This unique attraction feels like you're sledding down a hill; with bristled mats, inner tubes slide down quickly for an exciting downhill ride. There's an uphill conveyor belt to easily transport you to the top of the hill making this ride super easy too!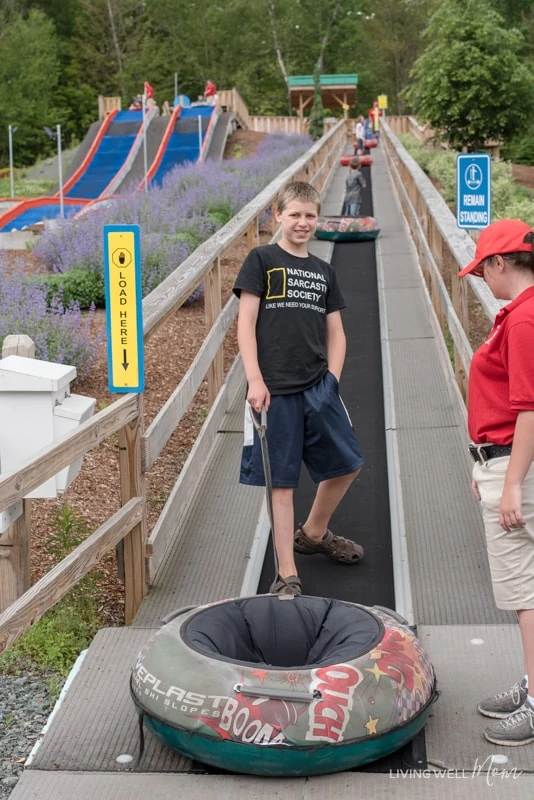 Two people can slide down at the same time on two separate tracks, so you can 'race' with a friend or family member!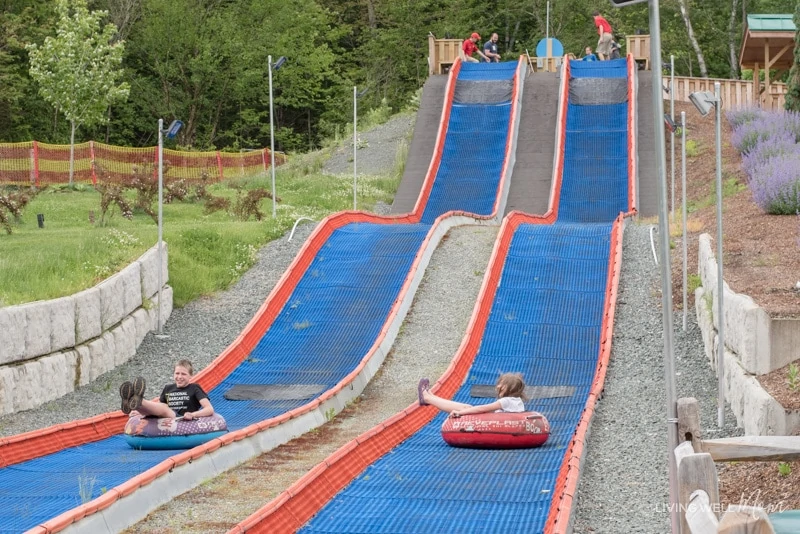 Nathan chose You Tubing as his favorite part of Santa's Village because he loves going fast and this was definitely a faster ride. He also loves tubing and he said this was a fun way to do it without the snow or water. Plus, he liked the guarantee of "not wiping out!"
Our whole family loved YouTubing!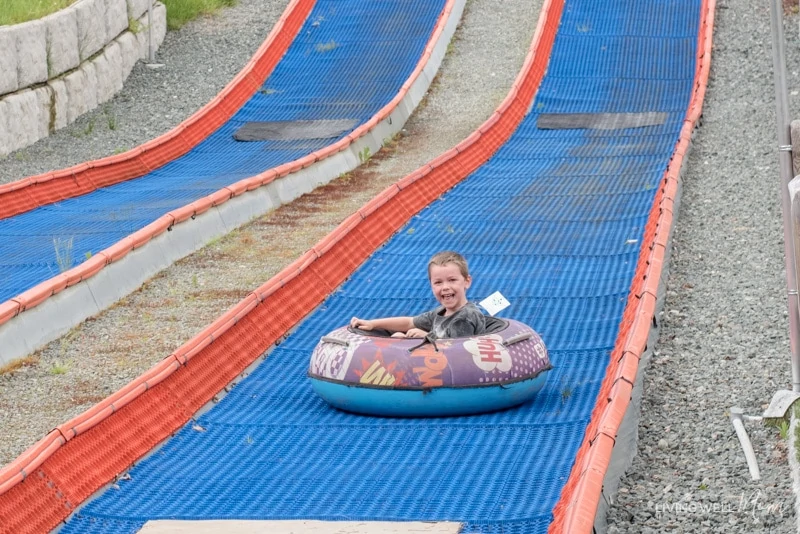 Yule Log Flume at Santa's Village
Emily is 10 and her favorite attraction at Santa's Village is the Yule Log Flume!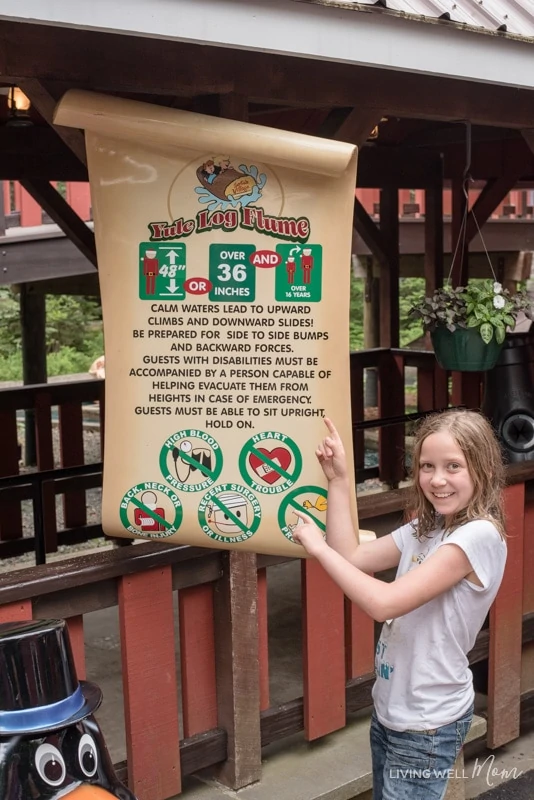 The Yule Log flume winds you through the "Yule Forest" before you climb the logging ramp up to North Station. Expect to get at least a little wet as you splash down on the other side!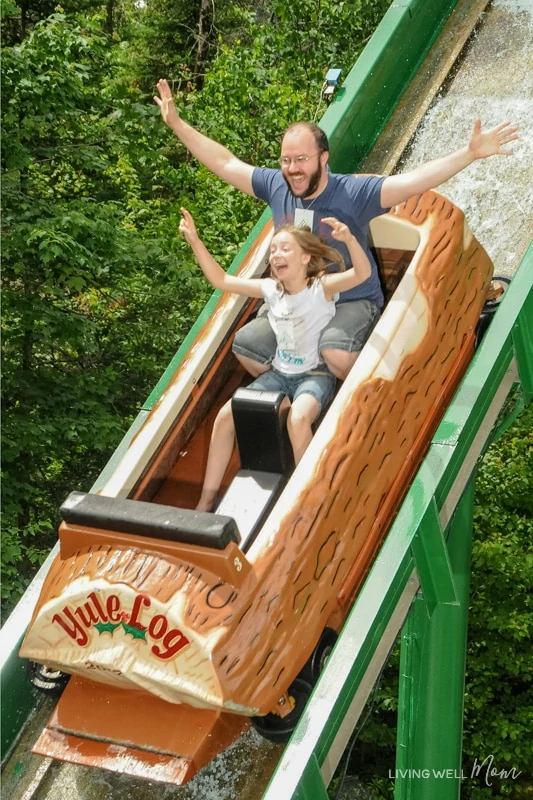 Emily loves how the Yule Log Flume starts out slow, then begins to pick up speed as you go over the 'rapids,' then slows as you go up the steep hill, then fly down with a huge splash.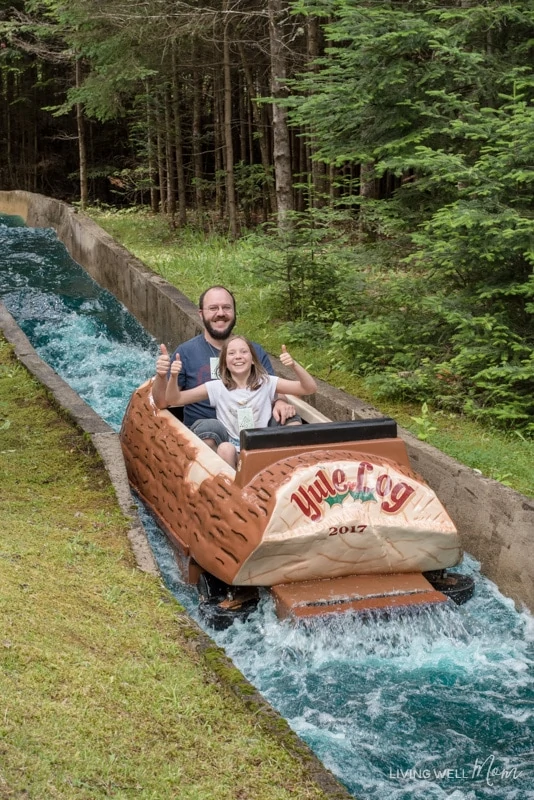 And, she would like you to know, the person in the back usually gets the wettest!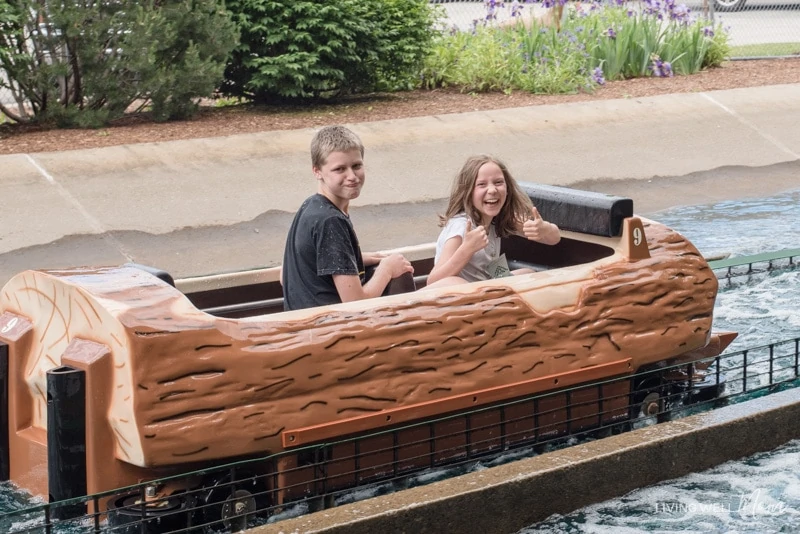 (The Yule Log is my favorite ride at Santa's Village too.)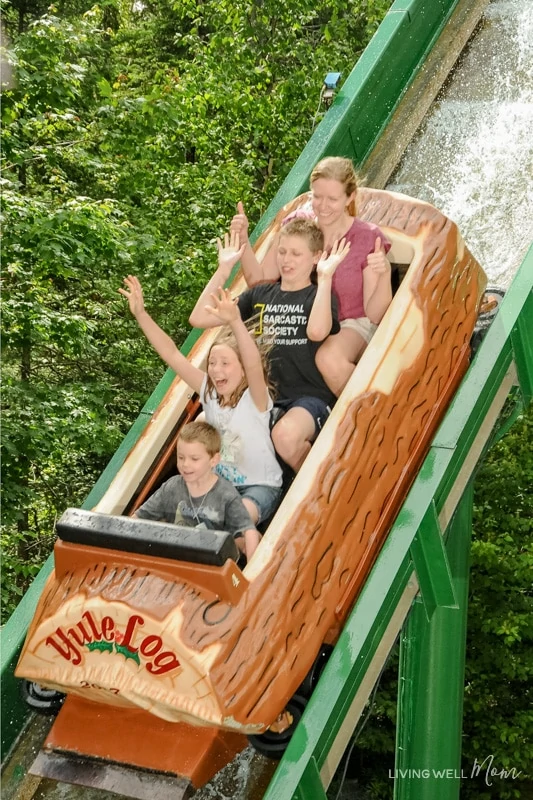 Rudy's Rapid Transit Coaster at Santa's Village
Joshua is 8 and his favorite ride at Santa's Village is Rudy's Rapid Transit Coaster.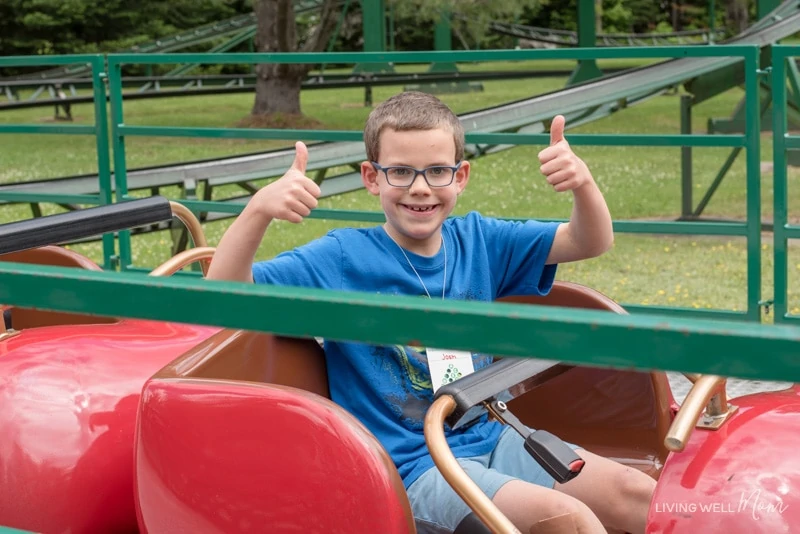 Rudy's coaster is a perfect first coaster for smaller children as it's not too crazy but definitely has some fun and zip. Older kids will enjoy it too. It's one of Emily and Luke's favorite rides too.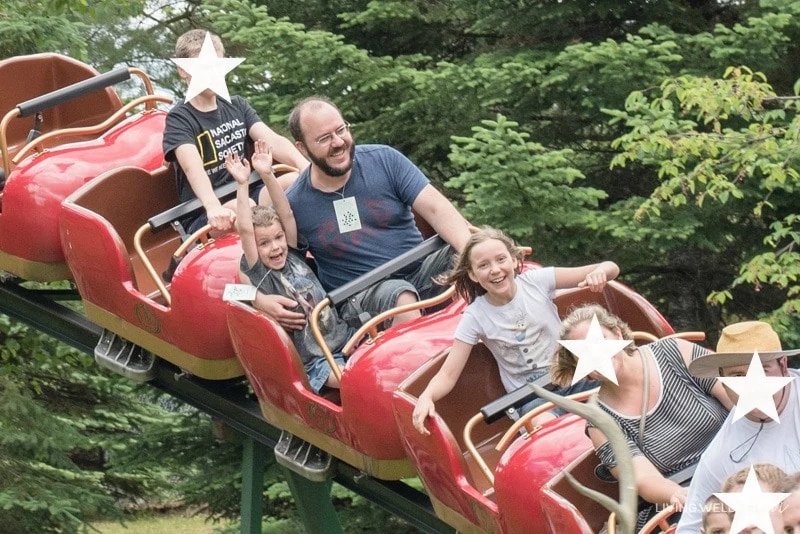 Joshua loves Rudy's coaster because it goes "super fast, but not too fast." He loves to put his hands in the air as the coaster takes you around the track TWICE!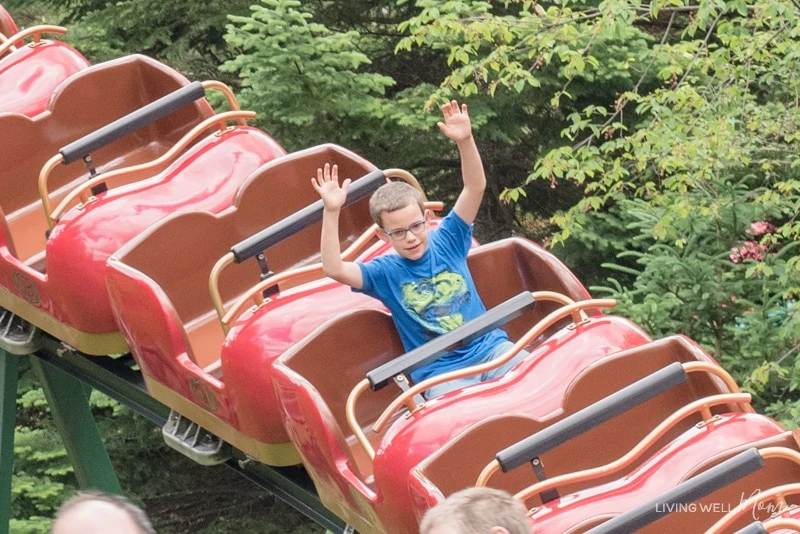 Poogee Penguin's Spin Out Coaster at Santa's Village
Luke is 6 and his favorite ride at Santa's Village is Poogee Penguin's Spin Out Coaster.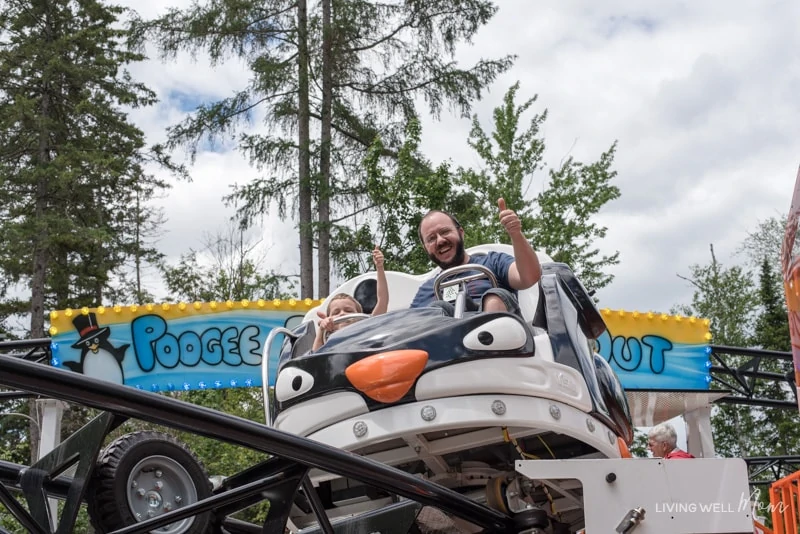 Poogee Penguin's Coaster randomly spins around a figure-eight-and-a-half track. It's both a roller coaster and a spinning ride!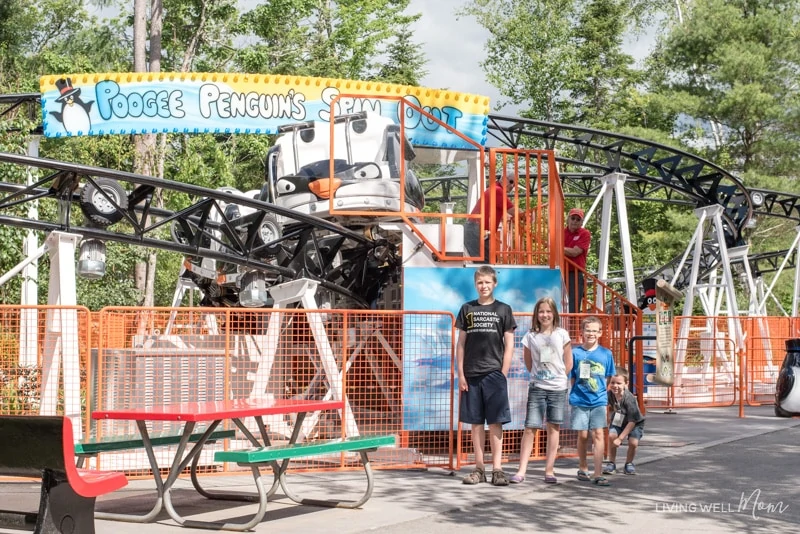 If you're not into spinning, never fear; this ride isn't THAT crazy. Both my husband and I aren't big 'spinning' fans and we enjoyed this ride with our kids.
Luke said he loves Poogee Penguin's coaster because it spins around a lot and goes back and forth. He said he loves it because it's so fun and also that it's a new ride (in 2016).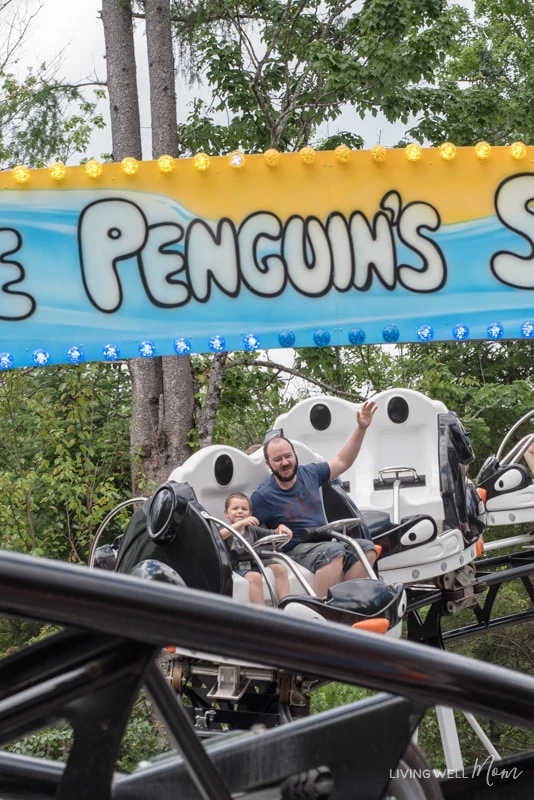 Luke thinks other kids would love this because it's a brand new ride that they should definitely try! It's a little crazy and he LOVES crazy!
More Don't-Miss Family Attractions at Santa's Village:
#1 Ho Ho H20 Water Park
While last year, it was too cold to enjoy the water park, this year it was just warm enough to sit out in the sun for a couple hours while the kids splashed and had fun.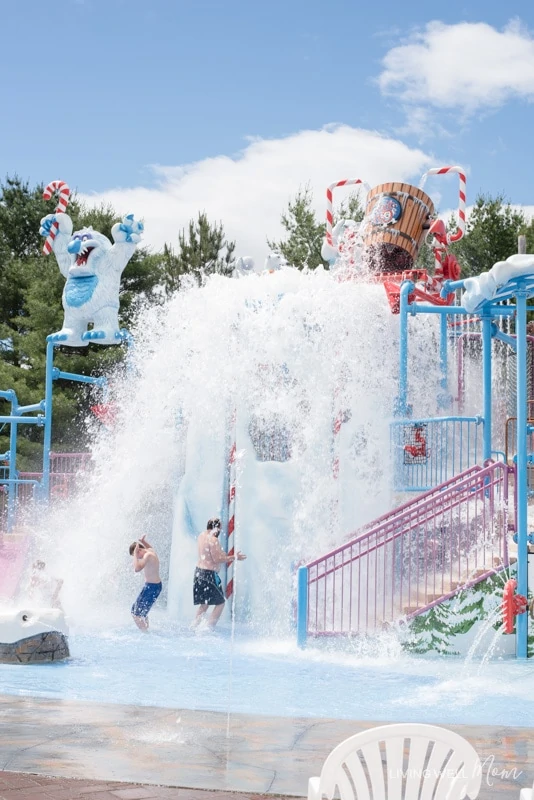 The Ho Ho H20 water park's main feature has small slides, climbs, and interactive fun for children of all ages. Plus, every few minutes a giant buck with GALLONS of water splashes down, drenching everyone around!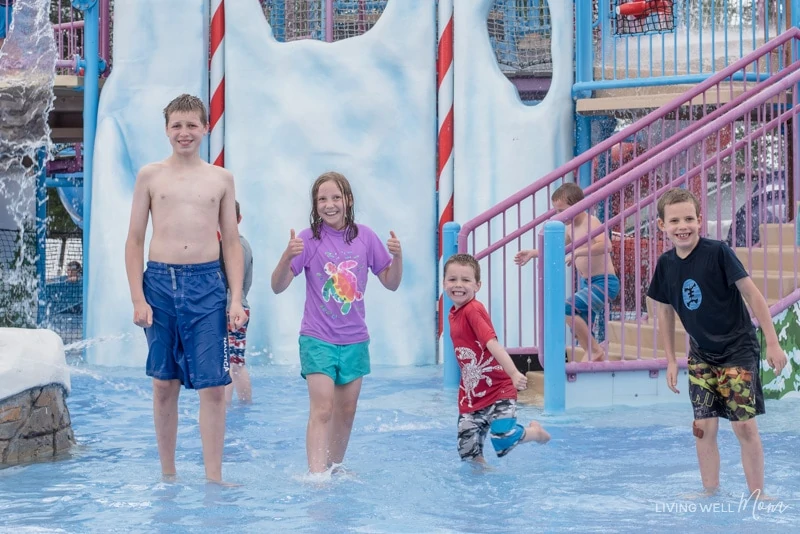 Nathan had to "dab" (am I even saying that right?!) when the water splashed down on him. (I was quite surprised at how much he enjoyed the bucket of water splashing. He was under it every 5 minutes for a good 30-45 minutes!)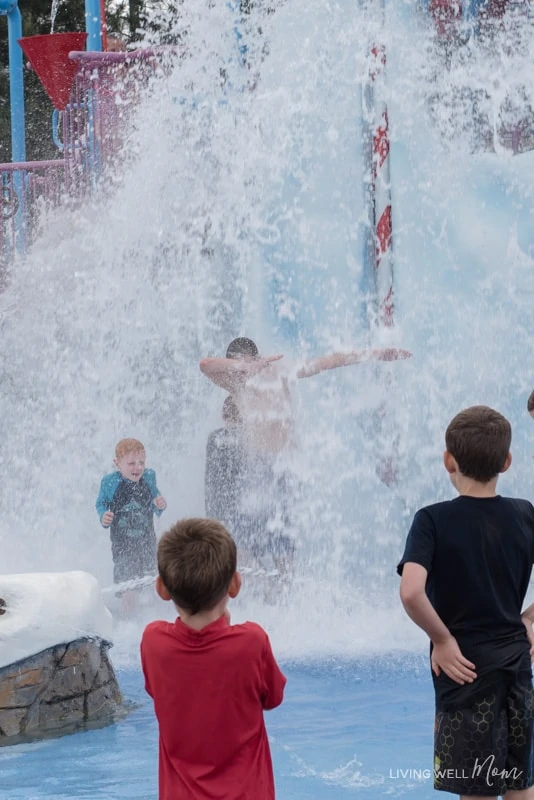 I love the Elf Lodge nearby. It has a small restaurant, where we enjoyed ice cream later….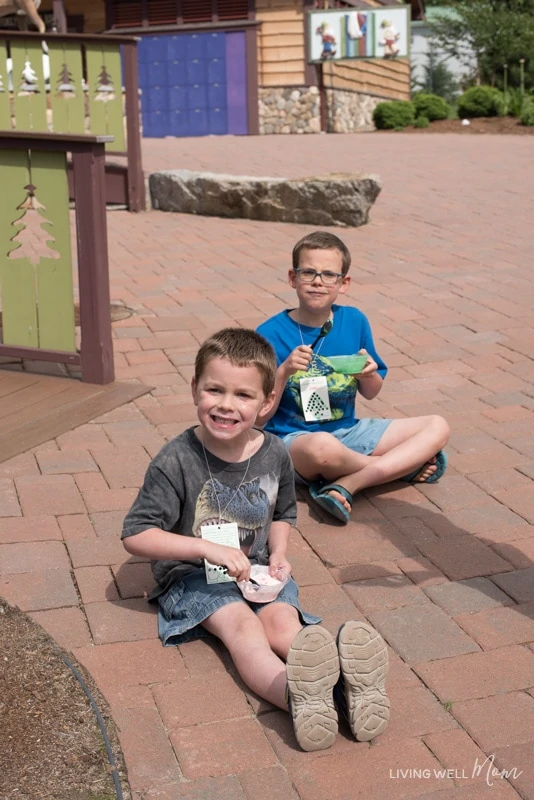 …a store with everything parents might forget or the kids might lose or break, from towels and swimsuits to diapers and sunscreen. There's also comfortable bathrooms and changing rooms for the whole family.
Santa's Village also has Joy Ride Slides – 3 unique slides each 3 stories tall with twists and turns that end in a gentle run-out. (There's no pool at the bottom, so you don't have to worry about younger children splashing down.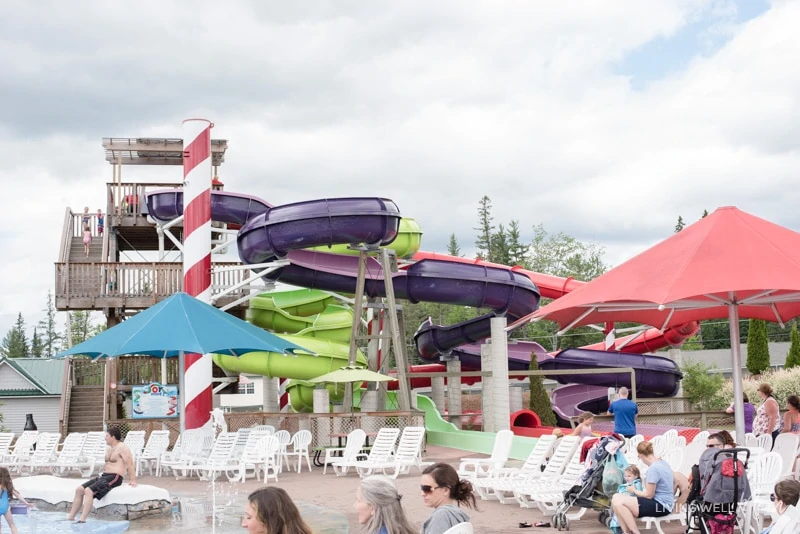 It's safe for kids 36″ and taller, so even my 6-year-old Luke was able to enjoy it. He went over and over and over again, even until he was blue with cold (because it was still a bit chilly for water that day!)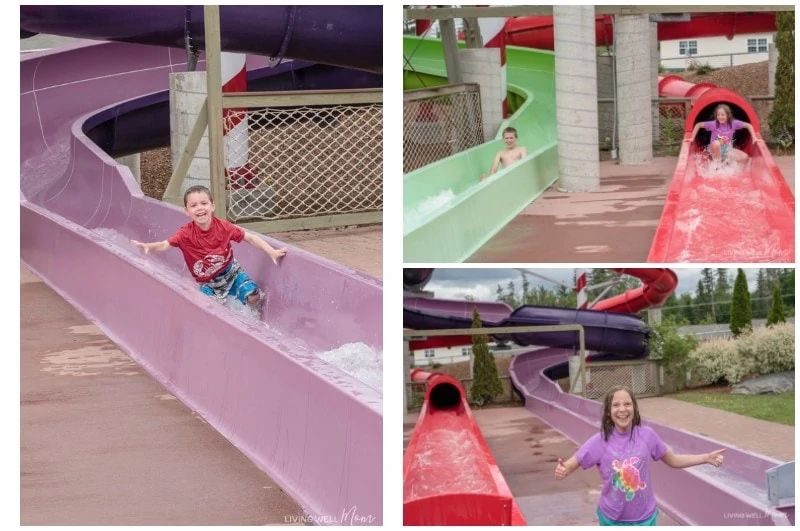 The Joy Ride Slides are another great place teens will enjoy too. It's just enough fun to satisfy older kids (Nathan really enjoyed them too), yet not too crazy to scare Mom!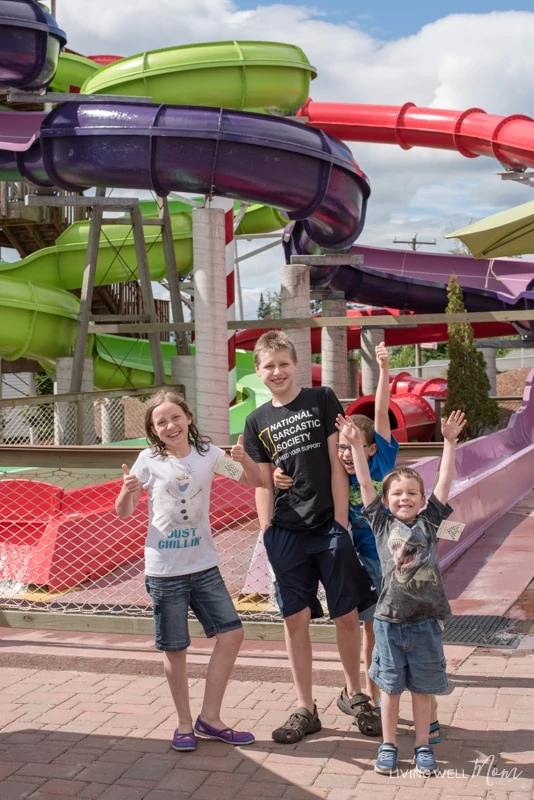 Lastly, there's a smaller area called Poogee's Splash Pad for toddlers and younger children. We didn't try it out because my kids have outgrown it, but it's good to know it's there!
#2 Santa
You can't go to Santa's Village without stopping for a visit with the big man himself!
We were invited to a special after-closing meeting with Santa where he had gluten-free cookies and orange juice for my kids. (They were very impressed that Santa knew their food restrictions!) Thanks, Santa's Village!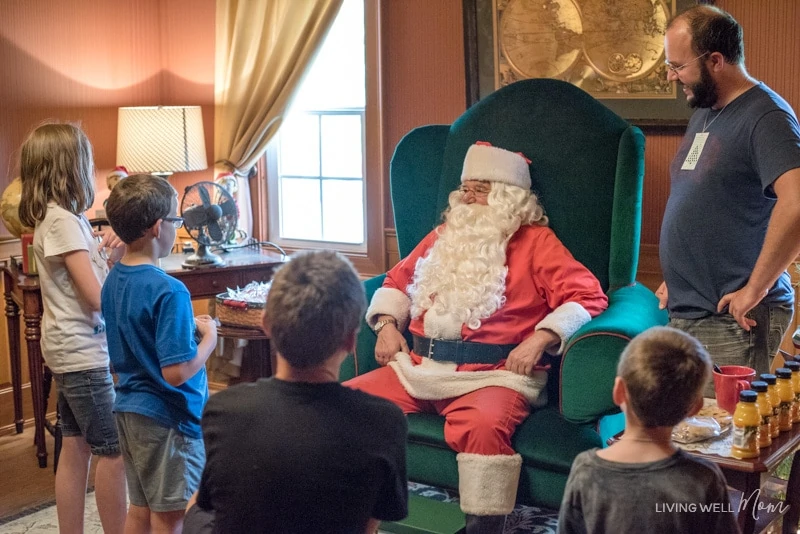 The kids talked with Santa and we were given a lovely family photo with him too.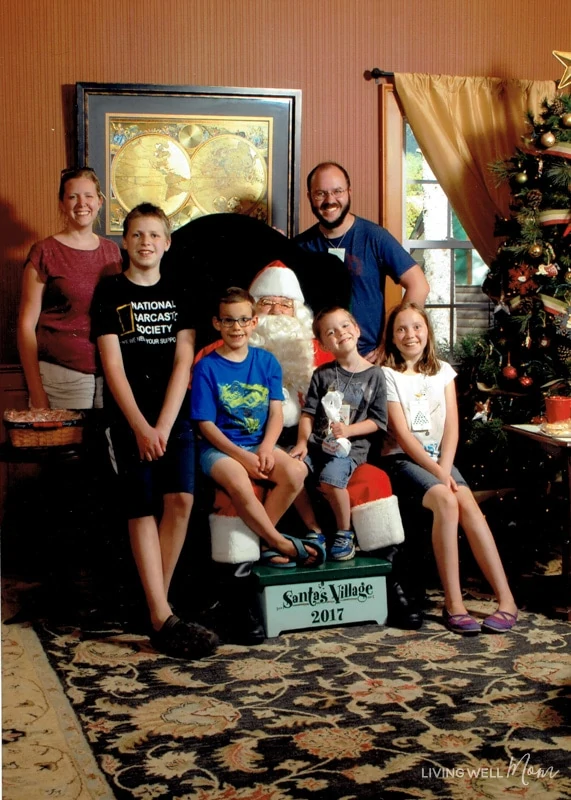 After our visit, we all took turns going on the Chimney Drop with Santa himself and he taught us how to say "Ho-Ho-HO" as we dropped! It was one of our favorite moments of the day!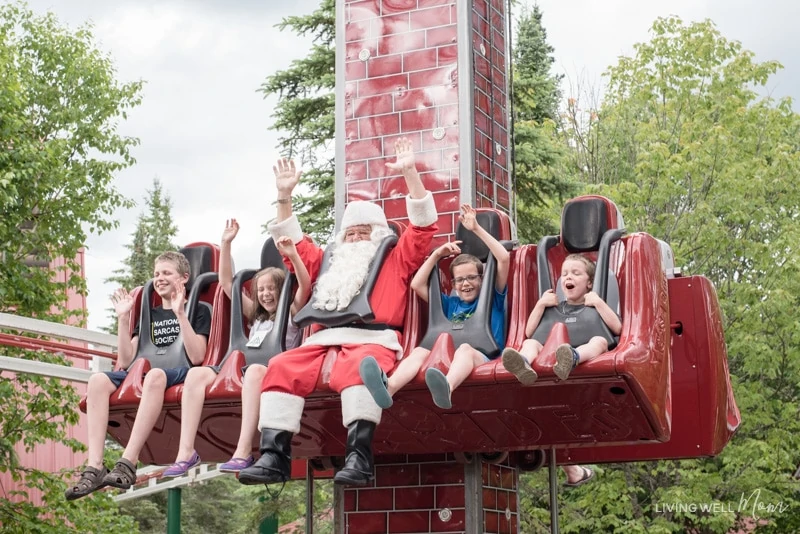 We can't forget Santa's reindeer too! You can buy small treats to feed the reindeer. It's so much fun!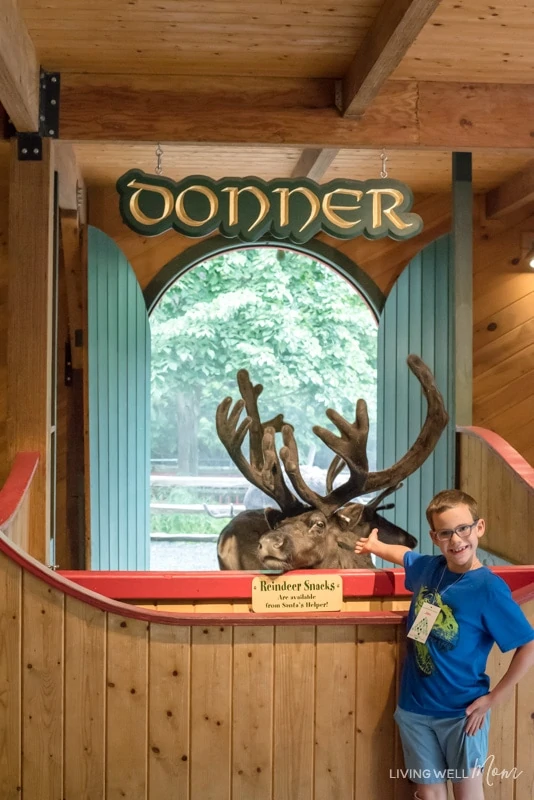 #3 Food
Santa's Village is so family-friendly, they invite you to bring your own food in the park! That's right, there's no bag checking or restrictions at this family attraction. And you'll find lovely picnic tables conveniently scattered around the park too.
If you want to buy food at Santa's Village, they have lots of delicious options, including gluten-free. If you're like my family and have certain food restrictions, you can simply ask for the ingredient list at any of the restaurants/food locations and they will happily share it with you.
We ordered 2 gluten-free pizzas for our lunch and it filled everyone up. (It only cost $28 with taxes! That's cheaper than our local pizza place!) Not to mention it was delicious!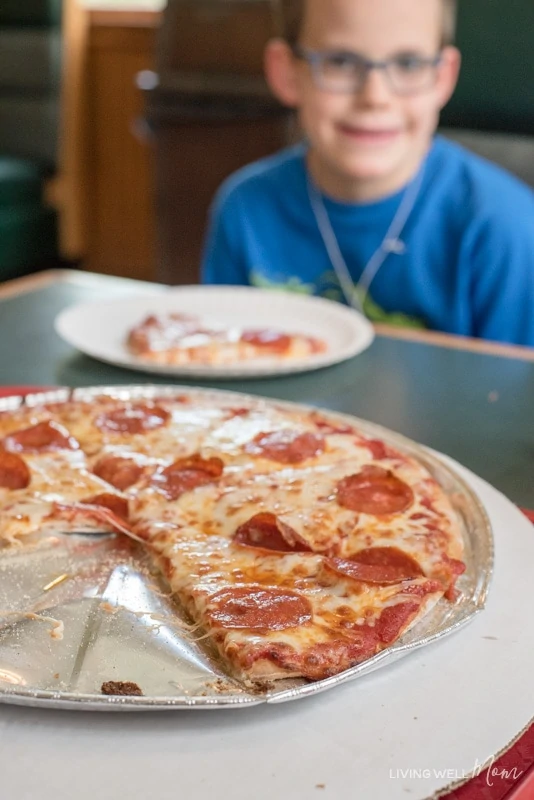 You've gotta have Christmas cookies during the holidays and luckily, Santa's Village has a bakery for just that reason!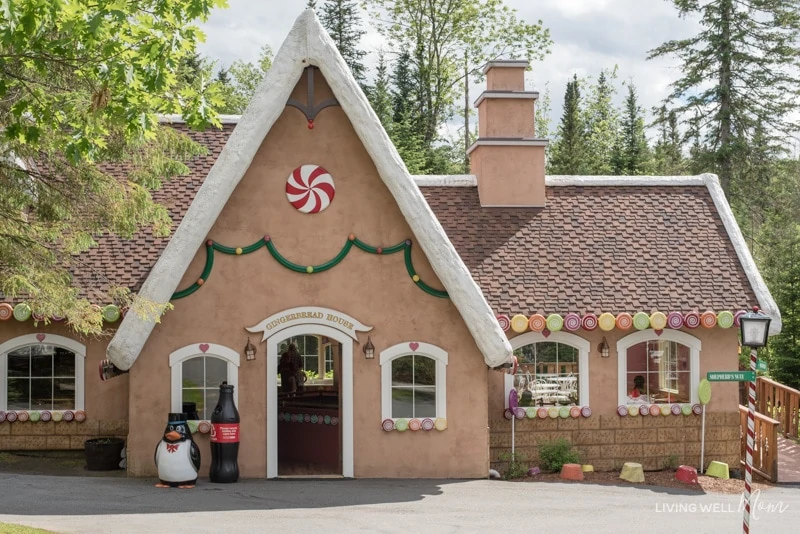 They have gluten-free, allergy-free cookies as well! My kids LOVED decorating their cookies and devouring them after.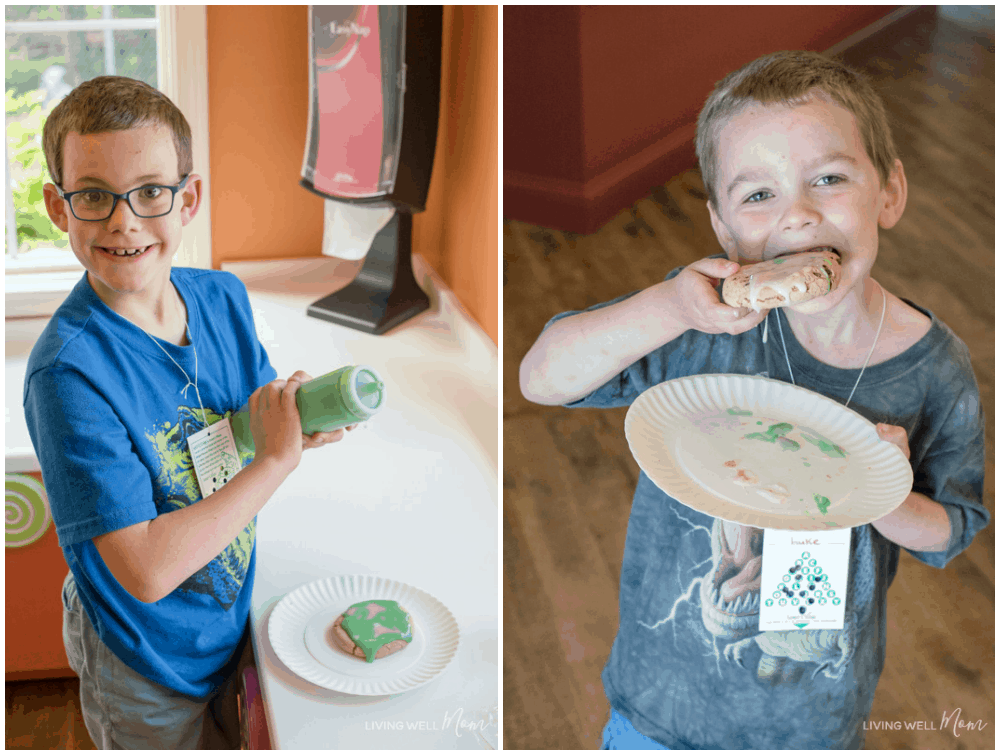 #4 The Skyway Sleigh
A ride on the gentle Skyway Sleigh is a must for every visit to Santa's Village. It's perfect for all ages and gives you a beautiful view of the whole park!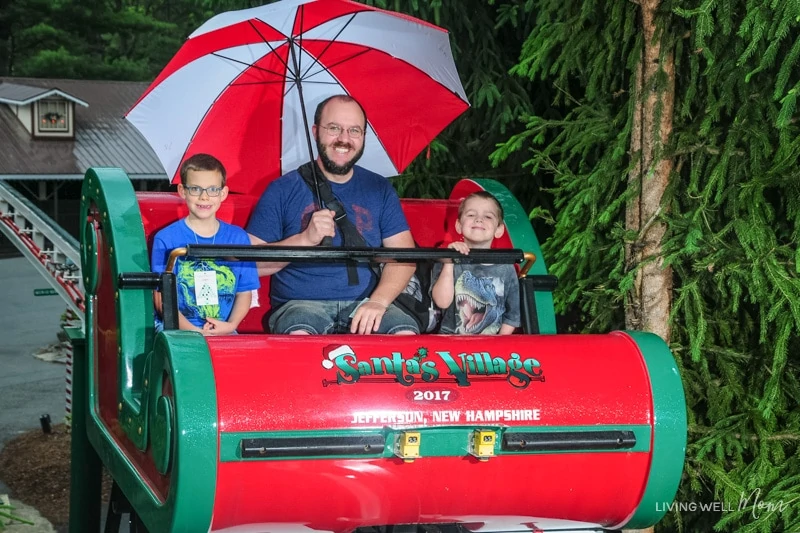 (It was drizzling out and Santa's helpers kindly gave us umbrellas to use!)
Plus, you can purchase a family photo to cherish for years to come!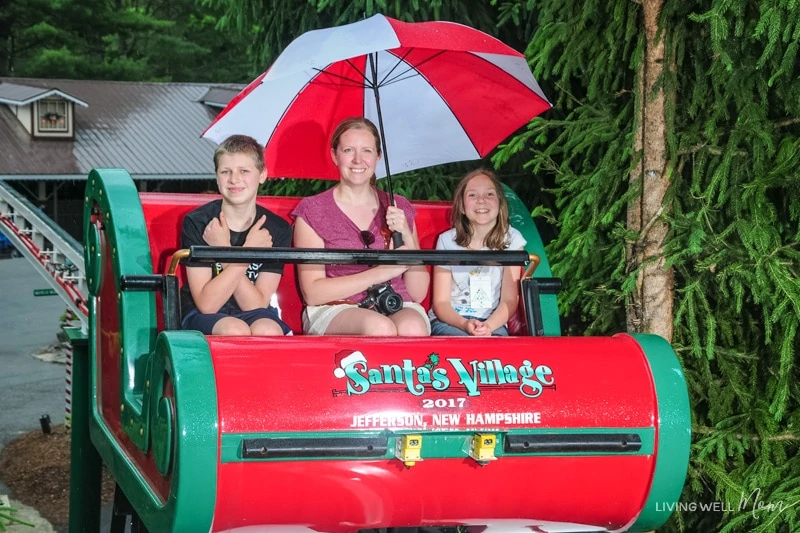 #5 Fun Shows
Santa's Villages has quite a few amazing live shows. From a Tinkerdoodle Christmas in 3D to Santa's Light show, they're short and enjoyable for everyone….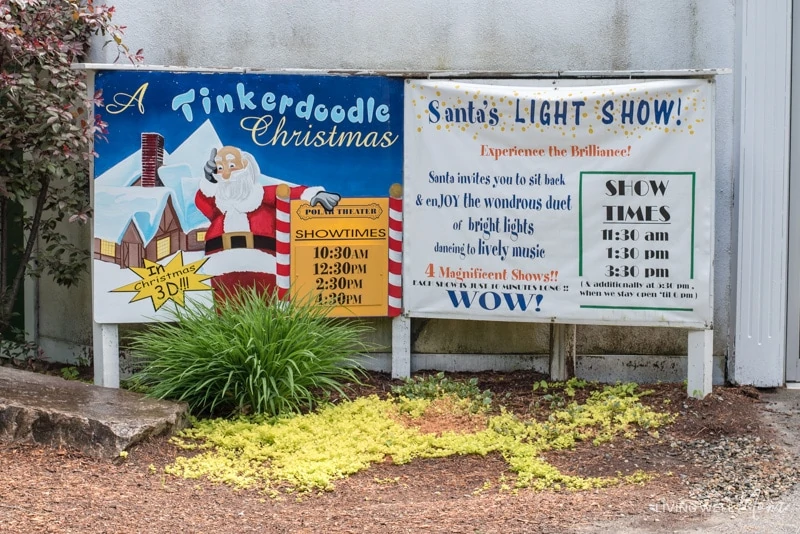 They're a great time to take a break while the kids dance and sing!
You'll also see live appearances from Poogee the penguin and the Merry Main Street Block Party and more throughout the park…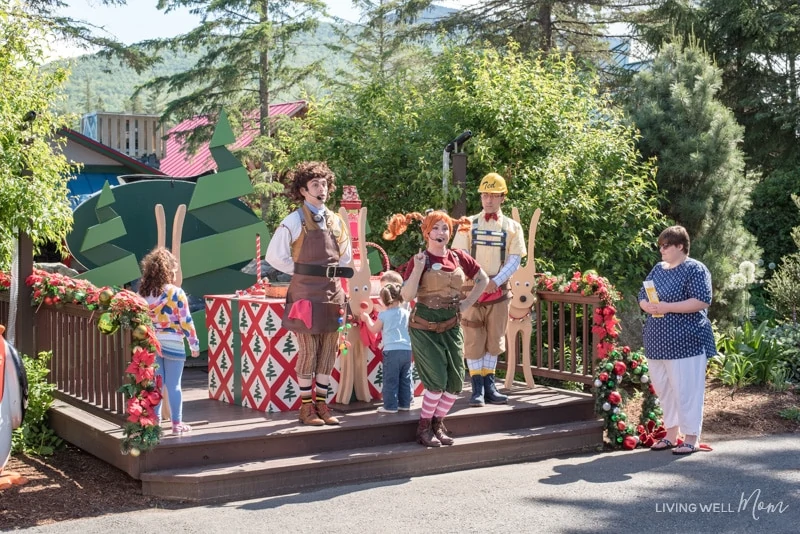 #6 Elf University
My kids love visiting Elf University! You can get a free punch card to take around the park and find 26 elves with all 26 letters of the "elphabet". When you're done, take your card back to Elf University for a certificate and a pencil! (Even Dad earned his certificate!)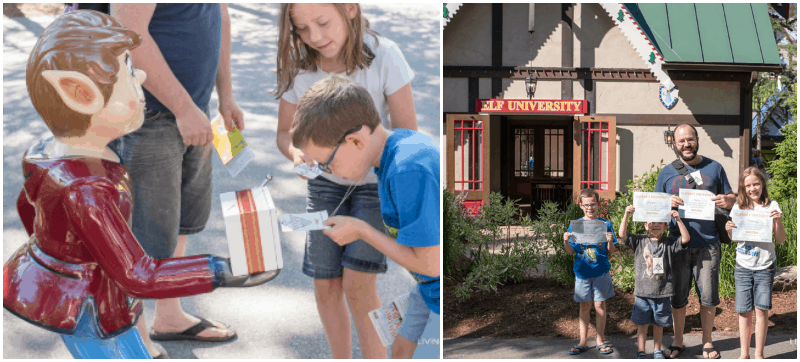 #7 The Elves' Workshop
Stop inside and the kids can create their own fun crafts and things. From elf ooze (Luke's absolute favorite) to candles, bath gel and lip gloss, there's different make-your-own activities for any kid here.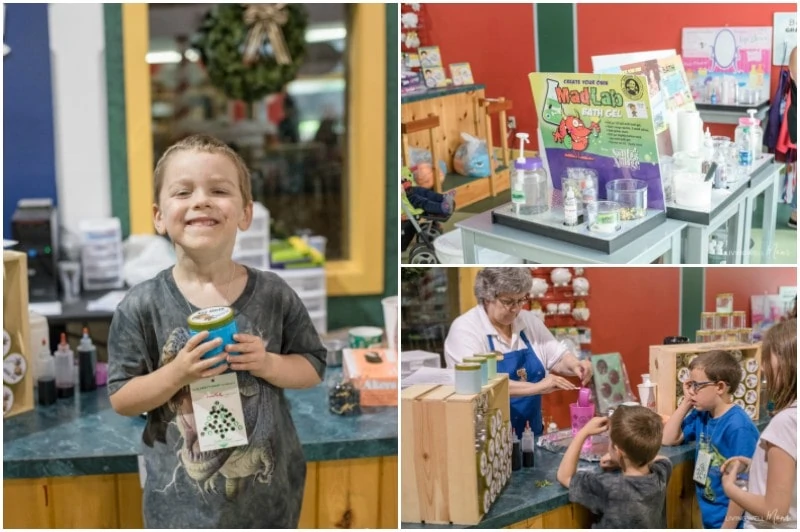 6 Insider Secrets about Santa's Village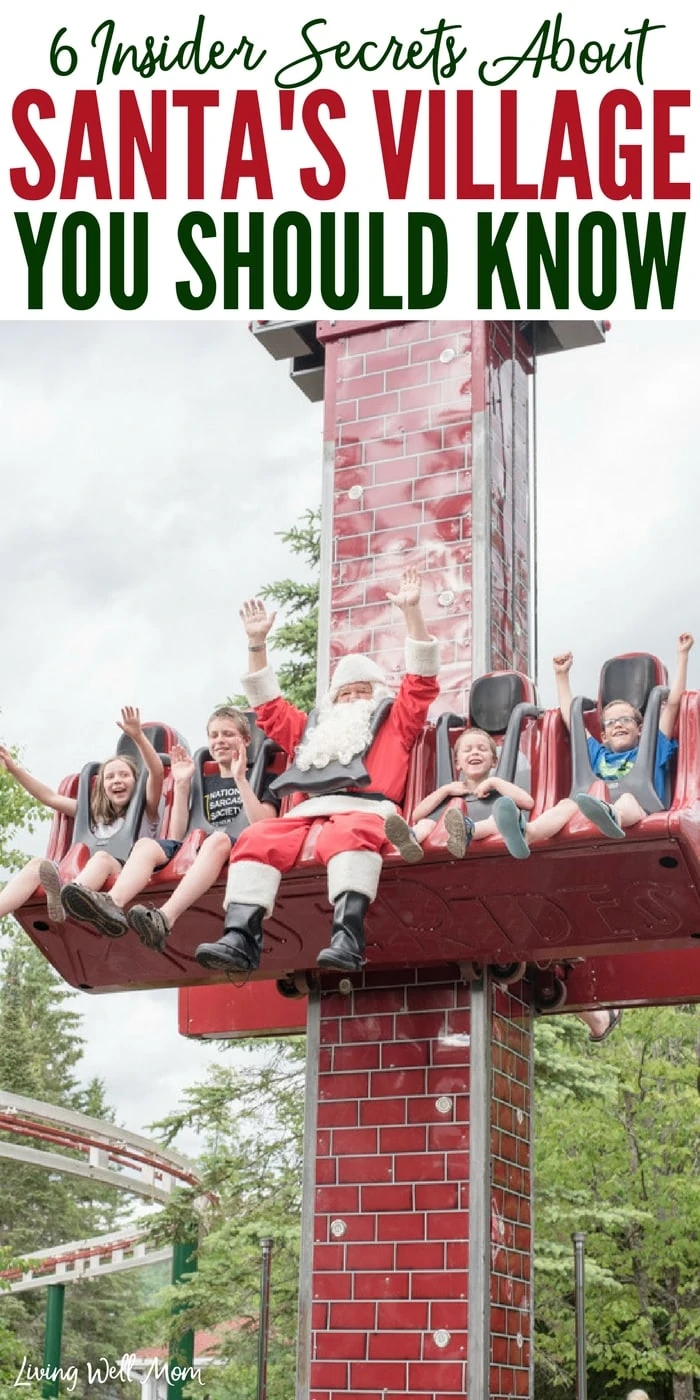 #1 Take advantage of their Post Office.
You can have any of your purchases throughout the day, whether it's a fun gift, personalized stocking or goodies from the elf workshop, sent to the Post Office. Then you simply pick it up at the end of the day! I love this well-thought-out feature at Santa's Village. No more hauling things around, making an extra trip to the car to unload or planning to buy later only to forget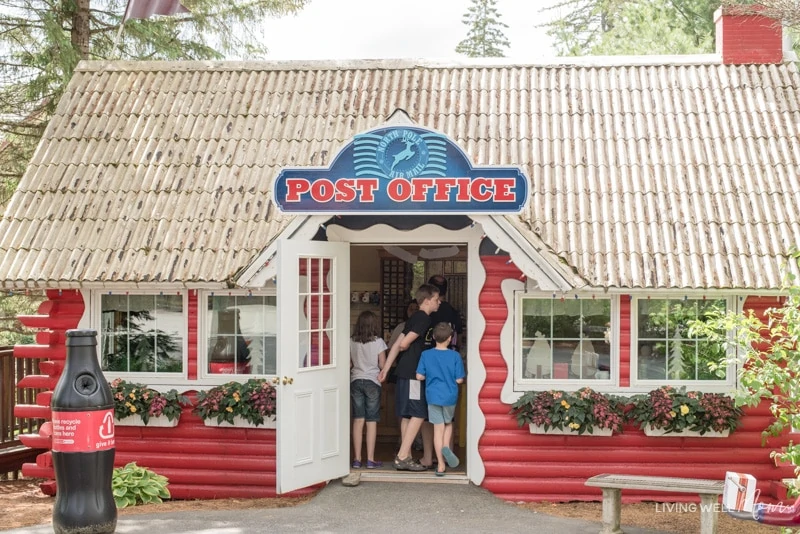 #2 Hot days are great days to visit.
People gravitate to the water park, leaving the rest of the park practically empty! (Two separate "Santa's helpers" told me this 'secret.')
#3 Best Value Tip

Season passes are a great value. It will cost you $79 and it's good for unlimited visits the entire summer season and winter season (through New Year's!) Wow!
Don't live in the area? Stop by Santa's Village during the last 3 hours of the day and come back the next day for free!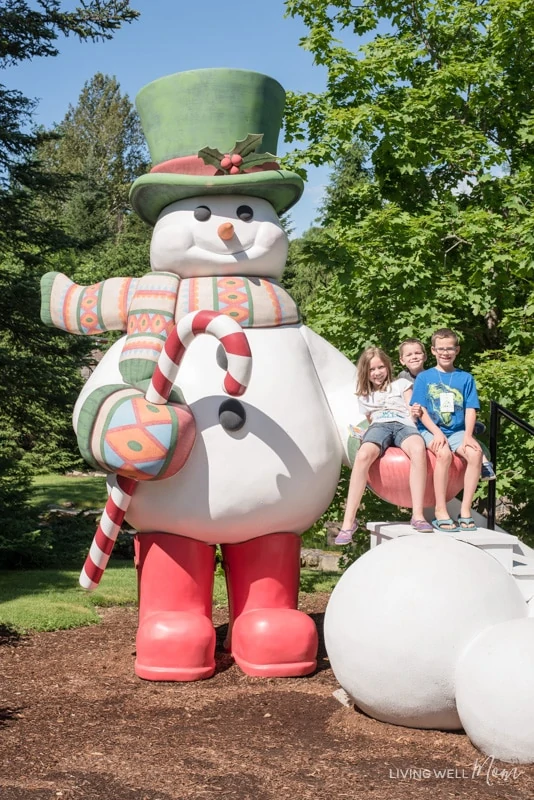 #4 Most people head to the right of the park when Santa's Village opens.
Head toward the left and hit up Rudy's Transit Coaster, the HO HO H20 water park and other attractions before they get crowded.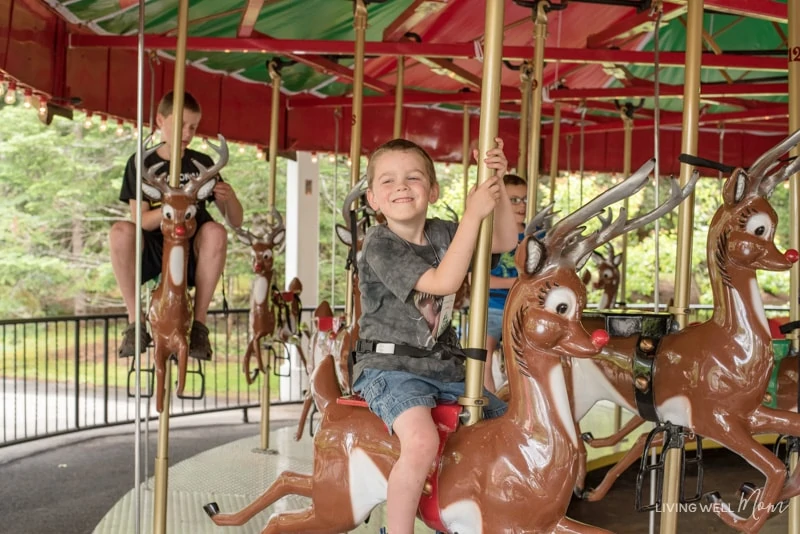 #5 Santa's helpers are happy to take family photos for you!
Just ask someone walking around or they may even volunteer. We've had people volunteer to take our photos every single visit!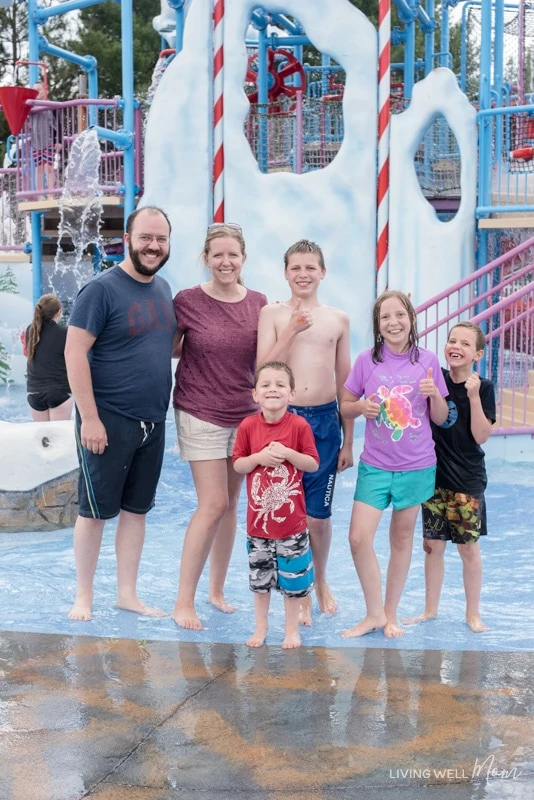 #6 Santa's Village includes a LOT in their ticket price.
Parking is free. You can rent a stroller for free. All the rides, shows, and attractions are included in the ticket price. You can get a free ring from the blacksmith. The Elfabet game and prizes are free. And if you have a pet? They offer FREE pet kennels too!
In addition, if it's raining, head to any gift shop and you can get FREE ponchos for your family!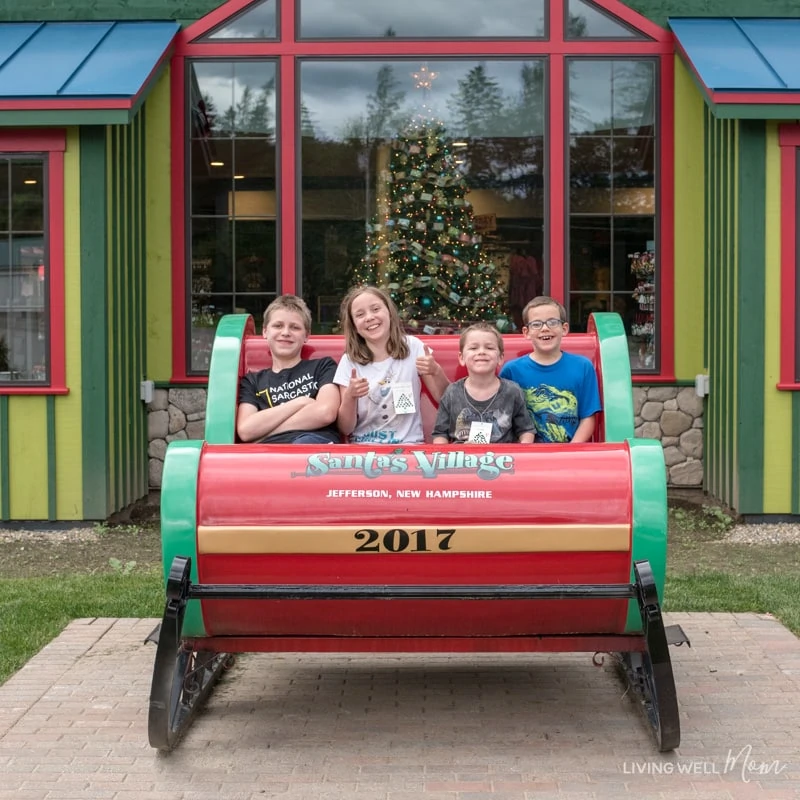 Santa's Village is a magical place for the whole family. My entire family had such a fun time (yes us parents did too!) We can't wait to go back again soon!
Thank you, Santa's Village, for going above and beyond to help families make amazing beautiful memories.