Thompson's WaterSeal products are perfect for making a big difference in your home's exterior appearance while staying in a budget. A simple exterior cleaning can make your home much more appealing. Thompson's WaterSeal has cleaners, waterproofers, and exterior wood stains that will help get your home exterior clean and keep it that way by sealing out water.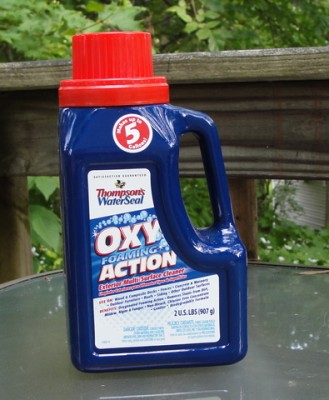 I was sent Thompson's WaterSeal Oxy Foaming Action Exterior Multi-Surface Cleaner. This cleaner is truly multi-surface; it will work on wood and composite decks, fences, concrete, brick, siding, roofs, and more. The key features of this cleaner are:
oxygenated foaming action
removes stains from dirt, mildew, algae, and fungus
non-bleach, chlorine-free concentrate
Our back deck was desperately dirty and in need of some help this year. We've lived in this house for 7 years and haven't once washed the deck – yikes! We've been using our deck a lot this year so this was the perfect time to try out Thompson's Water Seal cleaner. Here is a before picture:
It was dirty with algae and mildew too. When it rained, the deck became slippery because it was so yucky with algae. Yuck.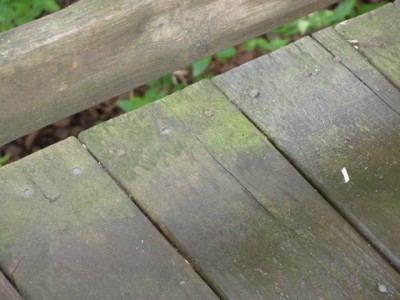 Nate did the work on this one. He rented a pressure-washer as recommended by Thompson's (you won't get nearly as good results without it.) He pressure-washed the deck first and then scrubbed it thoroughly with the cleaner. One bottle cleaned the whole deck.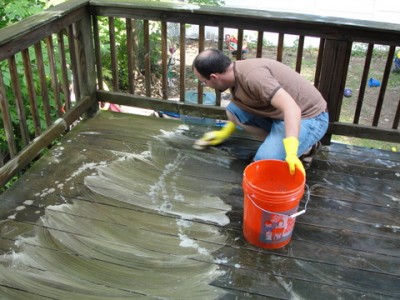 After that, Nate pressure washed the deck once more to remove the cleaner and dirt. This Thompson's cleaner is a gentler, biodegradable formula so we didn't have to worry about it harming the grass or trees nearby when it was washed off.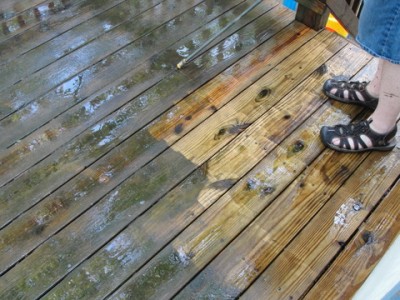 Look at that difference! It took Nate the better part of an afternoon to finish the job, but it was well worth it. I had expected it to help, but I did not expect Thompson's WaterSeal cleaner to come through like this! Amazing!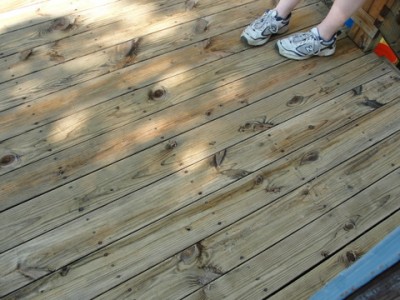 The next step was to apply the water protector. Thompson's WaterSeal Advanced Tinted Wood Protector comes in four wood tones and adds natural color to wood within its maximum strength, patented waterproofing formula.
most powerful protection against water damage for your investment
long-lasting coating resists mildew growth, UV damage, and fading
tinted wood protector: beautiful finish adds color without hiding natural wood grain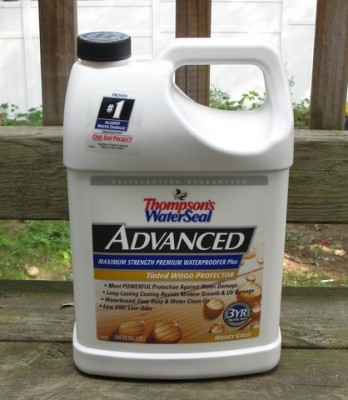 We had to wait almost a month between cleaning the deck and doing this. You need to have a minimum of 48 hours without any rain after applying for the sealer to properly adhere to the deck. And this past month has brought lots of rain to New Hampshire, with Hurricane-turned-Tropical Storm Irene and then one rain storm after another. But we finally had a couple of sunny days last weekend so Nate applied it then.
Some of the advantages of this cleaner are that it's water based so you can clean up with soap and water. It claims to have low odor but, even outside, the odor was quite strong in my opinion. Then again, I've never used a water protector product before so it could be lower-odor than others. The good thing is because it's outside, the odor didn't linger for long once Nate was finished.
Look at these beautiful results!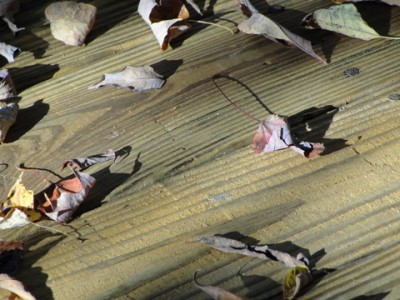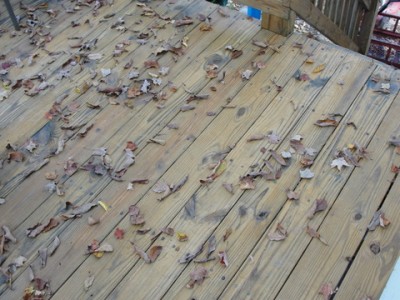 (Yes, we really do have that many leaves falling – it's autumn!)
Our neighbor commented that it looks like we have a brand new deck! And I agree with him!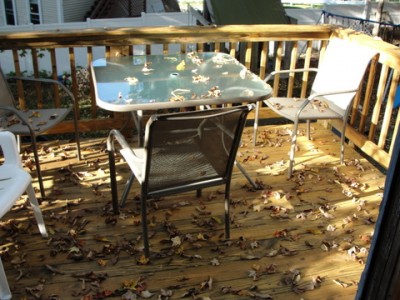 And when we had rain, you can see how well the waterproofer repelled the water: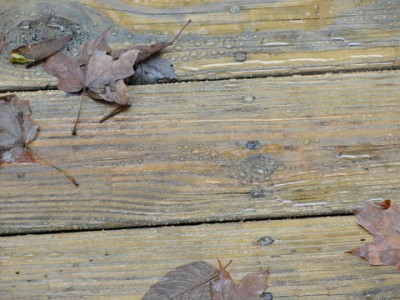 I couldn't be happier with our Thompson's WaterSealer products. They performed extremely well and I highly recommend them. I am so happy with our beautiful "new" deck now and also knowing that it will be well protected as we head into the winter months.
Buy It:
You can find Thompson's WaterSeal products at home improvement stores or online at Amazon.
Disclosure: Thank you to the sponsor for the free product I was sent to review. I received no monetary compensation and my opinions are my own and were not influenced by the sponsor.