Note: This is a guest post from our friends, at Crafty Critters Easy-Crafts-For-Kids. We've featured their crafts before because they are so fun and easy, and I was thrilled when Amanda offered to make a craft just for us! Today's craft is a Tissue Paper Monkey and he is oh-so-adorable!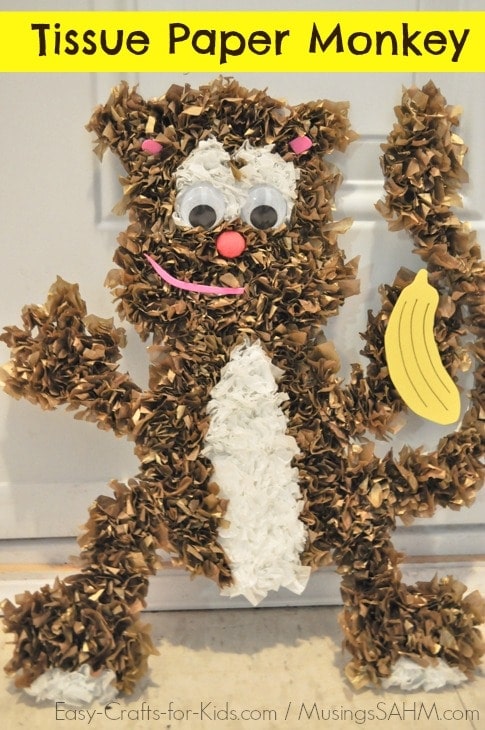 Our Crafty Critters have come up with a cute way to have your very own pet monkey, and he's made out of tissue paper. This is a fun way to decorate for a party, or even to decorate your play room.
Our tissue paper monkey also has an added feature, because of the way it's made it makes him fuzzy too. Great for the sense of touch for the little ones!
We had heard from sources that Erika's children love monkeys, so this is for them!
Supplies
White card stock, or thin cardboard

Brown and white tissue paper

Glue

Scissors

Pencil (with the eraser flattened, or use a pencil crayon)

Pink pom pom

Googly eyes

Craft foam
Age Group
This craft can be great for almost all ages. For the older children have them make a more detailed design. For the younger ones, create the cardboard template for them and just have them stick the tissue paper in place.
Time to Complete
1-2 hours (depending on the amount of tissue paper you use, the size you make it and the detail of your design)
Steps:
Step 1) Using a pencil and your piece of cardstock (or cardboard) draw an outline of your design. Also draw any areas you want in different colors, like we outlined our monkeys' eyes and belly. Cut this shape out.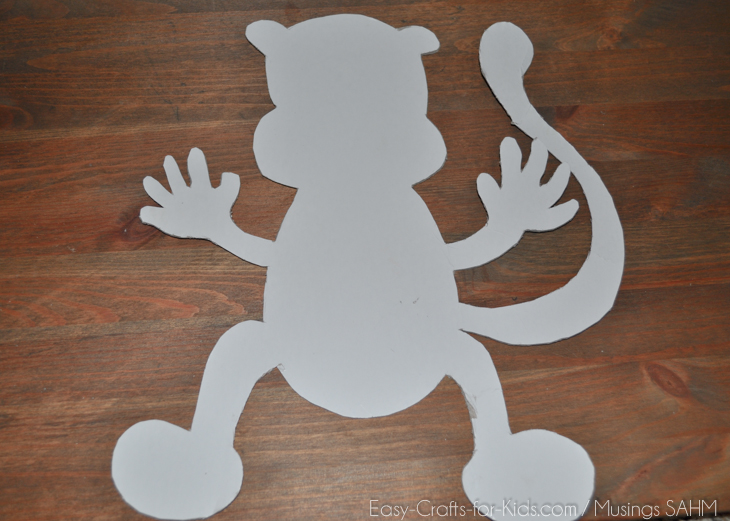 Step 2) Cut out a bunch of squares of all the tissue paper colors you are using. You will need lots of little squares. The size doesn't have to be exact, as long as they are all roughly around the same size.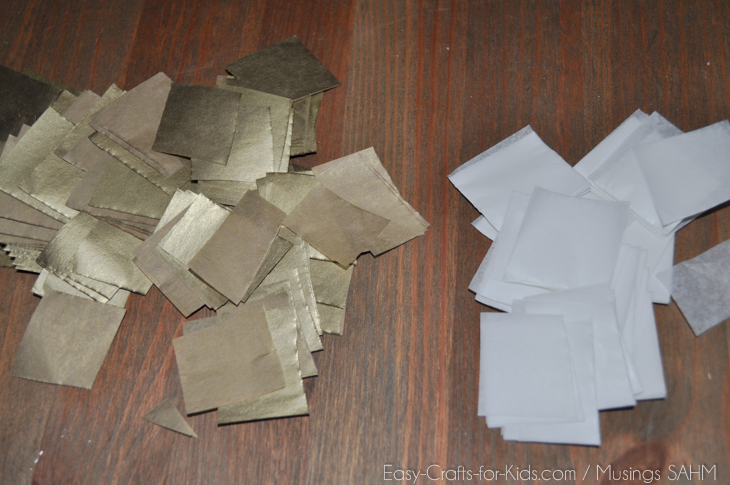 Step 3) Pour a small pile of glue onto a scrap of paper.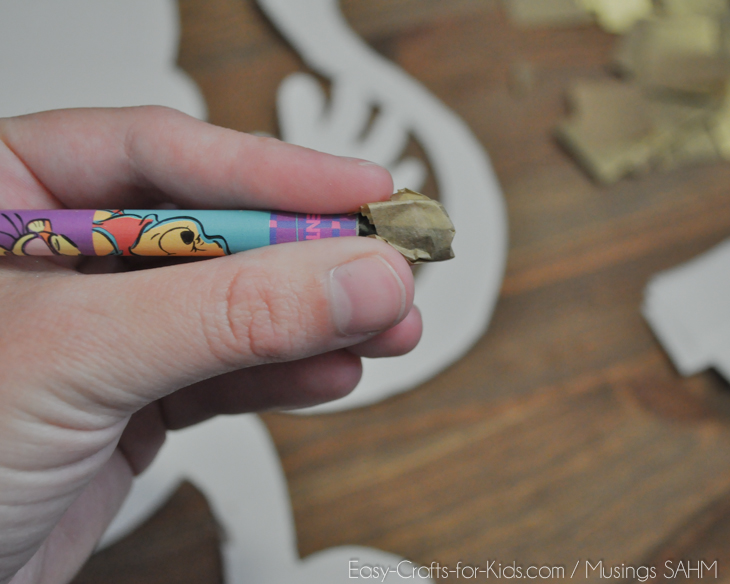 Step 4) Take one square of tissue paper and place the flat end of your pencil in the center of it, bunch the tissue paper around the pencil. Dip this into glue lightly and then press the end of the pencil onto your outline. Always start at one end and work your way to the other.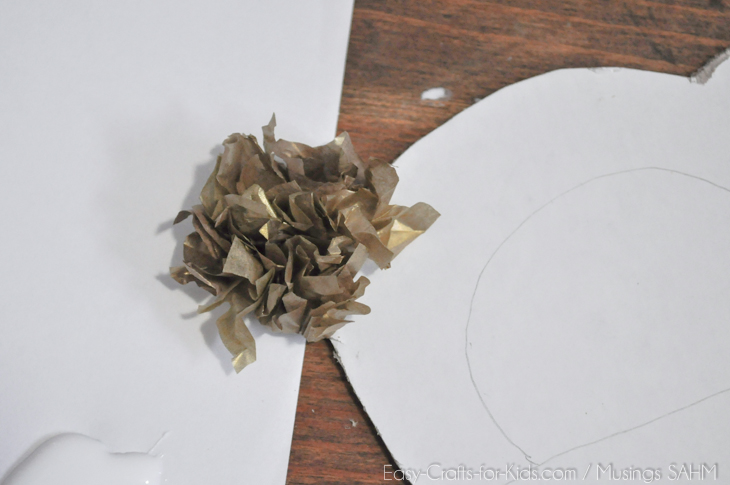 Step 5) Repeat step #4 until the entire area of one color is full. Be sure to place the pieces of tissue paper close beside each other.
Step 6) Repeat this again for the other colors, like the white belly, eyes and feet.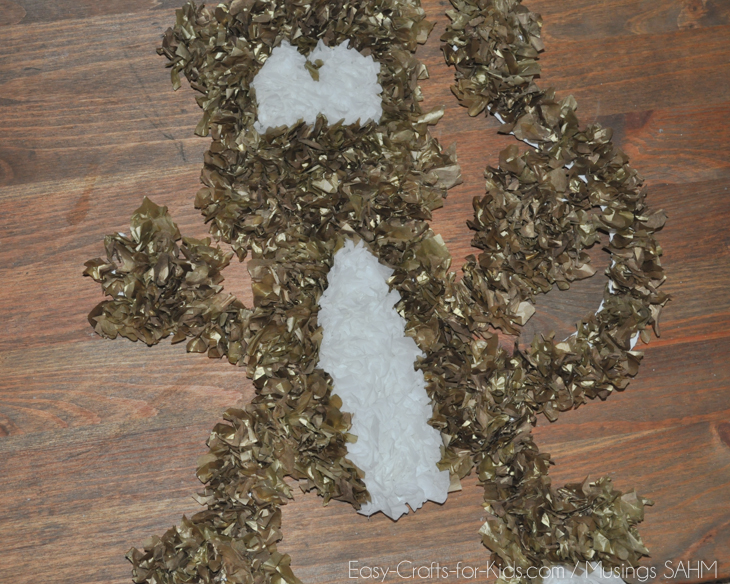 Step 7) Once the entire cardboard cutout is full, it is time to decorate and give him some character.
Add some googly eyes.
Use a pom pom for a nose.
Cut out pieces of pink craft foam for the pink inside his ears and a mouth.
Cut out a banana shape from yellow craft foam and glue the banana in his hand.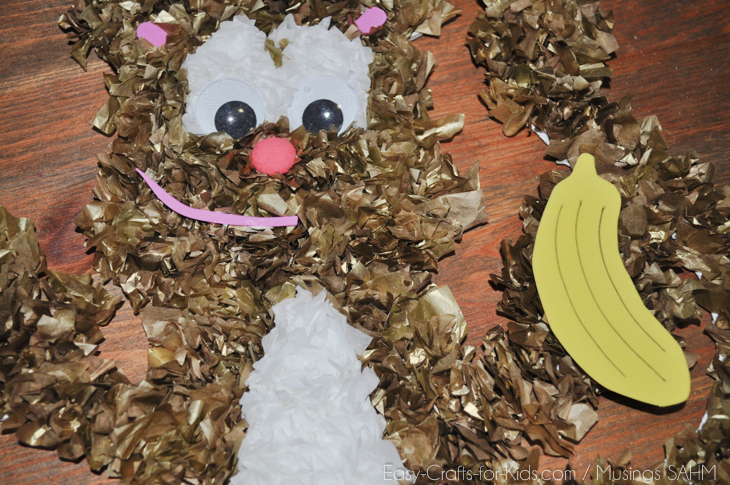 On the back side of this cute monkey you can glue a piece of string and hang him on the wall in the toy room or classroom. Imagine a classroom full of monkeys!
This craft would be an adorable decoration around your kids bed – a fun play on the song "no more monkey's jumping on the bed".
More Great Summer Crafts for Kids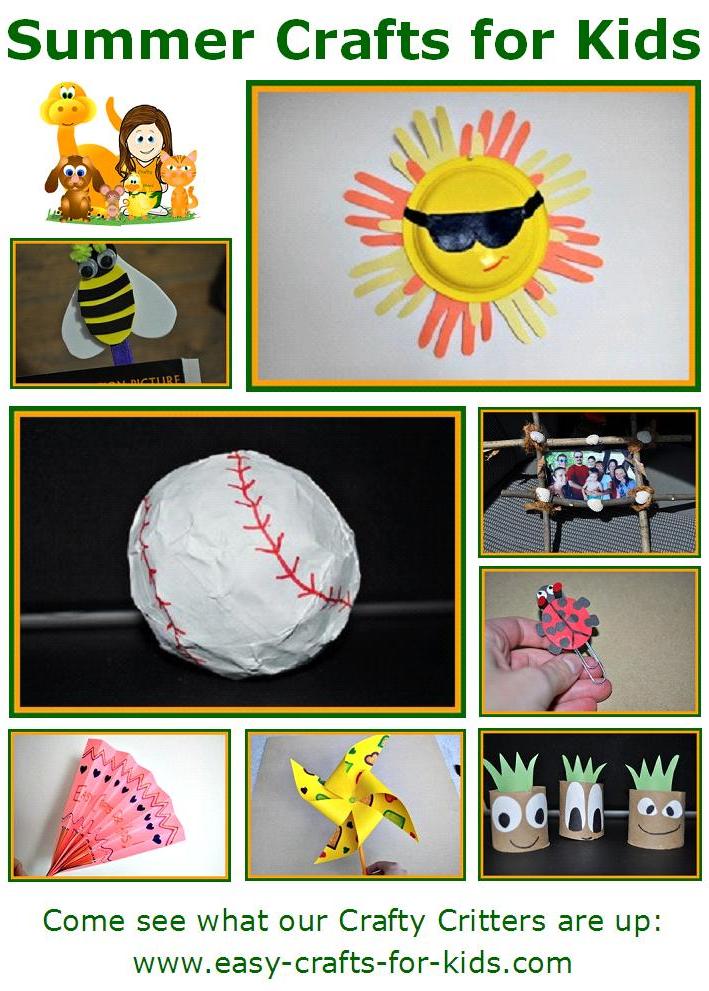 Being that it is nice and hot out, and summer has graced us with its presences, why not make some of these fantastic summer crafts for kids. We've made a fan to keep you cool, a windmill you can watch the wind turn and so much more!
We hope you enjoyed our tissue paper monkey craft made exclusively for Erika to share with all of you!
HAPPY CRAFTING!