Help your preschool and school-aged kids practice their observational skills and counting skills as they work to find winter-themed images in this Winter I Spy game. Your kids will love this easy, fun winter activity!
At some point around Kindergarten, I realized that my kids struggled with visual discrimination skills. In other words, they had a hard time finding images hidden among other images. We tried things like Where's Waldo, and that helped.
Once winter came calling, inspiration struck to create my own I Spy winter printables. I Spy games are challenging to accomplish yet easy enough for kindergartners to figure out.
That makes this activity pretty perfect for kids of all ages to use on a snow day or those cold winter days when they're stuck inside.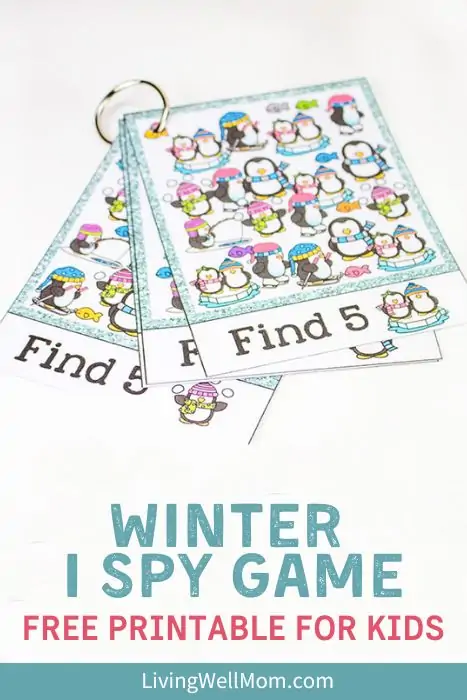 Winter I Spy Printable Activities
Penguins look like such sweet birds, and my daughter is completely enamored with them. We've been using them a lot in our learning time lately, so they were the perfect image to include in this Winter I Spy fun activity kit.
Of course, these aren't your traditional penguins waddling around Antarctica. No, these are fishing, skiing, and snowball-throwing penguins. Which makes them even more fun!
These printable winter I Spy cards are a perfect activity for a blustery January or February day (or any winter day!) when it is just too cold to go outside. Print out these free printables and enjoy them with your kids!
They're great for personal use and also work well as a classroom game if you need a great activity for a holiday party or indoor recess.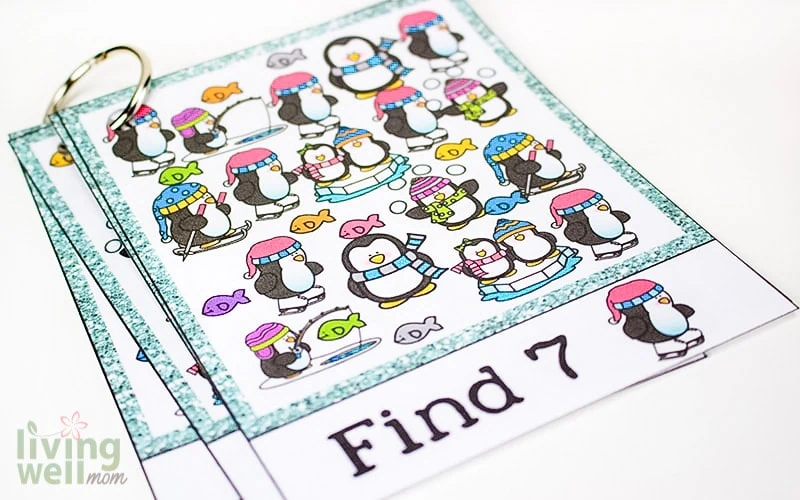 Winter I Spy Activity Supplies Needed
Here's a list of supplies you'll need to prepare this activity packet for your little one.
First, grab the free pdf download:

Next, you'll want to gather up the following: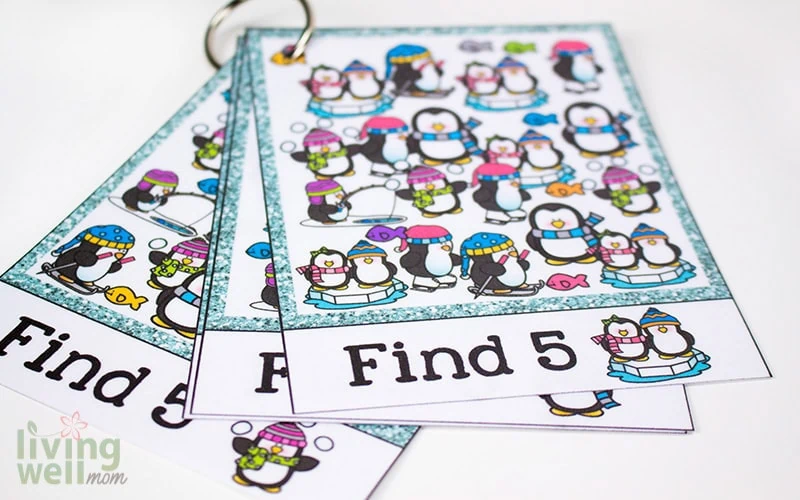 How To Prepare This Winter I Spy PDF Files For Play
The preparation process for these cards is simple. Here's how to do it:
Step 1
Download and print the free Winter I Spy cards by entering your email address in the form above.
Step 2
Then cut out the cards and laminate them.
Step 3
Use the hole punch to put a hole in the upper left corner of the cards and thread them onto the book ring.
There are four cards in total, so there will be plenty of I Spy fun to enjoy with the kids!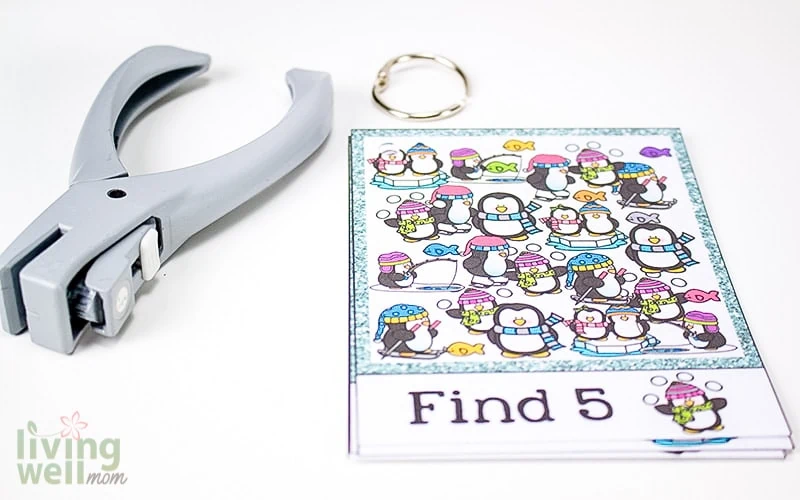 How To Play Winter I Spy
Each card specifies a certain number of the target object to be found, so they are also perfect for using to work on counting skills with a preschooler or kindergartner during the winter months.
Here's how to play:
Each card contains multiple penguins doing different things (ex: skating, skiing, juggling snowballs, etc.)
The bottom of each card has a picture with a number beside it, indicating which object (and how many of them) your child needs to find.
Have your child find the correct number of the indicated object on each card.
That's easy, right?
How To Extend The Game
After they find the main picture on each card, you can extend the activity by asking your child how many penguins doing a different activity they can find on the cards.
When you have run out of things to spy on the cards, you can stare out the window at the snow-covered ground (if you get snow, anyway…) and play outside with the winter scenery while staying warm and toasty inside.
Can you "spy" the nose on a snowman? How about smoke coming out of a chimney?
This winter I Spy for kids activity kit is a great way to help kids notice little details around them! They'll also learn simple math skills, problem-solving, and critical thinking skills, too.
FAQs
Here are a couple of questions I often see from readers about this printable game. If you have a question but don't see it answered below, please leave it in the comments!
What ages of kids will enjoy this I Spy game?
I intentionally created these cards to work for toddlers, pre-k, and kindergarteners. Young elementary school-aged kids might also enjoy this game if it's a competition with their younger siblings to find all the objects the fastest!
Can I print this game out on regular printer paper?
Cardstock will be a much better material because it will be more stable and durable. If you plan to laminate the cards, printer paper will work well because laminating them will make them more durable.
How can I help my child keep count of the objects?
It can be hard for kids to keep track as you count! If the cards are laminated, your child could circle each item with dry-erase crayons or markers as they count.
My kids are obsessed with playing this game, and I have made several different versions over the years, including my:
I hope you love this winter version of I Spy, too! Go ahead and grab your printable game cards and start playing today!

More Winter Printable Fun
If you love this printable activity, you'll love these other ideas too!