Seasonal allergies are NOT fun to deal with, whether it's you suffering from a stuffy nose, sinus issues, coughing, and red, watery eyes or a family member. Sometimes it's even worse if it's your spouse or child because there's no magic wand to wave and fix them!
Thankfully there are some natural things you can do to help relieve seasonal allergies, including using essential oils.
This year, I made a simple DIY essential oil blend for seasonal allergies and it's really helped my family.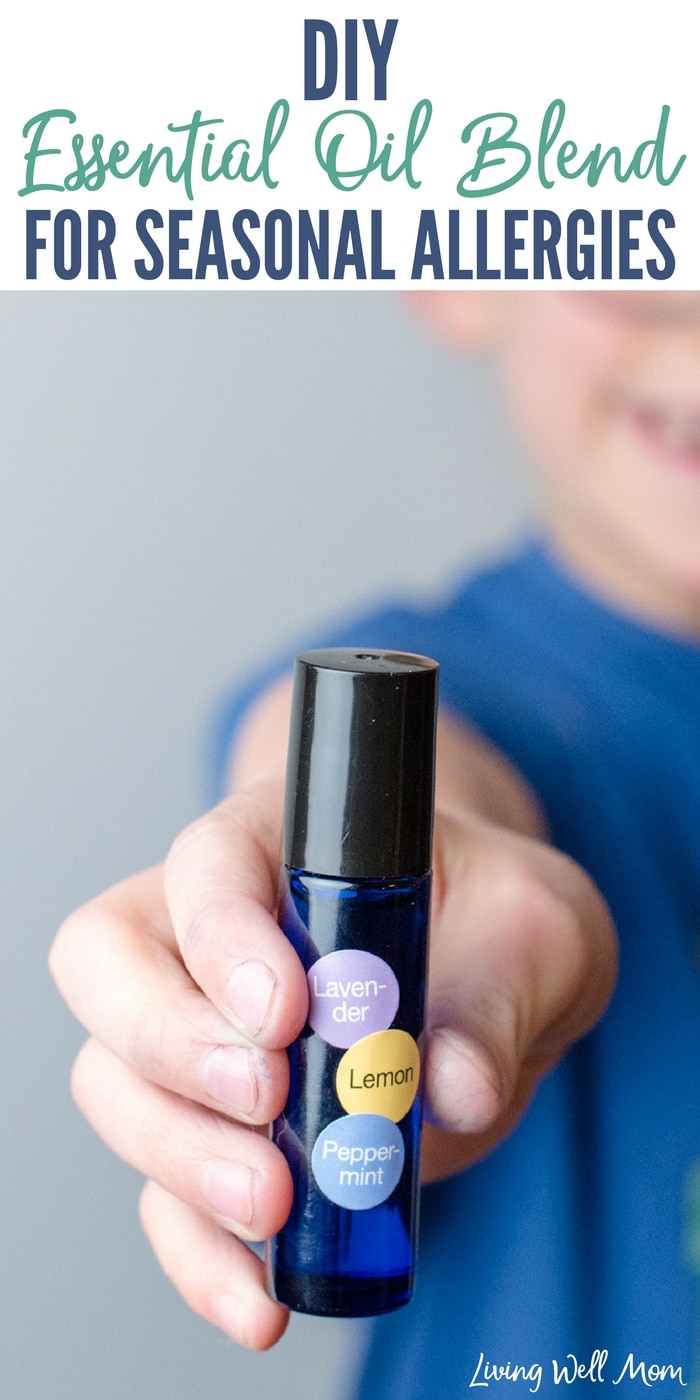 Both my husband and 7-year-old son, Joshua, have dealt with yucky seasonal allergies for the past several years. My husband ends up sneezing a lot with really red, watery eyes. Sometimes his eyes get so red, it looks scary! And Josh ends up congested and sneezing.
When my essential oil guru, Kestrel, recommended a simple DIY essential oil blend using 3 common oils she uses to help combat her own seasonal allergies, I couldn't wait to try it.
I gave the essential oils a try and was impressed with how quickly they helped relieve Joshua's seasonal allergy symptoms. In just an hour, his congestion began to subside along with the sneezing!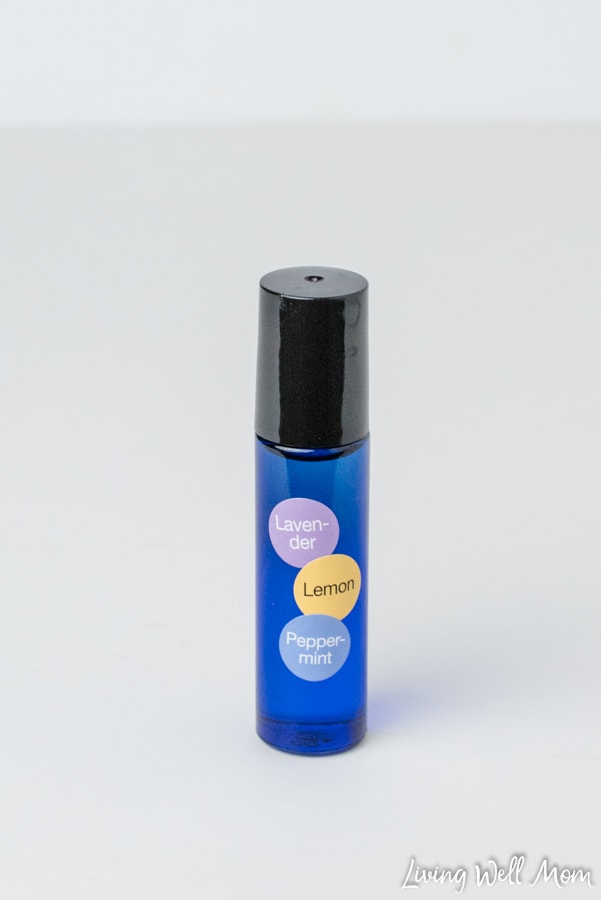 Now we use this essential oil blend regularly and at the first sign of any seasonal allergy symptoms.
DIY Essential Oil Blend for Seasonal Allergies:
You'll need: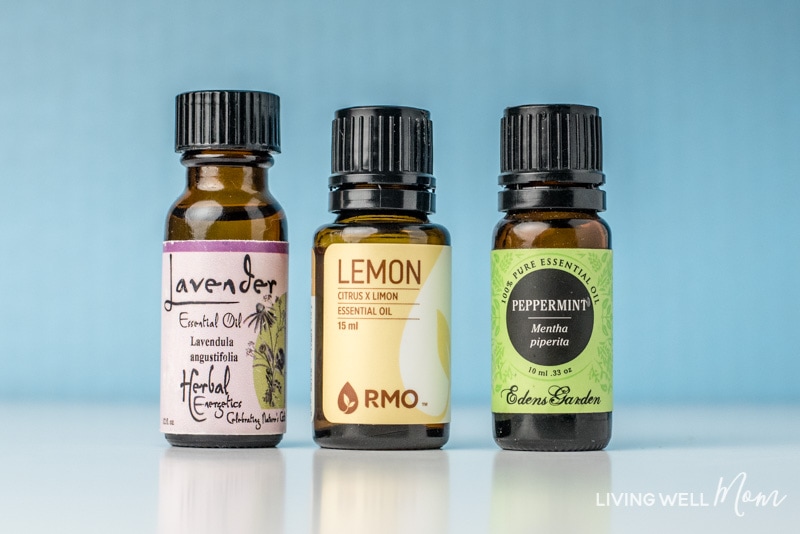 Why We Use These Essential Oils for this Blend:
Lavender essential oil has properties that can work as a natural antihistamine.
Lemon essential oil may help relieve congestion or mucus build-up.
Peppermint essential oil may help relieve congestion with its expectorant properties.
A word on safety: Peppermint essential oil is very strong; always use it diluted. For young children, talk with your doctor before use &/or do your own research. I have personally used careful amounts of therapeutic-grade diluted peppermint essential oils with my own children as young as 2 years of age.
Remember essential oils are potent; use wisely!
Make sure you choose a therapeutic quality essential oil brand to get the best results.
I use and recommend Rocky Mountain Oils; they are a high-quality brand that uses third-party testing and offers therapeutic grade oils. I've noticed more benefits since I started using only Rocky Mountain Oils this past year compared to other brands.
Please note that I am not a medical professional and the information presented here is merely for educational purposes and not intended to replace medical advice. I am simply sharing my own family's experience in the hopes that it might help you too. Check with your doctor or find a qualified aromatherapist if you have questions or concerns.
Also remember that when it comes to essential oils, a little goes a long ways. Start with less in the beginning and if you're not seeing the desired results, you can choose to slowly increase the number of drops.
To Make this "Essential Oils for Seasonal Allergies" blend:
Add 20 drops of lavender essential oil, 20 drops of lemon essential oil, and 20 drops of peppermint essential oil.
If you're making this for younger children (in my opinion – under age 6), use 6-10 drops of peppermint essential oil and 10 drops of lemon and lavender essential oils. I would not use this blend on children under the age of 3. (Talk with a qualified aromatherapist if you are not sure.)
Top with fractionated coconut oil or your favorite carrier blend and put the roller bottle cap on firmly.
Note: I've had a few emails/comments asking why there are so many drops in my seasonal allergy blend compared to another site. In my experience, the lower doses didn't help my family. We started with 3 drops of each and worked our way up to 20 drops of each. Yes, it may seem like a lot but it works well for us and is far better than using medication (this is my personal, non-medical professional opinion.)
If you are unsure of the quantity, start with less and go from there. You can choose to add more later if desired.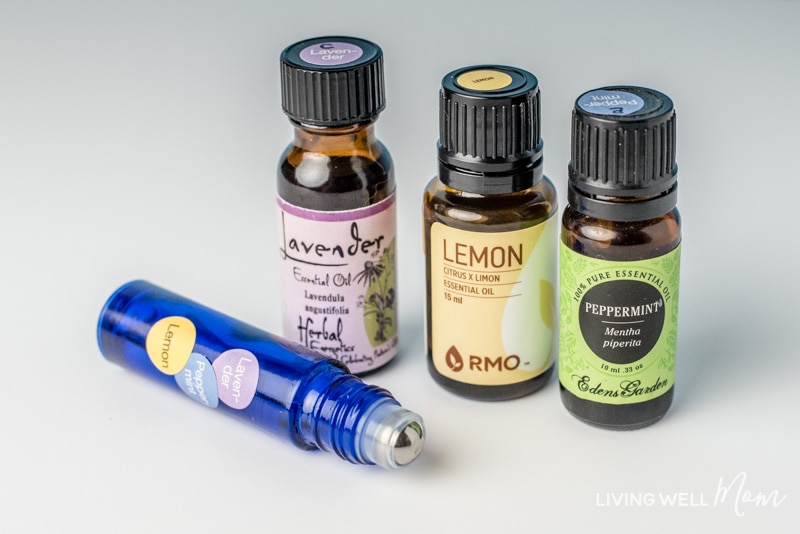 Roll your the bottle (capped) back and forth in your hands to mix it up and it is ready to use!
Where to Apply:
Apply this DIY essential oil blend for seasonal allergies on the spine, back of the neck, across toes, and/or on the soles of the feet.
If symptoms are very bad, you can apply this on the bridge of the nose too.
Roll this on every 2-4 hours or as needed.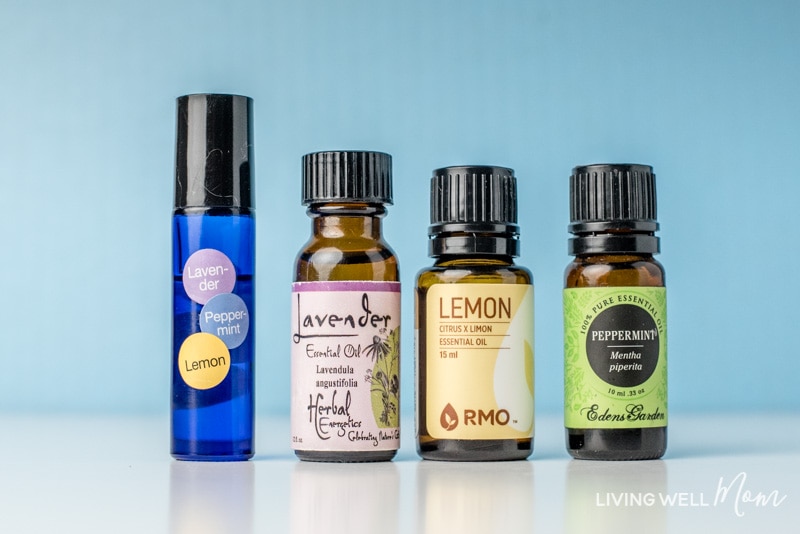 More Ways to Use Essential Oils for Seasonal Allergies:
Add a couple drops of lavender essential oil to the palm of your hands and cup around your face. Breathe in deeply. Keep your eyes open if they are bothering you so the lavender aroma can reach and hopefully help reduce symptoms.
Diffuse lemon, lavender, and peppermint essential oil – add about 2-3 drops of each – at night.