Updated July, 2019 with 2019-2020 1st day of school signs
One fun, SIMPLE back to school tradition you will cherish for years is to take a photo of your kids holding a first day of school printable sign.

We all have favorites traditions as we send our kids back to school at the end of the summer. Some of us might hold creative parties or do fun crafts, while others keep it simple by packing a special note in their child's lunchbox.
Me? I prefer simple as I think the back to school time of year is busy enough without adding more to my to-do list. But there's one fun and easy thing we can all do: take a photo of your children holding up a printable first day of school sign!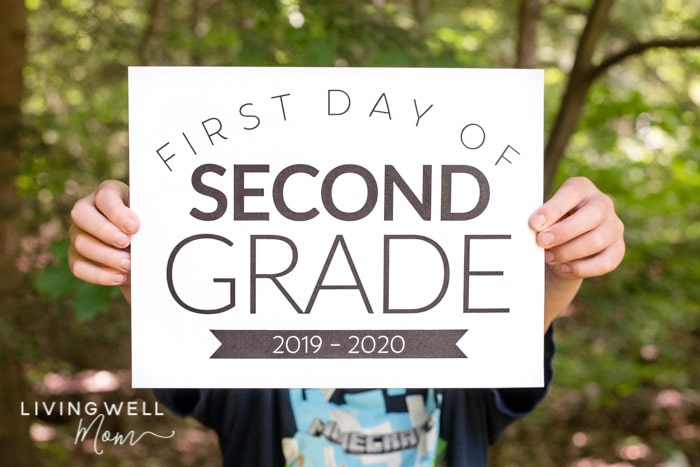 Back to School Signs
I don't know who first started this simple yet brilliant idea of having kids hold a sign saying "First Day of….(their grade)", but I love it. I've been doing this with my four kids for the past several years now and it's resulted in some of my favorite pictures. Plus I'm always amazed to see how much they've grown when I look back at those 'first-day' pictures.
I think my kids like it more than a regular photoshoot too because they get to hold something. Your kids too?
Plus it's such an EASY tradition too. And I have one more mom secret tip that makes it even simpler that I'll share as you keep reading.

Free Printable First Day of School Signs 2019-2020
So in honor of heading back to school, my team has made some lovely printable first day of school signs for ALL GRADES, including preschool, kindergarten, 1st, 2nd, 3rd, 4th, 5th, 6th, 7th, 8th, 9th, 10th, 11th, and 12th!
Your older teens may not be a huge fan of posing for moms, but since it will make you so happy they just might be convinced. (As long as you promise NOT to post it anywhere on social media.)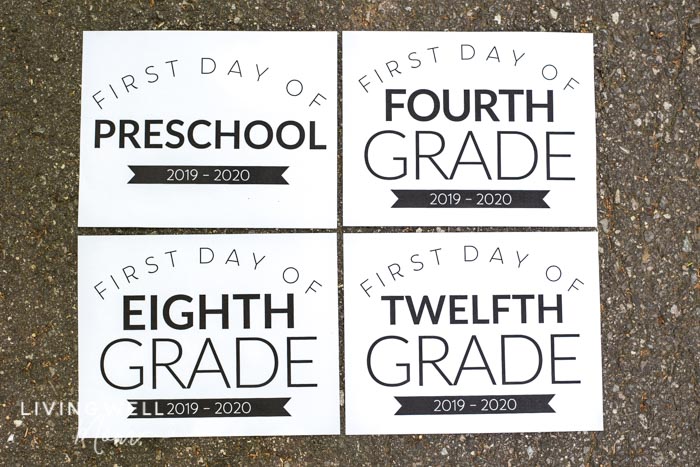 These are FREE printable back to school signs so you can print as many as you need (and come back again when your preschooler stomped on it when you turned your back!)
Free Download Here:
Get your 2019-2020 – 14 printable first day of school signs for free when you join my email list here:


Supplies You'll Need:
printer

printer paper

– optional

cardstock paper

(holds up better with little fingers)
First Day Photo Taking Tip
Here's my mom-tip: take your first day of school photos the day before school actually starts.
It will make your life much easier than trying to squeeze a photo into an already hectic school morning, especially if you have kids going to school super early.

Pin this here to share with others and save for later!

Please note that these downloads are copyrighted to Living Well Mom, LLC. and are free for personal, classroom, or library use only. By using these files, you agree to our terms and conditions of use. Thank you for helping support our site!