My favorite back to school tradition is simple. I snap a photo of my kids holding a first day of school sign. The memories are priceless, and it just takes minutes!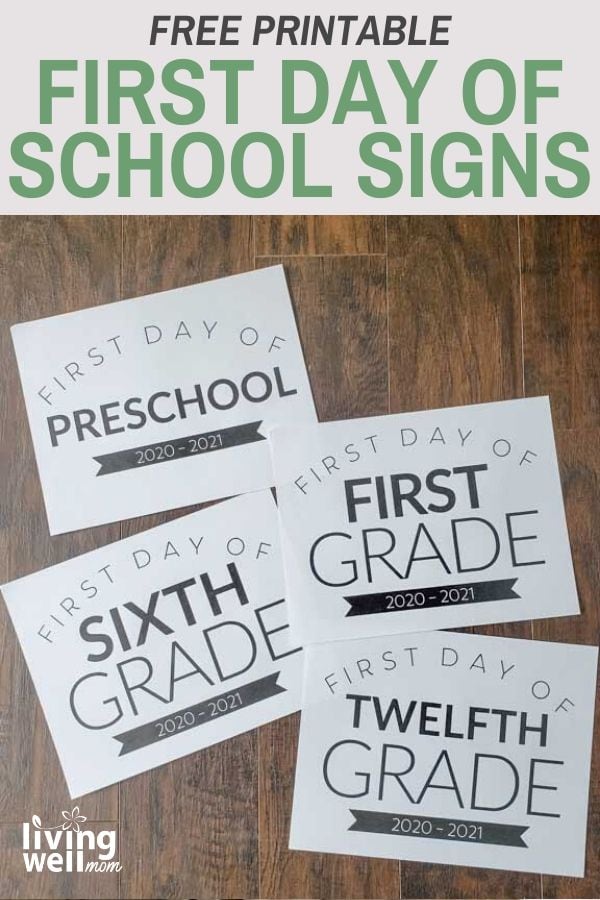 This fun, SIMPLE tradition is one you will cherish for years. I mean, have you ever looked at old photos of your kids and regretted taking them? It's impossible not to love!
A Favorite Back to School Tradition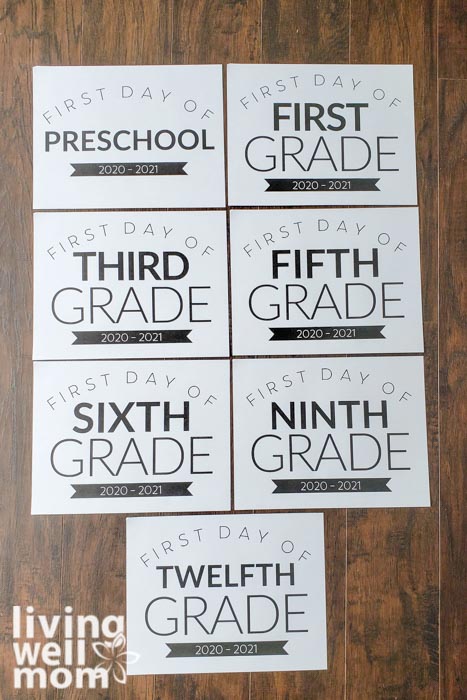 We all have favorites traditions as we send our kids back to school at the end of the summer. Some of us might hold creative parties or do fun crafts, while others keep it more low key by packing a special note in their child's lunchbox.
Me? I prefer simple as I think the back to school time of year is busy enough without adding more to my to-do list. But there's one fun and easy thing we can all do: take a photo of your children holding up a printable first day of school sign!
Plus, there's a lot of meaning and sentiment in this tradition. This school year feels different already considering how last year ended. It's made me more determined than ever to capture memories of my children and these fleeting years!
Remote Learning for 2020-2021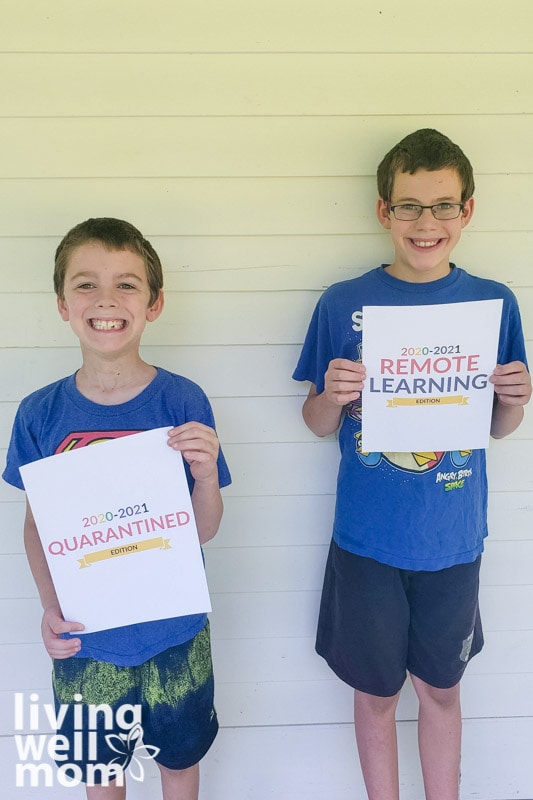 A wonderful reader emailed me asking about a "virtual or remote learning" printable back to school sign for this fall since so many of our children won't be going back to traditional in-person school. Or at least it will look very different than the "normal." And she's right! (We updated these signs back in May when we were still hoping things would be closer to normal by August, but it's not.) My awesome team created a bonus printable pack with different options for you.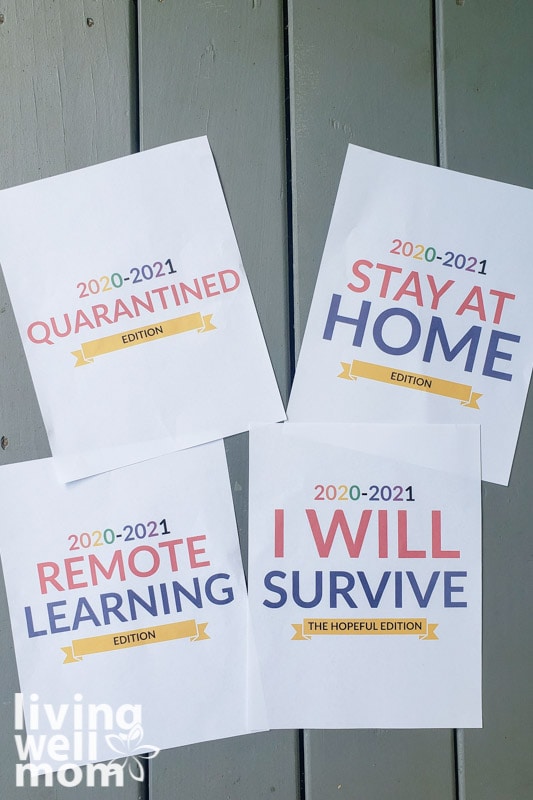 You can access them for free along with the regular signs below.
Back to School Signs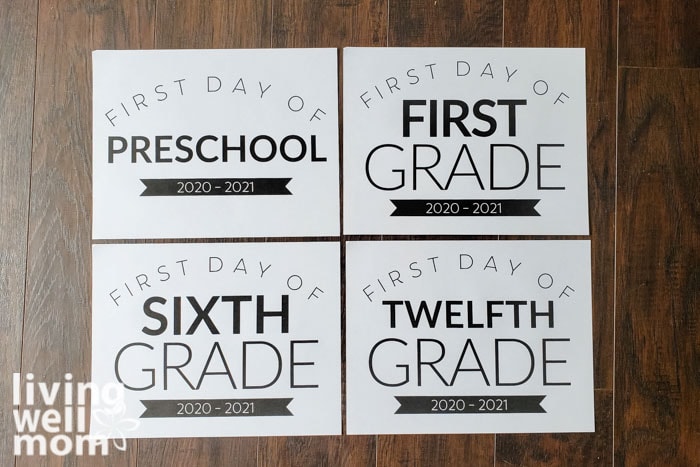 I don't know who first started this simple yet brilliant idea of having kids hold a sign saying "First Day of….(their grade)", but I love it. I've been doing this with my four kids for the past several years now and it's resulted in some of my favorite pictures. Plus I'm always amazed to see how much they've grown when I look back at those 'first-day' pictures.
I think my kids like it more than a regular photo shoot too because they get to hold something.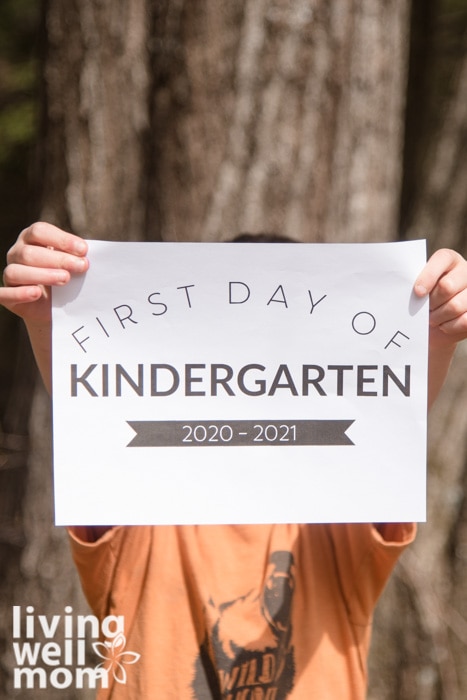 Plus it's such an EASY tradition too. And I have a couple of mom secret tips that make it even simpler too. I'll share my tips below!
Free Printable First Day of School Signs 2020 – 2021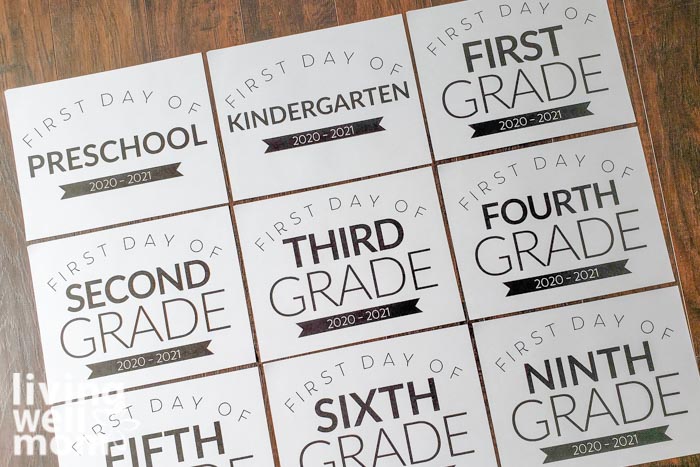 So in honor of heading back to school, my team has made some lovely printable first day of school signs for ALL GRADES, including preschool, kindergarten, 1st, 2nd, 3rd, 4th, 5th, 6th, 7th, 8th, 9th, 10th, 11th, and 12th!
Your older teens may not be a huge fan of posing for moms, but since it will make you so happy they just might be convinced. (As long as you promise NOT to post it anywhere on social media.)
These are FREE printable back to school signs so you can print as many as you need (and come back again when your preschooler stomped on it when you turned your back!). Anyone else?
Free Download Here!
Get your 2020-2021 – 14 printable first day of school signs for free when you join my email list here:

Supplies You'll Need:
First Day Photo Taking Tips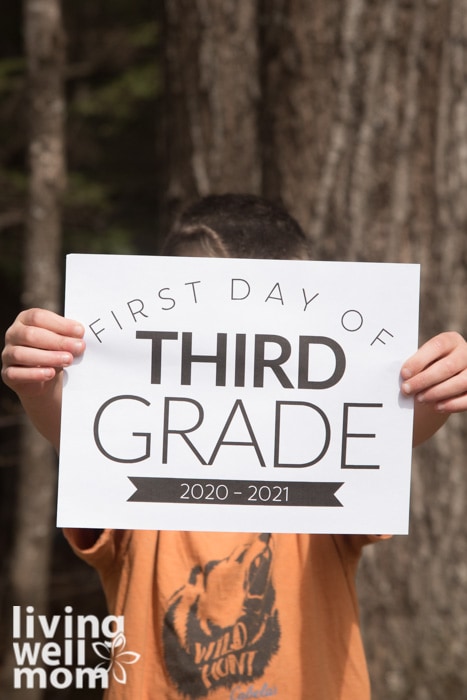 I've taken these back to school sign photos for several years now. I've thankfully learned a trick or two over the years and am happy to share them with you!
Take Photos With the First Day of School Sign Before the First Day
I know it sounds odd, but will make your life much easier than trying to squeeze a photo into an already hectic school morning, especially if you have kids going to school super early.
So, choose a day when you have a bit more time. I like to do it as close to the end of summer as possible so I really can capture the essence of what they looked like!
Then, print out your first day of school sign and hand it over to your little one to pose with. If it doesn't go great, try again the next day. No biggie! This was a serious game changer for me.
Let Your Child Choose Some Elements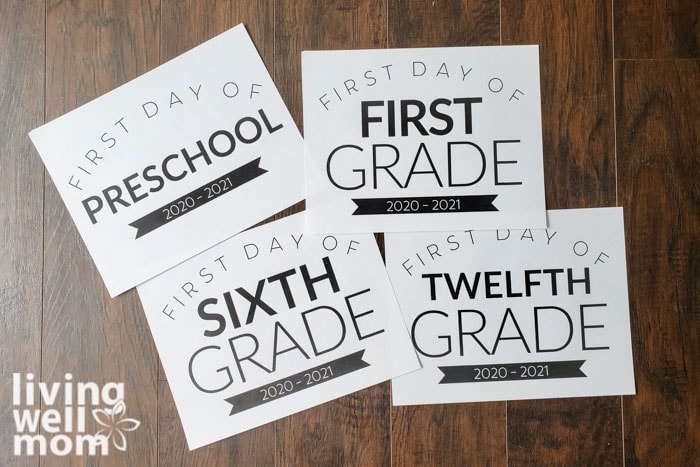 If you involve your child a bit in the preparations, they will likely be much more agreeable about taking the photo!
For my kids, that may mean I let them choose their outfit (or at least give them a choice between two outfits I've preselected). Or perhaps I let them choose the location.
Plus, with digital cameras, it's so easy to let them try out different poses! Promise them they can do a few silly face photos if they give you one nice smile. It works!
Remember, at the end of the day this is all about creating a sweet memory. Yes, we all want the perfect photo with a beaming child holding a back to school sign—it just may take a few tries!
You've got this, mama!
Please note that these downloads are copyrighted to Living Well Mom, LLC. and are free for personal, classroom, or library use only. By using these files, you agree to our terms and conditions of use. Thank you for helping support our site!
Pin the image below so you can save these for the official first day of school.