The 2020-2021 school year has been chaotic and crazy for almost all of us. That doesn't mean the end of the school year (and more importantly, your kids and you) shouldn't be celebrated with this free printable last day of school sign!
It's safe to say that no one expected 2020 to start the way it did and the last 12+ months have continued to be up and down. It's certainly been a very odd year with many parents suddenly whisked into the world of homeschooling with virtually no notice.
As a former homeschooling parent, I had at least a little bit of experience to fall back on. But still, I'd be lying if I didn't tell you that my heart was a bit sad about it. It's hard to help your children navigate the loss of their teacher, friends, and normal day-to-day routine.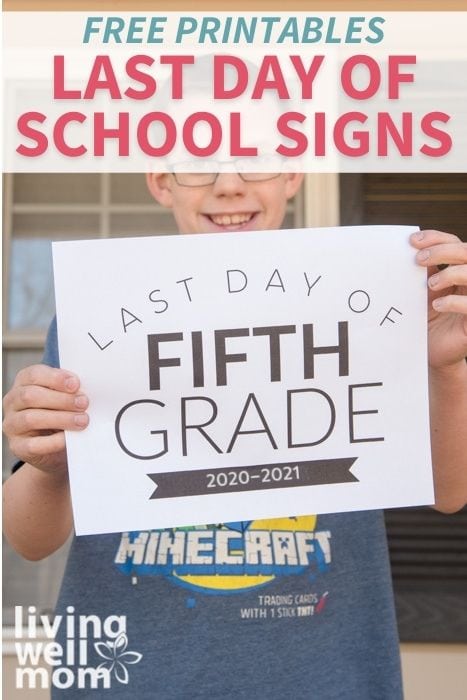 Free Last Day of School Printables
I know I couldn't be the only one who felt this way! I didn't want the entirety of the 2021 school year to just fade away without celebration. After all, our children have done the hard work of the academic year in some form or fashion. (And so have we parents!)
In fact, in my opinion, it's even more important that we celebrate the end of the school year in the midst of this season.
That's why I created this adorable last day of school printable — totally free of charge! My hope is that every child will feel loved and celebrated, even without the fun school ceremonies.
Printables by Grade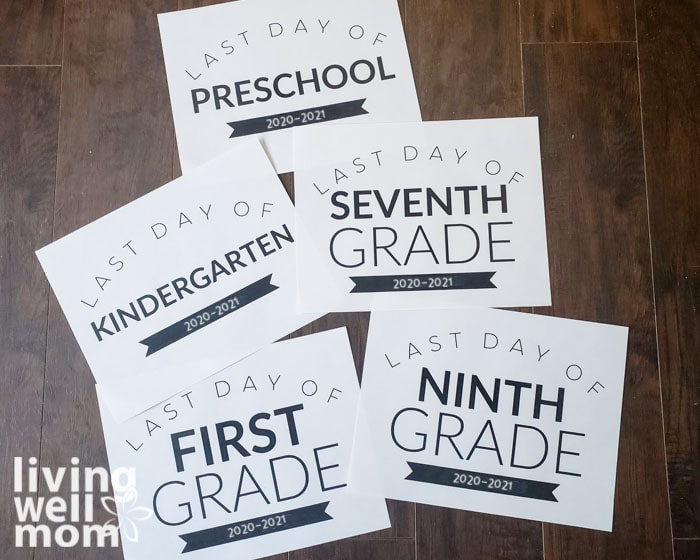 If you grabbed my first day of school printable, these look very similar! Just like the first-day printables, these are broken down by grade. Whether you have a preschooler or a senior in high school (or anything in between), you can grab a sign just for them!
Warning…I have to be honest with you all—it's pretty bittersweet to look back at these before and afters as a set! Kids grow so fast.
Remote/Hybrid Learning Bonus Pages
I couldn't let this year end without something extra to commemorate what we've gone through. In addition to the last day of school signs, you can get bonus printables to celebrate that you've made it! Includes 9 pages: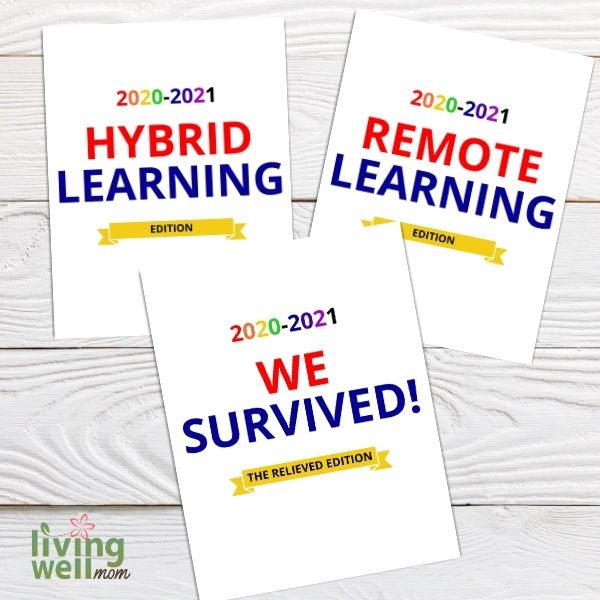 How to Get the Free Printable
Get your 2020-2021 last day of school signs for free here:
How to Print the Last Day of School Sign
Once you sign up for the email list, I'll instantly send the last day of school sign straight to whichever email address you provide.
Visit the link, then choose which file you'd like to print. They are broken down by year, so just choose whichever file(s) you need. Make sure to print these in the landscape!
I recommend printing these on a piece of heavy-weight paper instead of your standard printer paper if at all possible. It's a lot easier for the paper to stay unwrinkled for photos this way!
I opted to keep these last day of school signs simple in black and white. That way, not only are you not using too much ink, but the emphasis is on your child, not a super bold design. 🙂
Family Essential ↓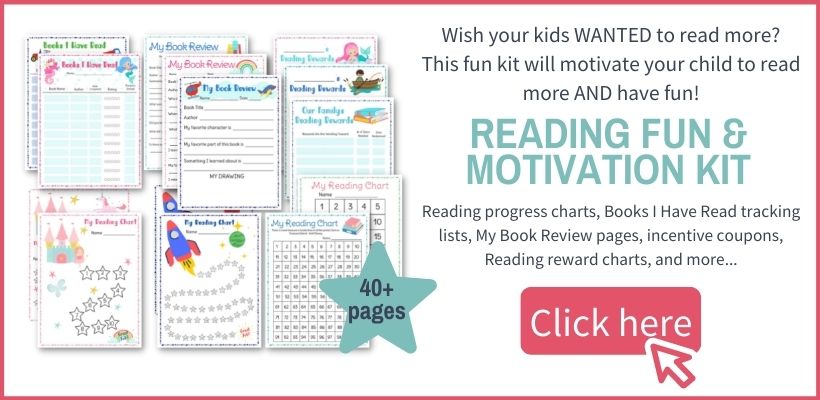 How to Get a Great Last Day of School Photo
Now that you have your last day sign printed out and ready to go, the real challenge begins—you've got to get a photo with your child holding it!
Of course, depending on the child and the age, you may have to try different things, but these are a few tips and tricks that have worked for me and my four children over the years: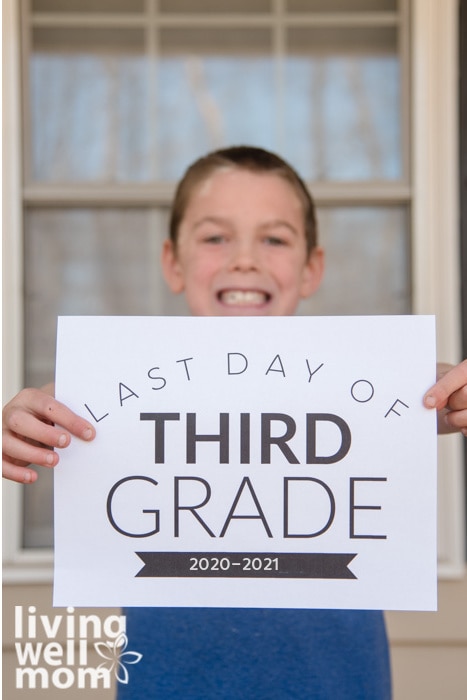 Let them pick their outfit. Not only will this curtail early morning battles, but you'll always remember what your child's favorite (school-appropriate) outfit was. For younger children, you can give them a choice between two outfits to keep it less overwhelming.
Take your photo in the morning. I personally have had way more luck getting a good photo in the morning before my kids head off to school. By the time they get home, they've lost most of that last day's excitement and are just ready to be done.
Try to photograph them outside. Photos taken in natural light will always look better than artificial. Have your child go outside and place them in a spot with even light (i.e. not a lot of shadowing over their face). Hand them their last day of school sign and start snapping!
Don't be afraid of a candid photo. Let's be honest. You aren't always going to get the super-enthusiastic beaming smile we all dream of for these types of photos. However, what we really want is to remember our children as they are at this moment. If they aren't the big grin type of kid, don't be afraid to get a photo anyway!
Take multiple photos. Lastly, you'll rarely nail the best photo on the first try. Take 2-3 minutes and put your child in 1-2 different spots. Snap 5-10 photos per spot—it literally just takes seconds! This way, you'll have plenty of options to choose from for your favorite last day of school photo.
Remember, these photos will serve as sweet reminders of this season—despite the uniqueness of 2020! 🙂 Print them out and snap some photos, I promise you won't regret it!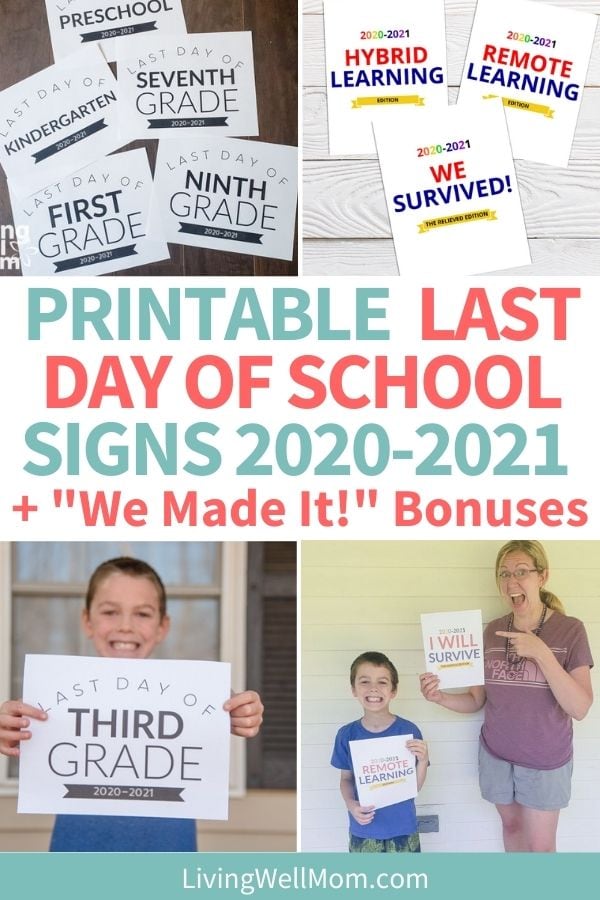 Pin your favorite pic to save it for later, too!
For More Helpful Printables, Check Out These Posts: