School vacation is one of those times moms both look forward to and dread. Beyond the obvious spending more time with our kids, it's nice to have a break from the school routine of packing lunches, getting up early, shuttling kids to and from school, after-class activities, etc.
But it's that same routine that keeps a measure of sanity and without it, it doesn't take much for all chaos to break loose. We might envision family memories and fun activities during school vacation times, but how often does reality set in and you find yourself wishing for school to start again?
If that sounds familiar, you're not alone.
I made a simple "School Vacation Rules" list so my kids would know exactly what to expect and it's really brought some sanity back into our crazy vacation. Most of all, it answers that ever-frequent question of "When can I watch TV / play on the tablet / play Minecraft / go on the computer / play video games" aka electronics.
My kids just finished their week of spring vacation and since I had been sick the whole week before, I wasn't as prepared as I had hoped. We ended up winging it and by day 3, my four kids were fighting more than they were getting along and I was frustrated.
So I made some changes. First, I realized I had forgotten one of the important lessons I've learned as a mom.
Children always do better when they know what to expect and what is expected from them.
I wasn't establishing clear rules and a routine so my kids didn't know what to expect. I began to make a list every day of what they needed to do – chores, reading time, outside play time, etc. – before they could watch TV or play Minecraft. Some days, we didn't do any screen time at all.
Things improved right away and I knew I was on to something with school vacations.
Planning a family trip during your kids' time off from school? Be sure to check out these 15 essentials for family road trips!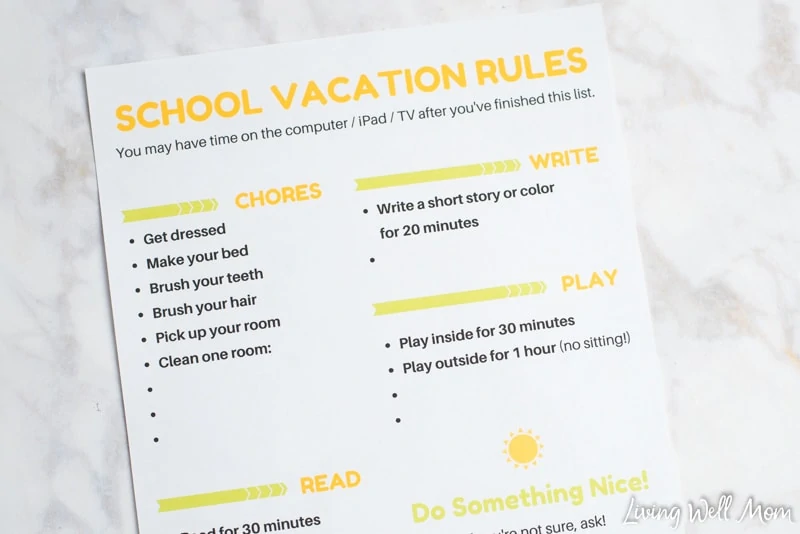 This School Vacation Rules list includes chores, reading, writing, playtime, and "doing something nice." While they may seem like obvious things, sometimes we all (especially the kids) need a simple reminder and this list does just that.
I purposefully left the amount of "screen time" vague on this list, because I know it varies for each family.
For us, some days, we don't do any screen time if it's a beautiful day outside. Most days, the kids can earn 30-60 minutes, but occasionally if someone is ill or it's a cold, rainy day (last week, we actually had snow at the end of April!), I'll allow more screen time.
Be sure to display your school rules where it's easy for the whole family to see it. (Dad too!)
Our School Vacation Rules list hangs on our family command center near our Chore Stick chart.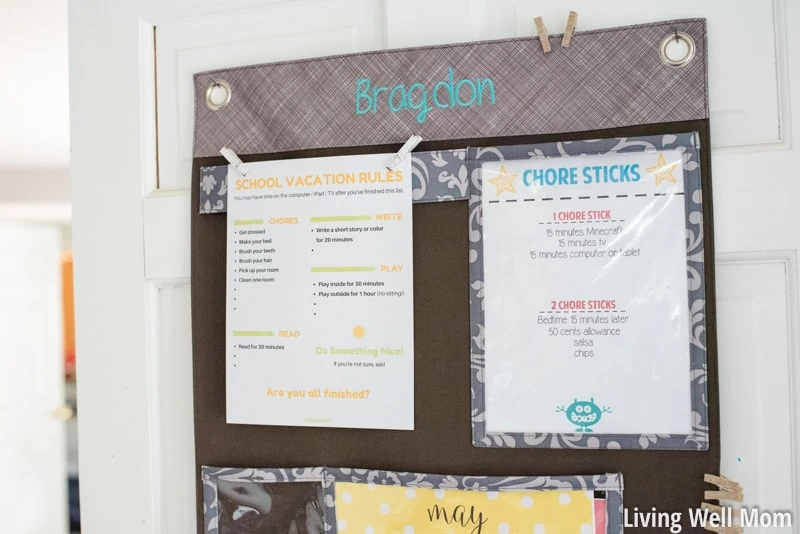 You can customize your own School Vacation Rules for your own family using the blank spaces on the printable or simply use this as inspiration for your very own list.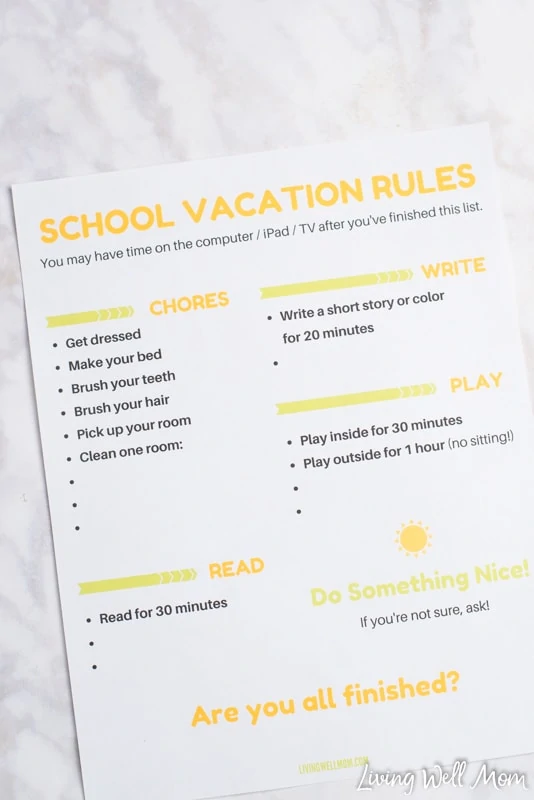 Whether it's a single-day holiday, a week-long spring break, or the whole summer, this simple school vacation rules list can make your family's vacation much easier by making it very clear what your kids are expected to do and preventing much of the chaos and fighting that occurs without it.