There is nothing I like better than the fall season. After incredibly hot summers in Texas, I love drinking hot apple cider and enjoying the crisp, cool breeze of autumn. Unfortunately fall doesn't usually show up until Thanksgiving or even Christmas around her.e
But thankfully with this apple tree stamping craft, I've figured out a way to bring fall indoors, even if we don't have any fall leaves. The best thing about this project is that my preschooler had a blast making colorful leaves using apple stamping.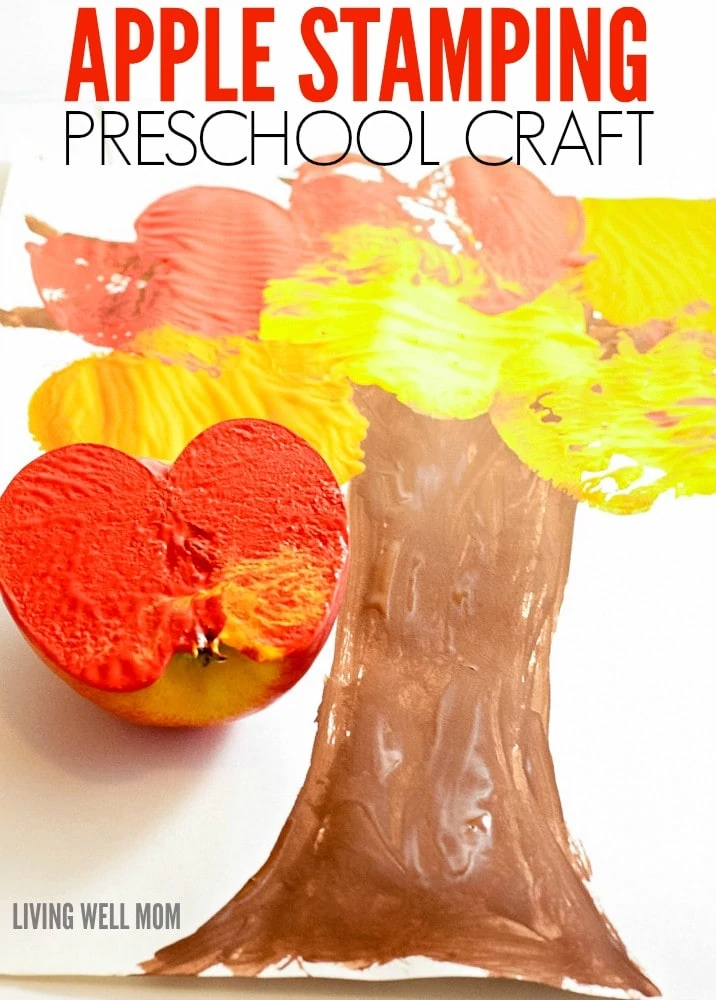 What you'll need for apple stamping:
We used washable acrylic paint for our project, but you can use any kind of washable and kid-friendly paint. I also advise letting your kids wear old clothes you don't care about, because even washable paint can sometimes stick to clothing and ruin it.
Spread a layer of newspaper on your surface to prevent paint from getting everywhere. Paint will get everywhere anyway, but the newspaper keeps it to a manageable level. Cut your apples in half down the middle where the stem is. This will make the apples become more leaf-like.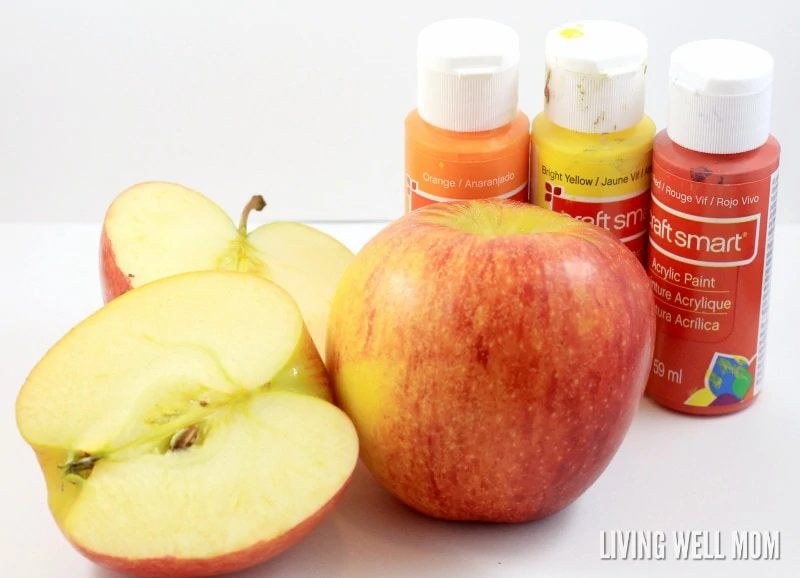 Paint a tree trunk onto the paper. I did this myself for Bo, since she is just 3. Older kids can make their own tree trunks. Let the tree trunk dry before moving on to apple stamping the leaves. It took about three minutes for our trunk to dry, but if you are impatient, you can speed the drying process with a hair dryer.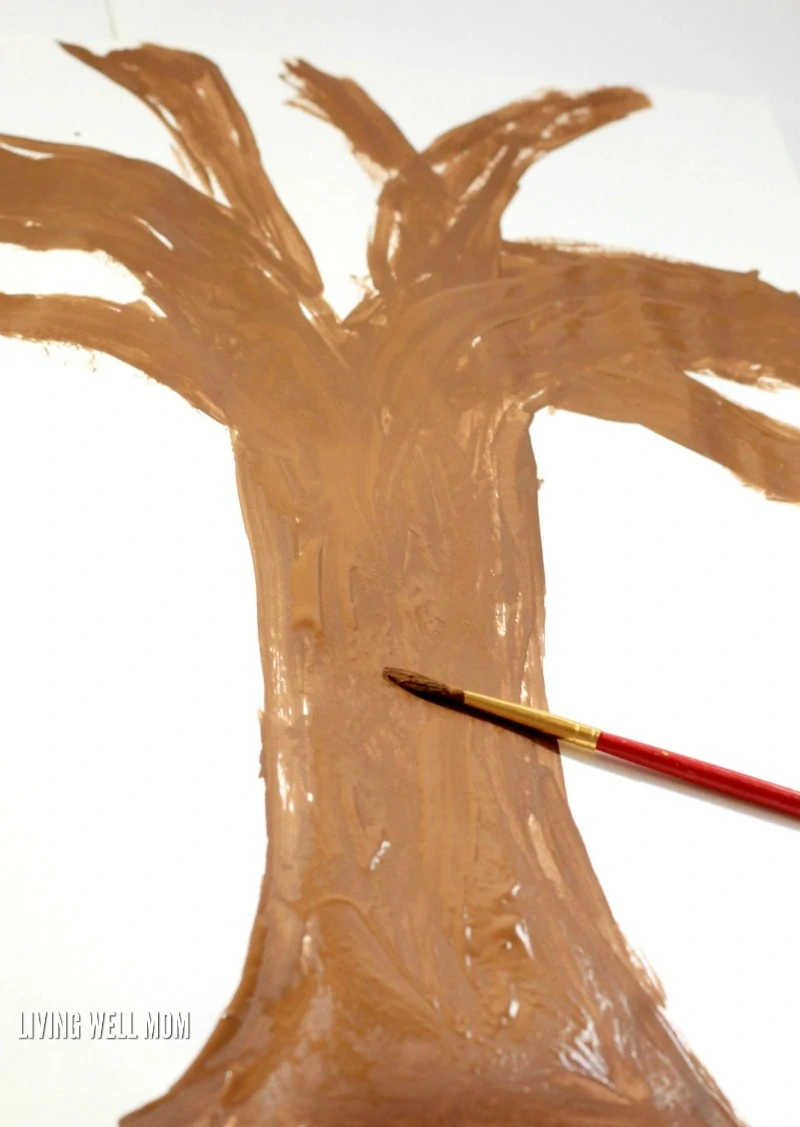 Once the tree trunk is dry, pour a small amount of red, orange, and yellow paint onto your plate or paint tray. Instruct the kids to dip the flat side of their apple into the paint, then use it as a stamp to make leaves on the tree trunk.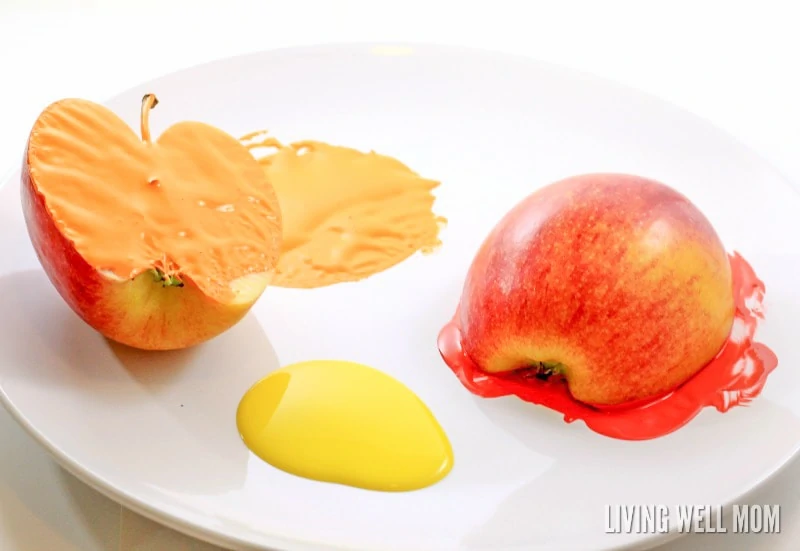 You can allow each color to dry before applying the next color, but Bo really enjoyed mixing the colors a bit, and I think our tree looks a little more natural that way.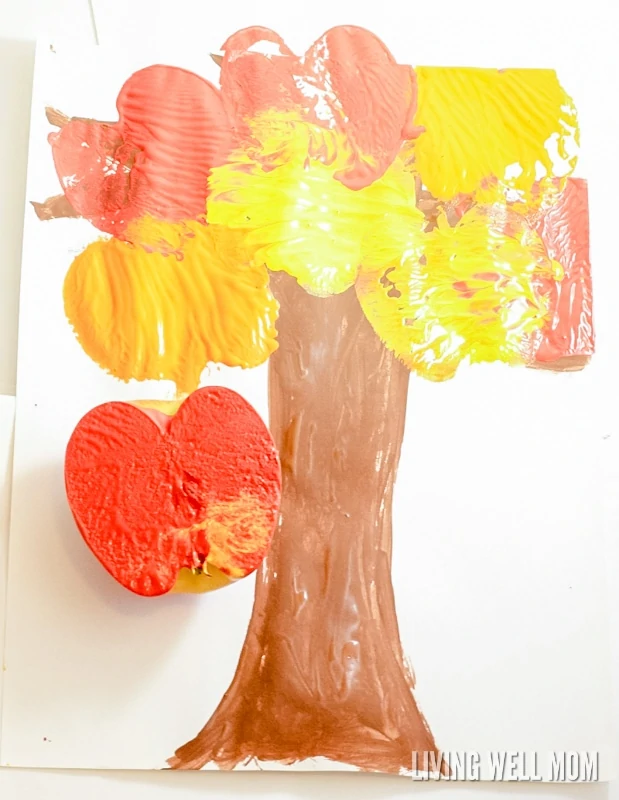 After she finished apple stamping, Bo used her fingers to spread the rest of the paint onto another piece of paper. This created a cool marble-like effect in brilliant fall colors. She thought getting that messy to paint was just about the best thing ever.
If you're looking for a less messy apple-themed activity for fall, look through these printable playdough mats for kids. There are options for all seasons and types of learning!
I loved how simple this apple stamping craft is. We had everything we needed on hand and did not need anything special. The colors are brilliant, and our fridge is now fall-ready.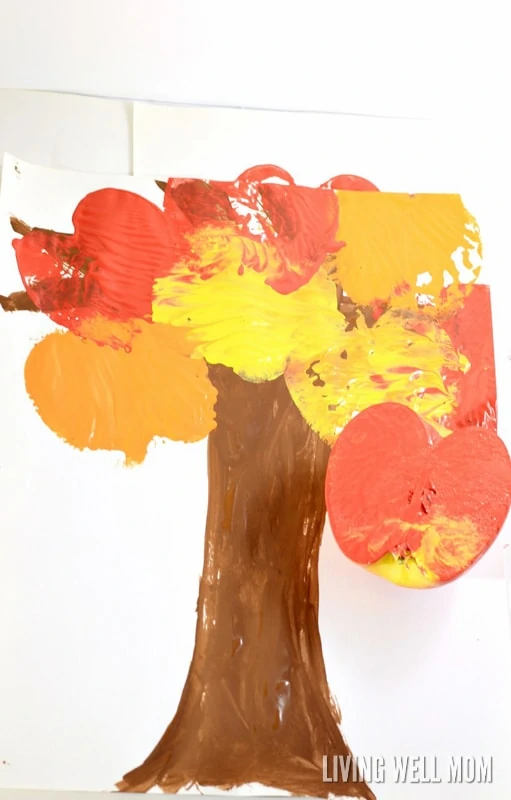 Our tree turned out so well, I think I might even frame it to use as a permanent addition to our fall decorations.