Attitash Mountain Resort in Bartlett, New Hampshire is one of those amazing places where you will come home with unforgettable family memories. From the Alpine Slide to the zipline tour, the Buddy Bear Play Pool and water slides, there's a full day of fun and adventure waiting for you.
We first visited Attitash two years ago when some friends let us stay at their time share condo for a couple nights. Even then, with young children (Luke was 3 and Joshua was 5 at the time), we had a great time.
This year, when Attitash Mountain Resort offered us family passes in exchange for sharing with you, it was a no-brainer. Of course we wanted to visit Attitash again!
Here are just a few reasons why Attitash Mountain Resort is a fantastic place for a family adventure:
1. Attitash Mountain Resort is gorgeous.
Set in the beautiful White Mountains of New Hampshire, the views are incredible. It's a perfect place to take a break from the hustle and bustle of normal life and simply breathe.
2. The Alpine Slide
This awesome slide was our favorite part of Attitash and that's saying a lot because we loved everything!
The Alpine Slide isn't something you find just anywhere. It's truly unique and it's considered the longest slide of its kind in North America. Yes, it's nearly a mile long!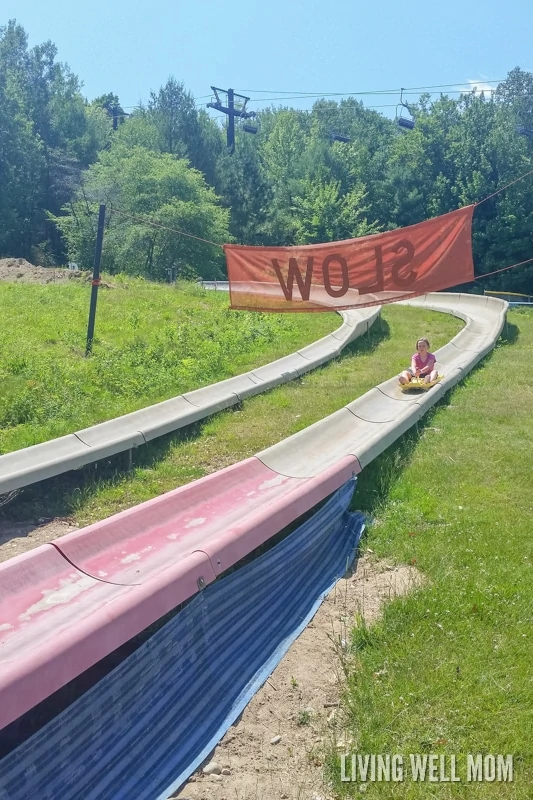 A chair life carries you up the beautiful mountain to the start of the slide.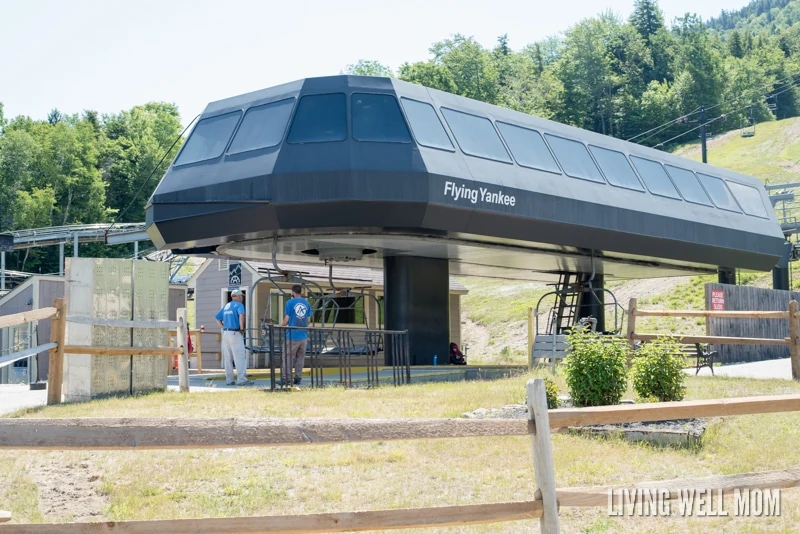 The ride up is a great chance to relax and cool down when you're hot and tired from having so much fun. It's also pretty cool to see the slide wind around below you!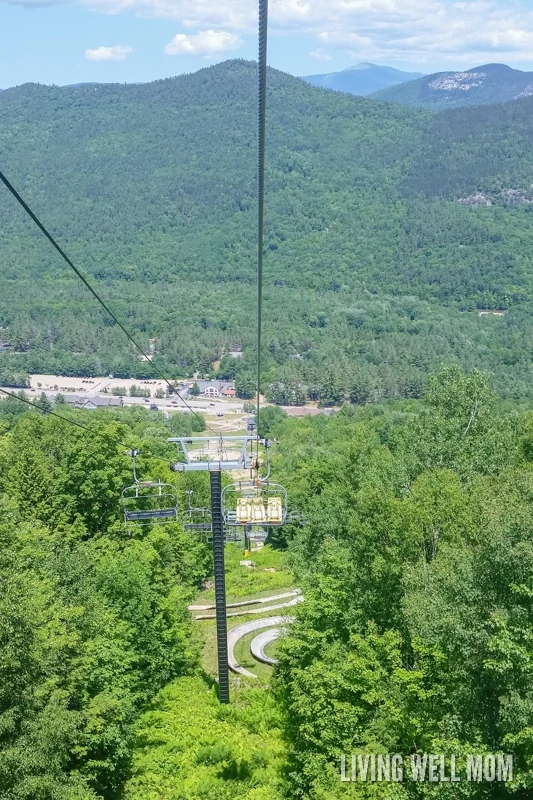 Fun fact: The Alpine Slide at Attitash first opened in 1976; it's been a family favorite for 40 years!
At the top, you'll get off the lift and grab your sled. (That's what you'll use to ride down the Alpine Slide.)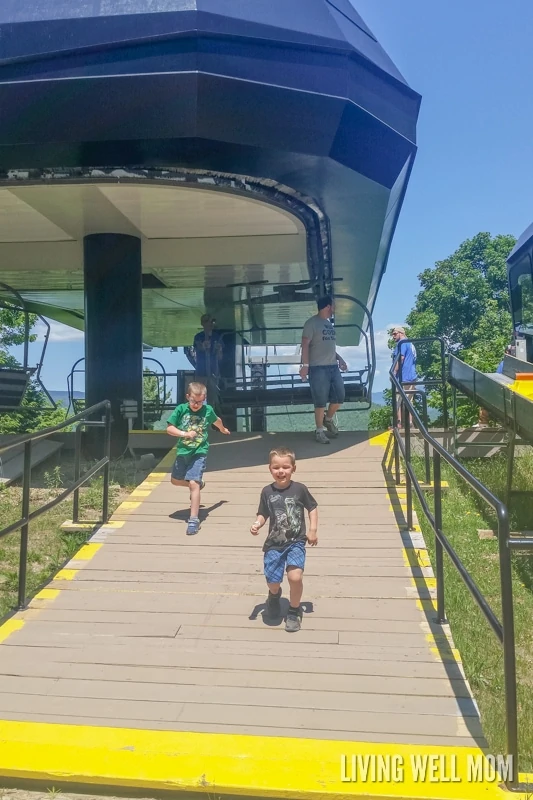 You'll carry this over to the start of the slide, hop in, and wait for the attendant to give you the okay.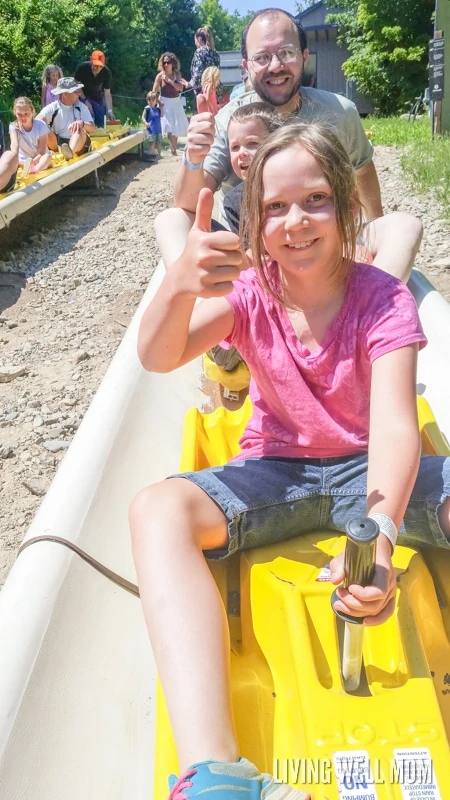 Once you get the okay, press forward to go and get ready for an incredible ride down! There's two alpine slides that are side-by-side so you can even head down at the same time as a family member.
Some people (usually first-timers) go slowly down the slide and that can hold everyone up. Even though we went on a day without many crowds, most of our trips on the slide required everyone to stop and start for half the mountain. It would be great if Attitash designated one slide as a "beginners" slide and the other, a more "experienced" slide to keep the line moving a little faster.
Beyond that little detail, the Alpine Slide is truly an incredible, one-of-a-kind experience! We loved the Alpine Slide so much, we went down 5 or 6 times on our visit to Attitash.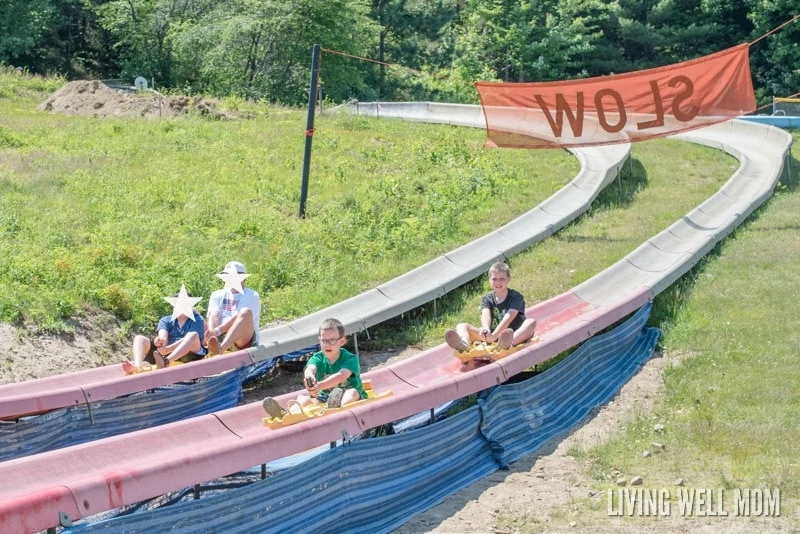 One note: Children need to be able to walk unassisted to ride down the slide, so no babies or toddlers. For kids under 48″, they can ride with a parent down the slide. Luke rode with Dad and loved it!
Joshua, who is 7, was old enough to operate his own sled down the Alpine Slide and he did a fantastic job! I was so proud of him!
3. The Mountain Coaster
Another unique experience at Attitash, the Mountain Coaster isn't any ol' roller coaster.
There are two person carts you are buckled into at the bottom of the mountain. Then you're pulled about 1/3 of the way up the mountain (about 1,420 feet up) and then the ride really begins.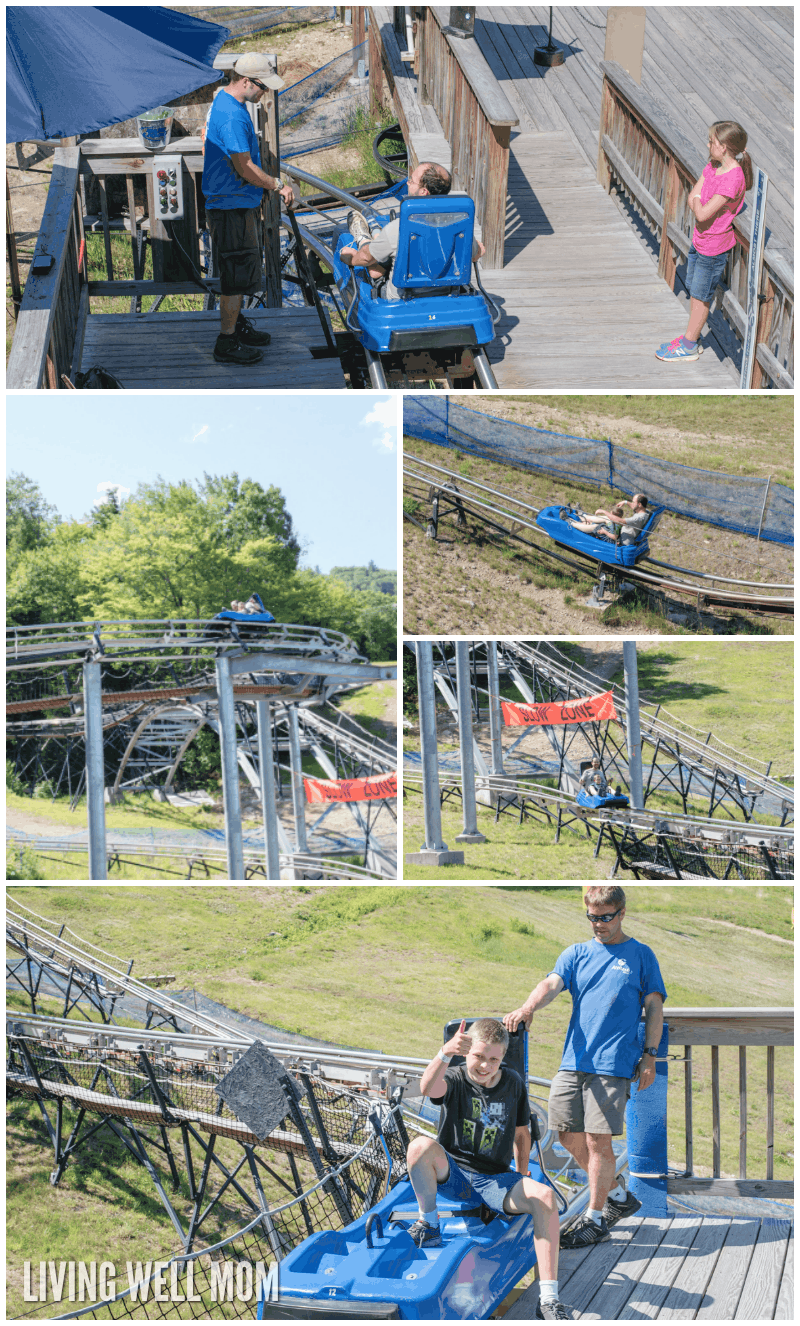 You actually control the speed on your cart as you head downhill on the 2,880 foot track. Let go and reach speeds of up to 25 miles per hour or go at a slower pace as you weave through the beautiful mountain forest on the track.
Like the Alpine Slide, we each rode the Mountain Coaster several times and loved it!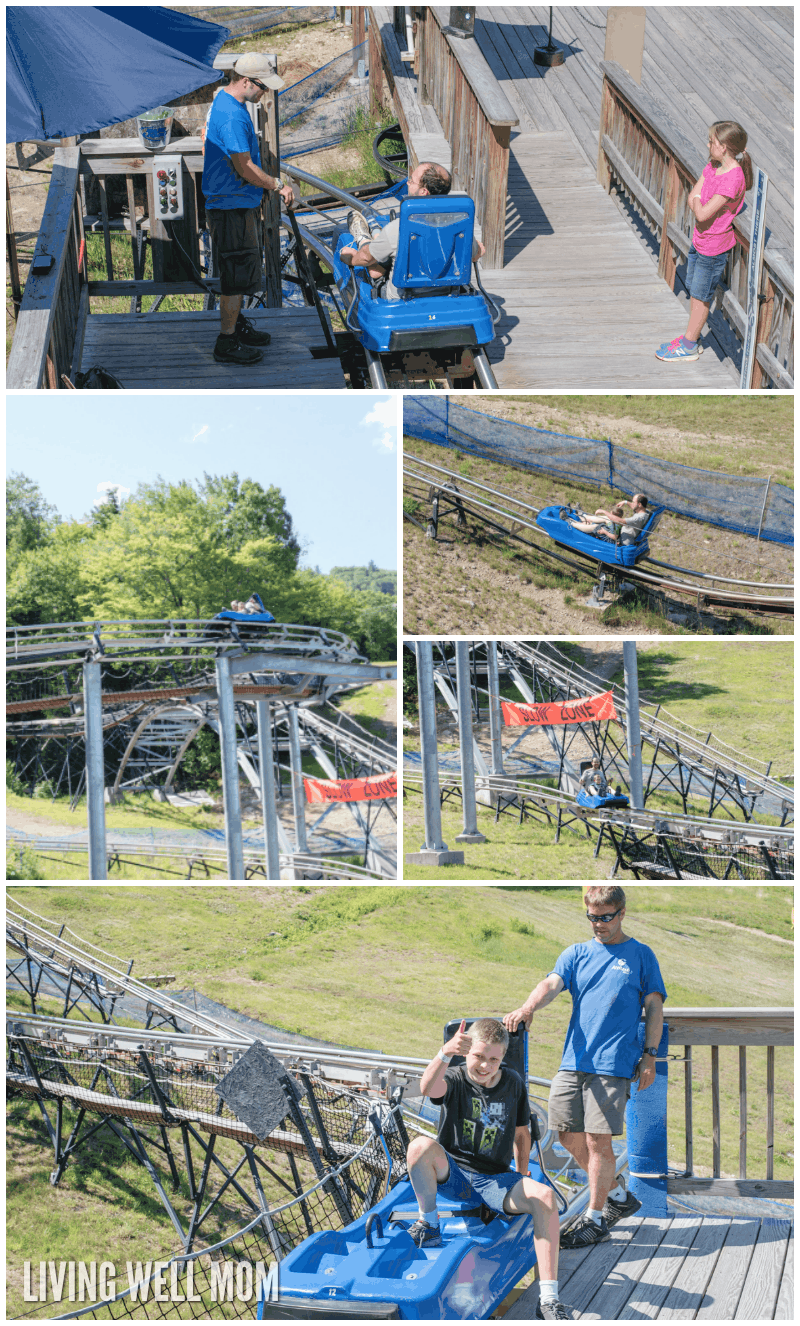 For this ride, children also need to be at least 3 years old to ride. Kids 9 and over can go by themselves.
4. The Airbag Jump
The Airbag is yet another unique attraction.
You climb up the stairs and jump off the platform in a free-style jump to land on a soft 60×60′ giant air bag!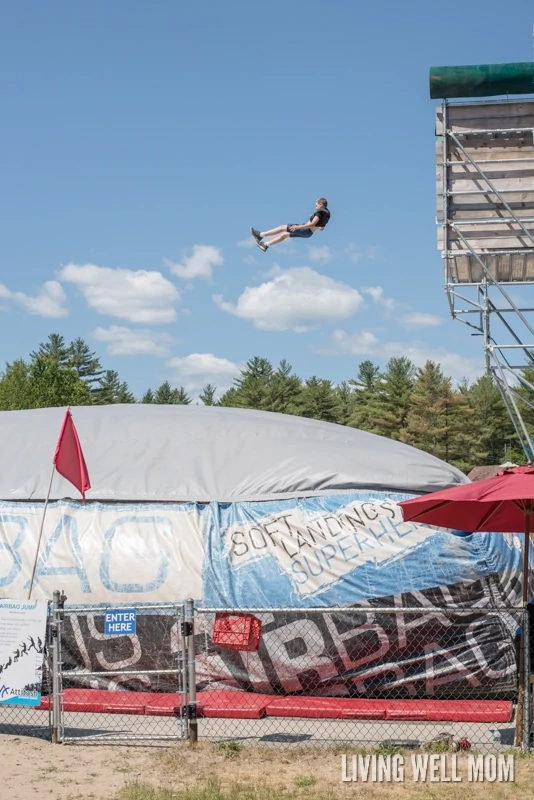 I did not personally try the Airbag Jump, but my husband and older two kids did and they loved it. Nathan, who is 13, did the Airbag Jump about ten times!
5. The Eurobungy Trampoline
My two boys, Joshua and Luke, never miss a chance to jump on a Eurobungy Trampoline if they can help it. They had a blast jumping super high at Attitash.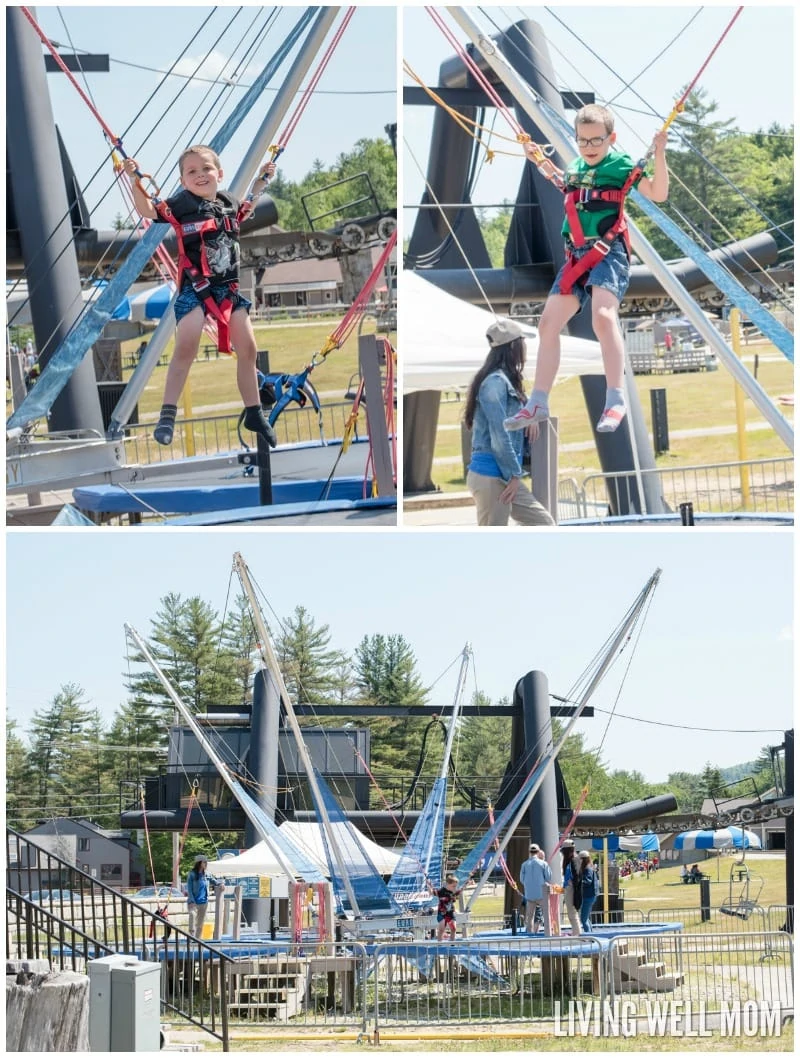 6. The Aquaboggan and Sidewinder Water Slides
When the day gets hot, you can change into swimsuits and enjoy the water park section of Attitash. While it's not a huge area, you can spend plenty of time here.
There's two separate water slide attractions.
The Aquaboggan is for single riders with three different slides to choose from.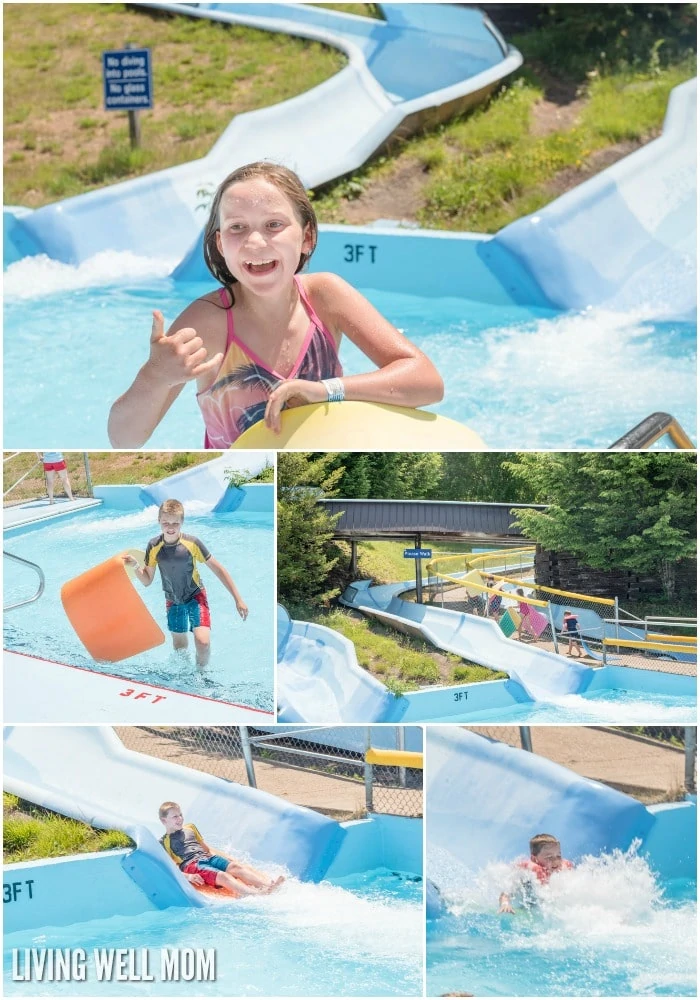 Though none of the pools at the bottom are very deep (about 3 feet), young children can wear a life jacket to be safe. Luke loved these slides, though Joshua said they were a little "too crazy" for him. The third smaller slide wasn't open when we were there, but if it were, I think it would have been right about Joshua's speed.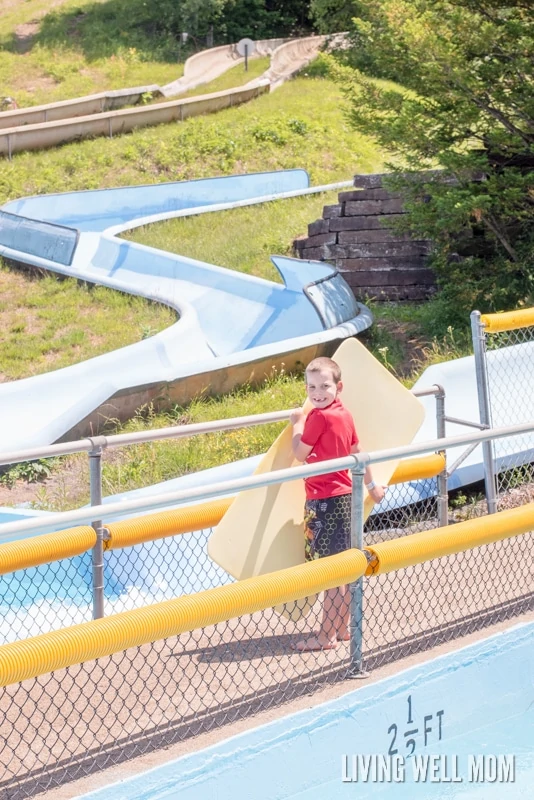 Nathan and Emily went over and over and over again on the other two slides. They loved it!
The Sidewinder Slide uses a tube and you'll careen through twists and turns to splash down at the bottom. You can ride alone or with two or three people on this slide!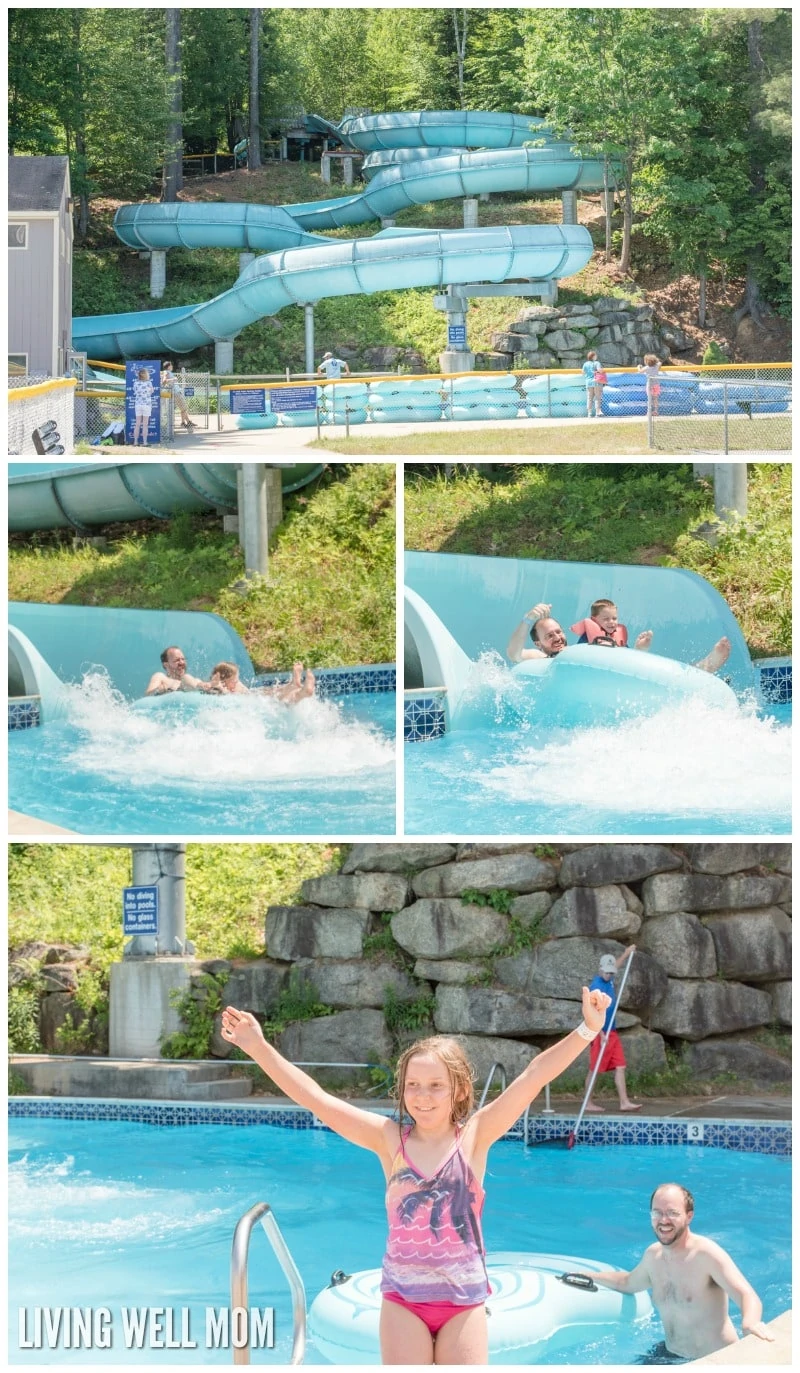 This was my favorite water slide, though I have to say the steep hike to the top is a challenge when you're hot and tired from having so much fun. Still, it's worth it for the awesome slide down!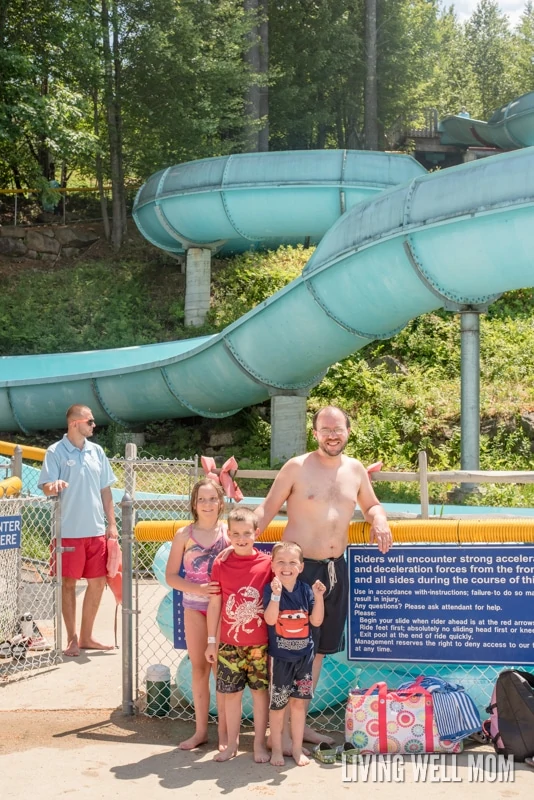 7. Buddy Bear's Pool
This water section is for children 48″ or smaller. It's simple and perfect for small children to play while adults can relax and watch from the side in lounge chairs. We enjoyed this as a nice break mid-afternoon.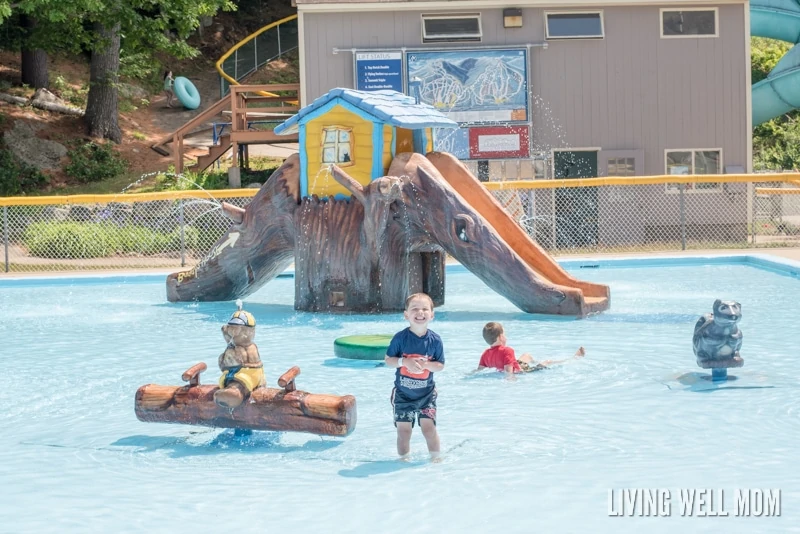 8. More Adventure with a Zipline, Mountain Biking, and Horse Back Riding
There's a climbing wall (included in the "Attitash Attractions Parks admission or available as a separate single fee) and lots more to do at Attitash for additional fees.
The Ziptour at Attitash is almost a mile-long and currently the longest single zipline span in New Hampshire and the entire east!
Attitash also offers mountain biking (we saw quite a few mountain bikers when we were there) and horse back riding too!
9. Awesome staff
We were impressed with everyone at Attitash. Everyone was very kind, friendly, and patient. They were quick to help and answer questions. I came away with the feeling that the staff were happy and proud to work at Attitash. That's a pretty big accomplishment these days!
A few other notes:
The food at Attitash, like most places, wasn't cheap but it was pretty good. We ordered tacos and were pleasantly surprised that they were a decent size. The woman who worked at the Mexican food location was very friendly and helpful when we asked about gluten-free options. She even went downstairs to check ingredients for us!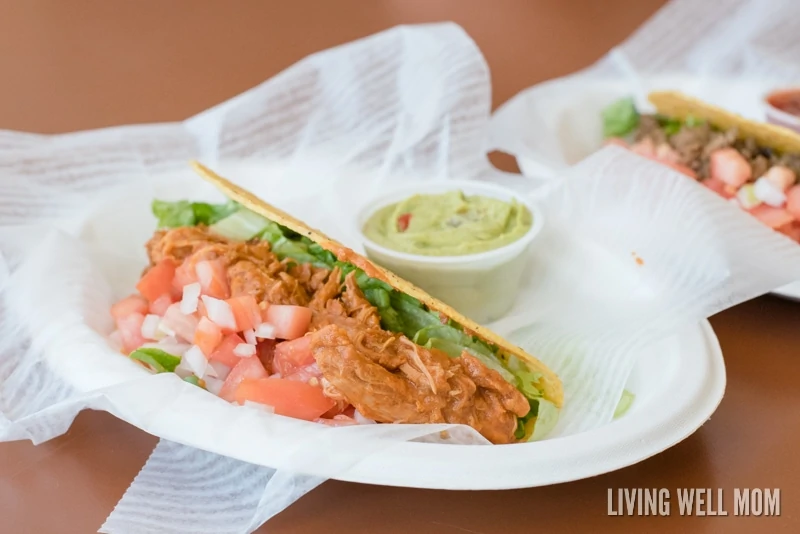 One thing we weren't a big fan of was the single-use lockers. You can't bring bags, purses, cameras, or phones, etc. on the rides including the 20-minute+ Alpine slide so we had to lock up our items several times. It would be much easier if Attitash offered all-day lockers for a one-time fee.
10. Convenient family-friendly lodging at the Attitash Grand Summit Hotel
We were offered a two-night stay at Attitash Grand Summit Hotel, just 1/4 mile away and the area's only slope side hotel.
We all loved this place!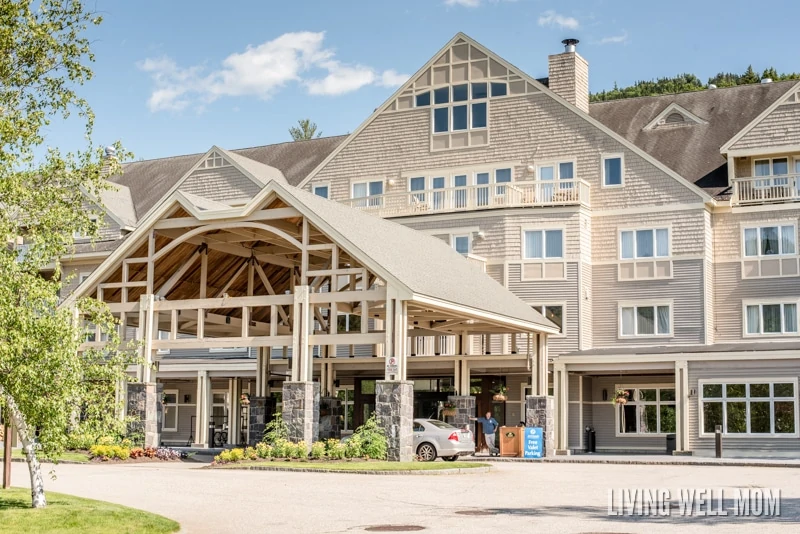 The hotel was very nice without being so fancy I was afraid my kids would break everything; it was clearly a family-friendly place.
Our rooms were large and pleasant. Our kids were in one room and next door, Nate and I had a suite with a kitchen. The kitchen made it simpler and more affordable for our family to eat on vacation, especially since we have food sensitivities.
Everything was clean and the beds were very comfortable. The hotel was well-maintained and the staff was very friendly and responsive.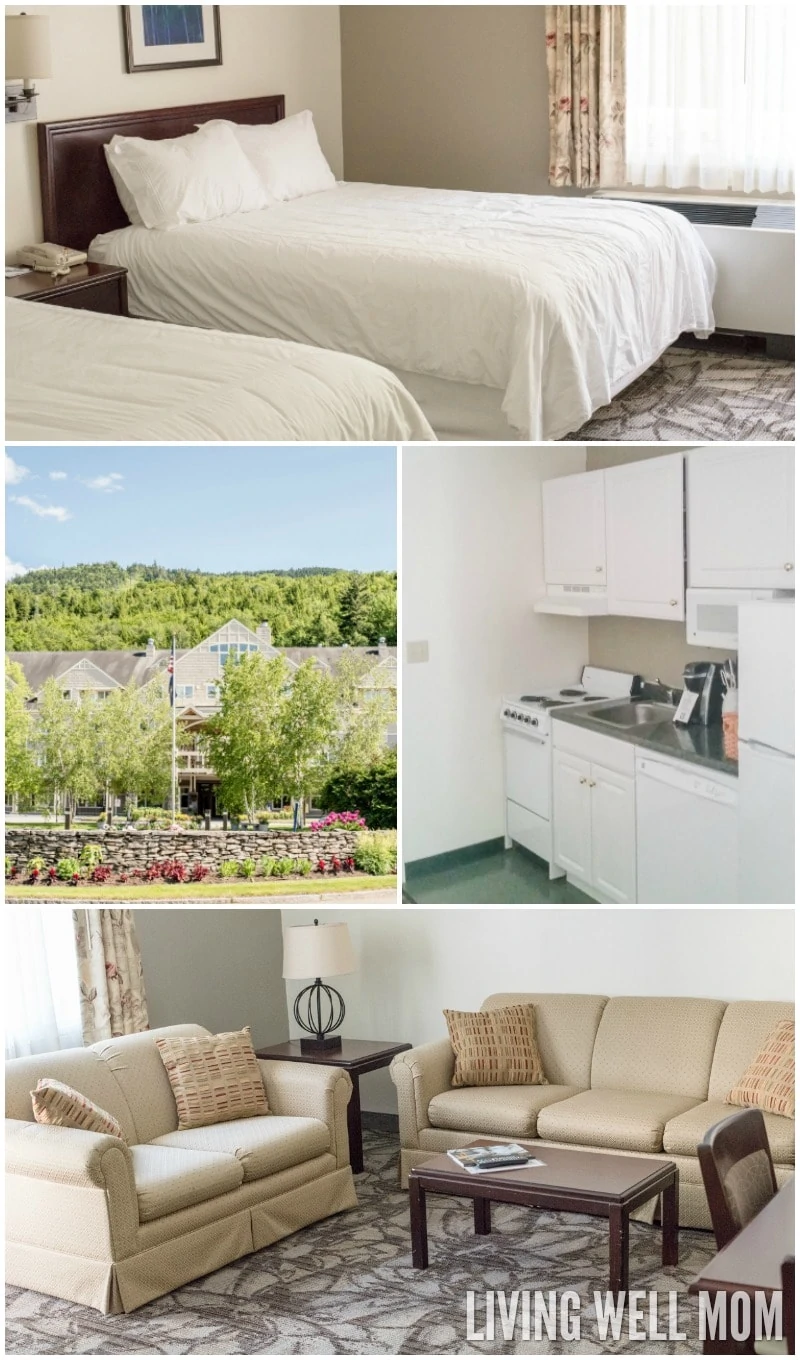 The only downside we experienced was a lot of hallway noise; the doors are thin and you can hear everything out there. But isn't this common with all hotels?
One of my favorite things about the Attitash Grand Summit Hotel were the balconies outside our rooms, looking out onto the quiet, peaceful mountain. I loved waking up each morning and enjoying a cup of tea outside there.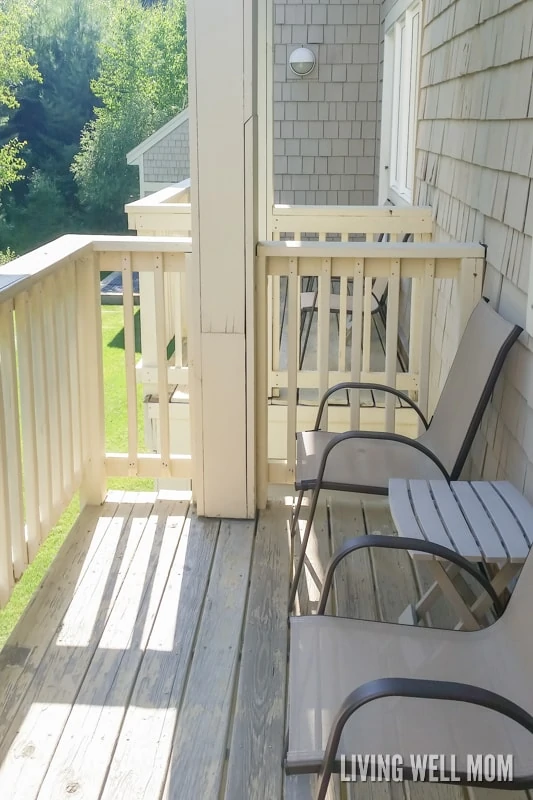 The hotel also has a year-round outdoor pool. This was definitely my kids' favorite part and Nate and I enjoyed it too. I loved that there were two hot pools right there so parents could relax while still watching the kids. And the pool is 4.5 feet at the deepest area, so that made it simpler with kids too.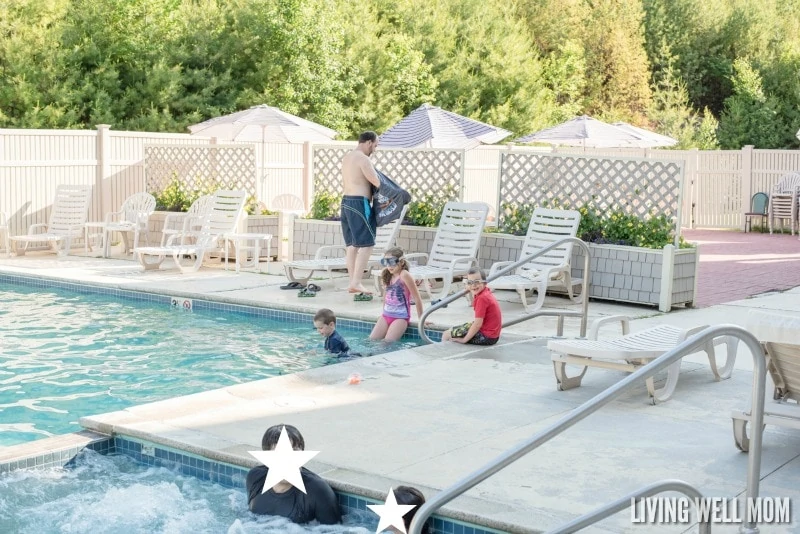 On our first night at the Attitash Grand Summit Hotel, I decided to take advantage of the spa and get a massage while Nate and the kids went down to the pool. Joyce did an amazing job of working out the knots in my shoulders and helping me relax. It was a wonderful way to start my vacation!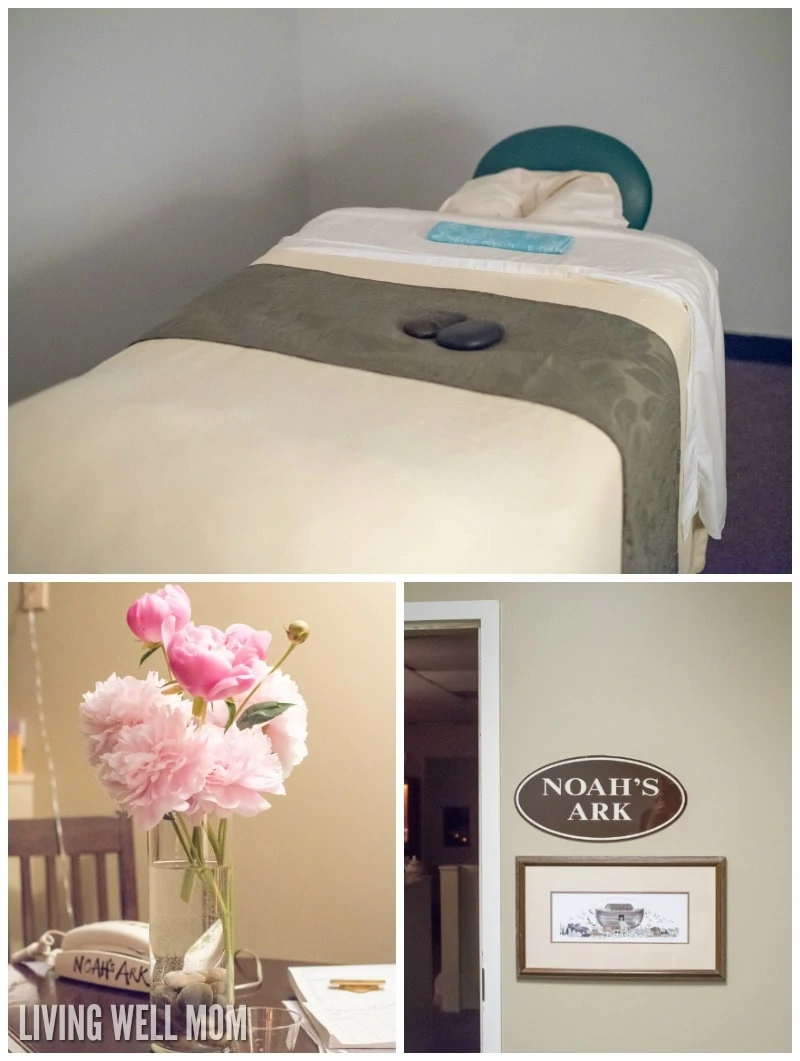 I highly recommend the Attitash Grand Summit Hotel as a great family-friendly place to stay during your Attitash adventure! It's also close to Story Land, Wild Cat Mountain, and North Conway, New Hampshire with much more to do!
Attitash Mountain Resort is a wonderful place for families. We had an adventurous day we'll remember for a long time!
You can buy individual tickets for most of the attractions at Attitash or buy full-day Park Admission for $49 (over 48″) / $25 (under 48″).
Afternoon admission (3-6pm) is $35 / $20. For more ticket information, click here: Attitash Summer Tickets
Find out more about Attitash here.