Have you heard about Santa's Village yet? It's a charming family theme park set in the beautiful mountains of Jefferson, New Hampshire. And you guessed it – Santa's Village is all about Christmas! Kids, young and old, will enjoy a wonderful day (or more) with "rides and shows, cookies and elves, Santa and his reindeer!" And so much more!
My family has visited Santa's Village a few times and we can't get enough of it! You can see two of our visits here: Santa's Village 2009 and Santa's Village 2012 .
This year, Santa's Village gave my family tickets so we could visit the park and share our experience with you!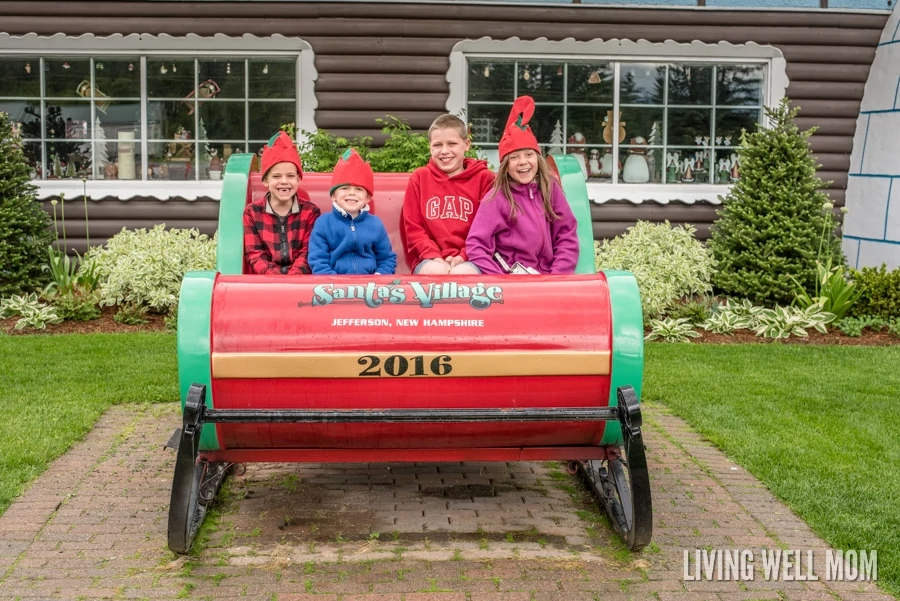 Every time we go to Santa's Village, we're reminded of what a fantastic family place it is.
12 Awesome Things About Santa's Village:
1. Santa lives here!
Kids can meet the REAL Santa at Santa's Village! They can sit on his lap, tell Santa what they want for Christmas, and get pictures taken. (Those mall Santas have nothing on this guy!)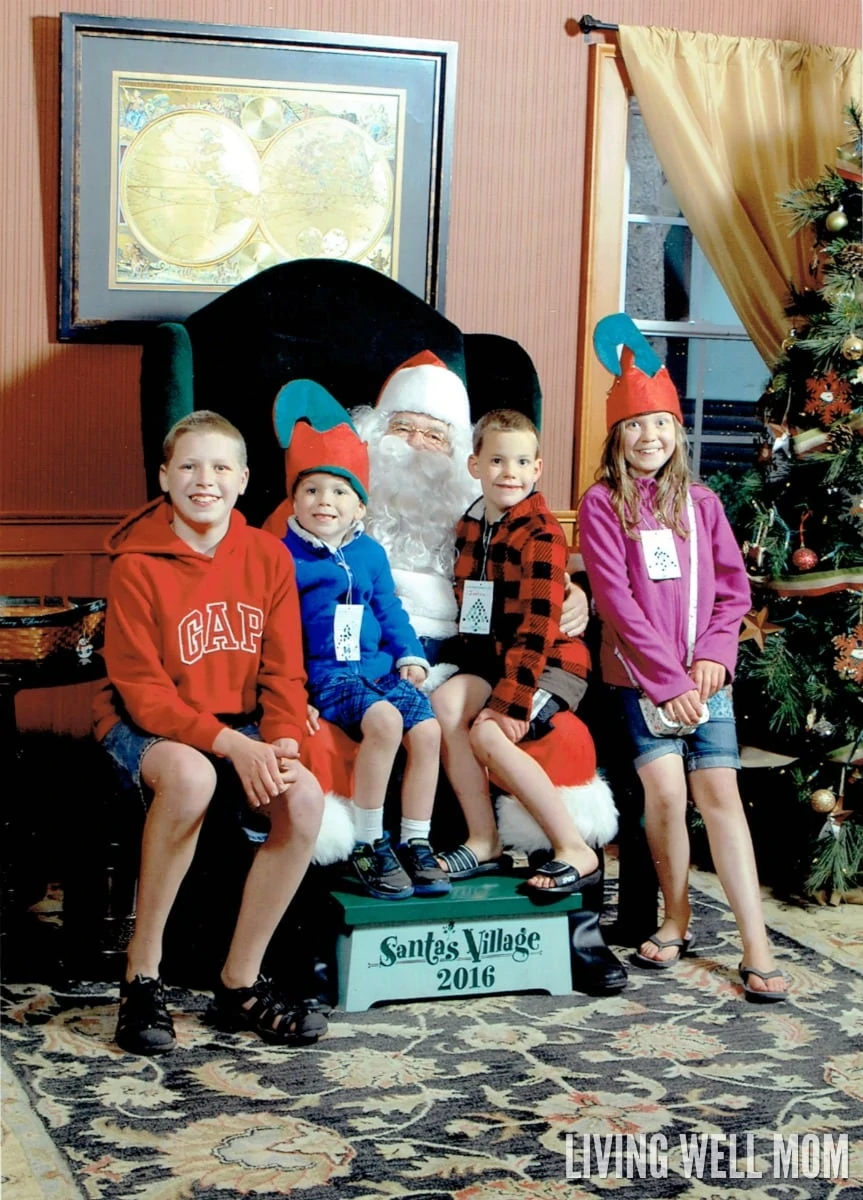 Don't forget to check Santa's list outside his house!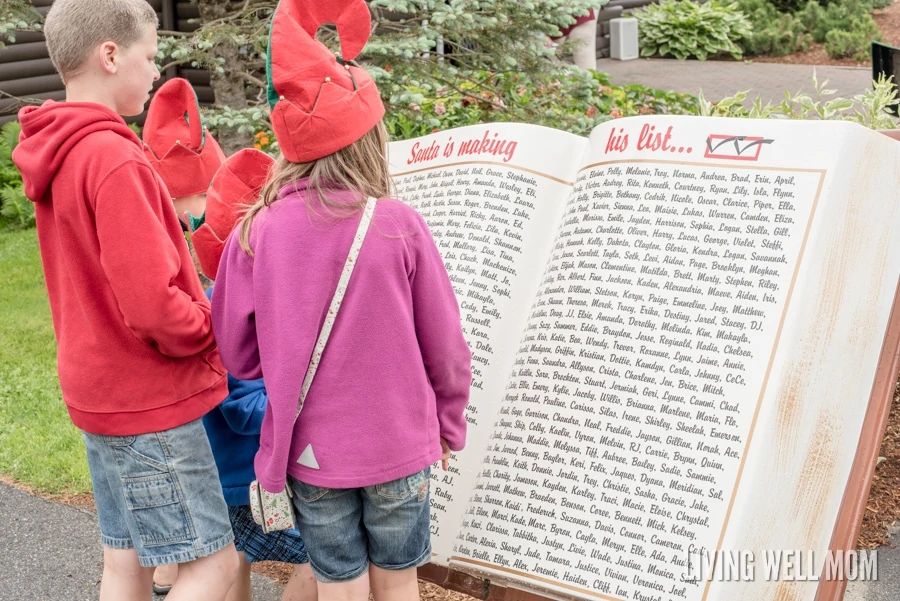 2. There are real live reindeer!
Kids can feed the reindeer too! They love carrots and special Reindeer crackers.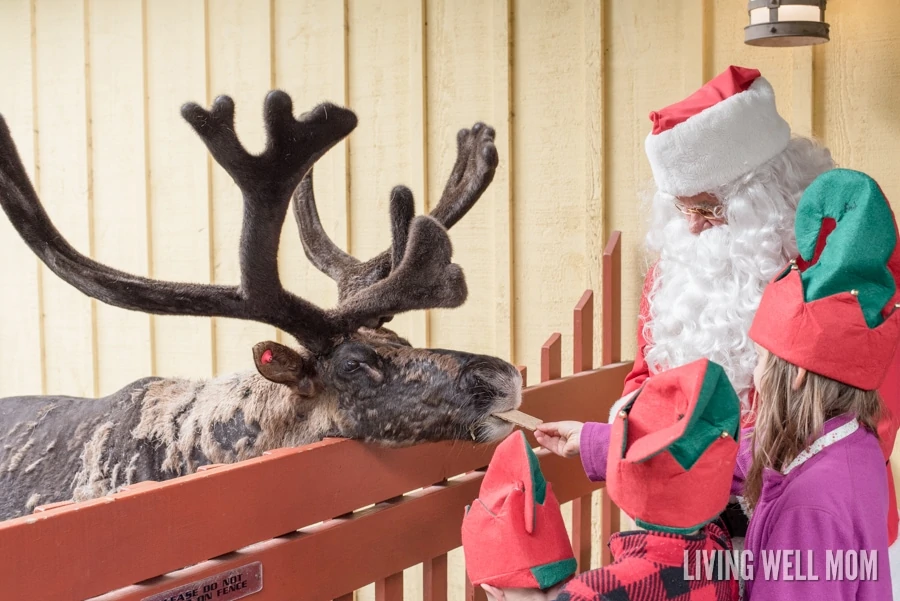 We had a special chance to feed the reindeer with Santa on our visit. The kids were thrilled; my little boys were practically in awe!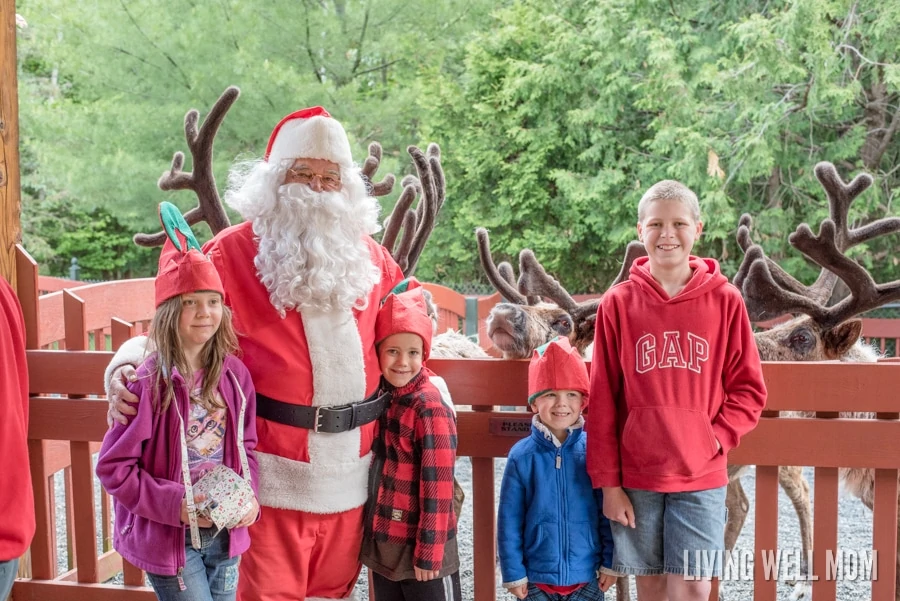 3. There's a fun free "Elfabet Game"!
Stop by the Elf University shop and pick up your "Elfabet" cards. As you walk around the park, keep an eye out for the elves. Each elf has a different letter from the alphabet; kids will love spotting the elves and punching their cards. When their cards are filled with all 26 letters, go back to Elf University for a prize!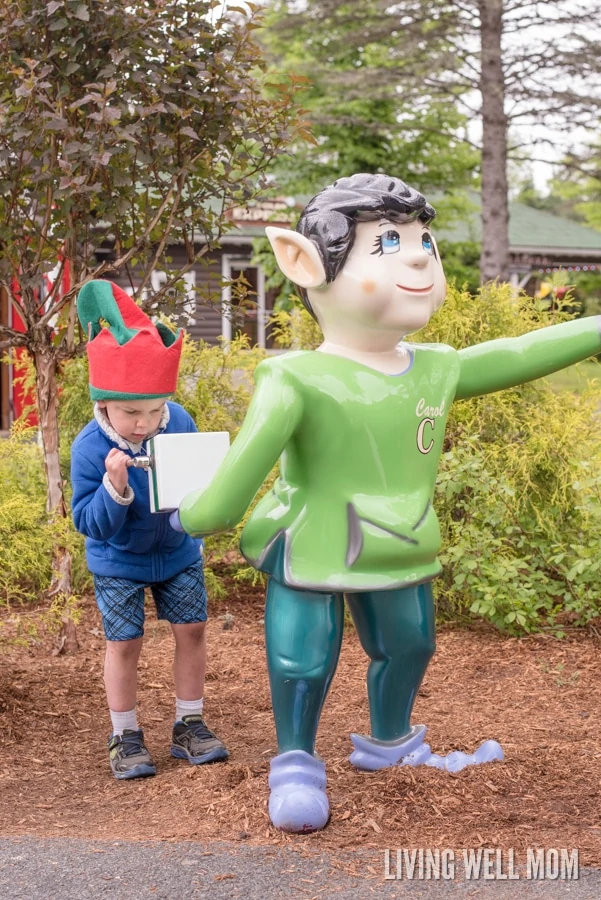 4 There's rides for everyone in the family!
Many rides are appropriate for the whole family, like the Reindeer Carousel: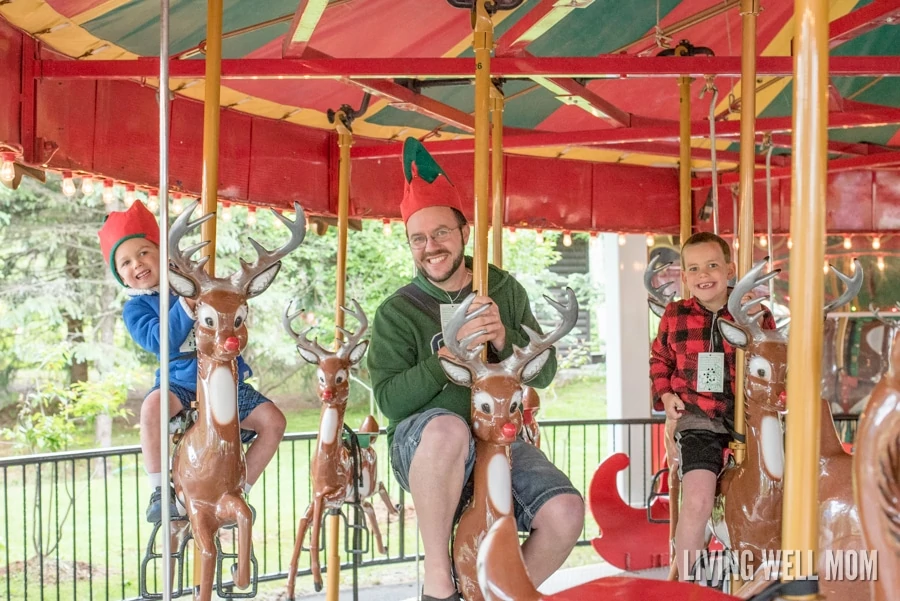 A visit to Santa's Village isn't complete without a family ride on the Skyway Sleigh!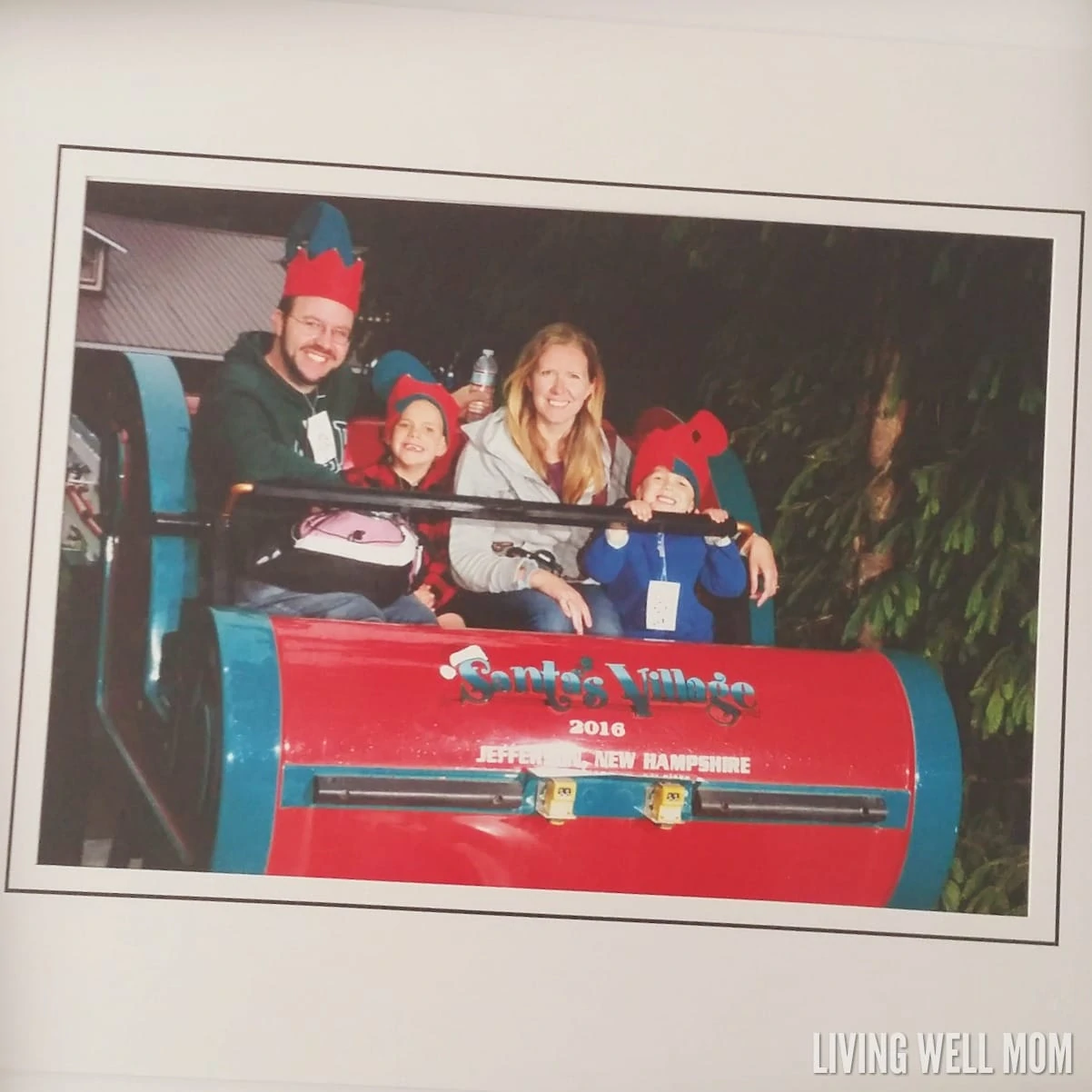 There are height restrictions for a few rides (42″) but you'll find small slides and playgrounds strategically placed around the park to keep very small children occupied too!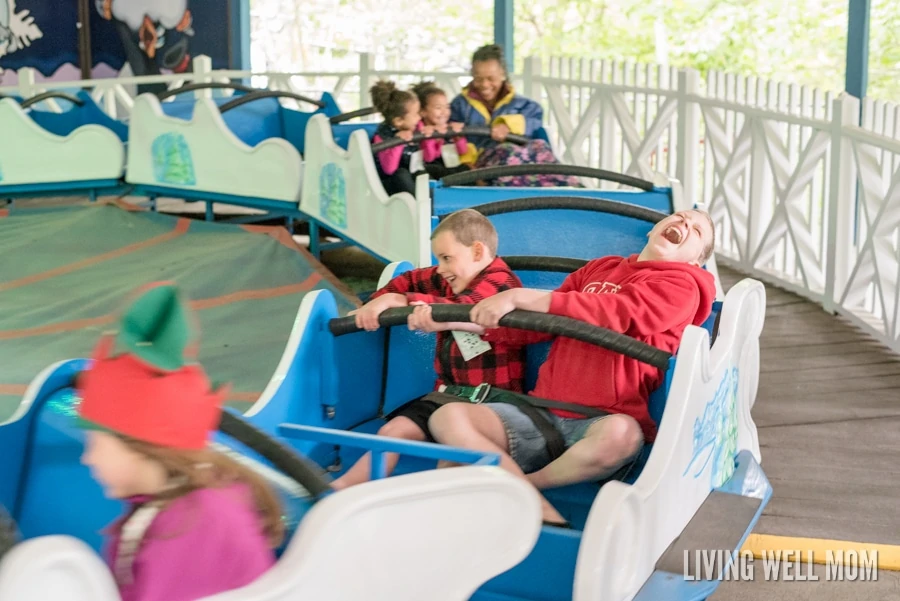 Here's a few of our favorite rides:
Everyone loved the Chimney Drop – Joshua and Luke (7 and 5) squealed and asked to do it again and again!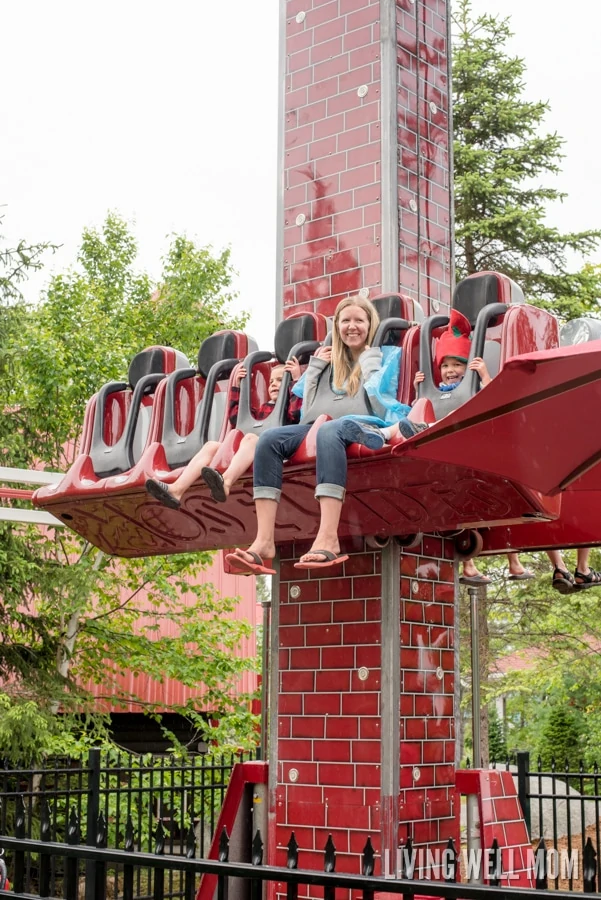 Rudy's Rapid Transit Coaster is fast enough to give a good thrill, but not too fast for little kids! Yep, that's Luke and me with Emily and Nathan in front of us.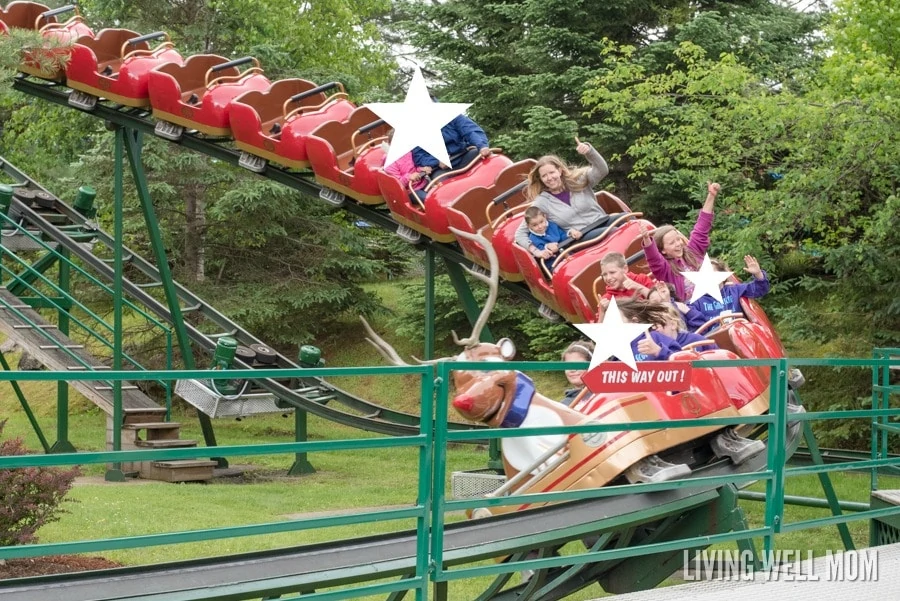 The Great Humbug adventure is a classic ride everyone loves. You sit in a little car and "tickle" the hum bugs with laser shooters!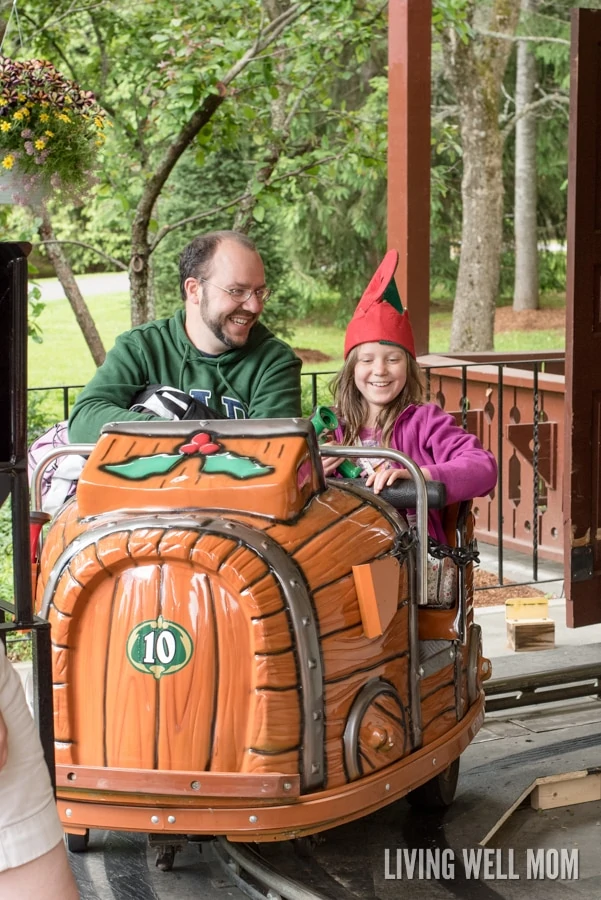 YouTubing is one of the newer additions to Santa's Village and it was one of our favorites! You grab a tube and stand on a conveyer belt that carries you up the hill. Then get ready to slide down the hill! You can attach two tubes together so a parent and younger child can go at the same time or race down to see who gets to the bottom first!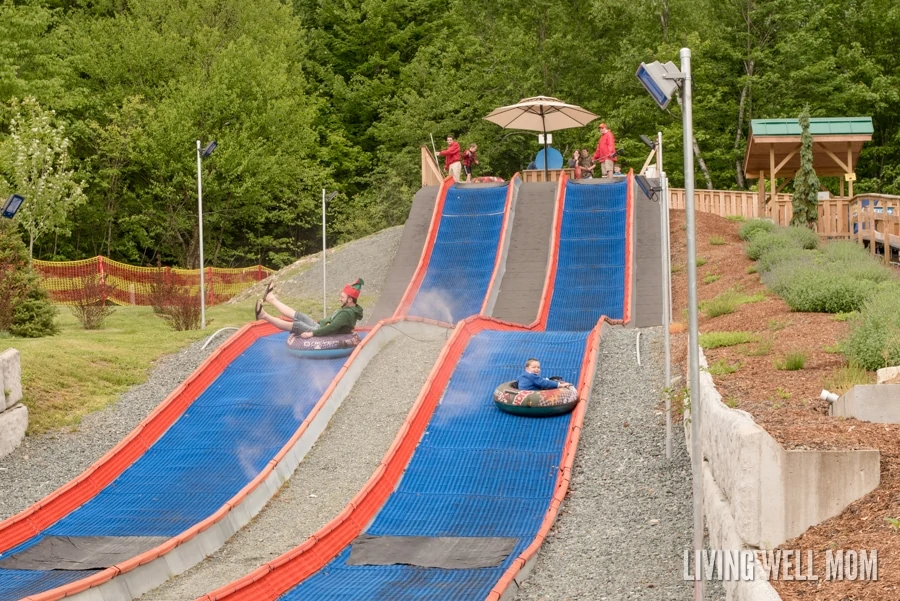 The Yule Log ride is always a blast! Luke isn't usually keen on this kind of ride, but he begged to go this time and loved it!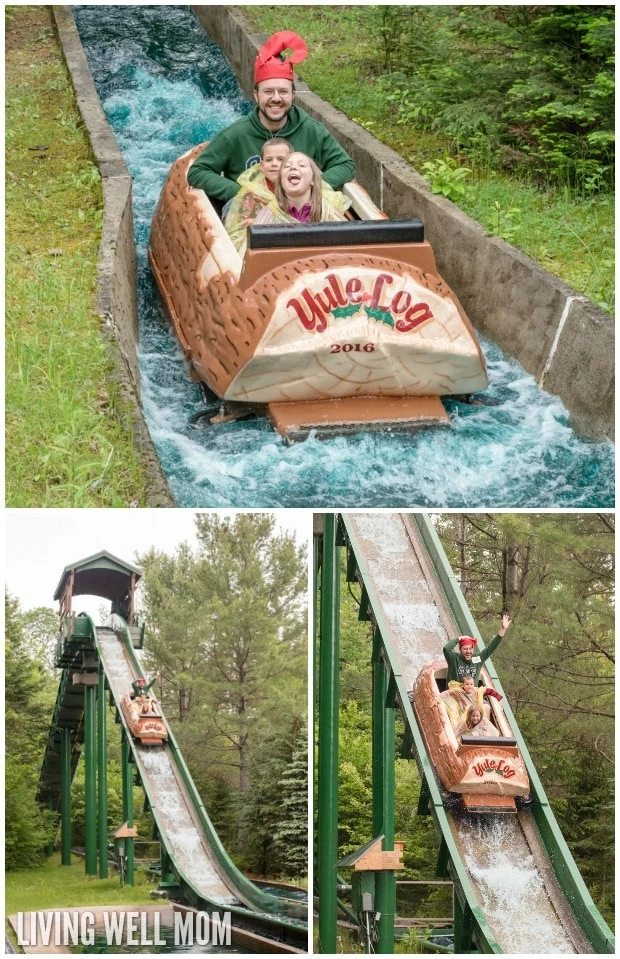 The Swings – aka "Rockin' Around the Christmas Tree" is another great ride at Santa's Village!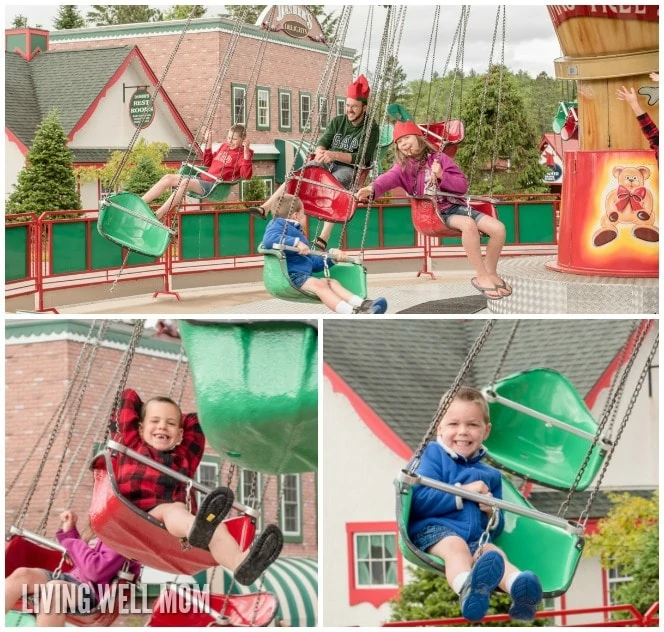 Luke, Emily, and Joshua were obsessed with the Red Hot Racers; they went again and again and again, trying to beat each other down the easy slide.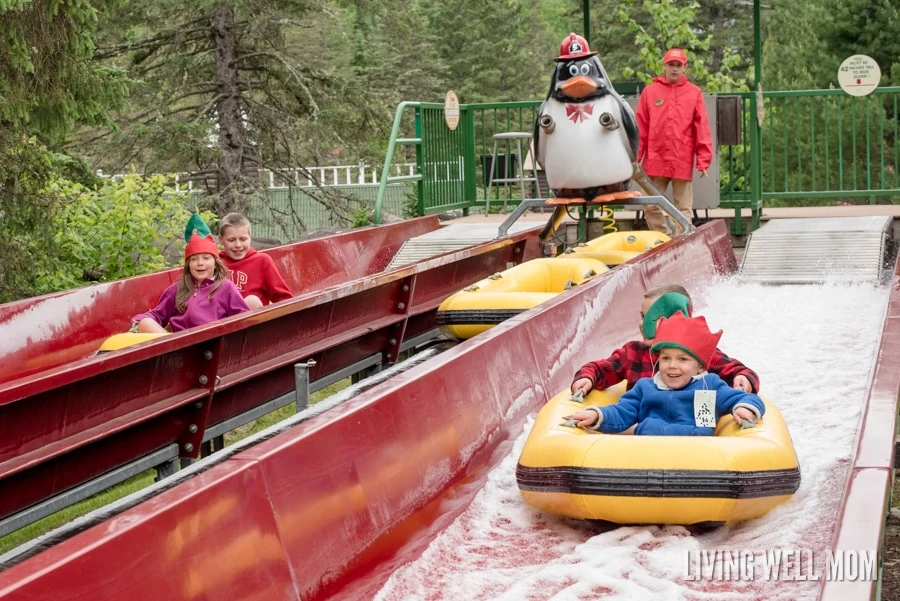 We got to try out the brand new Poogee's Penguin Spin Coaster too! So much fun!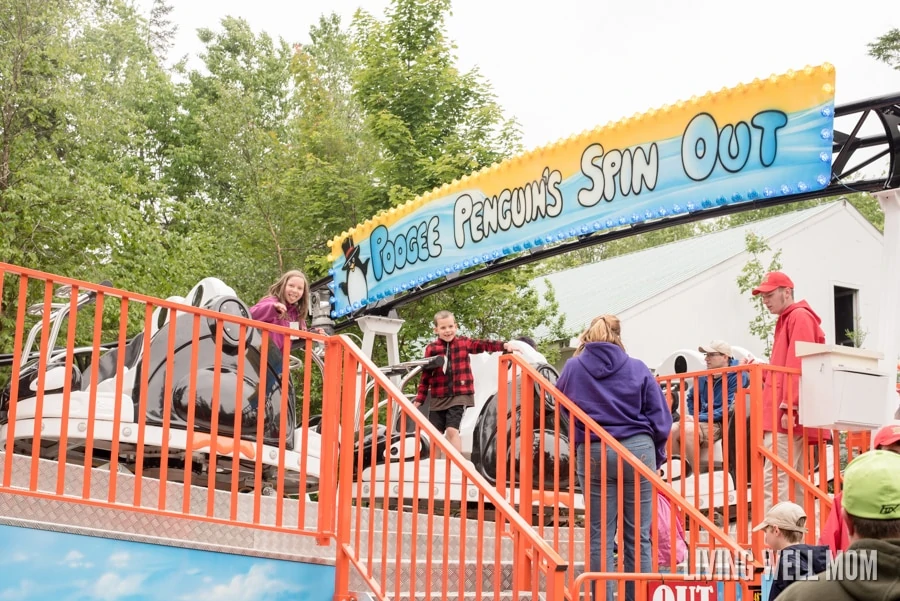 That's just a few of the many rides: learn more about the Santa's Village rides here.
5. "Santa's Helpers" aka the employees are fantastic!
Everyone was very nice and friendly. Two separate people asked if we wanted a family picture taken. Yes, please!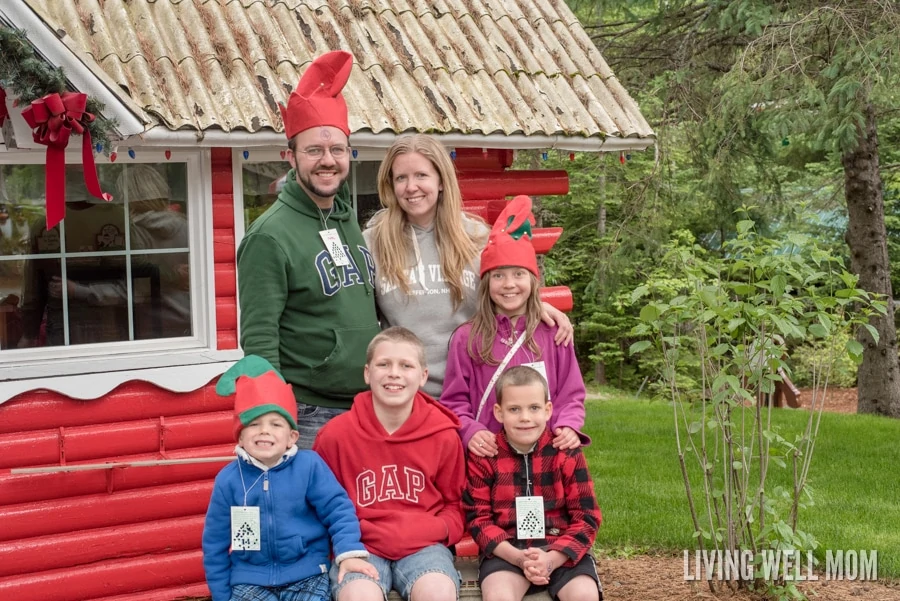 6. Santa's Village is beautiful and kept very clean.
We regularly saw "Santa's helpers" sweeping and the bathrooms were immaculate!
There's also nice places to eat your lunch, like picnic tables next to this gentle brook.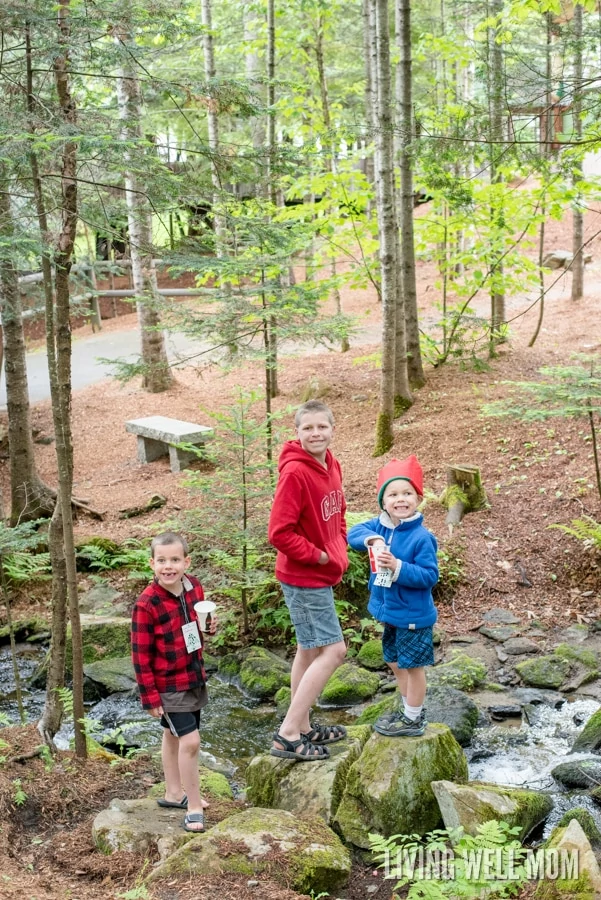 7. Santa's Village doesn't nickle and dime for every little thing.
Parking is free and everything in the park, including the water park, is included with the ticket price. Even meals are reasonably priced for a theme park. Yes, it's more expensive than a fast food restaurant, but cheaper than other similar theme parks.
If it rains, they hand out FREE ponchos!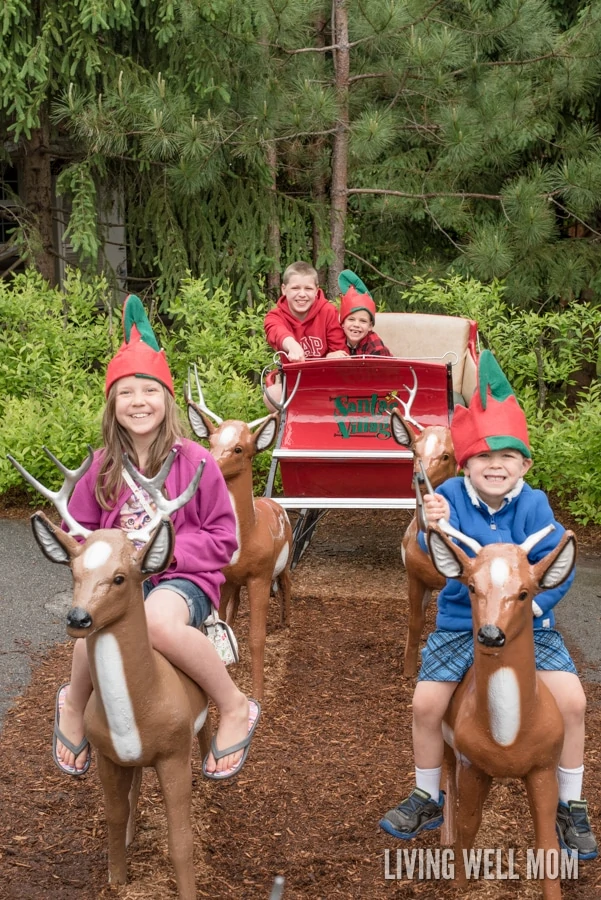 8. Santa's Village is family-owned.
It's owned by the same family that started the park; now the third generation runs it!
There's something different about Santa's Village than other theme parks. There's a family atmosphere and it's peaceful and relaxed. For example, while there's plenty of food choices at the park, you're welcome to bring your own picnic lunch too!
You can tell that the owners and employees take great pride in this wonderful park.

9. Fun fact: about 75% of employees come back each year!
That's pretty impressive for a theme park and speaks volumes about the overall theme and management!
10. There's a water park too with no additional charge!
The Ho Ho H20 water park is perfect for toddlers and younger children…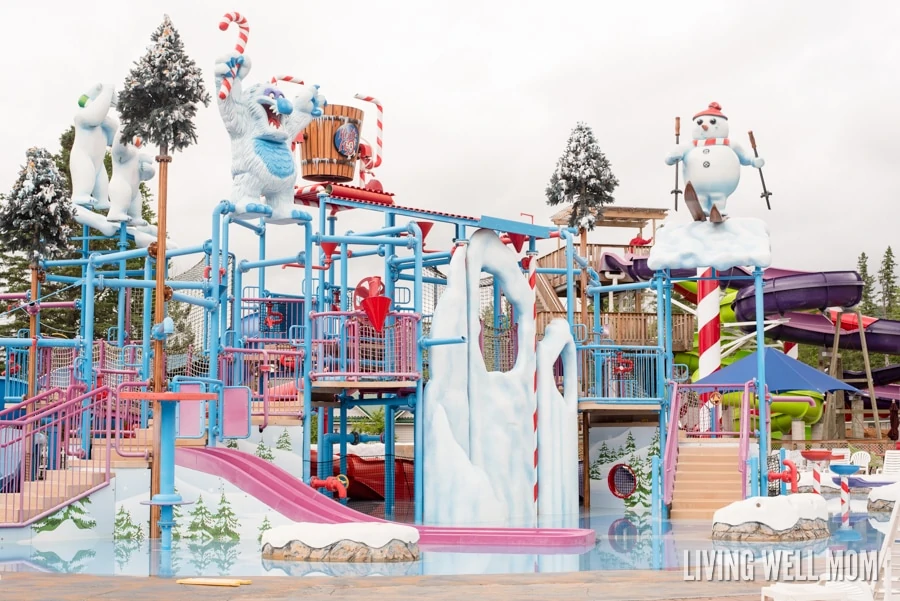 …while the Joy Ride Slides will keep older kids (and adults) occupied for hours!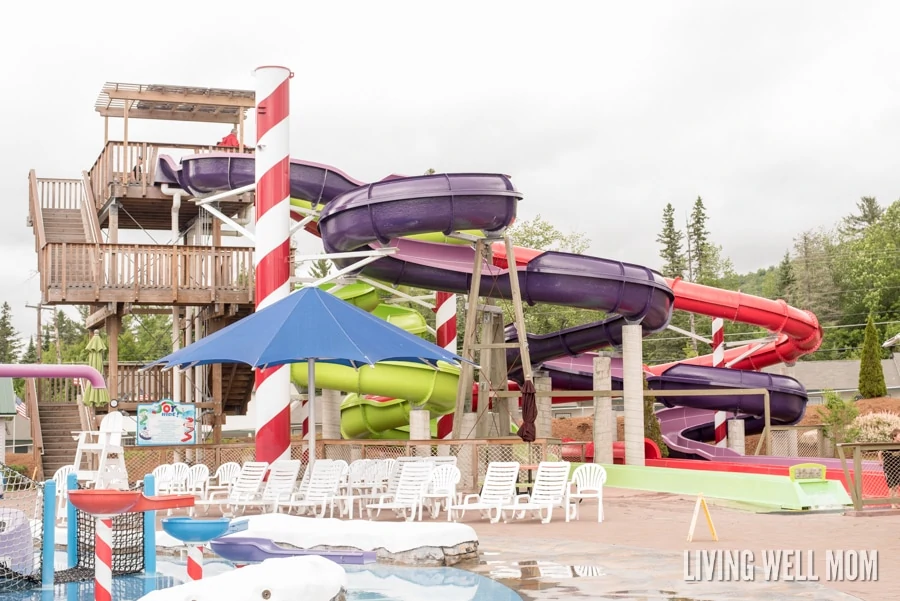 It was too cold to enjoy the water park when we visited mid-June, but we hope to go back soon!
There's also the Elf's Lodge with convenient changing rooms, lockers, a small shop, and the "Elf's Lodge Merry Mess Hall!"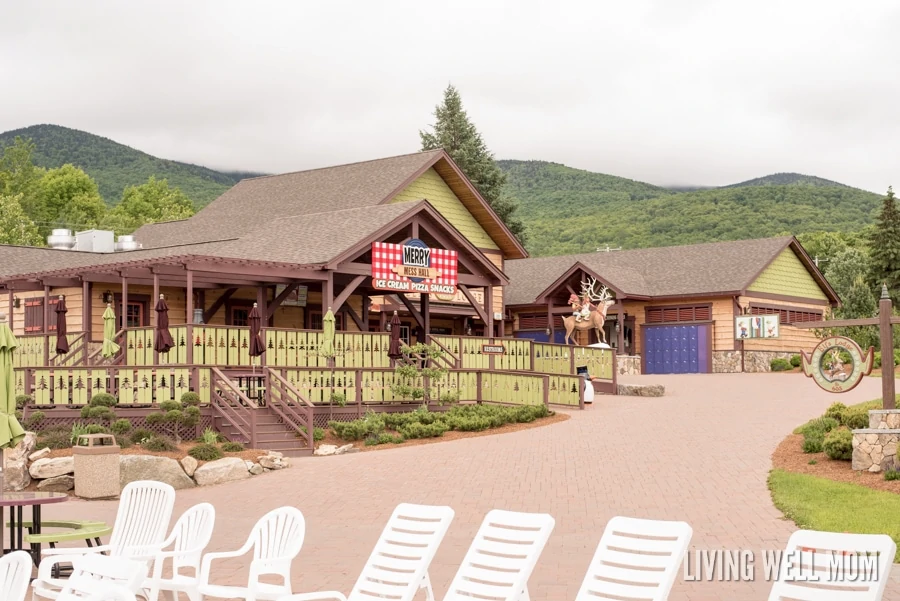 Joshua's flip flops fell apart, literally just as we got to the park and we purchased him a new pair at the Elf's Lodge for just $5.50! They could have easily charged a lot more (desperate parents, you know?) but didn't. I love that about Santa's Village.
Their goal is to give every family a memorable experience, not to make a buck over every tiny thing.
11. There's lots of hands-on fun fun at Santa's Village too!
Kids can make fun stuff in the Elf's workshop. My boys made "Elf Ooze", Emily made her own lip gloss, and Nathan made a candle! There is an additional charge for this (each item has a price), it was very reasonable, especially for things my kids still love days later!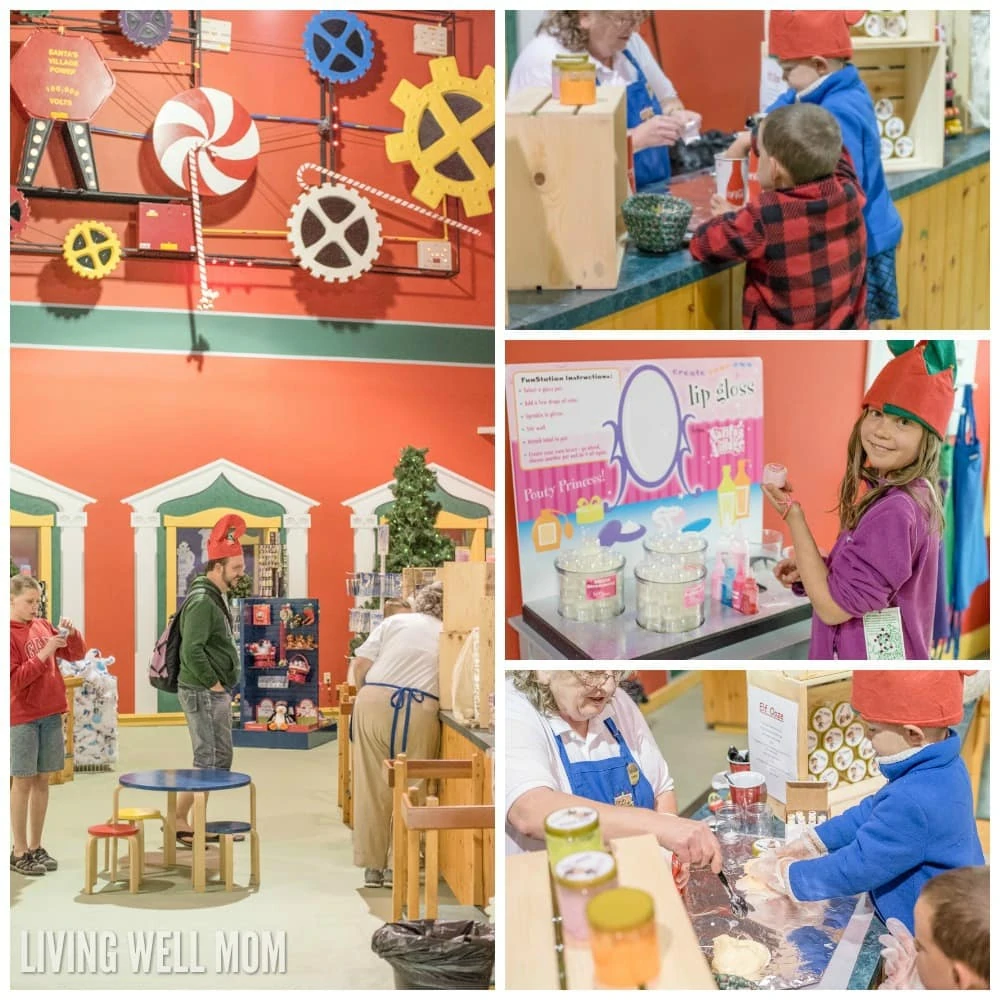 12. Santa's Village has allergy-friendly food!
There's a small selection of gluten-free food at the cafeterias around the park. Most amusement parks have very little to nothing to cater to families with food sensitivities and my kids were nothing short of thrilled to buy a full meal with gluten-free chicken fingers at Santa's Village! The kids' meals come with a cool frisbee too!

And, even more exciting for my kids, the Sugar 'n Spice Bake Shop had allergen-friendly cookies!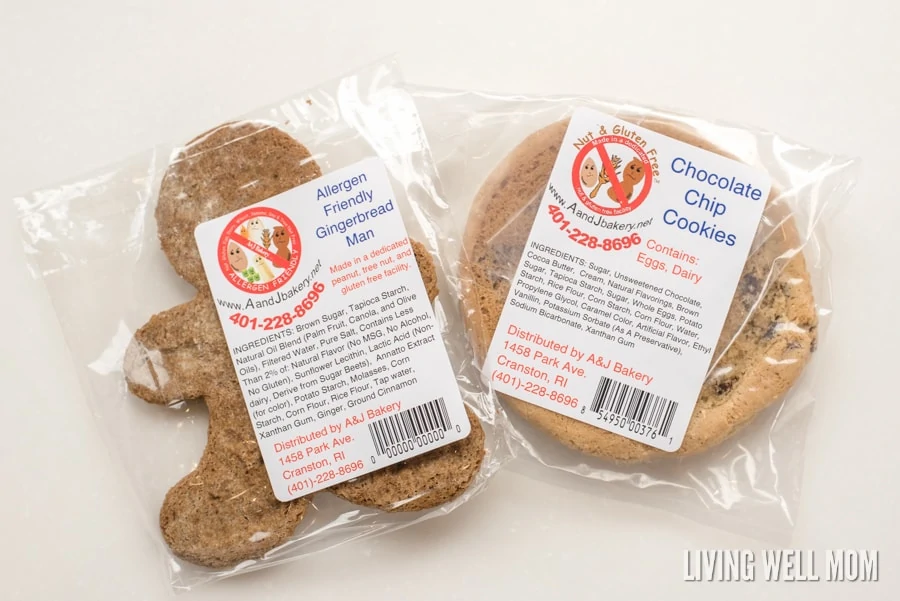 Kids can choose from a delicious selection of cookies, including old-fashioned gingerbread men, to decorate themselves! My kids were squealing when I told them Santa's Village had cookies THEY could eat!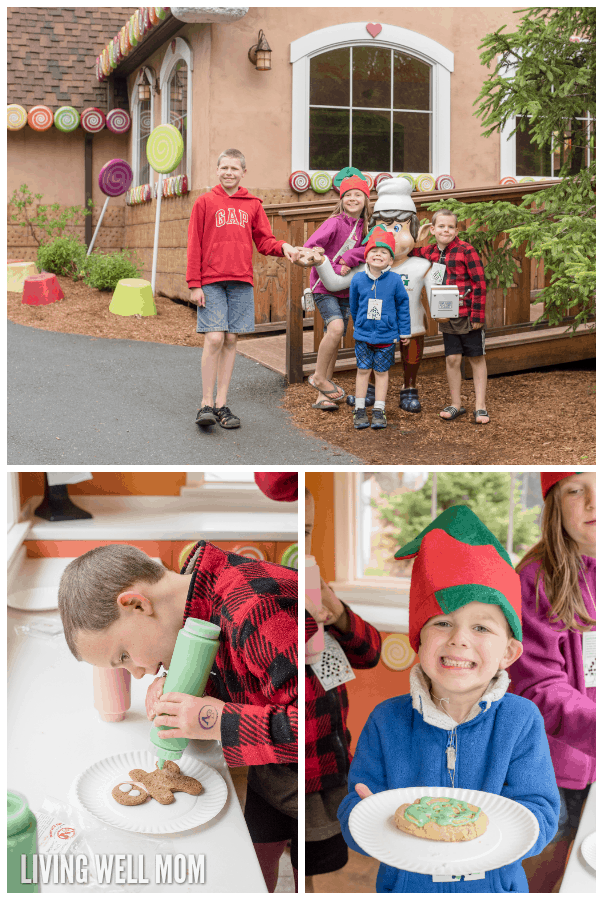 It's the small things like this that make all the difference. Thanks, Santa's Village!
Whether you take Grandma and Grandpa and make it a whole-family affair or simply bring the kids and your spouse, you're bound to have an amazing time at Santa's Village!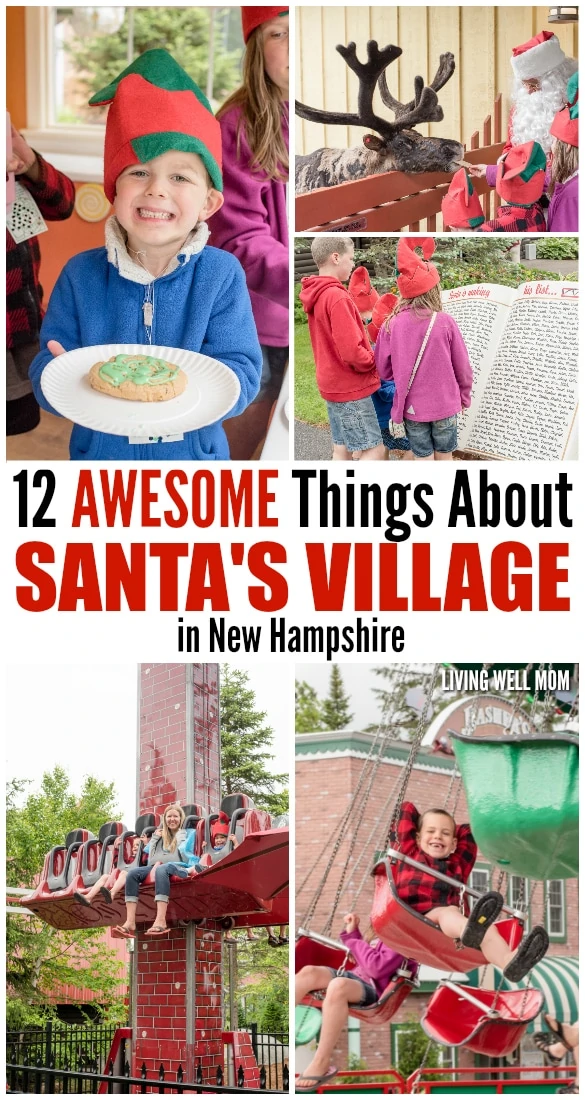 Children 3 and under are FREE and ticket prices for 4 and up is $31 per person.
For more information, visit Santa's Village.com. You can also follow Santa's Village on Facebook.