Are you ready to make some delicious baked goods? Now, before we start baking, let's talk about how to soften butter. There are many ways that you can do this! Some people like to cut the cold butter into small pieces and then let it sit on the counter for a few hours until it softens. Others prefer using warm water or microwaving their butter for a short period of time. The choice is yours!
Have you ever decided to bake cookies and then realized that you need "room-temperature" softened butter? Of course, you didn't pull the butter out ahead of time because you just decided to bake cookies. (Or is that just me?)
This happens to me all the time. Then I heard an awesome tip for how to quickly soften butter. It's one of those this-is-so-easy why-didn't-I-think-of-this-myself kinds of tips. But, you'll have to see which one works best for you.
In this article, we'll discuss six methods and why they work so well. You're going to want to keep reading because once your butter is softened, all kinds of recipes will be easier than ever before:)
Softened Butter vs Melted Butter
First of all, let's chat about the difference between melted and softened butter. There's a fine line between the two, but you do not want to use melted butter when a recipe asks for softened!
Melted butter is liquid, and it will change the consistency of your food. Softened butter has a firm texture that's perfect for cookies or any recipe with flour in it!
Want a good recipe to use your perfectly softened butter in? These cookie dough brownies are just the thing you need.
Additionally, it's worth mentioning that cold butter is required in some recipes, primarily in pastries and biscuits. If you use softened butter, the texture will be off.
Pay close attention to what the recipe suggests!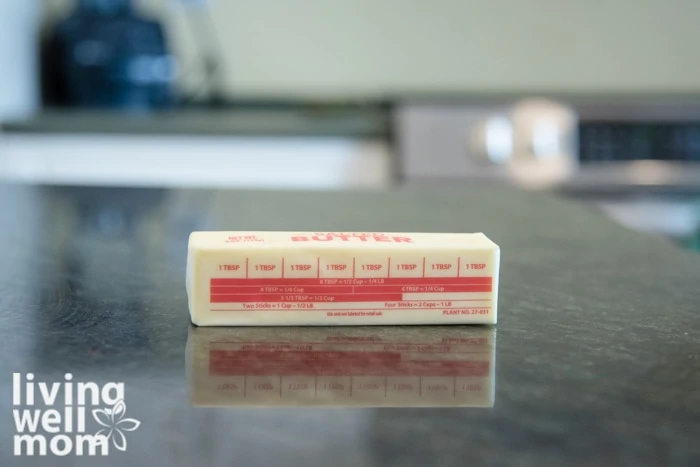 How to Soften Butter in the Microwave in 20 seconds
This is my favorite method and the one I use most often.
Put your stick of butter with the wrapper still on in the microwave.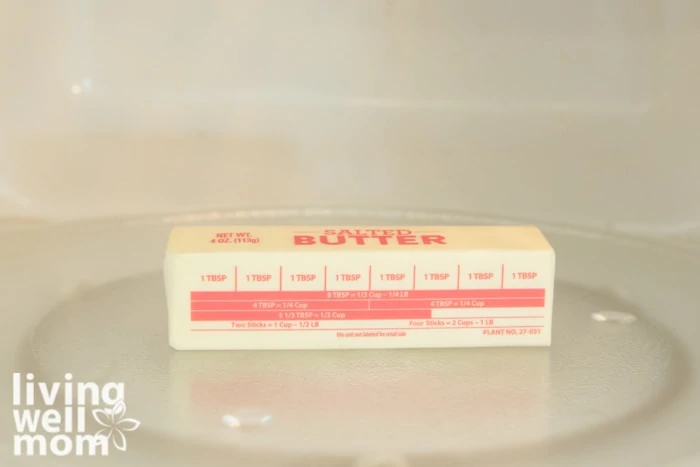 (Just make sure it's not a foil wrapper!)
Heat for 5 – 9 seconds on high. Then, you are going to turn it over and microwave the next side!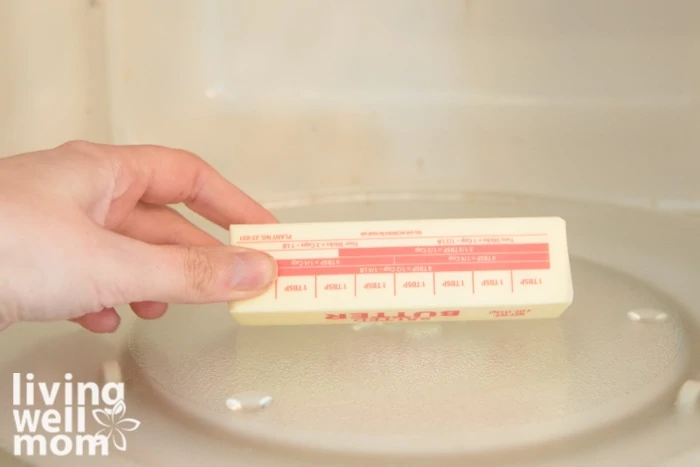 The exact seconds per side depend on the microwave power. It's better to go shorter than too long and end up with melted butter. So, I recommend you start with four per side.
The result will be a slightly squishable stick of butter that is softened just right!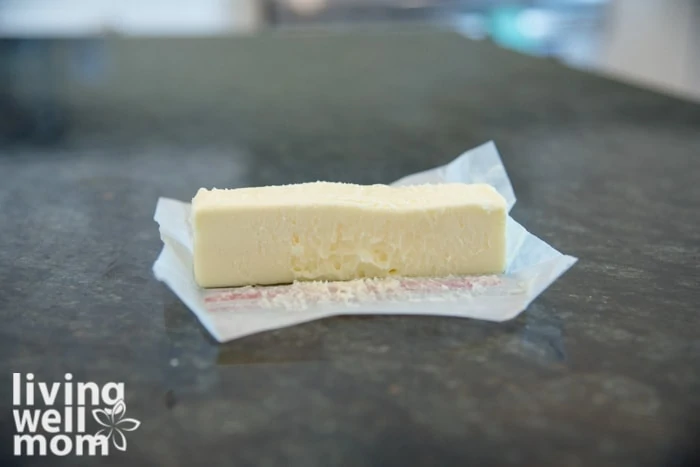 How to Soften Butter with No Microwave: 5 Options
No microwave? That's okay! There are other ways you can soften butter without one. Granted, it may take you a bit more time than just hitting a button and zapping.
But, with a little patience, you'll end up with some nicely softened butter!
1. Utilize Your Stove or Oven
This method is a variation of the microwave hack above.
Rather than use a microwave, preheat your oven to 200 (or the lowest temperature it will go), and add a baking sheet in there. Then add the butter (wrapped) and let it soften for about 30-45 seconds before flipping to the next side. You may have to do this many rounds over.
Alternatively, you could heat a sauté pan over medium-low heat and add the wrapped butter stick there instead.

With this method, make sure to keep a close eye on the butter so it doesn't melt into a puddle!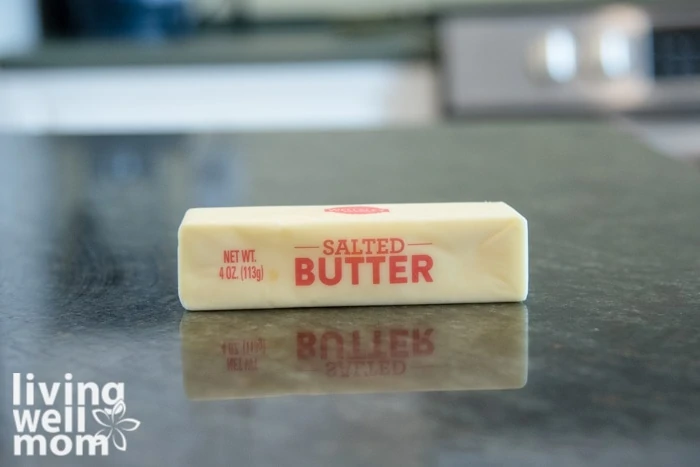 2. Try Salt + Butter
This is a weird method that I heard of somewhere. I haven't personally tried this one, but I've heard people rave about it. Sprinkle some table salt on top of the butter and then use a spatula to smoosh it down. The excess water in the butter will create heat that softens it. Plus, depending on what you are making, the salt may help with flavor.
This method only works well for small amounts of butter. Plus, as you can imagine, it leaves you with a very salty butter that you probably don't want in your baked goods. But, it's an option.
3. Soften Butter in a Dish Towel
The dish towel method is an old kitchen hack that I'm happy still exists because of how useful it can be! All you need are two towels and some water – one damp, one dry.
Soak the dry towel in water, wring it out, then spread it on a plate. Place your butter stick on top of that wet towel and use the other dish cloth to cover up everything. Let sit for about 30 minutes before removing from dish cloth and using as desired!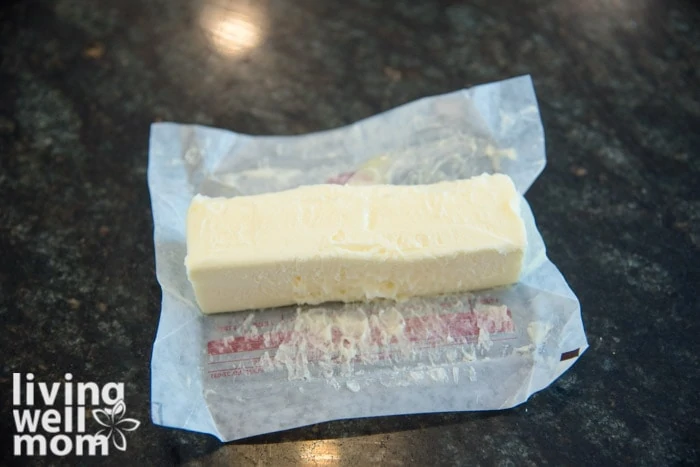 4. Grate the Butter
A cheese grater can be a helpful ally in the butter-softening game.
Grate the butter stick into a bowl using a cheese grater. This is perfect for recipes that are more delicate (think cookie doughs or cake batters).
5. Utilize a Warm Cup
Another method that many people like is to get boiling water and fill a cup or bowl with it. Let the water sit in the bowl for a minute or two, then dump it. Place your butter stick in the bowl and let it sit for about 30 minutes. The heat from the cup will melt the butter slowly!
So, now that you know how to soften butter, which of these methods will you use first? I highly recommend you try my microwave trick…it's so simple and FAST!
Recipes with Softened Butter
Now that you know how to soften butter, try your hand at a new recipe with that ingredient. Practice makes perfect!
Pin the image below to save these ideas for later.