Love cheesecake and strawberries? You'll be in heaven with this easy treat! With three layers of tasty goodness, this Strawberry Cheesecake Cupcake has a layer of graham cracker crust, delicious cake with strawberry pieces, and a cheesecake frosting topped with a fresh strawberry.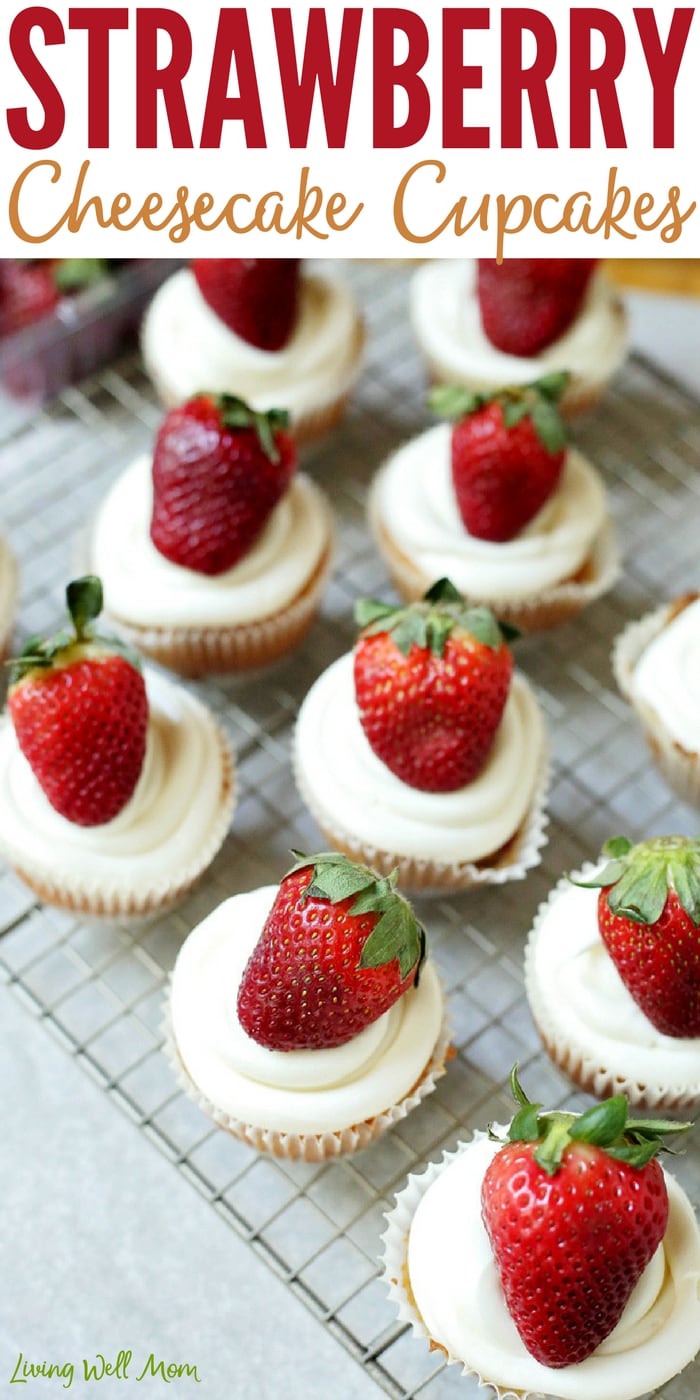 Can you say "yum?!" And just a head's up – it's hard to eat just one…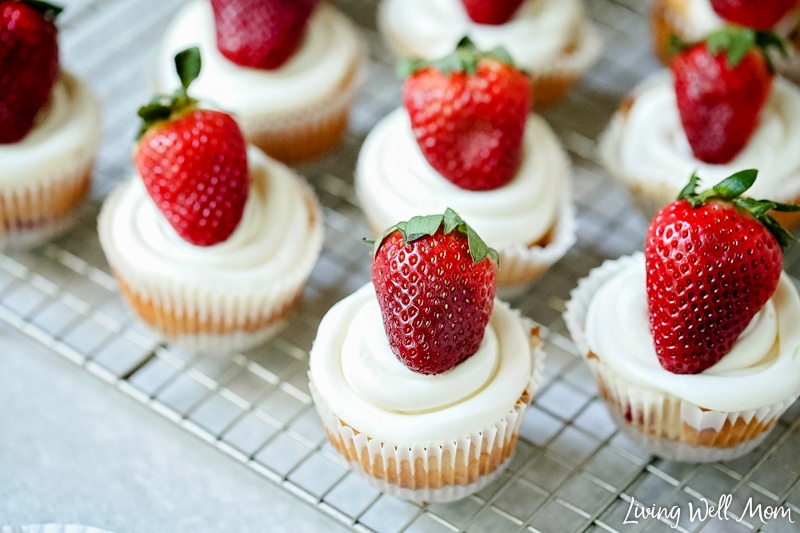 To die for. Amazing. Oh my goodness, so good, it's like little bites of heaven in my mouth.
Those are the things people say when they try these delicious bites of strawberry cheesecake goodness.
These Strawberry Cheesecake cupcakes have three layers – a graham cracker crust bottom, a middle layer of dense-yet-light (it's possible!) cake with fresh strawberry bits, and a cheesecake frosting – all topped with a fresh strawberry.
Drooling yet?
Let's get started.
What You'll Need to Make Strawberry Cheesecake Cupcakes:
Crust:
1 ½ cups graham cracker crumbs

2 tablespoons sugar

1/3 cup unsalted butter
, softened
Batter:
4 egg whites
¾ cup unsalted butter
, softened
1 cup, plus 2 tablespoons sugar

1 teaspoon vanilla extract

1 ½ cups flour

1 teaspoon baking powder

½ teaspoon salt

¾ cup sour cream
2 cups coarsely chopped fresh strawberries
Frosting:
2 packages (8 ounces each) cream cheese
, softened
1 cup unsalted butter
, softened
4-5 cups confectioners' sugar

1 teaspoon vanilla extract

1-3 tablespoons milk
1-2 dozen strawberries, as toppers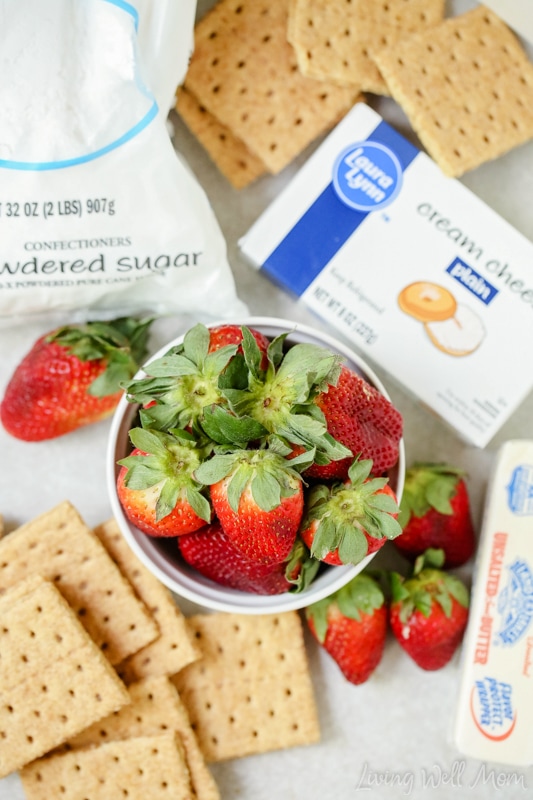 Line 24 muffin cups with cupcake liners
and set aside. Set the oven to 350°.
Separate the egg whites and set it aside on the countertop for 30 minutes. This helps the egg whites to whip up better.
In the meantime, mix the graham cracker crumbs, sugar, and softened butter until fine crumbs form. If you have a food processor, you can use that for even finer crumbs, but it's not required.
Mix well. Put about one tablespoon of the crumb mixture into the bottom of each muffin cup. There should be plenty. If you have extra, you can add a little more into each one. Press down.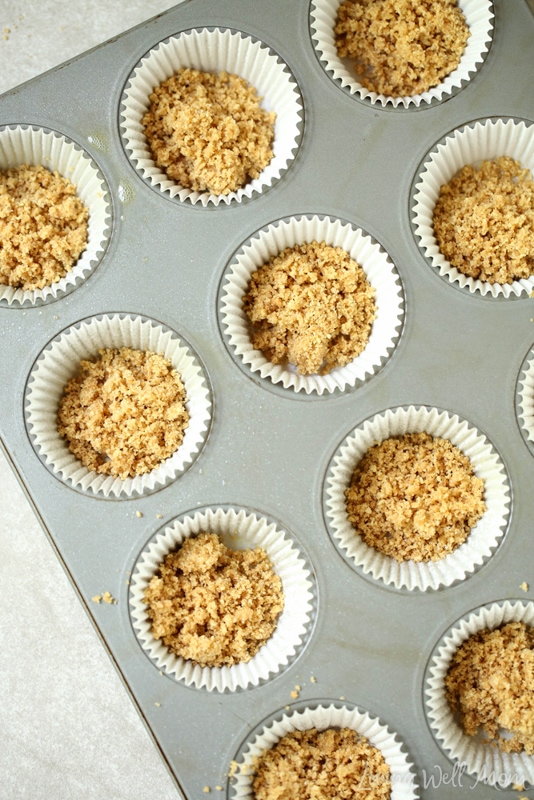 Bake at 350 degrees for 3-5 minutes or until lightly browned. Set aside to cool.
Now is a good time to chop your strawberries. You'll need 2 cups. Remember to save 1-2 dozen strawberries for the tops of the cupcakes. I used around 1.5 containers of strawberries total.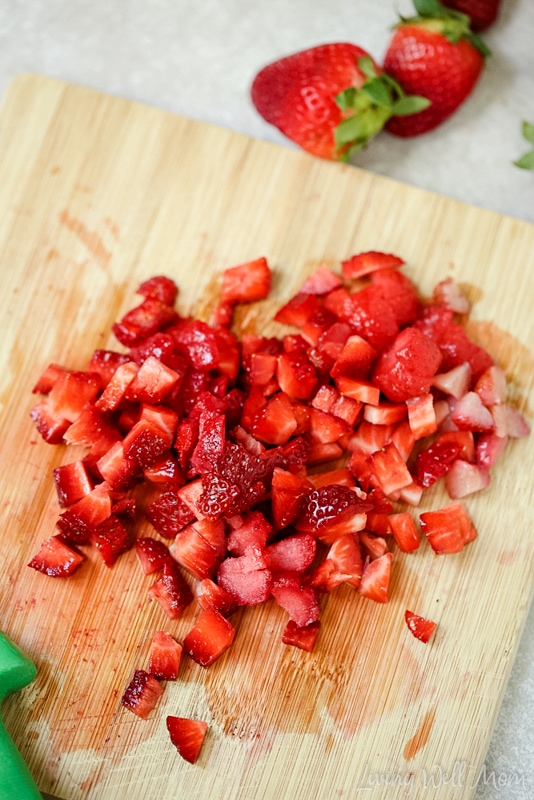 The next step is to whip up the egg whites. You'll want to wash and dry your big mixing bowl and use that. Whip the egg whites until stiff peaks form; when you lift your beater, the egg whites should have peaks that stand up stiffly. If the peaks fall down, you need to whip more.
Remove the whipped egg whites into a separate clean bowl.
I used the same big mixing bowl for this next step. I didn't wash it out because we're adding the egg whites back in anyways. That and I'm lazy like that. 🙂
Cream the softened butter, sugar, and vanilla.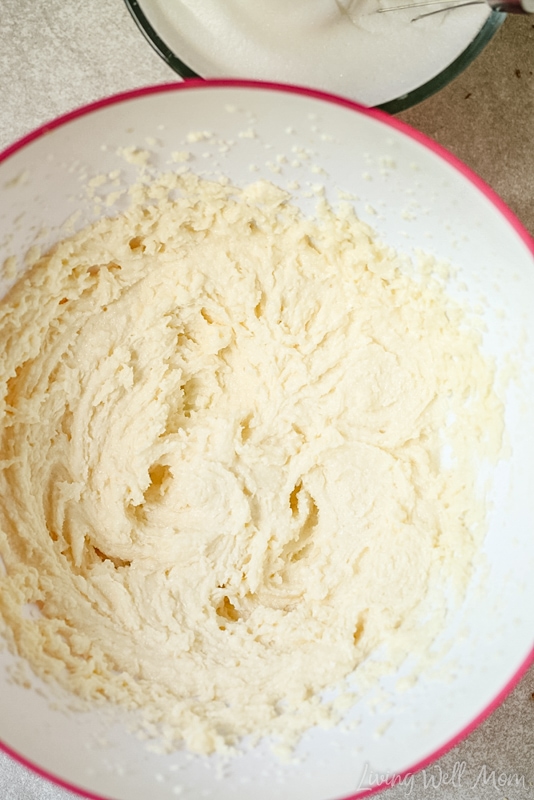 Now, in a separate bowl, combine the flour, baking powder, and salt.
Add the flour mixture to the creamed butter alternately with the sour cream.
The batter will be dense. Fold a third of the whipped egg whites into the batter.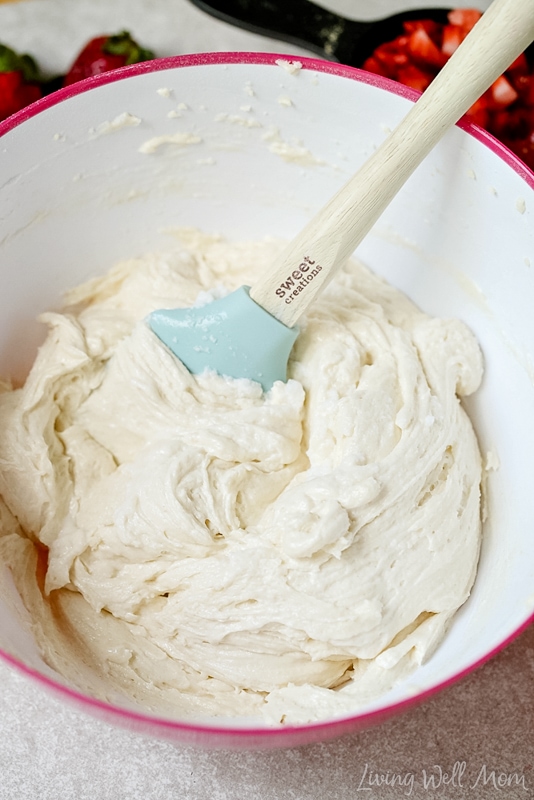 Gently add in the remaining egg white mixture and 2 cups of chopped strawberries.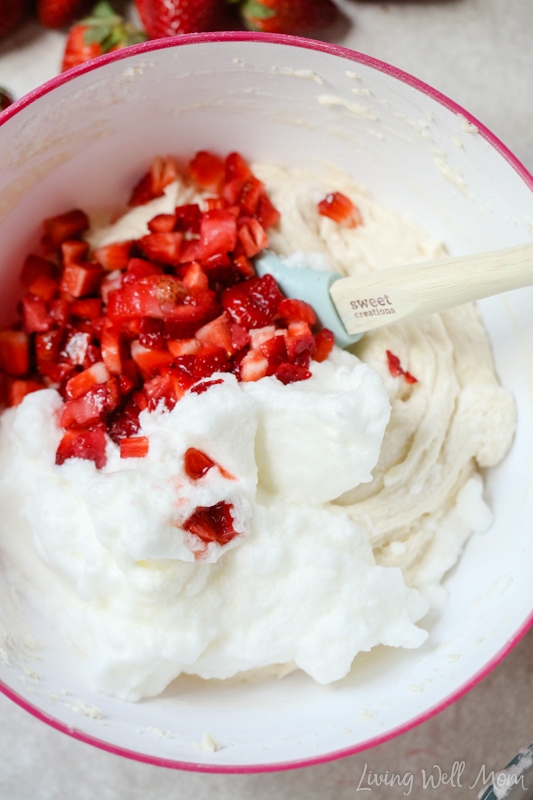 Mix until the egg whites are fully combined. The batter may turn pink from the strawberries and that's fine. But don't mix too long.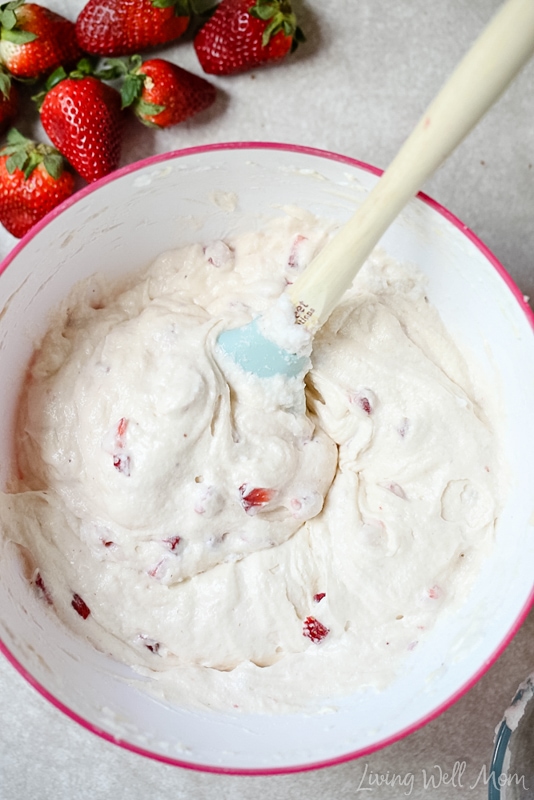 Fill the muffin cups three-fourths full.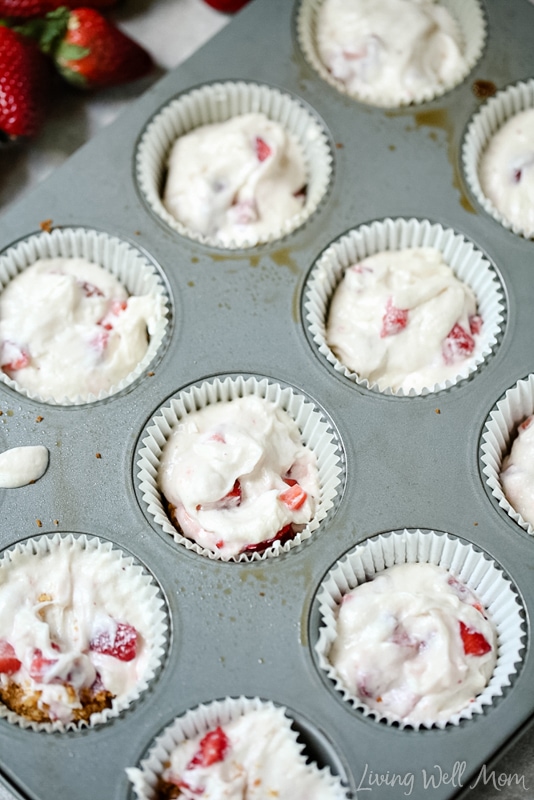 Bake at 350 degrees for 18-22 minutes or until a toothpick inserted in the center comes out clean.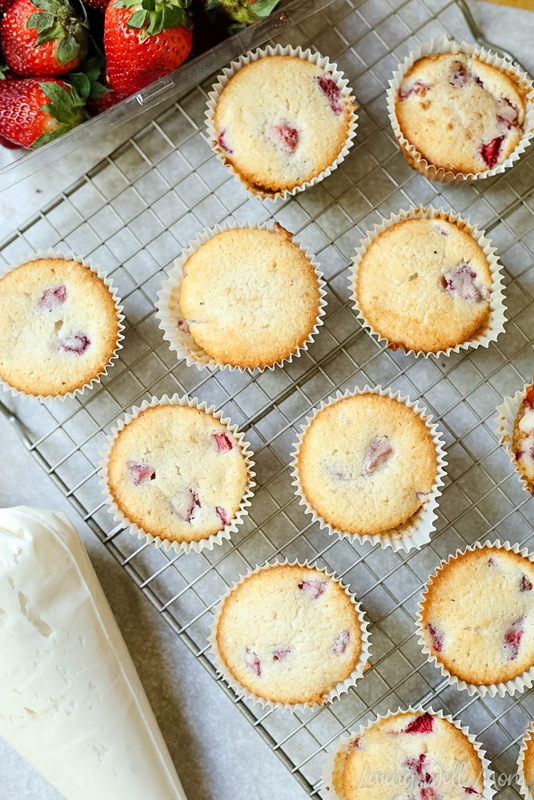 Cool for 10 minutes before removing to a wire rack to cool completely.
Cream Cheese Frosting:
This frosting is easy to make. Beat the softened cream cheese and butter until fluffy.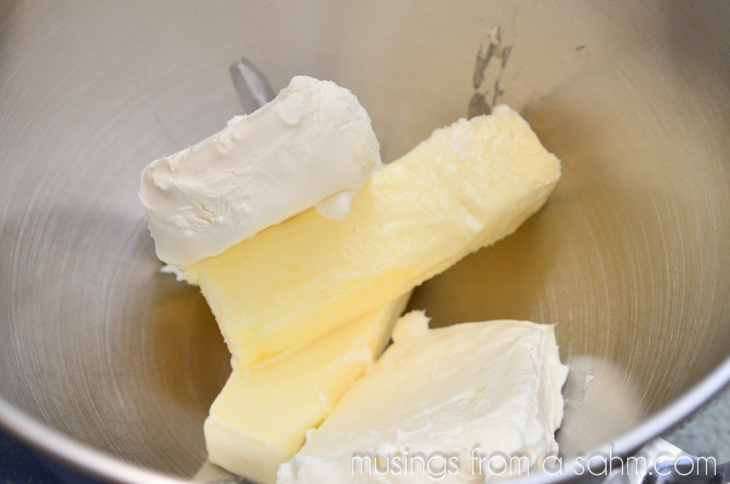 Gradually add about 4 cups of confectioner's sugar and vanilla, mixing until smooth. You may need to add 1-3 tablespoons of milk. This will vary depending on how softened your cream cheese was (if it's softer, you'll need less milk.)
You want the consistency to be easy to spread, but not too soft. If it's too soft, add more confectioner's sugar. Too thick and add more milk. Just add a little at a time.
Once your cupcakes are cooled completely, frost them. You can frost with a knife, but I prefer to use a decorator's bag and tip as it's much quicker and prettier.
(I'll be posting a tutorial on how to make pretty frosted cupcakes soon.)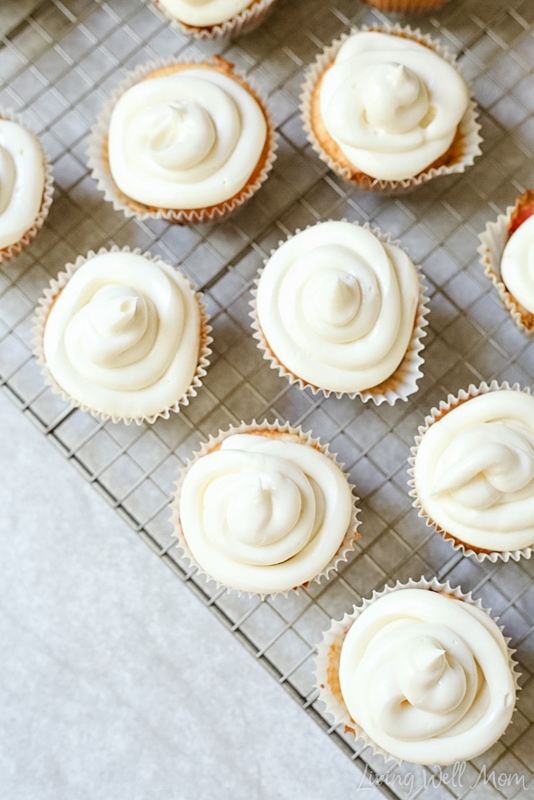 No matter how you put the frosting on, these cupcakes will taste delicious!
Top each cupcake with a fresh strawberry.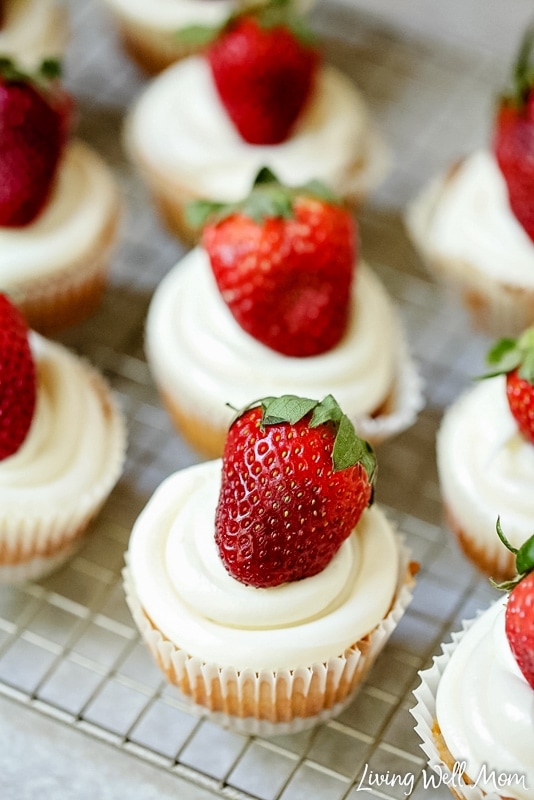 Strawberry Cheesecake cupcakes should be stored in the refrigerator.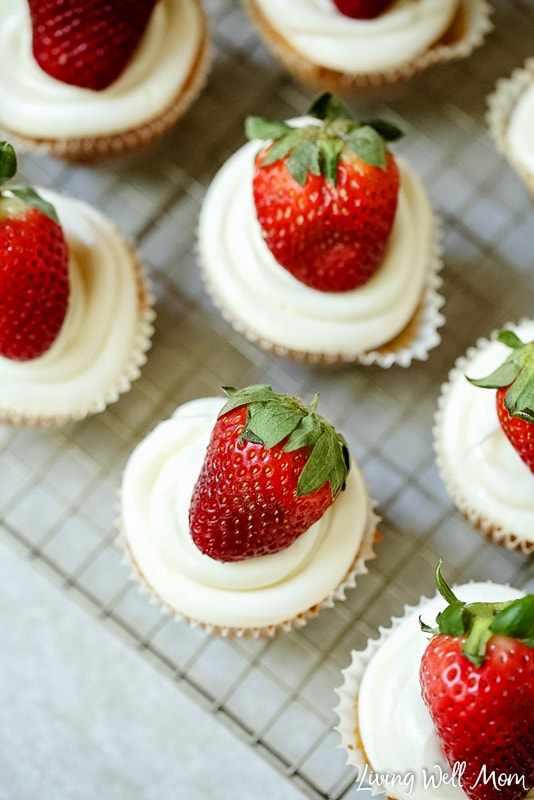 Don't you want to make these now? So good!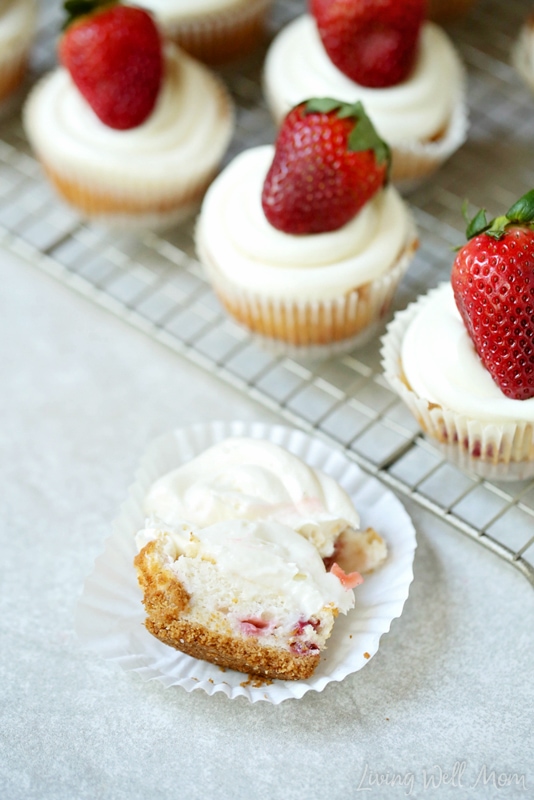 Click here for the printable recipe:

*recipe adapted from Taste of Home