As women, there's a lot of things in life that can cause us to feel like we've failed. They shouldn't, but we often allow those feelings of inadequacy to creep in. It happens even more with our kids, who are constantly changing and keeping us on our toes.
For years, I allowed myself to live with major feelings of insecurity. Insecurity that crippled me from living.
There were times I wouldn't try something new because I was so afraid of what others would think about me or that I would "mess up." I'd make excuses about why I couldn't go to a girls' night get together because I was too afraid to drive somewhere new at night. I wouldn't go to a mom's group because I was afraid to step out and make new friends. (What would they THINK of me?!) I wouldn't speak up because I might say the wrong thing.
Talk about major insecurity.
As I've grown older and figured out who I am as a wife, mother, friend, and most importantly as a person and a child of God, I've put a lot of that insecurity behind me. Oh it still raises it's ugly head from time to time, but I've learned to recognize it quickly and usually (not always), put it back where it belongs.
But one important thing that really helped me was to recognize that change doesn't mean failure.
I know this sounds so obvious, but hear me out.
Do you ever feel discouraged when you have to switch up your kids' morning routine again?
Are you ever frustrated because your idea for organizing the toys that you worked so hard on last summer isn't working?
What about when the kids won't stop bickering?
Are you just done some days with all the running around you have to do taking the kids to their activities?
What about work or blogging? What if an idea you were so excited about doesn't work?
Do any of those things mean you failed?
Not necessarily. Sure there are some obvious flops, but just because you need to tweak something or even change it completely doesn't mean you've messed up. More importantly, change doesn't mean you are a failure.
I used to feel that every time I had to reorganize my boys' bedroom, or redo my meal plan method, or come up with a new idea for teaching my kids to be kind to one another, that I had failed in those areas. (I could go on and on and on with that list too.)
But that's not true.
In fact, it's often the "first tries" that appear unsuccessful that are the ones that lead us to something amazing! The key is that we have to embrace change instead of feeling defeated or afraid.
Kids are a great example. Doesn't it feel like that just when you've figured out your child, he or she changes? It's so true!
You work so hard to figure out a routine that will help your sweet baby sleep through the night and it does work! But then he starts teething and you're back to square one.
Potty training goes well until your little girl catches a stomach bug and decides the toilet is her mortal enemy.
Your autistic son has been so well but suddenly he's having a tough time controlling impulses and you have no idea what changed.
Oh dear mama, none of that means you failed! This is just life!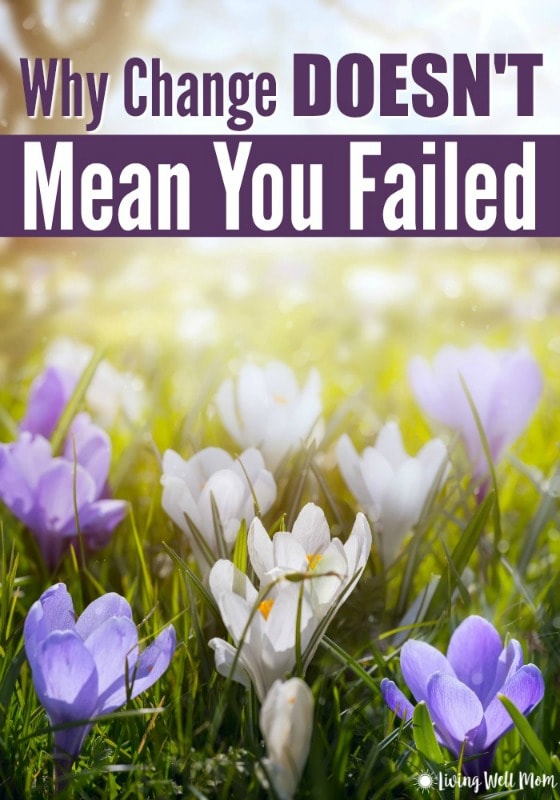 You see, for me, once I began to realize that it's okay to make changes and that doesn't mean I messed up the first time, I began to breathe a sigh of relief. I essentially gave myself permission to make variations in schedules, at home, with the kids, whatever I needed to. And life is so much better!
I know I'm an extreme example of someone who's had major confidence issues.
But I want to encourage you that it's okay to embrace the changes in life, instead of dreading them or feeling guilty.
Because you're doing a great job and you need to remember that!