I received a selection of Hyland's products in exchange for sharing this information. All opinions are 100% mine.
As I sit here composing this post, my ears are clogged and aching, my nose is stuffy so I'm breathing through my mouth, my throat hurts, and my head is pounding. Nice, huh? Needless to say, I have allergies! And unfortunately, Samuel does too. I had hoped he would inherit his dad's resistance to allergies, but it seems he didn't. So the last couple of days have been rough around the Swan house.
As you might already have guessed from previous posts of mine, I am not a fan of medicine (I like to keeps things as natural as possible), but I am a HUGE fan of homeopathic remedies, and specifically of Hyland's homeopathic remedies. Their teething tablets have worked wonders for us (we have 12 teeth now!!), and Samuel has also responded really well to Hyland's Baby Tiny Cold tablets and Cough Syrup.
Admittedly, I am constantly learning about the various products Hyland's offers since I was not familiar with the company until I became a mom 14 months ago. And they offer so much!! So imagine my elation to discover that Hyland's has a line of allergy products!! Their most prominent allergy remedies are Seasonal Allergy Relief, Complete Allergy 4 Kids, DEFEND Sinus, Hayfever, Hives, and Calendula Spray.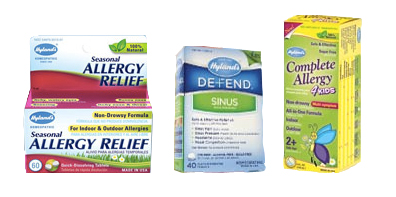 I, personally, am most excited to try Seasonal Allergy Relief and DEFEND Sinus for myself. And once Samuel is old enough, you can bet I'll be getting the Complete Allergy 4 Kids (it is for kiddos 2+ years). I have found in the past that it is best to keep medications/remedies on hand so that at the very first sign of allergies, or when you see that certain pollen counts are high, you can start using it right away before you are miserable. But even if you miss the warning signs and end up in complete allergy misery, I have a lot of confidence that Hyland's allergy line will be very beneficial and helpful! I can't wait to stock my cabinets with these products; I certainly wish I had already done so!
Once you have tried Hyland's allergy products, please consider submitting a review about your experience on Hyland's Facebook, Website, or whichever shopping platform you use (like Amazon). Your reviews are very important to others who are looking for natural ways to treat allergies, and they also help Hyland's learn what is most important to their customers.