I have an amazing recipe to share with you today – it's so tasty and easy to make, you're going to love it!
Crockpot Thai Shrimp and Rice is our new friend. This recipe combines flavorful spices, garlic, bell pepper, snow peas, coconut, jumbo shrimp, and more into an exotic-tasting dish that will take you to far away places.
Or maybe it will just remind you of a date night with your husband. But either way, you're going to love this meal.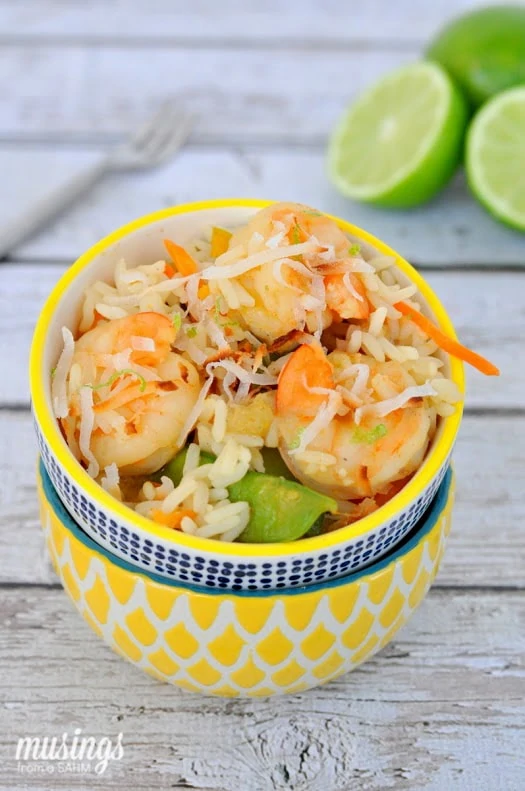 The best part? It's a crockpot meal!
What's not to love about crockpot meals? They're such a convenient way to enjoy homemade meals on busy days. And the possibilities are nearly endless so there's no reason to only make the same boring ol' meals time after time.
While I have my tried-and-true slow cooker meals, I love trying new recipes to add variety. Especially as summer approaches, I plan to use my crockpot more than ever this season. (Who wants to slave over the hot stove when it's 90 degrees and humid? Not me! I plan to be at the beach with my kids!)
And Crockpot Thai Shrimp and Rice is perfect!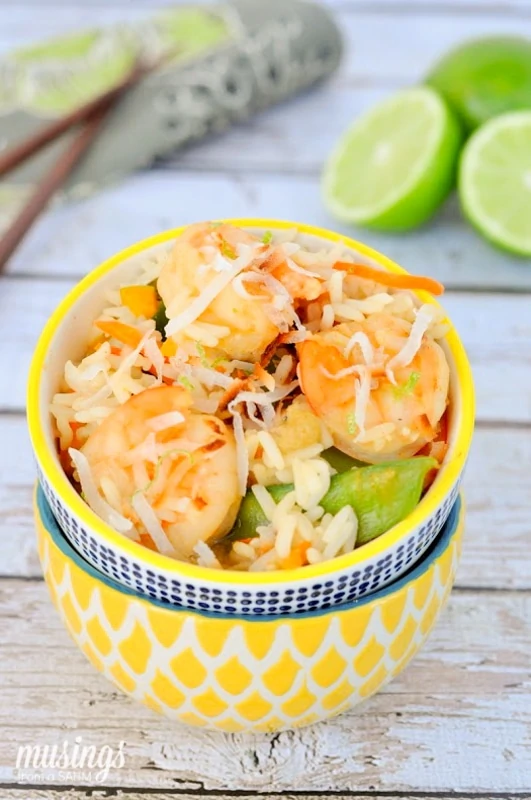 With this meal, you'll need to add the shrimp and snow peas at the end and let them cook for 30 minutes, so keep that in mind as you plan your day. For me, that's perfect because it gives me time to unpack the kids (or whatever we were doing), wash up, and set the table, etc.
And if you don't often buy seafood because it's expensive (that's me!), don't let this one put you off.
You can buy a little less shrimp and increase the amount of veggies to save money. Or you can try what I usually do – buy one pound of shrimp and pretty much double everything else. You'll have more veggies and rice, with a little less shrimp, and it will still taste delicious, but will make this meal more budget-friendly. Try it. We're supposed to eat more vegetables anyways, right?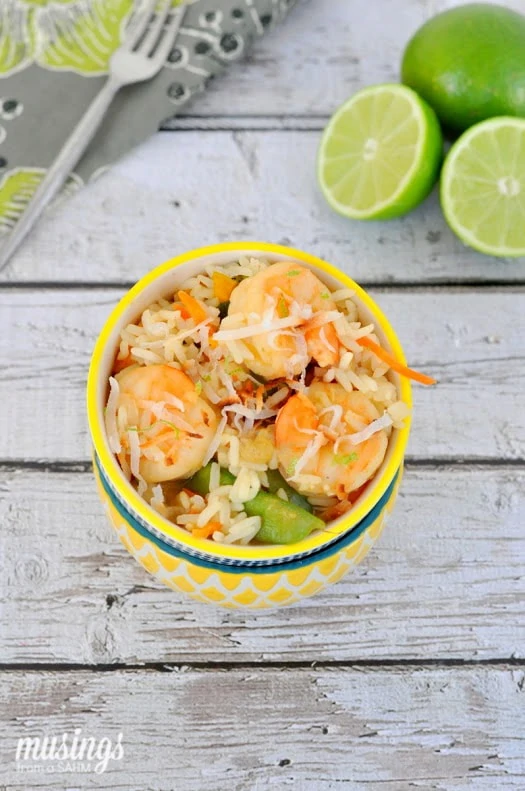 Crockpot Thai Shrimp and Rice
With flavorful spices, snow peas, coconut, jumbo shrimp, and more, this tasty dish is not your average crockpot meal.
28 ounces

chicken broth

1 cup

water

1 tsp

ground coriander

1 tsp

cumin

1 tsp

salt

3/4 tsp

cayenne

2

limes, juice and zest

7

garlic cloves, minced

1

onion, chopped

1

bell pepper (red, yellow, or orange), diced

1

carrot, shredded

1/4 cup

flaked coconut

1/4 cup

golden raisins

2 cups

converted white rice (there is an uncle bens original white rice- converted rice)

1

lb peeled deveined cooked jumbo shrimp, thawed if frozen

1/2 cup

snow peas, cut into thin strips
toasted coconut for garnish
Instructions
In a slow cooker, mix everything except snow peas, shrimp and toasted coconut. Stir once to combine.
Cover and cook on low for 3 and a half hours or until rice is just tender.
Stir in shrimp and snow peas. Cover and cook 30 minutes on low. Serve topped with toasted coconut
More delicious slow cooker meals:
Follow Musings from a Stay At Home Mom's board Slow Cooker Crockpot Recipes on Pinterest.