Here is a super easy and patriotic way to spruce up your home for the 4th of July with these pretty DIY Patriotic Candles.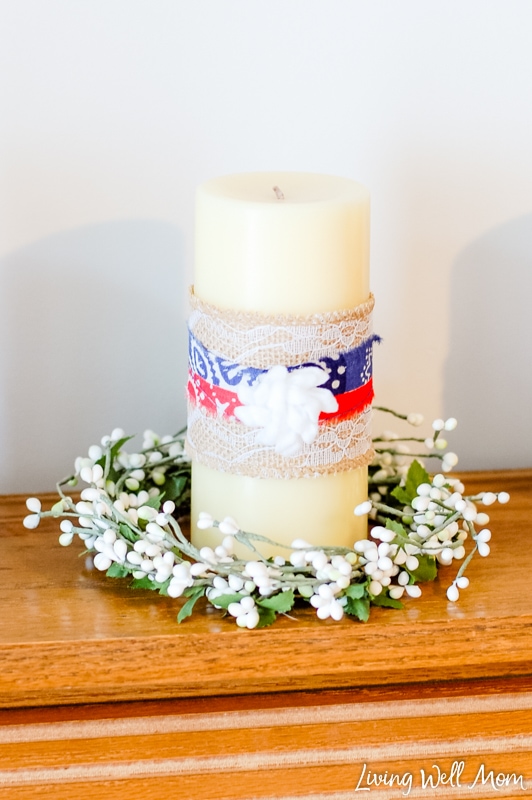 DIY Patriotic Candles are easy to make and versatile since you can change the decorations to other themes. You can keep the base up all year and change out the center to match the current season. It's a great way to add simple beautiful decoration to your home!
They're also pretty cheap to make. I found the pillar candles on sale and only spent about $3 for the other pieces.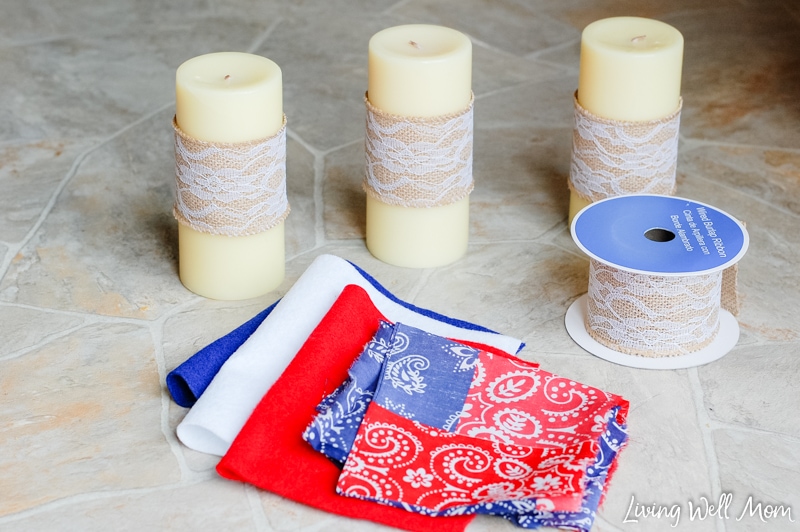 Materials Needed:
Burlap – lace ribbon (I found some in the clearance isle at Walmart for $1!)
Red, White & Blue felt
Red, White & Blue bandanna (I found this one at Walmart with all 3 colors)
Start by hot gluing the burlap/lace ribbon onto each of the 3 pillar candles.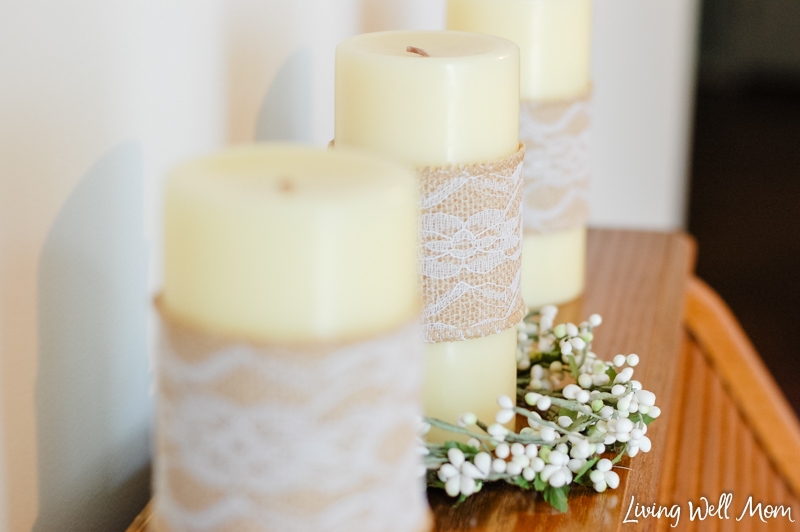 This will be the neutral base that can be used all year long – not just for the 4th of July.
For the bandanna strips, make a small cut in the bandanna about an inch apart and tear the cloth off.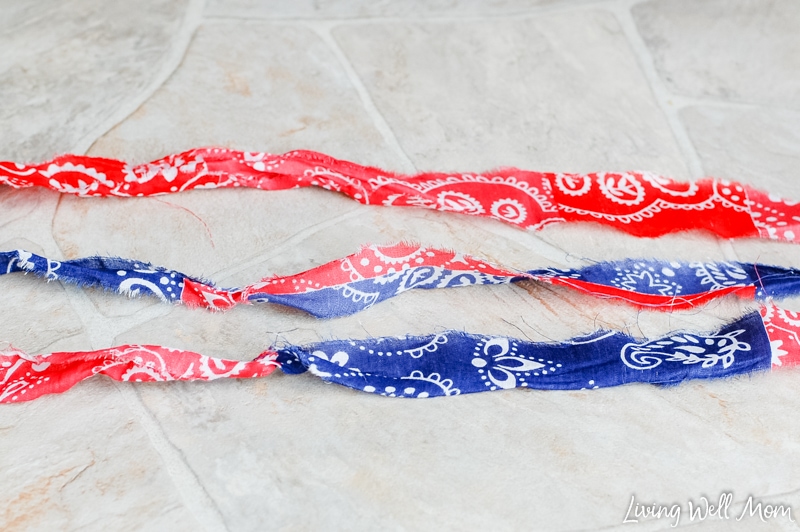 These may be a little bit uneven and unraveled, but that is ok for this project. It makes it look more "Pioneer and Down-Home American." Perfect for a 4th of July celebration if you ask me.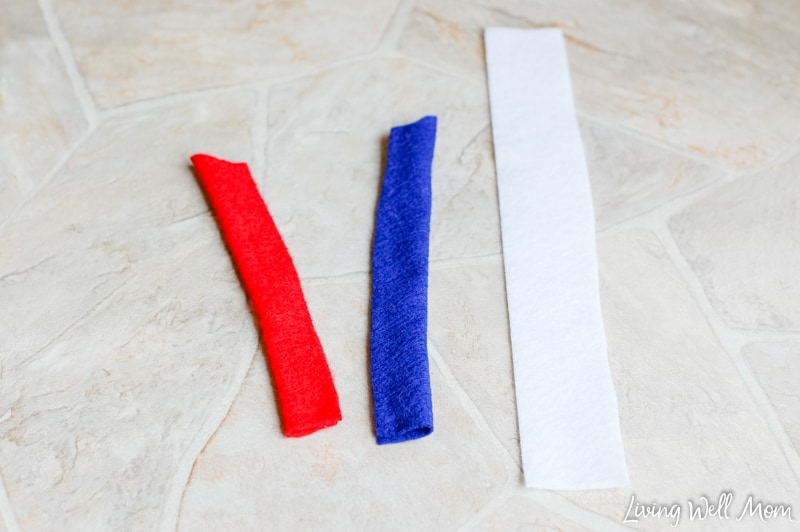 Next you will need to make a red, white, and blue felt flower. For these you will need to cut 2 inch wide, and 4 inch long strips of each color of felt. Fold them over and hot glue them each together.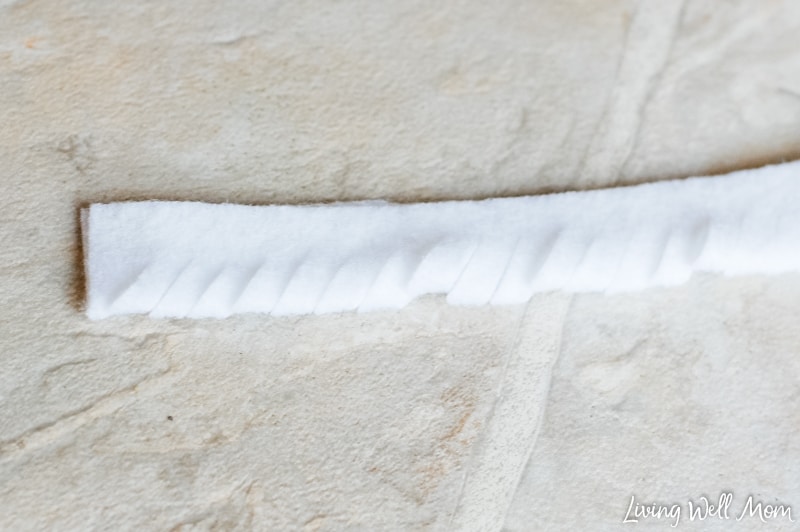 Then you will want to make 1/4 inch cuts, about halfway down – all along the strip of felt. These cuts make the "petals" of the felt flowers.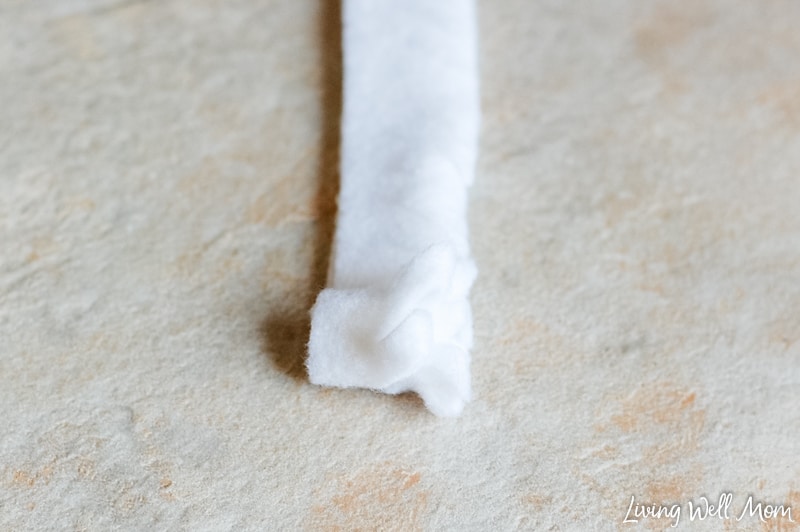 Now you simply roll up this felt strip into a flower. Roll it up just a bit and glue it, then continue rolling it up until you form your flower. Cover the bottom with more hot glue to make sure it is secure and stays together.
Here are the finished red white and blue felt flowers – I like how they look a bit like fireworks too. 🙂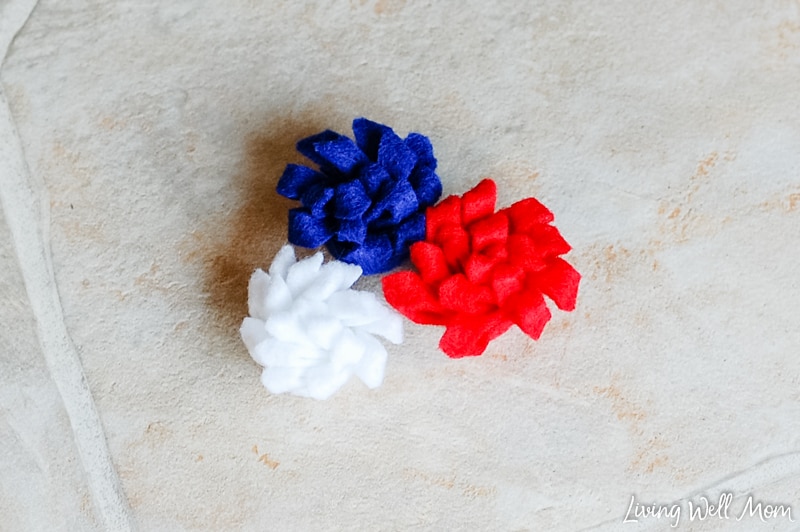 Now you need to match up a flower and bandanna of different colors. For example, the blue flower should go on the red bandana strip, the white flower should go on the multi-colored strip, and the red flower should go on the blue strip. Glue the flowers onto the middle of the strips and let them fully dry.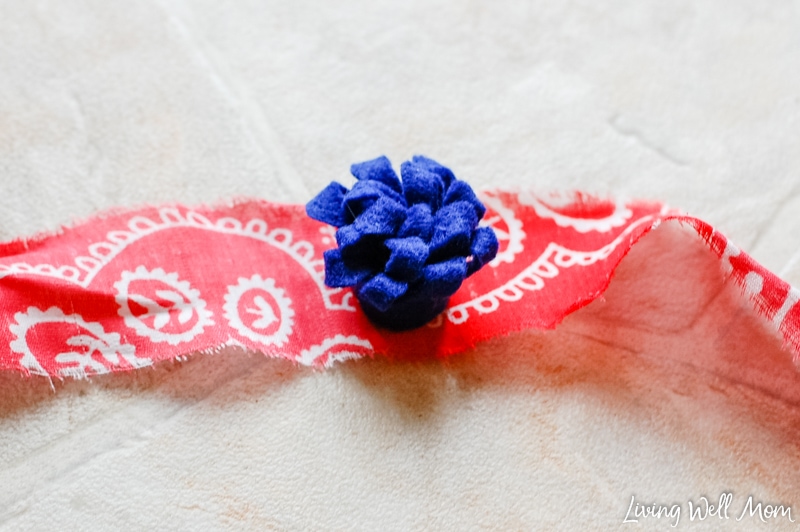 Now you have a red, white, and blue bandanna strip for each of the Patriotic candles. Tie the bandana in a bow around the center of the candle. No need to glue on this step.
This makes it nice so that we can easily remove these bandanna strips when the 4th is over, and can still display our neutral candles. Plus, when a new holiday comes around, we can re-decorate these candles (for example with a poinsettia flower on a green ribbon at Christmas time.)
And that's how you make DIY Patriotic Candles!