While I'm vacation with family this week, Renee from Next Generation Stay At Home Mom has kindly offer to guest post. She's sharing how she made a DIY Toddler Changing Station. Isn't it a great idea?

I think it is very easy for most mothers to set up their first changing station. You imagine changing your first child's diapers as a pleasant experience. Making funny faces at them, kissing their feet and rubbing that sweet smelling baby lotion all over them.
Those times go by fast, in fact sometimes too fast. My little baby is now a toddler. Xavier is now fifteen months to be exact. I realized that my struggling to get his diaper changed and to get dressed in and out of clothes was beginning to be a big hassle. I would have to chase him down and wrestle him onto the changing table. Then, because he is much taller his feet would kick off half of the stuff off the top.
I would not be able to find anything in the baskets and I would look through everything one-handed as I was trying to hold him down with the other. I also noticed that a ton of his shoes were buried in his dresser and I never saw them. He missed out on using so many different pairs of shoes because he would outgrow them before I even realized he had them.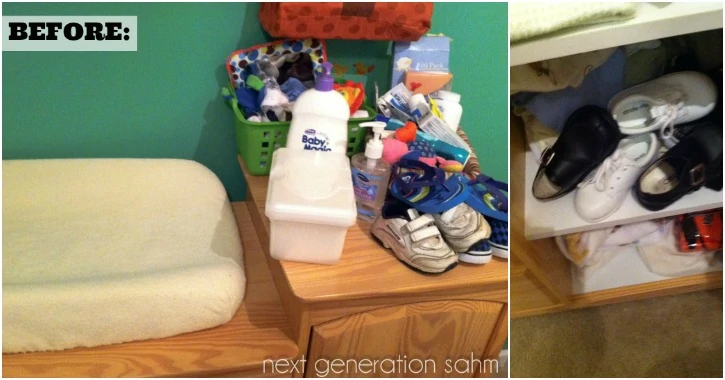 I decided it was time to change our baby changing station into a toddler changing station. It has a very similar idea but much more useful and helpful for both Xavier and I.
First, I assessed the old baby changing station and decided I needed more room for Xavier's shoes and less room on the top of the dresser in case he kicks his feet. I settled on some screw hooks. They are very inexpensive and come in a large box full of them. If you screw them upside down you can hang the shoes on them neatly. I even put them in order of the ones he wears the most.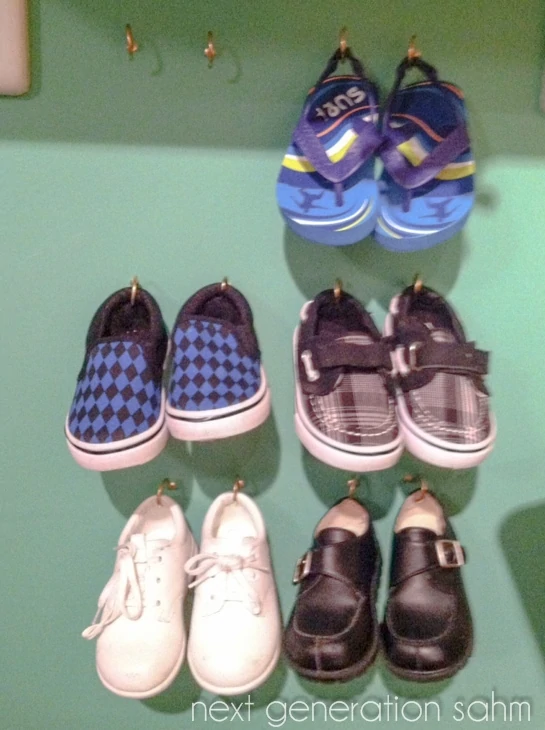 Above the shoes is a shelf with all of Xavier's bath items, towels, wash cloths and baby wash. We have always had this up and it works great. You may consider adding this to your toddler changing station. Next I hung the sock basket on the wall with another screw hook. I put it across from the shoes that way I have more room on the dresser.
I cleaned out the miscellaneous basket and I got rid of a million things that I never really needed. Things like diaper disposal bags (good for diaper bags only), cream, and baby powder. I put a small cup in the basket to hold the nail clippers, files, tongue scrapper and brush. Now it is tidy so I can find things in a flash and with one hand.
I finally added a little mirror on the wall by the changing station. This way when Xavier is getting dressed he can look at himself in the mirror. He sure does love to look at himself. Rather then use the nice wrap around diaper pad sheets I decided to just use towels. Many nights Xavier comes in all muddy from playing outside and, as I undress him, grass and who knows what else falls from his clothes. I piled a bunch of different towels on top of each other so when I strip him down I throw the towel in the laundry as well as the clothes and a fresh one is all waiting for me.
I even made sure I put a couple of toys for Xavier on the dresser that he only gets to play with when I'm changing him so he is extra quiet and comfortable and so am I. After all changing a toddler should not take up a large part of your day! And that is how I made a DIY Toddler Changing Station. My advice is to simplify the things you have and take advantage of your space, including valuable wall space.
Good luck!

Renee Arbia runs the blog Next Generation Stay At Home Mom at http://www.nextgenerationsahm.blogspot.com She blogs about the joys and perils of parenting for new parents. There are a lot of fun reviews, recipes, advice and even heart felt stories. It is a very fun and supportive place for parents of all ages.