Just like anything with animals, chicken coops require regular cleaning and maintenance to help keep your chickens in optimal health. One of the simplest ways to make your life easier and cut down on cleaning time is to make a dropping board for the coop.
Chickens poop a lot during the night when they sleep. Most people don't have anything other than coop bedding under the roost bars. There's nothing wrong with this, but it requires more cleaning as you have to sift through the bedding regularly or throw it out.
A great alternative is a dropping board.
You can install a dropping board underneath the roosting bars; it does exactly what you think it does – it catches chicken droppings. Instead of chicken poop caked underneath the roosting bars and you needing to clean or change out the bedding regularly, you just clean the dropping board regularly.
When we started out with chickens, we installed an old countertop as the dropping board. You can see it here: Chicken Coop Tour.
I quickly realized that even though I cleaned it at least twice a week, the chicken poop would stick to it and require regular scrubbing with vinegar in order for it to look fully clean. That was more work than I wanted to do, but it really bothered me every time I looked in the coop and saw the scraped-off, but gross-looking dropping board.
Then I was inspired by a suggestion on a farming Facebook group. Someone suggested using sweet PDZ with the dropping board.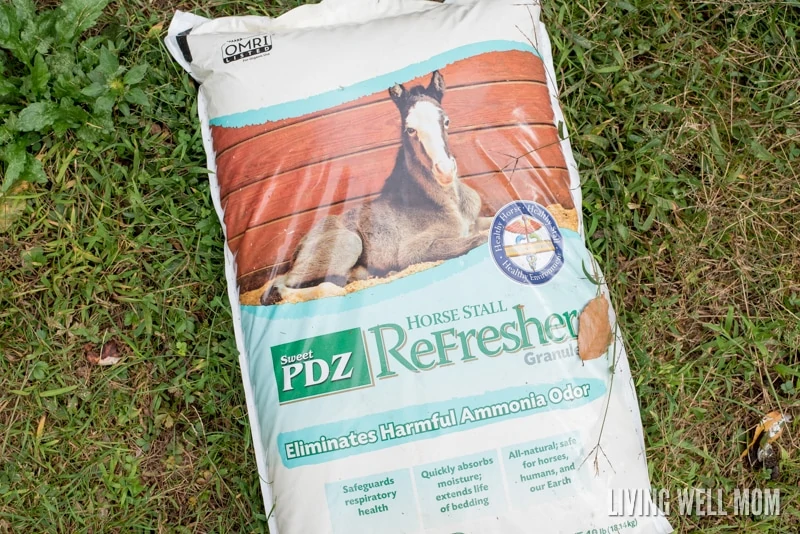 Sweet PDZ is a "stall freshener" for horses, but it works great for chickens too. It works by absorbing and neutralizing ammonia and other odors and is all-natural and safe. You can buy Sweet PDZ at your local feed store or online here
. (Not sponsored)
I loved this idea so much that I convinced my husband to help me redo the dropping boards in the chicken coop.
We ripped out the old version (we needed to add more roost bars anyways since we now have more chickens) and installed both new roosting bars and dropping boards.
Nate made the dropping boards by using plywood as the bottom and scrap pieces of wood to go around the outer edges. This formed a 'tray' to keep the PDZ from spilling out.
We also added some cheap stick on tiles to make cleaning easier in the future. This is totally optional though and probably not necessary.In our bantam chicken coop, we have an almost identical set of roosting bars and dropping boards without the stick-on tiles and haven't had any issues with the plywood getting gross.
We use the granular version of sweet PDZ as the powder is too dusty. None of my chickens have ever even tried to eat it though I do have a friend who prefers the powder kind because her birds are a little too curious about the granular. This is a personal preference.
Once your dropping boards are built, pour the sweet PDZ over it.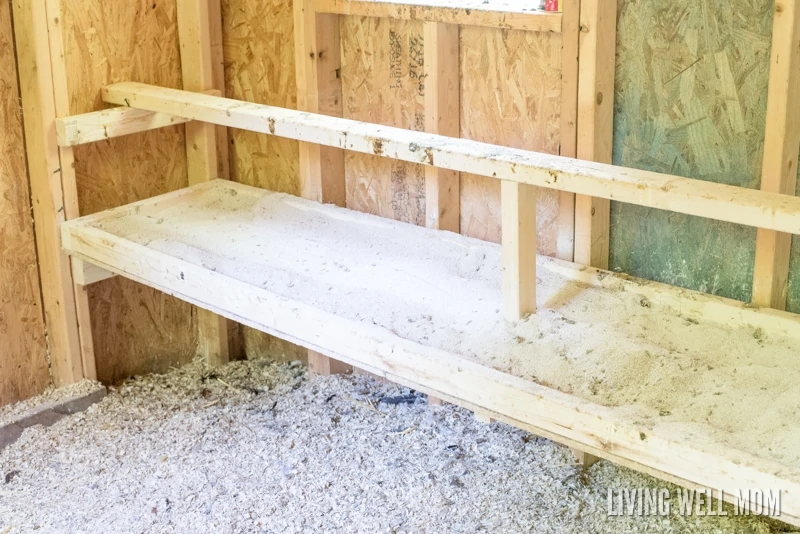 When we first started, we used quite a bit of PDZ, but I later realized that more PDZ = more work in scooping the chicken poop out. Now we use just enough PDZ to cover the bottom of the dropping boards and it works out perfectly.
You'll need to scoop out the poop from the chicken dropping boards regularly. We use a cat litter scoop and do it once or twice a week (it's a great chore for the kids).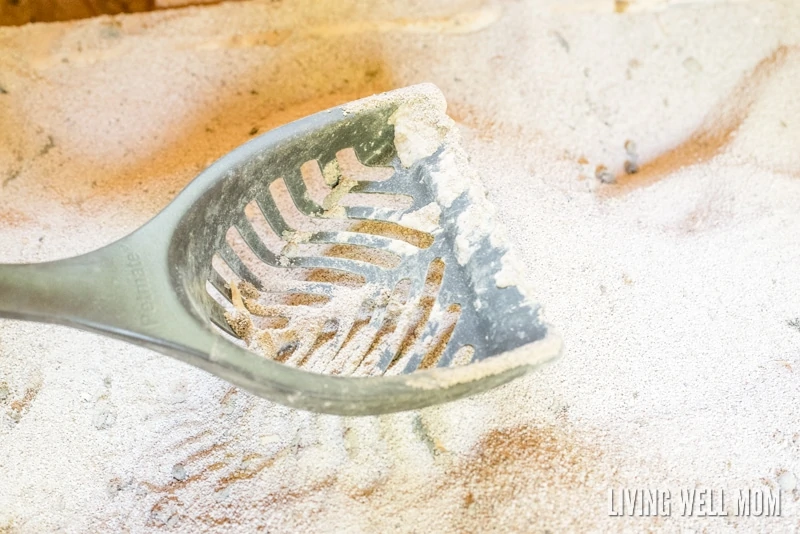 Bug Repelling Essential ↓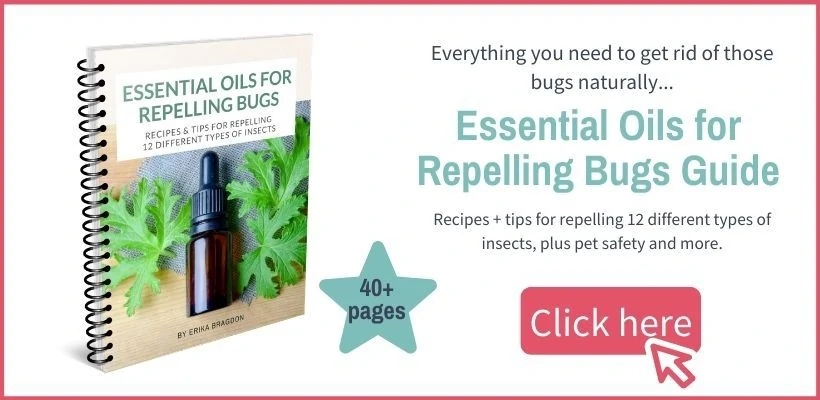 We scoop the PDZ and chicken poop out into a bucket, then carry it to the compost pile. We do have to replace the PDZ every so often, but it actually does last for quite awhile, especially when you don't use a ton on the dropping board.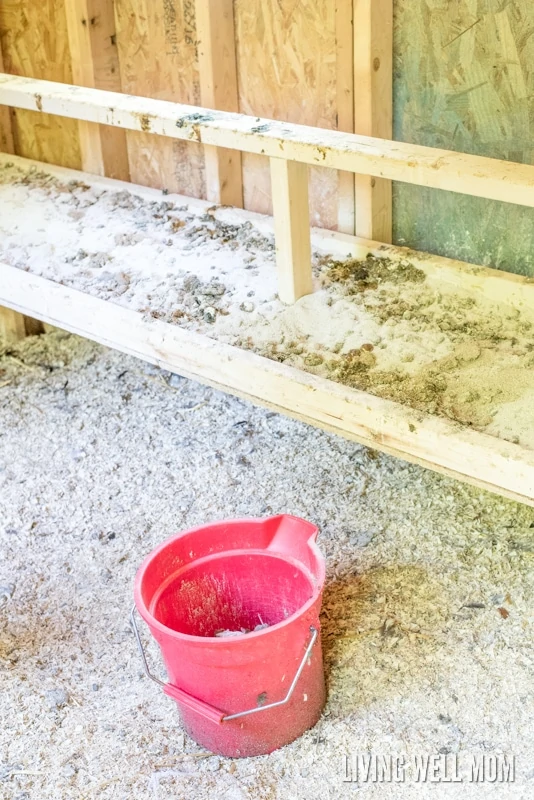 I took these photos after we had been using the dropping boards for about a month, so that's why it's not perfectly clean. "Used" dropping boards gives you a better idea of how it truly works anyways.
You might have noticed a little poop on the roosting bars; I still pull out the vinegar and scrub brush once a month or so to clean those.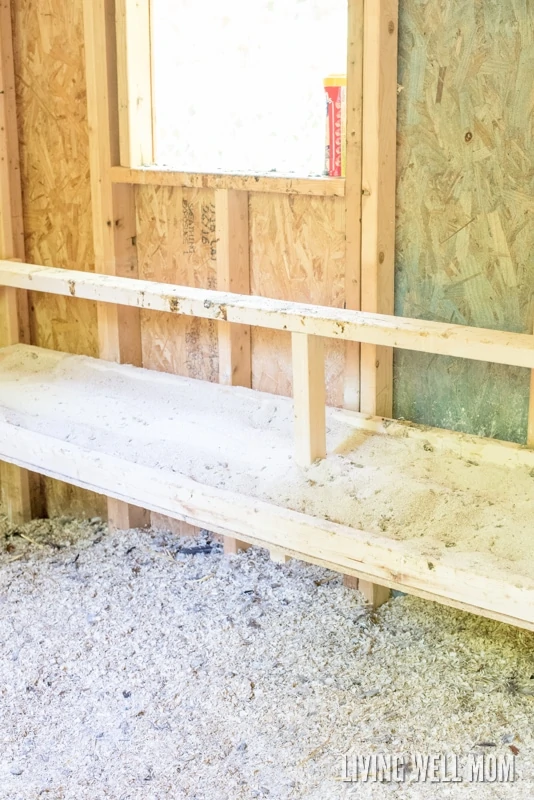 With these chicken dropping boards in place, the rest of the coops requires very little maintenance. There's hardly any poop at all beyond the dropping boards and I love it!
Another great advantage to using Sweet PDZ with a dropping board is any odors are drastically reduced. Even during hot summer days, our chicken coops never once smelled badly.
If you haven't made a dropping board for your chicken coop, I highly recommend that you do so; it really does work!