I love simple fun activities that I can do with my kids. Preferably things that aren't super messy or require a lot of fancy materials. It's even better if they can do it somewhat independently. Today, I've got a fun, useful project that fits those requirements perfectly: an easy homemade bird feeder kids can make!
The other day, I was trying to think of an easy activity to do with my now 5-year-old Luke, when I overheard him talking about the Chickadees outside. (He has a chicken named "Chickadee" too, but he actually meant the wild birds this time.) I thought it would be fun to make a homemade bird feeder with him. But it had to be simple and it had to use supplies we already had in the house because I didn't want to make a trip to the store.
This homemade bird feeder is all of those things; simple, easy-to-make with items you probably already have, and quick too!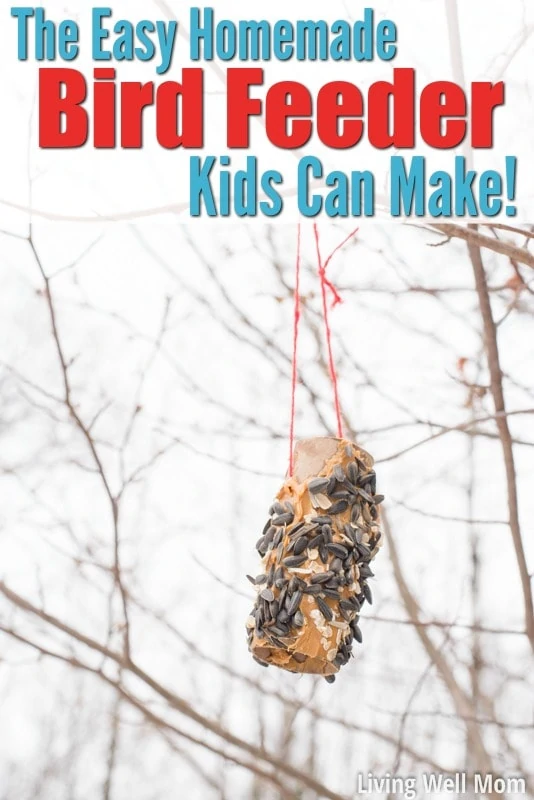 Here's what you'll need for this Homemade Bird Feeder:
empty toilet paper roll
string, twine
, or pipe cleaners

a pen
peanut butter
oats, optional
bird seed
*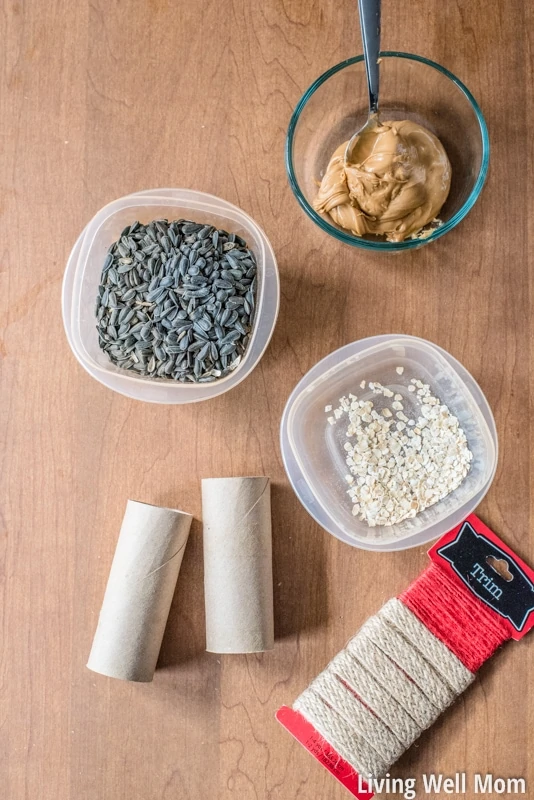 Birds need protein and good fats, especially in the winter time, and that's where the peanut butter is perfect. *You can use whatever bird seeds you have on hand (or simply pick up a bag at Walmart or your local feed store – it's usually quite inexpensive.)
We had sunflower seeds in our shed, so I just grabbed a cup of that. You'll really only need about 1/4 cup or so.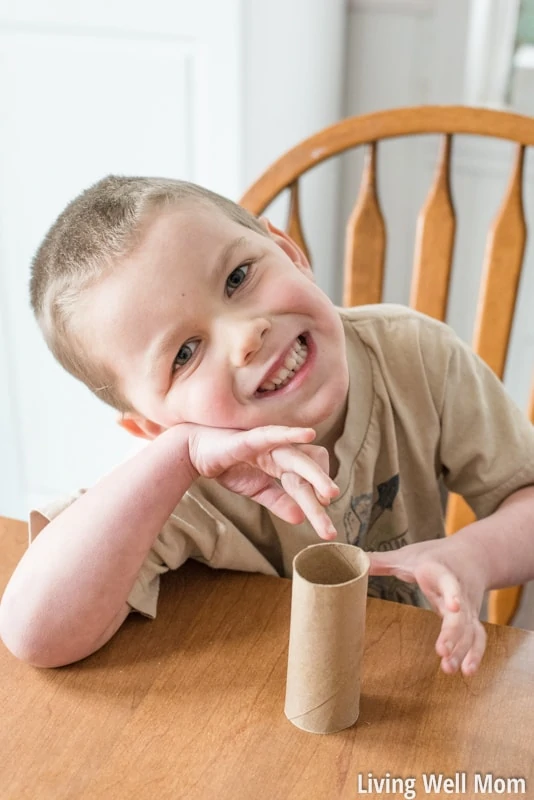 Start with your toilet paper roll and punch two small holes, one on each side of one end.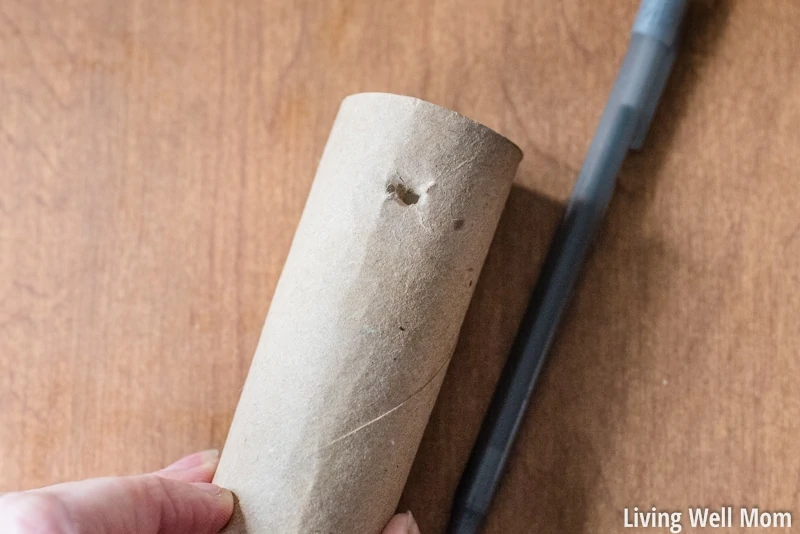 Thread 8-12″ of string or 2 pipe cleaners twisted together through here.
I planned to use pipe cleaners to hang our homemade bird feeder, but I couldn't find any in my craft bin. Which means either my children used them all up or lost them. Sigh. Luckily, I had some "trim" that I found on clearance and it worked perfectly for this.
Knot the ends of the string or twist the pipe cleaner ends together to form a loop.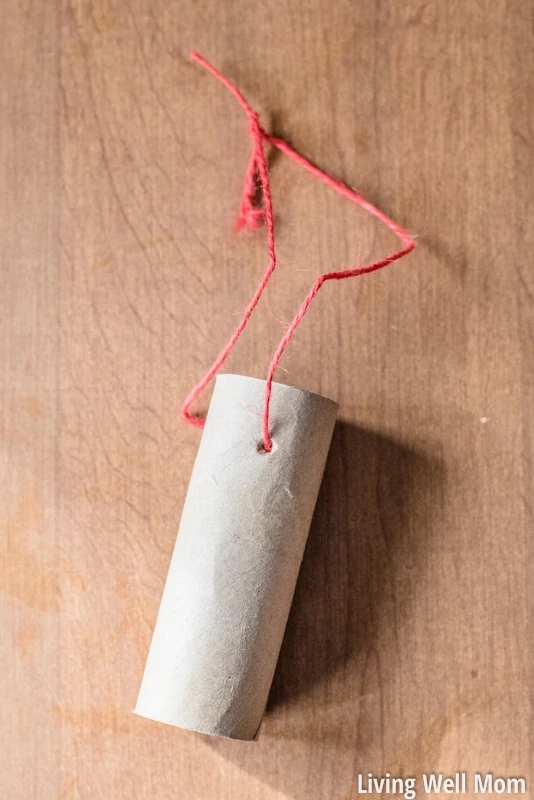 The next part is the fun part – spreading the peanut butter all over the toilet paper roll! This was Luke's favorite step.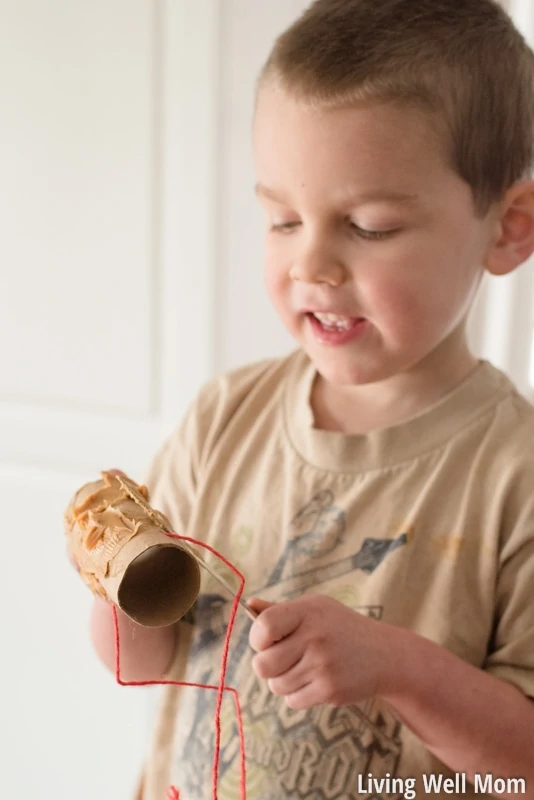 Sprinkle with the bird seed and oats. You can also add raisins if you have some on hand. We didn't, but that's another common food birds will love.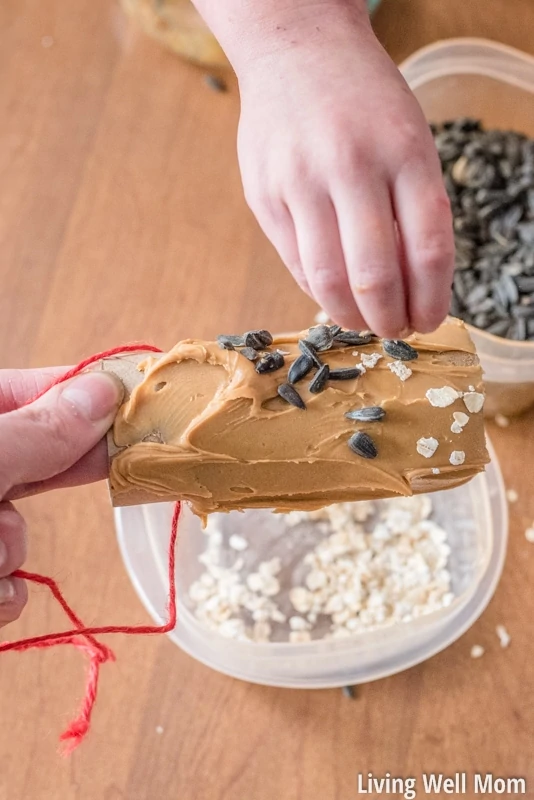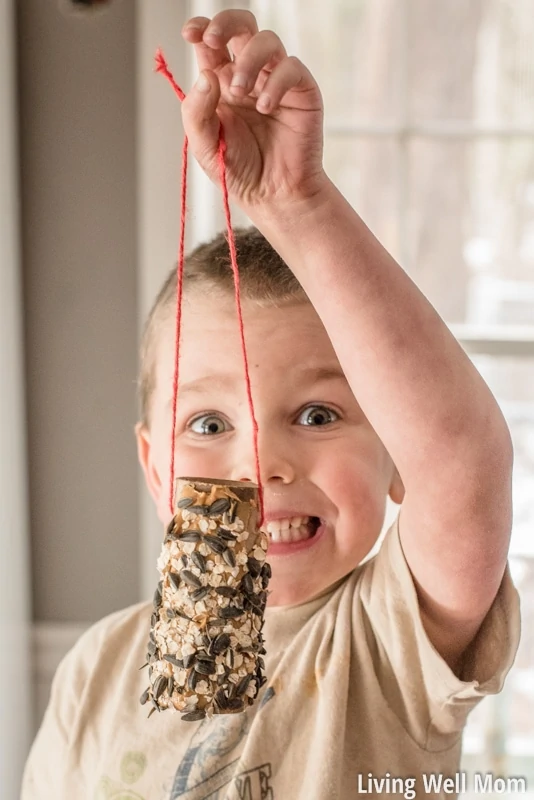 Once the peanut butter is covered in tasty treats for the birds, all you have to do is head outside with your little helper and hang it on a tree.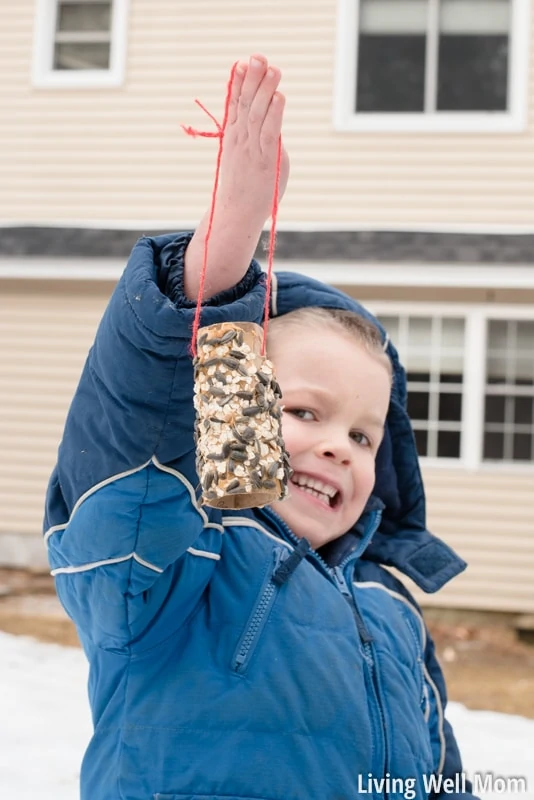 Try to choose a brand that's surrounded by other brands so the birds can reach the bird feeder more easily.
We had to hang ours up high, otherwise our crazy chickens would devour it!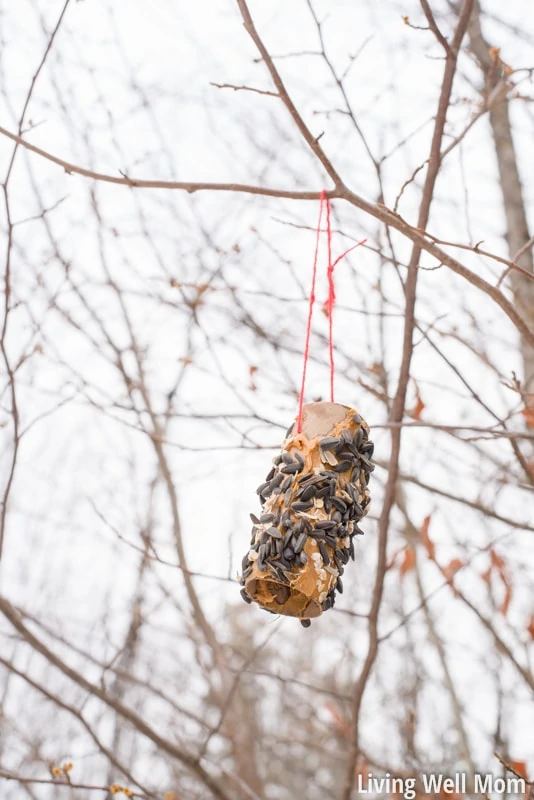 You might have to wait a day or two until the birds come because they tend to be suspicious of new things, but they will. Birds can't resist a tasty treat like this homemade bird feeder!
Your children will love watching the wild birds come to the very own bird feeder; this is a great way to teach them about nature too!