Updated 7/8/2019
Update: I still use Mrs. Meyer's laundry detergent and love it. It's a perfect combination of less-toxic with good cleaning power!
Like many moms, I've been swapping out harsh chemicals for "greener" products. I'm not exactly what you'd call an "eco-friendly, green mama," but I'm slowly working toward all-natural.
That's why I immediately accepted when I was asked to review Mrs Meyer's Clean Day products.
Mrs Meyer's Clean Day household cleaners, soaps, and detergents contain "plant-derived essential oils that are powerful against daily dirt and grime, but leave your home smelling like a garden, not harsh chemicals." A mom of nine – Mrs Meyers – is the inspiration behind this brand.
Using powerful essential oils, Mrs Meyer's Clean Day products have a pleasant scent, instead of nasty smelling chemicals. I'm a big fan of essential oils, using them for many household tasks and remedies, so this product line was right up my alley.
I went shopping at my local grocery store and purchased these Mrs Meyer's Clean Day products:
Laundry Detergent in Lemon Verbena
Countertop Spray in Lavender
Liquid Dish Soap in Lemon Verbena
All-Purpose Cleaner in Lemon Verbena
Liquid Dish Soap in Lemon Verbena: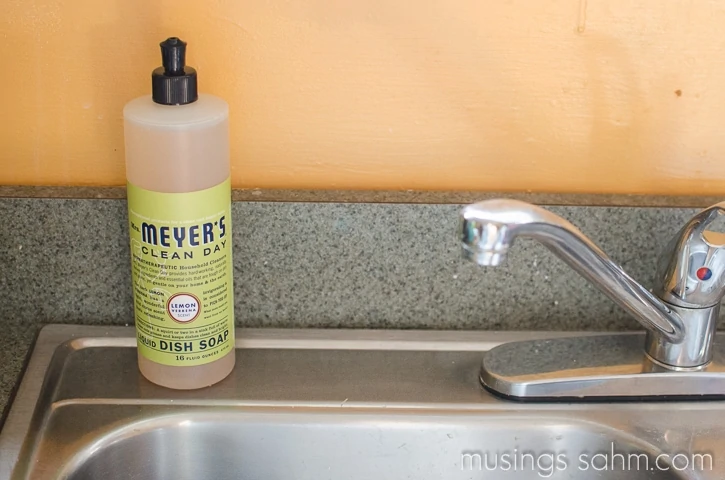 I've been wanting to try a new dish soap, so this was great timing. Mrs Meyers' Liquid Dish Soap worked like a charm. While it didn't suds up quite as much as the typical name-brand version, I found it cut grease just as well. And that's my #1 request for a dish soap, so I'm sold! Combined with hot water and a few minutes of soaking, Mrs Meyer's Liquid Dish Soap cleaned my mixing bowl so well, I didn't have to scrub at all!
Countertop Spray in Lavender: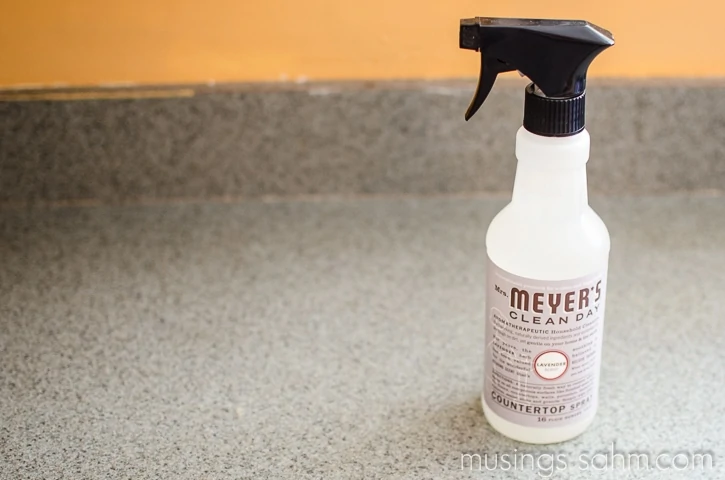 Mrs Meyer's Countertop Spray in Lavender was my favorite scent. I absolutely love the smell of lavender and have used it in everything from calming blemishes to deodorizing smelly laundry. So I was thrilled to find a cleaner with this scent. And it was so pleasant! Instead of harsh smells where I hold my breath, I actually enjoyed cleaning off my counters.
While I prefer a more multi-purposed cleaner (and I will get to that one shortly), I found Mrs Meyer's Countertop Spray to be quite effective at quickly cleaning my kitchen counters.
All-Purpose Cleaner in Lemon Verbena:
The All-Purpose Cleaner in Lemon Verbena was my favorite product from the group. I love multi-purposed products – it's much easier to have one general cleaner than 5 different specialty versions. Not only is it cheaper, but it simplifies cleaning too.
Mrs Meyer's Clean Day All-Purpose Cleaner is concentrated and makes a lot. Just 1/4 cup will make an entire gallon of cleaner, meaning a single bottle of this cleaner will last the average household a long time. For me, I used about 1-2 tablespoons in a regular sized spray bottle.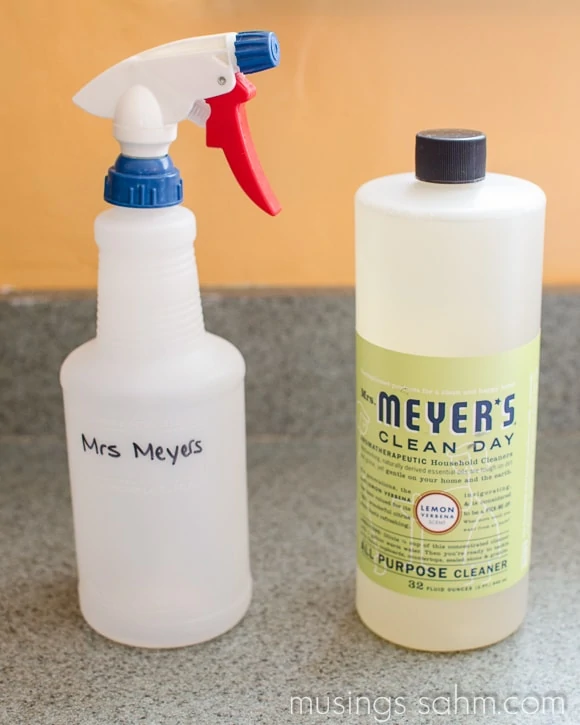 I've been really busy the past month and haven't had time to tackle cleaning my house, aside from a quick once-over here and there. So there were quite a few grimy areas that were perfect for putting Mrs Meyer's Clean Day All-Purpose Cleaner to the test. One prime spot was my bottom kitchen cabinets. With my four kids, this area tend to get kicked and have stuff smeared on quite frequently – everything from banana to jelly and who knows what else.
I sprayed the All-Purpose Cleaner on and waited about 3-4 minutes. Most cleaners are more effective when allowed to sit for a few minutes and Mrs Meyer's is no exception. And I was amazed at how quickly and easily the grime wiped off. In fact, I didn't have to scrub at all! The cleaner cut right through the nasty grease and grime.
Laundry Detergent in Lemon Verbena
Last, but not least, I put Mrs Meyer's Clean Day Laundry Detergent to the test. Like the dish soap, I've been using a regular name brand detergent but have been wanting to switch to something with less chemicals.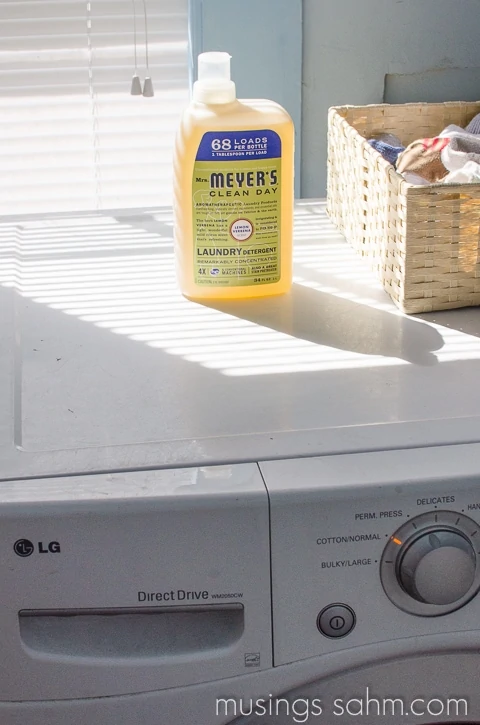 There's always laundry to do in my house, so it took me no time to round up a load of the kids' clothes. Luke had practically destroyed a white shirt this past week so I figured it would be a good way to really try out Mrs Meyer's laundry detergent. I followed the stain treatment tip, which recommended applying a small amount of detergent directly to the area, rubbing it in, and waiting a few minutes, before washing as usual.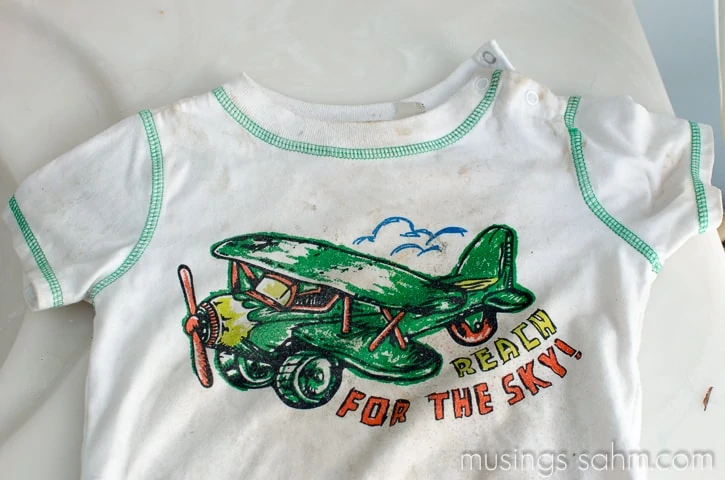 Mrs Meyer's Laundry Detergent is safe for HE machines and is concentrated; one whole bottle will last for 68 loads! And I intend to follow that, because I've long since learned that more detergent doesn't equal cleaner laundry. It seemed to me that using the cap for measuring out the thick, concentrated detergent would be too messy, so I simply eye-balled it and squirted about a tablespoon into my liquid detergent dispenser. This worked quite well and wasn't messy at all.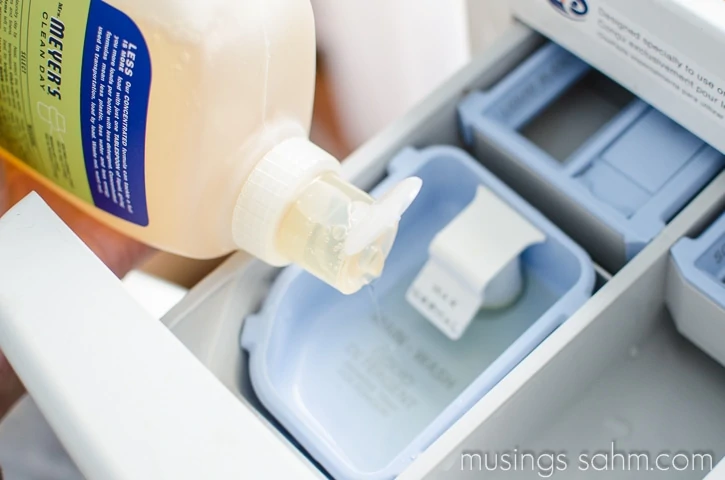 The results? Clean! Look at Luke's shirt!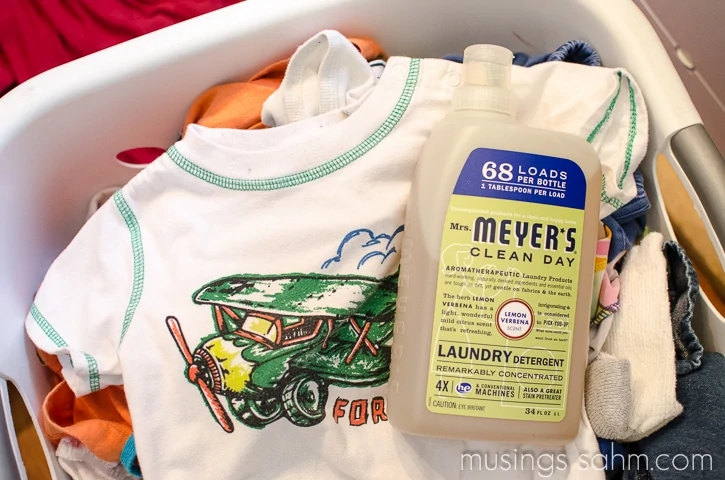 And the laundry smelled wonderful too, thanks to the gentle lemon verbena scent. I do not use fabric softeners so that was all Mrs Meyers.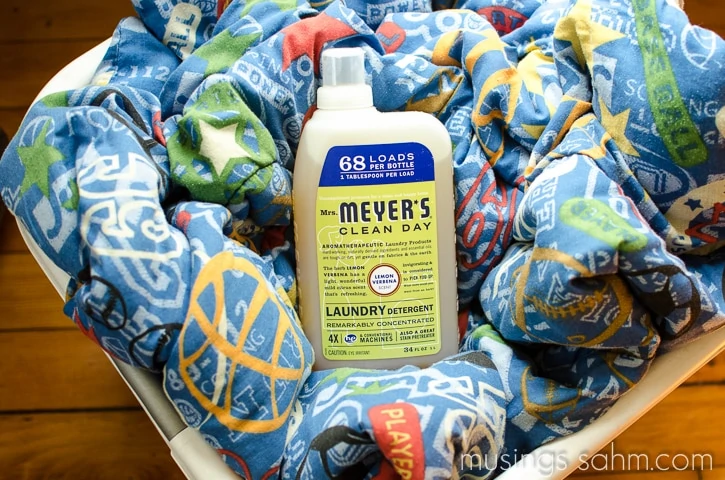 I love Mrs Meyer's Clean Day products. I am definitely making the switch from here on out, especially for the laundry detergent and all-purpose cleaner. Not only do they smell wonderfully, but it's great knowing they are more gentle around my children.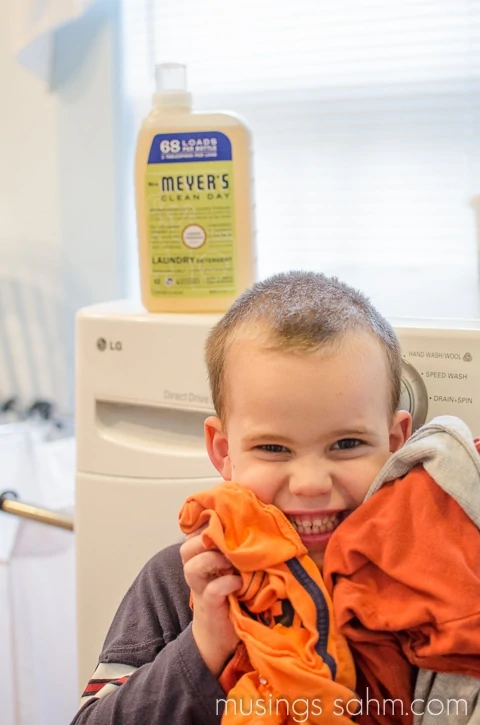 Try Mrs Meyer's. Like me, you may find yourself actually enjoying cleaning and doing laundry with Mrs Meyer's Clean Day products!
(affiliate links):
You can now buy Mrs. Meyers products on Amazon too. (I get my Mrs Meyers laundry detergent for a great price with subscribe and save!)
Mrs. Meyer's Clean Day® believes in a better way to get a good clean. Chock full of plant-derived ingredients and essential oils, our household cleaning products are powerful against dirt and grime. Our garden fresh scents uplift your mood while adding a little spring to you step.
"Disclosure: Compensation was provided by Mrs. Meyers via Glam Media. The opinions expressed herein are those of the author and are not indicative of the opinions or positions of Mrs. Meyers."