Soon our children will be home for the summer and they will need something fun to keep them entertained. These Homemade Colored Bubbles will surely do the trick!
Bubbles can keep just about anyone busy for hours. Even our dog has a blast with bubbles (he tries to eat them). The problem is that although bubbles are relatively inexpensive, there never seems to be enough of them. Plus kids tend to spill them all over the place. So what happens when you run out? Luckily I have the solution!
You can make your own homemade bubbles. Better yet, you can make your own homemade colored bubbles! The best part is, you most likely already have all the necessary supplies on hand! You can make these in large quantities so you never run out of bubbles again!
I do want to point out that these can stain clothes depending on the amount of food coloring you use. So I highly suggest playing with these outdoors and having your children wear clothes you don't mind getting dirty. 🙂

Homemade Colored Bubbles
Supplies needed:
Clear dishwashing soap (I like Dawn Pure Essentials)
Light corn syrup
Food coloring
Plastic straws
Plastic cups
Other supplies needed:
Measuring cup
Large mixing bowl
Container (with lid) for storing leftovers
Directions:
In your large mixing bowl, pour 6 cups of hot water.
Add 2 cups of your clear dishwashing soap to the bowl of water and stir well.
Add 3/4 cup of corn syrup to the soapy water and stir well. You will notice bubbles forming at this point.
If you are planning on making multiple colors of bubbles, separate the mixture into small cups (like we did). If you are doing all one color you can place food coloring directly into the large bowl.
Add 3-5 drops of food coloring and stir well.
Using your straw, dip one end into the bubble mixture and have your child blow. It will then create your colored bubbles!
Store any leftovers in an airtight container for future use! Enjoy!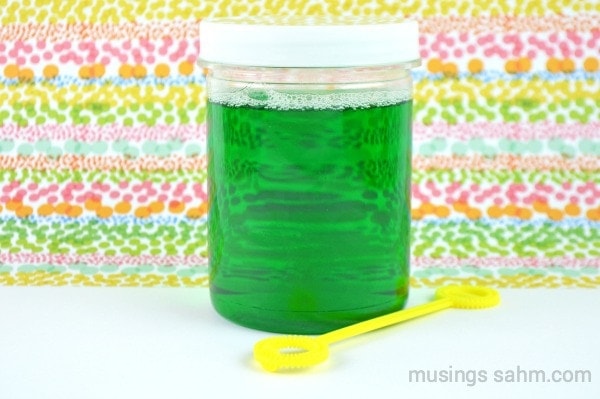 Tip: You can also use any leftover bubble wands you can find laying around. My son used one he found in his toy box and it worked great with the bubbles!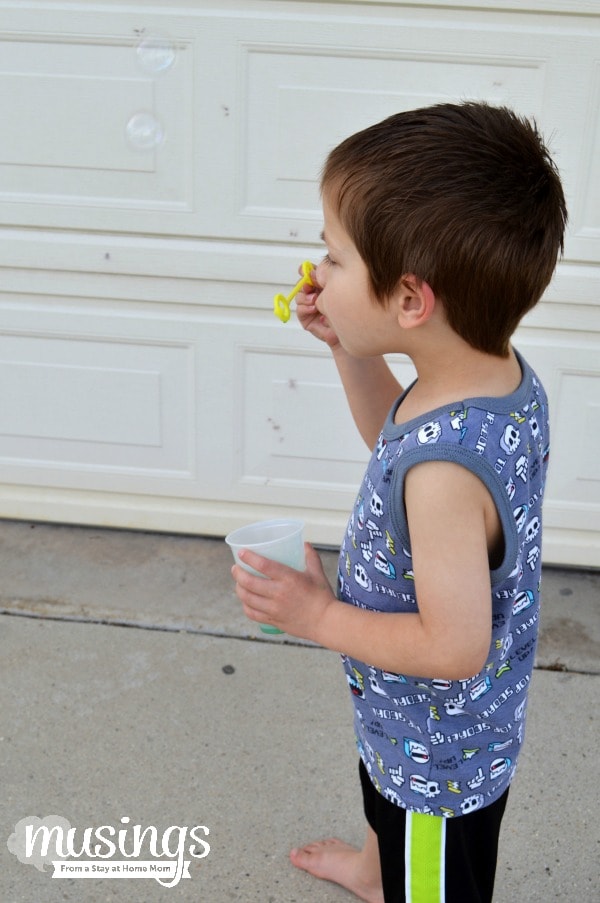 Here's some more fun activities for kids: