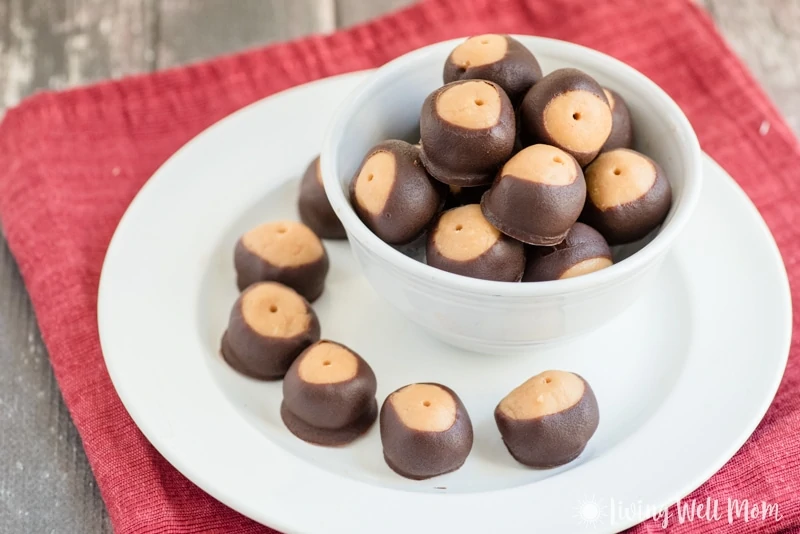 Christmas is my favorite time of the year and one of the best parts is the baking. I just love baking tasty treats for family and friends, especially Christmas cookies.
But this is my first year on the Paleo diet so that changes things just a little. I was afraid I'd have to give up my Christmas cookie baking this year and I was so happy to discover that I don't! There are tons of amazing Paleo Christmas cookie recipes out there. Like hundreds. They're delicious, healthier versions of classics, like Gingersnaps, Spritz, Snickerdoodles, even Cut-out Cookies and Paleo Buckeyes!
And while I've only tried a handful so far, the ones I have tried taste incredible. They don't taste like diet food. They taste like real delicious food (which is exactly what Paleo is anyways.)
Here's just a few of my favorite Paleo Christmas cookies and bars: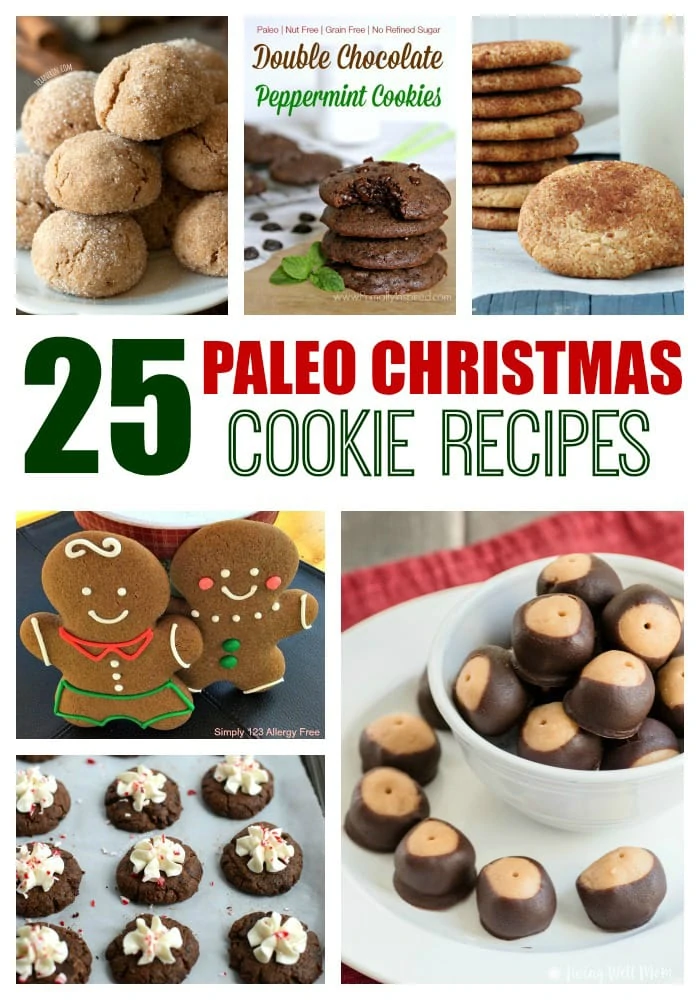 25 Paleo Christmas Cookies:
Paleo Buckeyes [Living Well Mom] *pictured
Chai Spiced Cookies [Texanerin Baking] *pictured
Paleo Shortbread Cookies Dipped in Chocolate Cranberry Ganache [Nosh & Nourish]
Hot Cocoa Brownies [Living Well Mom]
Paleo Gingersnaps [Food, Faith and Fitness]
Cranberry Pistachio Gluten Free Shortbread Cookies with Balsamic Reduction [Food, Faith and Fitness]
Paleo Hot Cocoa Cookies with Vanilla Bean Frosting [Fit Foodie Finds] *pictured
Double Chocolate Peppermint Cookies [Primally Inspired] *pictured
Old-Fashioned Raisin Date Bars [Living Well Mom]
Pumpkin Chocolate Chip Cookies [Primally Inspired]
Frozen-Inspired Paleo Spritz Cookies Recipe [My Natural Family] *pictured
Cut-Out Coconut Flour Cookies Recipe [Health Extremist]
Snickerdoodle Cookies [The Urban Poser] *pictured
Paleo Sugar Cookies [Paleo Movement]
Paleo Gingerbread Men Cookies [Simply 123 Allergy Free] *pictured
Grain-free Christmas Rum Balls [Healthful Pursuit]
Grain-Free Spice Cookies [Whole New Mom]
Coconut Flour Shortbread Cookies [The Pink Sprinkle]
AIP "Chocolate" & Peppermint No Bake Macaroons [Vibrant Life Army Wife]
Cinnamon Spiced Paleo Sugar Cookies [Cotter Crunch]
Paleo Orange Maple Glazed Sugar Cookies [Cotter Crunch]
Paleo Molasses Cookies with Maple Cream Filling [Thriving on Paleo]
3-Ingredient Paleo "Peanut Butter" Cookies [Do You Even Paleo]
Chewy Ginger Molasses Cookies [Gourmande in the Kitchen]
No Bake Tiramisu Cookies [The Big Man's World]
Paleo Peppermint Chocolate Crinkle Cookies [The Healthy Maven]
Paleo Hazelnut Cookies [Cook Eat Paleo]
Paleo Cookie Dough Bites [Living Well Mom]
Which of these Paleo Christmas cookies will you try first?