We absolutely love playdough and play with it ALL.THE.TIME! We actually have an entire shelf in our play room dedicated to playdough and playdough tools. It's often the medium for play with the Littlest Pet Shop toys that fill the toy box. The kids love to use it for pretend play and create houses for their animals. I decided to take advantage of their love for pretend play and have some playdough fun with a free printable for learning about emotions.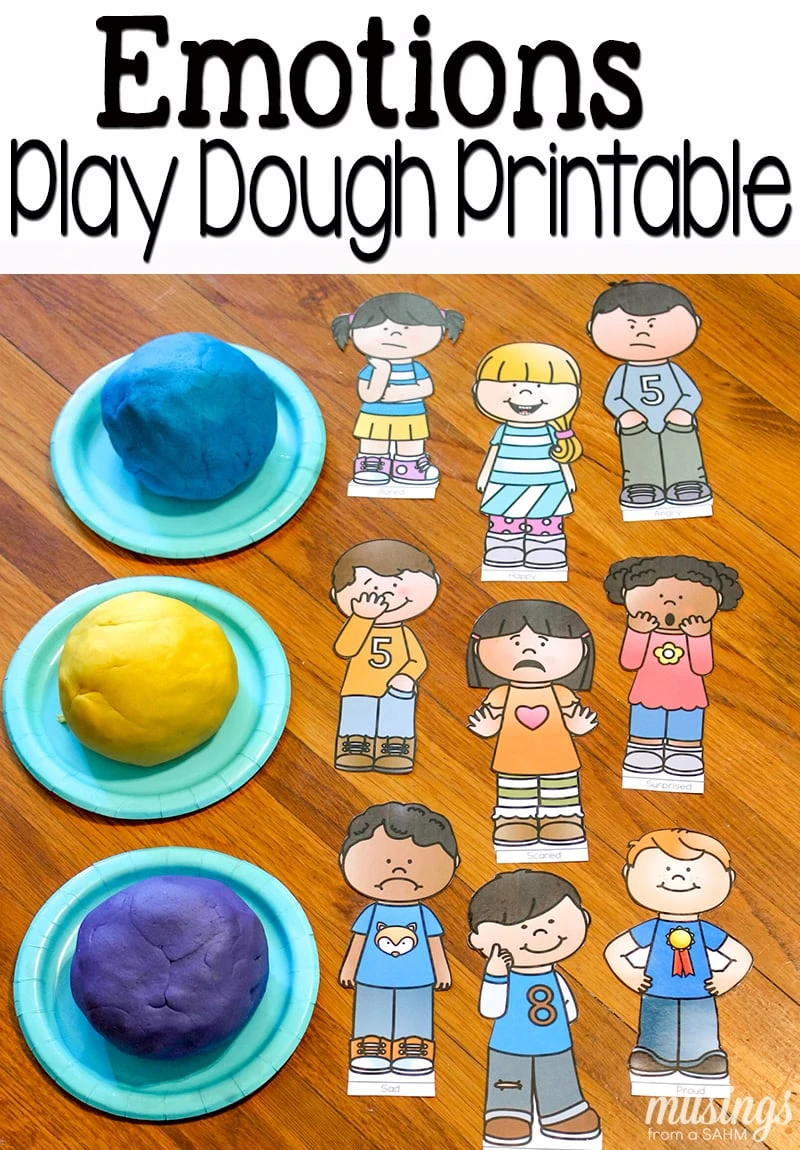 Hi! I'm Kim from Life Over C's. I'm an 8th-year homeschooling mom to four awesome daughters ages 12, 10, 7 and my sweet special needs 4 year old. We have traveled to 46 of the United States, 3 Canadian provinces and 7 countries together! After living in the Republic of Georgia for 9 years we have returned to the U.S. permanently and are making our new home in Little Rock, Arkansas. I'm so glad to be here with you!
It's so important for kids to learn about emotions and how to deal with them. Approaching this topic through play can make kids feel more at ease to share what is on their mind.
Many times if kids feel that you are directing something at them, they can close off. That is definitely not what we want. We want our kids to be able to share how they feel without worrying about our reactions.
We started off by making a set of "emotion" playdough. Using this super easy playdough recipe, we added in some fun colors and essential oils to represent different emotions.
Blue with Cedarwood Essential Oil= Focus
Purple with Lavender Essential Oil= Calm
Yellow with Lemon Essential Oil= Joy
Then we printed, laminated and cut out the Emotions PlayDough Fun Set.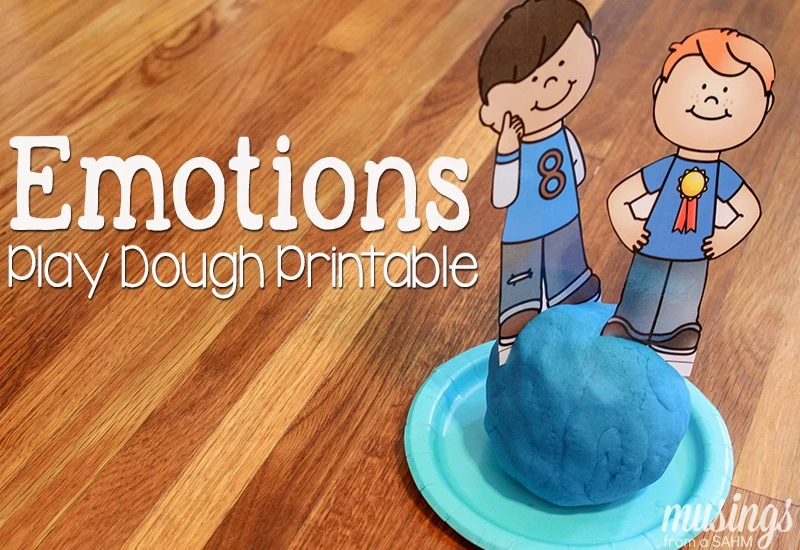 Under each picture is a label with the emotion in case there is any confusion.
I talked to my daughters about the different emotions that were included. The big kids demonstrated what the emotions would look like in real life for my special needs 4-year-old. She thought that was quite funny.
Then, using the playdough to keep the Emotion Kids upright, they created some pretend play situations based on the emotions that were being shown.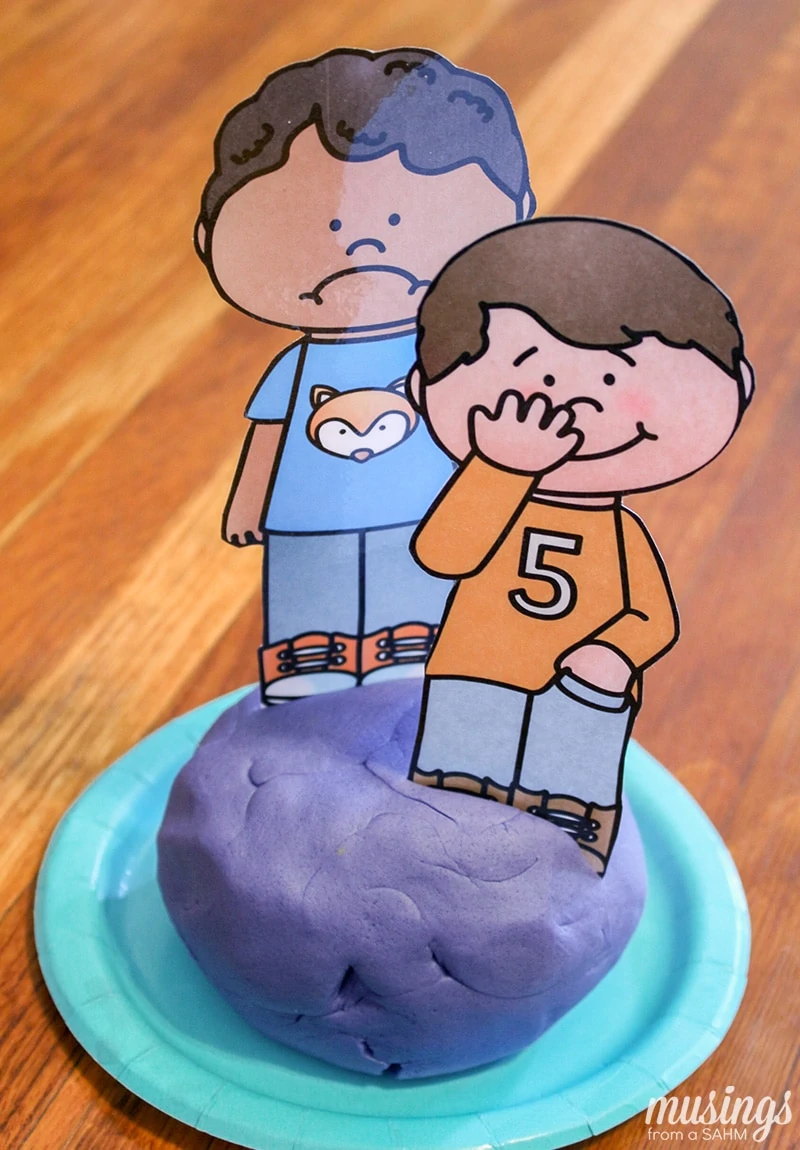 I've learned from our vast experience with playdough pretend play that if I let my kids take control, they will show me exactly how they are feeling. This has been a great tool for me over the years.
If they feel stressed, it will show in their play time. If they are very happy, play time will be happy. If they want to conquer the world, that will show too…
The bonus with this playdough set is that the kids will show you how they would react with the specific emotions helping you to see where guidance is needed.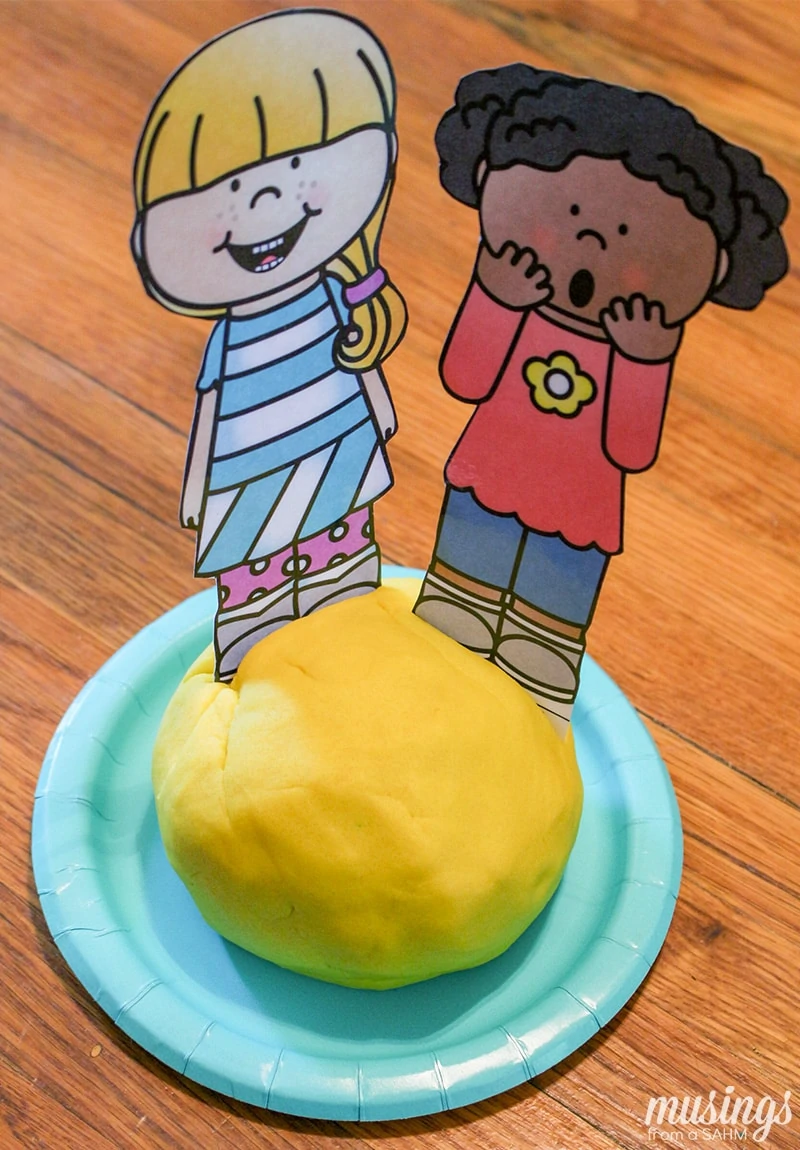 And if there are situations that you are aware of that could cause fear, anger, or confusion in a child's life, you can prompt them through play with the emotions playdough fun set to show them good ways to express those feelings. Let them know that what they are feeling is normal and they have people who want to help them.
Download your free printable emotions playdough fun set today!