I love baking this Soft Pretzels recipe with my kids. It's quick and easy to make (you don't even have to wait for the dough to rise!) and kids love making their own unique pretzel shapes. I usually make the dough myself and then call the kids into the kitchen to twist pretzels or do whatever they want.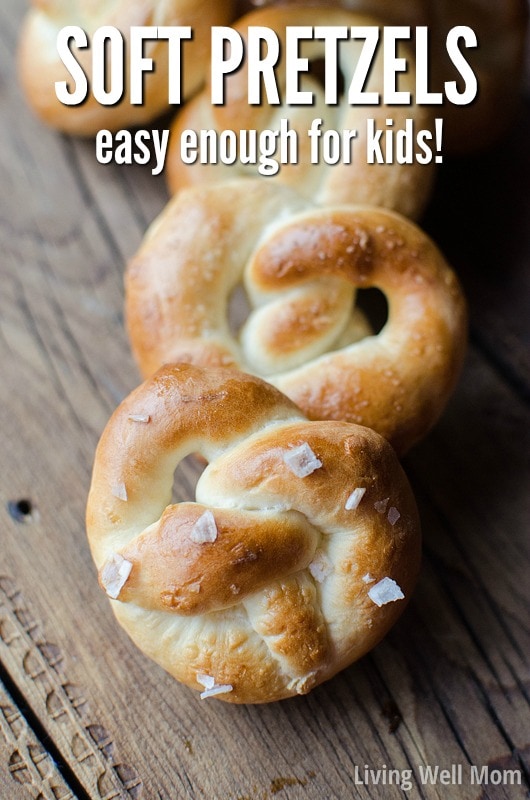 How to Make Soft Pretzels:
What you'll need: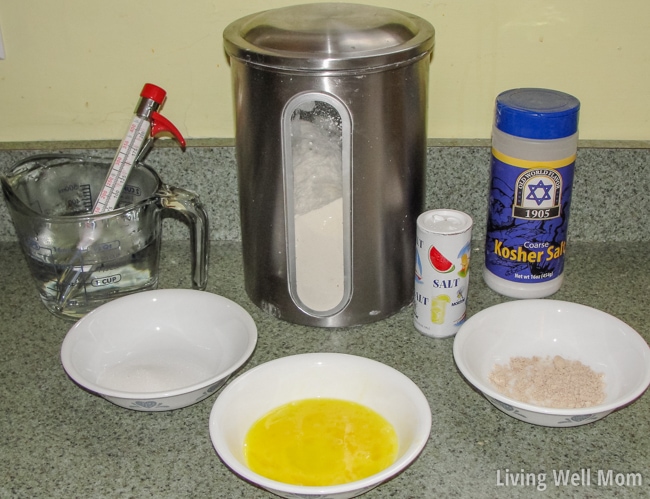 It's important for water to be the right temperature when working with yeast. If it's too hot or too cold, it can kill the yeast or make it inactive, which means your bread – or in this case pretzels – won't rise. And who wants that?
We'll need 1.5 cups of water. Use a candy thermometer or other kitchen thermometer to measure the temperature. I microwaved my water for about 10-15 seconds to get it warm enough. If you warm it too much, just start over. Easy enough.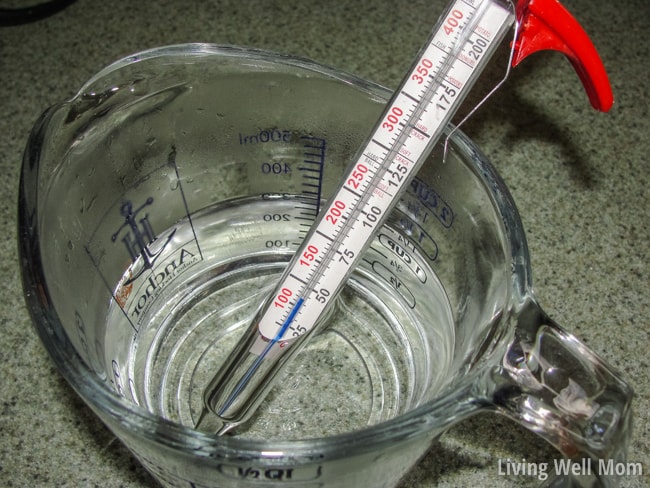 Wow we'll have happy yeast. Dump the water into your mixing bowl and add 2.5 teaspoons of yeast. It needs to dissolve all the way into the water. The water will look kind of murky.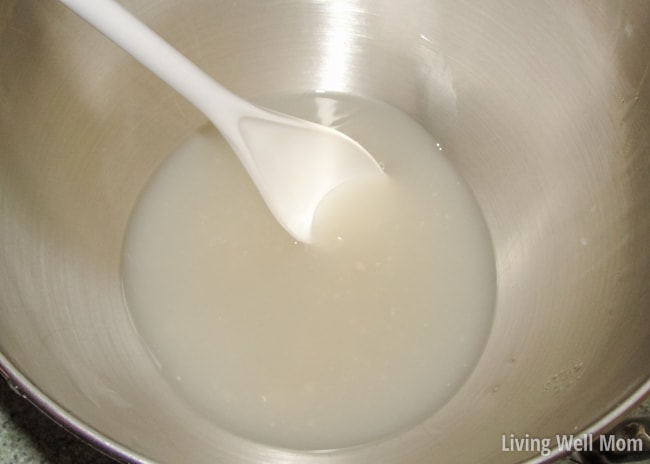 When the yeast is dissolved, add 1 tablespoon of sugar and 1 teaspoon of salt. Mix gently.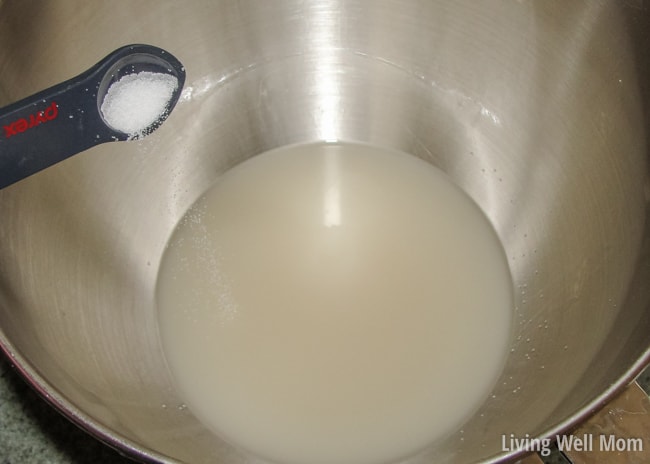 Add 3 cups of flour.
Start mixing with your dough hook. Or by hand. I made this Soft Pretzels recipe many times before I had my Kitchen Aid mixer. It's just much quicker with a Kitchen Aid.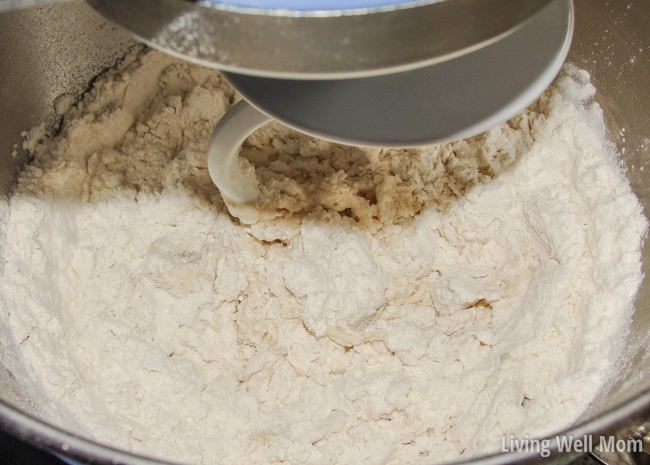 Mix this for a minute or two and then add another 1/2 cup of flour. Mix this in and test the dough. If it's ok, you can move on to kneading. If it's still really sticky, you'll want to add a little more flour – up to 1/2 cup more.
For kneading, you can either do this by hand for 6-8 minutes or continue using your dough hook (much preferred in my opinion.) With a mixer, "knead" for about 4-6 minutes. The dough will start pulling from the sides of the bowl.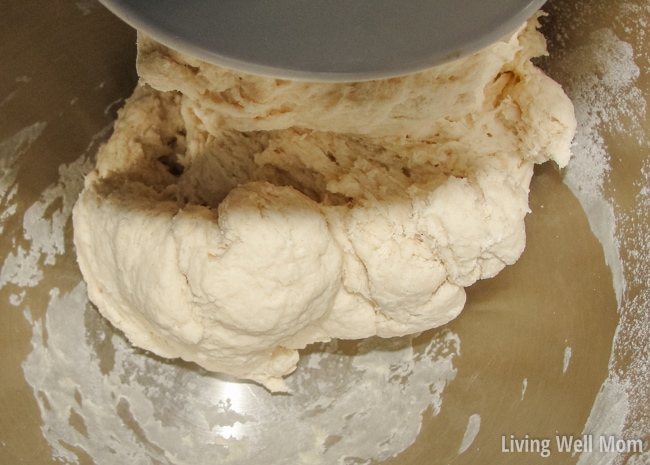 The dough above isn't quite done yet. We want it to be smooth and elastic. I had to run the mixer for probably about 6 minutes total.
This is what it looks like when it's done: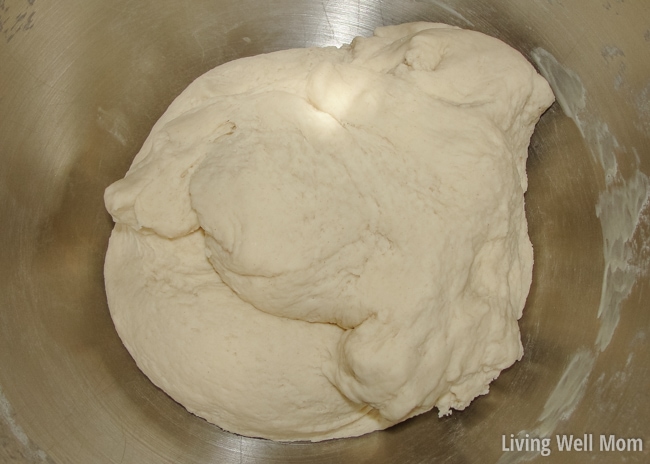 "Smooth and elastic" – see how it pulls away?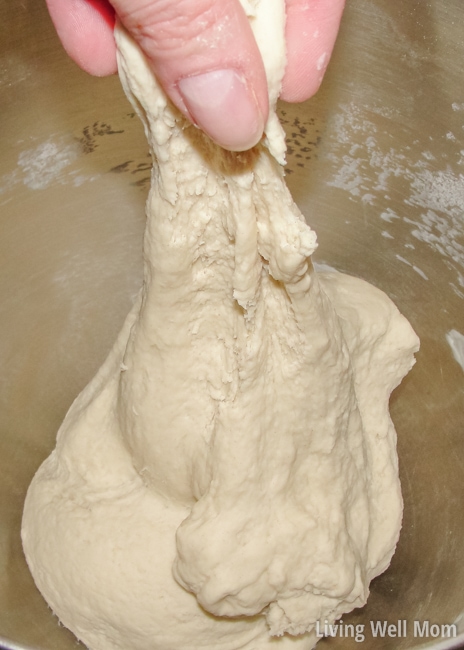 Great! Your soft pretzels dough is done!
Now preheat your oven to 425° and pull out a couple cookie sheets. Line them with foil and grease. This is so important; do not skip this step! If you don't do it, you'll be scraping pans much later tonight. Trust me, learn from my past mistakes.
Now you can call the kids. Unless you were brave and had them help you make the dough. Or they were already hanging on you.
Now shape the dough into whatever you want! Nathan and Emily make letters, shapes, and of course pretzel twists. I love it too; it's fun to mold that dough. It reminds me of playing with play-doh.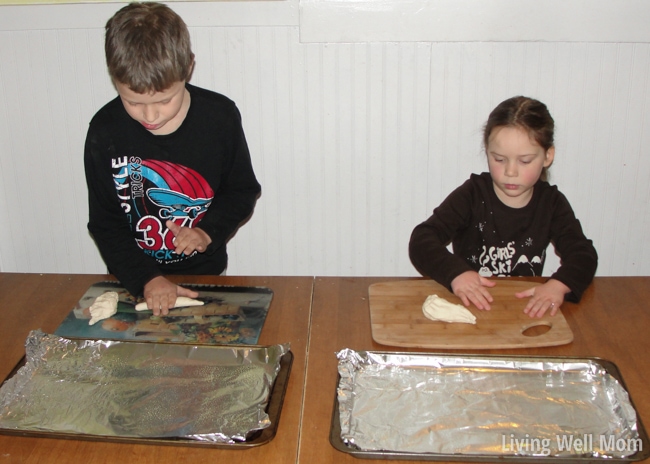 Nathan made this awesome twist all by himself: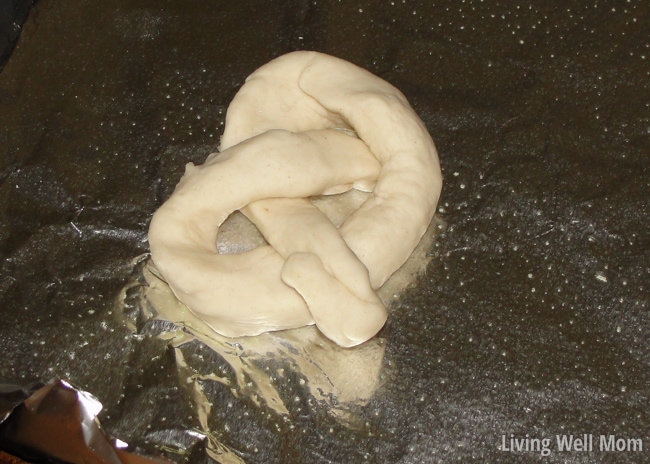 We made a letter for each of the kids' names. I just now realized we spelled out "J-E-N" below, lol. It was meant for Joshua, Emily, Nathan – with an L for Luke above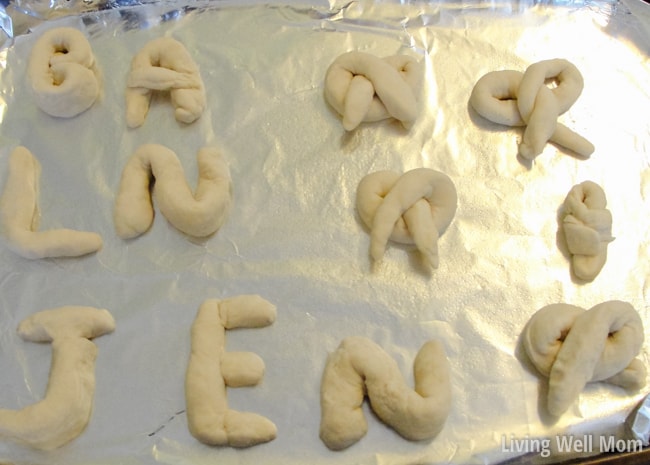 Now remember the egg at the beginning of the recipe? Now is when we need it. If you haven't already, beat it.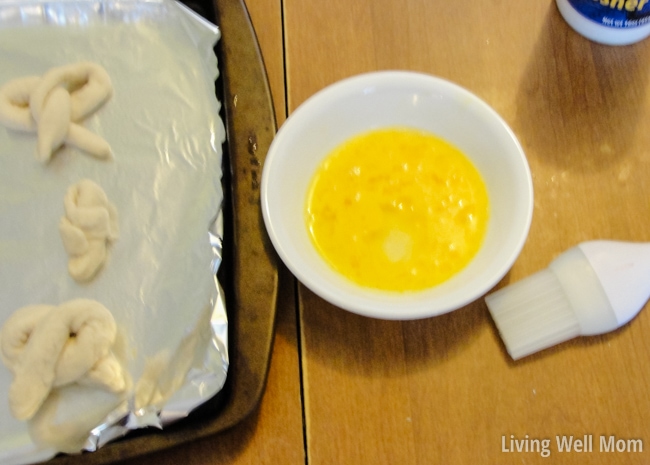 With a pastry brush, brush the egg onto the pretzels. This will allow for the salt to stick plus add a nice golden color when the soft pretzels are baked.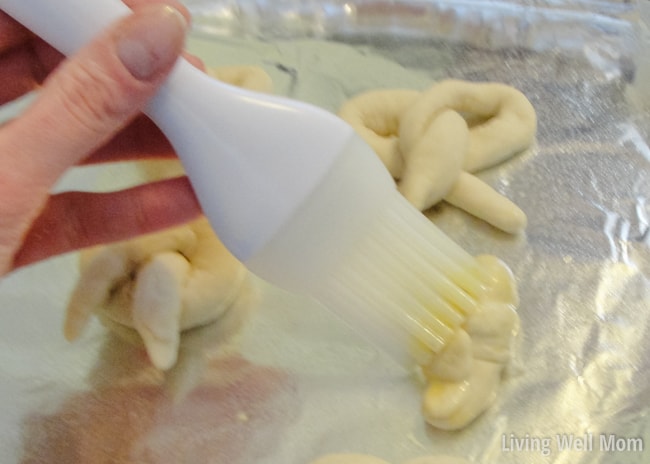 Sprinkle course salt over the pretzels. See how talented I am? I can shake salt and take a photo at the same time.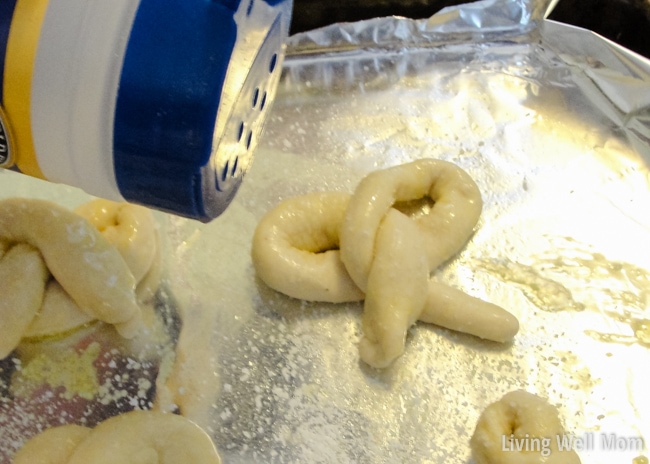 Bake the pretzels for 12-14 minutes each. You don't want them to be overdone so check on them. When they are just beginning to turn golden, pull them out.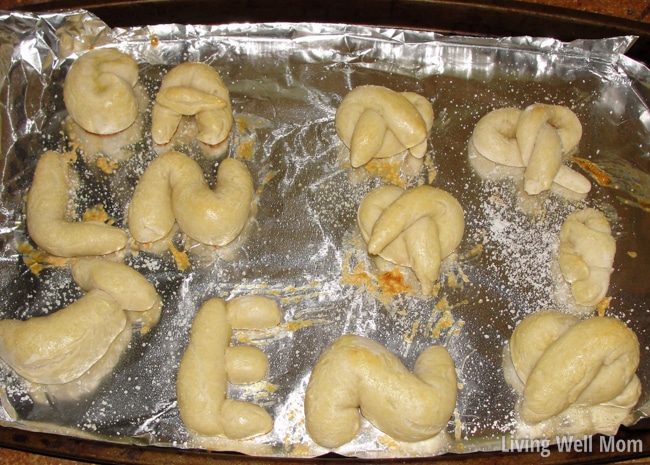 Cool on a wire rack.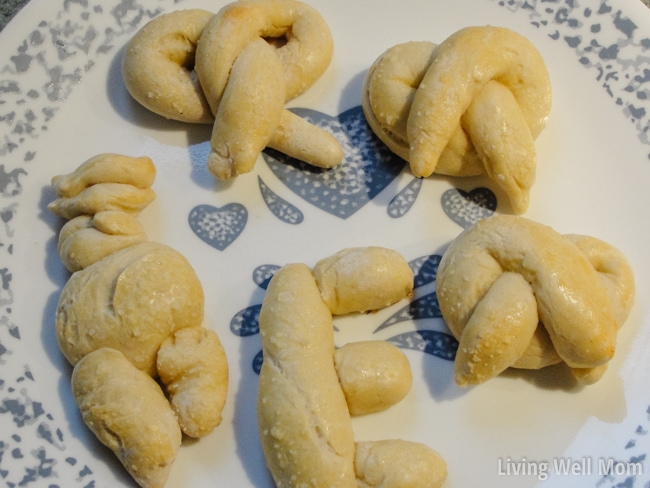 Here's some "Mom-made" Soft Pretzels: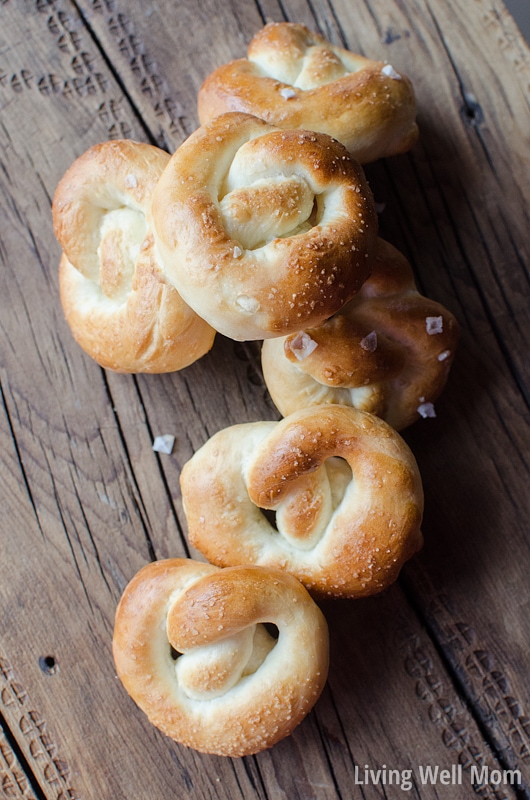 Don't they look amazing? Believe me, they taste just as good as they look! So yummy!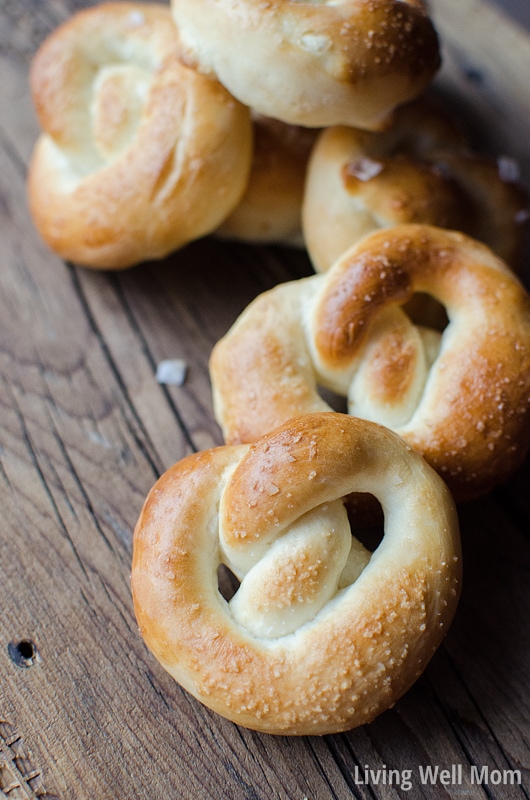 Print
Soft Pretzels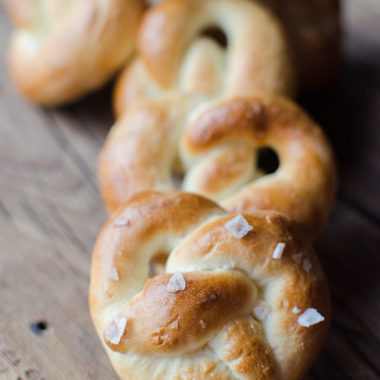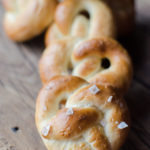 Author:
Prep Time:

30 mins

Cook Time:

14 mins

Total Time:

44 mins

Yield:

15

-

24

pretzels

1

x
1

package (1/4 oz) or

2 1/2 teaspoons

active dry yeast

1.5 cups

warm water (110° to 115°)

1 tablespoon

sugar

1 teaspoon

salt

4 cups

all-purpose flour

1

egg, beaten
course salt
Instructions
In a large bowl, dissolve yeast in water. Add the sugar and salt and mix. Add 3 cups of flour and combine. Add 1/2 to 1 cup more of flour as needed. Knead for 5-8 minutes until the dough is smooth and elastic.
Shape into pretzel twists or shapes as desired. Place on lined greased baking sheets. Brush with an egg; sprinkle with course salt.
Bake at 425 degrees for 12-14 minutes or until golden brown. Cool on a wire rack.