Do you sometimes feel like you're not good at anything? That everyone around you seems to have more talent than you?
You're not alone; this happens to many of us!
Life gets busy and it's easy to put yourself on the back burner. And by the way, what does being yourself even mean? Especially when your days are filled with changing diapers, preparing meals, endless piles of laundry, maybe going off to work.
I have come to realize that one of the most crippling mistakes we can make is to try to be someone we're not. It's what happens when being yourself comes second to pleasing others or sometimes simply not recognizing what you're good at. (It's far more common that you'd think!)
This sounds like a no-brainer concept, but so many of us do it, often without realizing it.
We try to fit into a "mold" of an ideal image, maybe because of pressure from others, but often it's something we do to ourselves. The problem is that we waste so much time, energy, and life on something we weren't meant to do or be.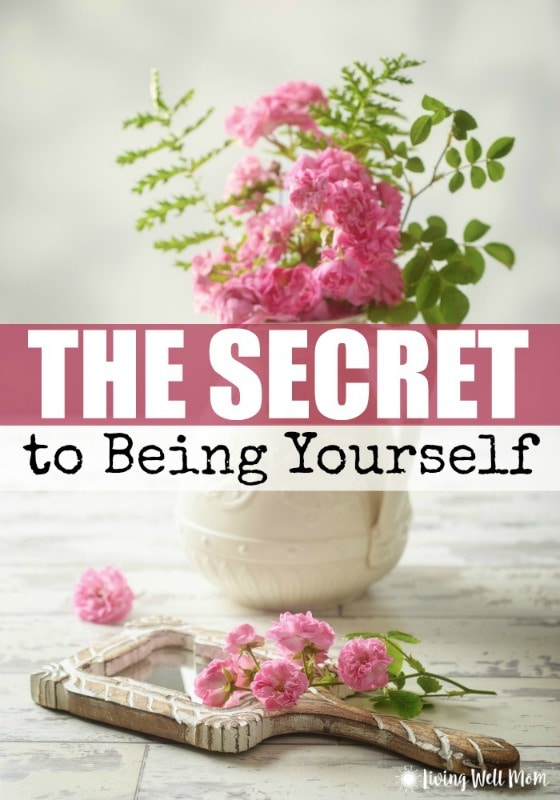 Let me be clear; I'm not talking about trying to improve yourself. Just like me, you probably want to be a better wife, mom, daughter, friend, etc. There's always going to be something we can learn or an area we can do better in, but those are things you should work on while being yourself.
We each have our own talents, whether we recognize what they are or not. Your gift might be similar to a friend's or it might be completely different. The key is to find out what you love doing, what you thrive on. Then do more of that and less of the things that make you spin your wheels.
I spent years trying to be someone I wasn't. I thought people would like me or I'd fit in better if I did certain things. Yep, the ol' peer pressure. Fortunately, I never got into 'bad' stuff, but I wasted so much time because I didn't know who I was.
While I'm still learning every day, I know who I am now. I'm a dearly loved daughter of Jesus. I'm a beloved wife and mom. I love to write, organize, bake, and spend time with friends and family. And I love to reach out to other women, especially moms in need of encouragement.
As I've learned more about myself, I've also discovered a simple secret that's been incredibly freeing.
When it comes to being yourself, it's just as important to figure out who you aren't, as it is to discover who you are.
Far from limiting yourself, when you acknowledge who you're not, it gives you the freedom to be the person you are meant to be.
Me? I love to write. Even as a little girl, I'd spend hours writing novels. But when I got older, I lost sight of that love. I tried to do other things that didn't come as naturally, like crafting, DIY projects, and even photography.
Admittedly, I don't have a crafty bone in my body. But as I've honed in on who I am and who I'm not, it's helped my focus. That's why I've stopped sharing craft posts here at Living Well Mom. It's just not me.
Dear friends, don't make the mistake of trying to a live a certain way because you're "supposed" to. When you give yourself permission to be you, instead of someone else, you open the door to living life as you're meant to live!
What's something you truly love to do?